Finding a Perfect Fit in Fincastle: A Charming Historic Cottage Celebrates the Holidays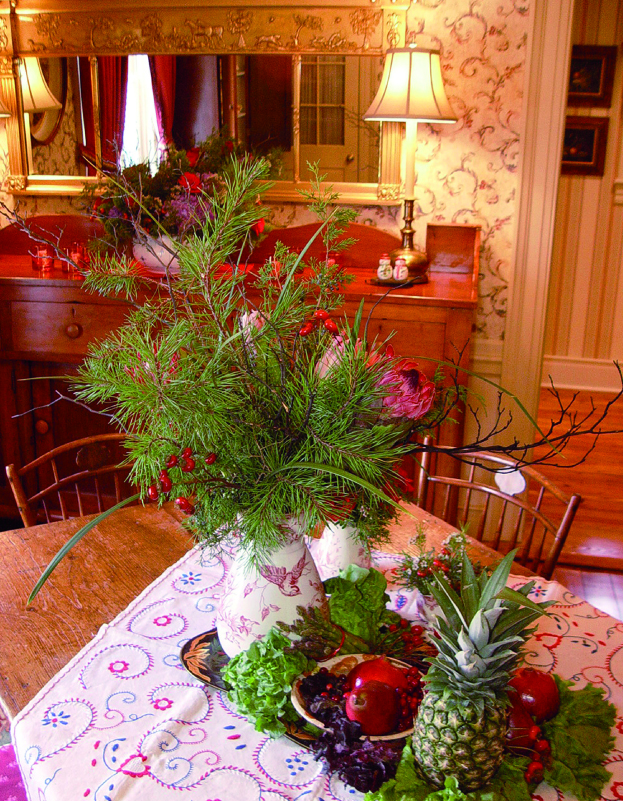 Robin and Vince Reynolds have always been attracted to the town of Fincastle. Founded in 1772, its history and appealing homes were a draw. In addition, Vince has an ancestral connection with Fincastle. When the couple first discovered Godwin Cottage, the combination of its location in downtown Fincastle and its charm made this little house a perfect fit. Once they purchased the house, they spent the next few years renovating and bringing it back to life.
Today the Godwin Cottage is one of the highlights of the historic Fincastle homes. Located near the Big Spring (an historic watering place from Indian days), it was one of the few homes to escape the big fire of 1870 that destroyed so many homes in Fincastle.
The cottage has been host to many visitors throughout its history. From the mid-nineteenth century when it was built, it was known as the "Fincastle doctor's house and office" according to lifelong resident Peggy Davis. According to another local historian, Karen Shriver, "The home is thought to have been built around 1832 for Dr. Charles Williams. A small room on the back of the home with a separate entrance is said to have been the doctor's office." Shriver explained that Doctor Isaac Robinson Godwin joined Williams as his assistant and agreed to look after Doctor and Mrs. Williams until their deaths. Doctor Godwin inherited the home and the medical practice and then it became known as the Godwin Cottage. When Doctor Godwin died around 1900, his daughters remained in the house.
While it is not a large or grand home, its design and setting make it memorable. It is a one-storied Federal-style solid brick structure. "There are rumors in town that Thomas Jefferson had notes and documents on this house and that he designed it," said Robin. "I am not certain of the claim since there are no records to substantiate it, but the cottage does have some Jeffersonian details. Maybe its builder liked Jefferson's architecture and copied his style."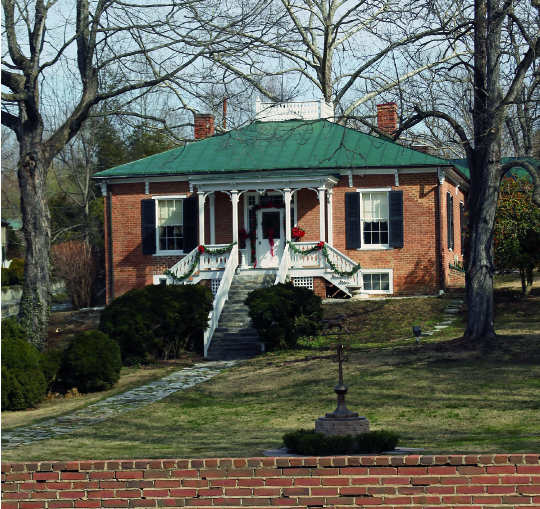 The home is set back on a gracious front lawn. A brick wall, iron gate and stone walkway direct visitors to the front door. The cottage features a mansard roof with four chimneys, long vertical shuttered windows and a steep staircase leading to the front porch and doorway. On the front lawn, Vince has displayed a restored antique weather vane. To welcome the holidays, the railings and front door are bedecked in greenery and red ribbons. An adjacent holly tree is covered in a mass of perfectly timed crimson berries.
During the twentieth century, Godwin descendants were still living in the cottage and according to Peggy Davis, "Mother spoke of the great parties they gave. They cleared all of the furniture in the long hall from front to back for dancing." This center hall still commands one's attention when passing through the door today.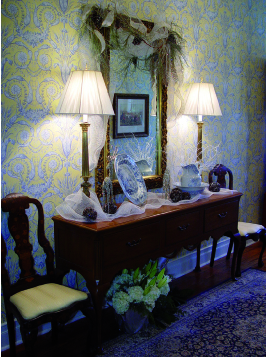 It is a surprise for such a small house to have such a large entryway, but it is this feature that makes the cottage distinctive. It runs the entire length of the house from its inviting front door to its back entrance. This length, combined with the extra width, creates an ideal area to display collections and furnishings and is decorated with period cabinets, tables, benches, chairs and a grandfather clock. Because of the size of the hall, rather than appearing cluttered, the furniture is neatly arranged to show off each piece's design. A series of matching Oriental carpets covers the wide board pine flooring. For the holidays, a sideboard features a nativity scene adorned with golden trees and wreaths, reflected by a large ornate mirror. Robin and Vince chose gold tinted wallpaper decorated with a repetitive blue urn pattern.
This distinctive shade of blue is carried throughout several adjoining rooms.
Both Robin and Vince came well prepared to tackle the renovation. Robin has a degree in art and worked as a commercial artist for many years. While Vince does not have an art background, he does have an eye for antiques, especially furniture. Both Vince and Robin were in the antique business for eight years and have experience dealing with auction houses. According to Robin, "It was our first foray into selling. We always bought before and when we both retired, we decided to get into the selling end."
According to Robin, "The house was in good shape but there were no special details when we came." She explained that there was no elaborate trim work and the house was all white inside. Throughout the home the ceilings were very high – ten to eleven feet in various rooms. So, to enhance these lovely heights, the Reynolds added chair rail and crown molding throughout the home. They asked Joseph Kirkpatrick of Wirtz to help them with the woodwork. "When we purchased the house, we asked him if he could do the work here and he has been doing projects for us ever since," beamed Robin.
All of the wallpaper came from Dorn's in Old Southwest Roanoke. This interior design studio is co-owned by Lou Snead and David Belcher. Robin worked with Lou for many years at the department store Heronimous. According to Robin, "When we purchased the house, Vince said that he wanted wallpaper. I needed someone to help get me started. Otherwise I could have spent months looking through books. Lou came out and helped." She explained that they sat down together and chose wall coverings and then more plans for the home's interior continued to evolve from there.
One of the two bedrooms features a patterned wallpaper border that coordinates with the draperies and a pinwheel quilt on the four-poster bed. "I wanted to bring blue into this room and the decorative border along the ceiling does just that," said Robin. An ornate gilded mirror adorned with eagles hangs above a chest of drawers. Two trunks, both in tones of blue, are set one atop the other beneath a window. The bottom blanket chest is decorated with a Pennsylvania Dutch design and the smaller trunk on top is of German origin.
An enormous chest of drawers discovered at an auction fills one corner of the room. Robin has nicknamed this piece "Brutus" because of its size. To add an air of elegance to the room, Robin chose a portrait of a fine gentleman dressed in period attire as a wall hanging.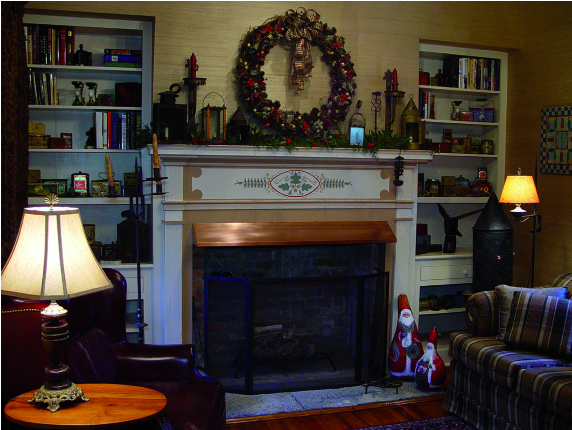 Across the hall is the formal living room. Here, Robin selected a coral wallpaper with white floral designs and a blue border. A large highboy displays a collection of china. Above the fireplace, the mantel is festooned with golden ribbons and trees in front of a vertically hung mirror. Sconces trimmed in gold hang on each side of the fireplace while a formal Christmas tree decorated with holiday ornaments and white magnolia blossoms stands regally in a nearby corner.
The dining room, decorated in tones of red, adjoins the living room. A traditional bench table is set kitty-cornered in the room. This design was once quite useful in homes where space and furnishings were limited and can be easily converted to a bench or a table. A large nineteenth century cherry wood buffet gleams with a polished wax finish. Robin explained "some people prefer a dry finish with no luster, but we thought that this piece really needed to shine." A tureen decorates the buffet and overflows with red blossoms. The Reynolds display several pie safes in their home. Here in the dining room, they have a pie safe fashioned by the Rich Brothers of Wythe County, Virginia who were famous for featuring hand-punched tin with urn and tulip designs. The dining room fireplace includes an ornate cast iron insert. On the mantel is a mid-nineteenth century clock and a collection of toleware.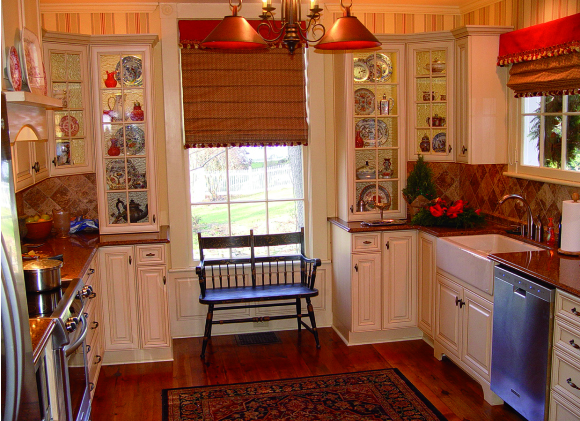 In the kitchen, another large two-tiered pie safe is useful for extra storage. This room required the most change during the home renovation. To create a more useful space, they removed a wall and bricked over a doorway. According to Robin, "Originally, this area was crammed with a wet bar in the middle and there was nowhere to move." Carter's Cabinets came in and did the work, replacing the old cabinetry and installing granite countertops. The result is a spacious kitchen. At the very end of the long room, a large window stretches from the floor to the ceiling. With a bench placed directly in front, it becomes a focal point and casts abundant light into the space, substantially brightening the area.
The den and office, just across the hall, provide a perfect showcase for Robin and Vince's collection of period furniture, porcelain and artwork. An antique corner cabinet that the couple found at a Bedford County estate sale is packed with transferware and lusterware. "I like to mix things to make it more interesting," said Robin. Another pie safe, this one painted mustard yellow, houses a display of more collectibles. The Reynolds discovered an extra-wide nineteenth century tavern table at Ken Farmer Auctions and it now fills an entire wall. On the mantel, ribbons interlace with tinware and decorative fruits.
Papered in a stunning red grasscloth, the walls are covered with artwork including many pieces painted by Robin. She enjoys using houses as the subject of her art and often focuses on historic home sites for her paintings. Robin also designed and painted the many Santa Claus gourds set about on hearths throughout the home.
A small office, which was the original doctor's office, is papered in a neutral grasscloth. One of the highlights here is a stenciled mantel designed and painted by Robin. The fireplace is decorated with more tinware, greens and a wreath of fruits and berries. This room is filled with early nineteenth century pottery and English transferware.
Nearby, a second bedroom includes a pair of hand-carved double beds and accents of pink throughout the room. Once rope beds, they have been remade to utilize modern-day mattresses. Robin and Vince discovered the elaborate hand- forged chandelier that hangs in the center of the room at Black Dog Salvage in Roanoke. On one wall, an old feed box that originated in a Tennessee barn doubles for storage. A painting of a Southern colonial home with Spanish moss dripping from trees and a carriage suggests the halcyon days. Everything in this room, in fact the entire home, conveys the air of a much more genteel era from the past.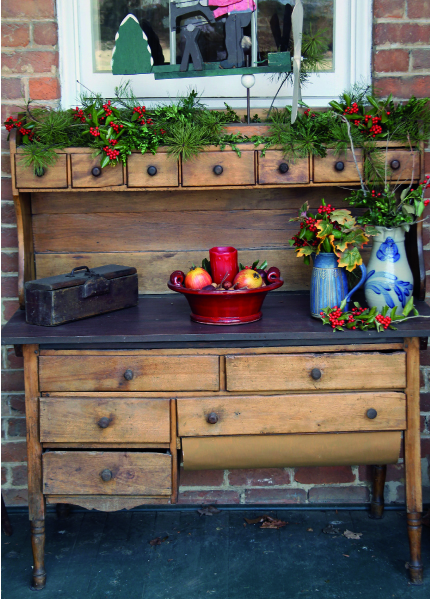 What a welcome the back porch presents to visitors! Antiques are everywhere, strategically placed to add interest to an already-fascinating structure. A wooden baker's rack with a line of drawers above and a flour bin below perfectly displays holiday greenery. Each drawer is open and overflowing with greens. On top is a bucket of fruit and a pitcher packed with more greens.
Windows along the back porch are decorated with holiday boughs and wreaths created by Robin. An old bench offers a place to rest and above it, a carved coat rack with ornate hooks hangs on the wall.
With their artistic vision, Robin and Vince have created a beautiful space. They have carefully selected pieces of furniture to suit the home and enhance their collections of art, porcelain and tinware. The result is a charming little cottage and the perfect place to call home.
Vincent and Robin Reynolds welcome you to visit The Godwin Cottage during the Historic Fincastle Holiday Home Tour.