Are You Ready for Some Football? How to Watch Playoff Games in Style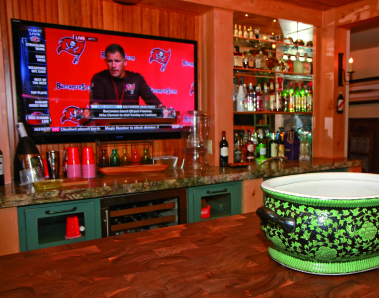 Set to tabletop height, the walnut butcher-block island offers a handsome perch for a tailgate buffet or a comfortable spot for casual dining alongside the fully stocked bar and wine chiller.
To describe Watt Foster's television room at his spectacular retreat on Smith Mountain Lake as "masculine" is an understatement. With three flat-screen TVs and a fully stocked bar that opens onto a gigantic patio, Watt ensures that his guests are well tended and that everybody can see the big game from any angle.
Inside and out is an epic celebration of wood, where you can admire its grain and feel with your hand just how solidly this home was built. Even the details are manly. The double thick, leather-finished, rocked-edge slabs of rainforest green granite on the countertops look a little bit like a Mossy Oak camo pattern. Big unpolished stones surrounding the fireplace and hearth were quarried from his cattle farm in Brookneal and painstakingly fitted.
And there's fire! As the third-generation owner of Foster Fuels, Inc. (a propane gas and disaster relief business), Watt knows fire and designed all the fireplaces, gas torches, fire pits, grills and smokers. The propane system, along with elaborate outdoor lighting, makes the place look like "Survivor Island" at night.
However, please don't insult the space by calling it a "man cave." The artwork, technology integration and décor are innovative, timeless and classic—making it a comfortable place that anyone can enjoy.




Rumford fireplaces are found throughout the home. They are a classic 18th-century design characterized by tall, shallow fireboxes with widely angled openings, and are thought to radiate heat better than other styles.


My husband and I really enjoy hosting parties. A couple of years ago, we decided it would be fun to host a Superbowl party. What we didn't know is that you can't just buy a new TV, plug it in and expect it to work. Needless to say, we postponed our party plans.
J.J. Moore of Sound-Decision in Roanoke sat down with me recently and gave me some advice about television displays and media rooms.
Laurel: J.J., what should homeowners think about BEFORE they go shopping for a new TV?
J.J.: First, I would have a budget or some idea of what you're willing to spend. There are so many choices right now and things can get very confusing very quickly. Also I recommend staying with a "name brand" display, as there are some service issues with certain brands on the market right now.
Laurel: If a homeowner is considering expanding from a simple TV-in-a-cabinet to something more like a media room, what will they need?
J.J.: You'll need expert advice! Sure, you can go to a big box store and they can sell you whatever is marked down that week and try to explain how to set up the new equipment. But there is a lot that goes into a media room. You will need some type of A/V receiver to provide power and switch your video sources—like a cable or satellite box, or a Blu-ray or AppleTV. You'll need a display, either a flat panel display…or for larger rooms, possibly a projector and screen. You'll need 5.1 speakers: at your left, center, right, left rear, right rear and a subwoofer for your low bass notes. Larger rooms may allow for even more surround speakers. You'll definitely want a good, high quality surge protector to protect the electronics from power fluctuations. And, you'll want some type of universal remote control. Then, you have to think about seating, where to place the electronics and how to keep everything neat and tidy. Every room is different. This is where working with a professional truly helps.
Laurel: Are some spaces in a home better suited for ideal viewing than others? What factors or conditions should play into your decision on where to locate your media room and its equipment?
J.J.: Absolutely! You don't sleep in the garage do you? Location always plays a factor on the overall experience you will receive from your media room. If you can dedicate a room, two ideal locations are in an upper floor bonus room away from bedrooms or a room in the basement, away from the living areas. These types of locations are ideal because you can isolate the noise to certain areas of your home without affecting others around you. The less ambient noise, the better the listening experience will be. Also, you have much better control of the lighting in these areas. Less light, less glare, better viewing.
I know not everyone has a room that can just be used to watch movies. So the real world comes into play. The first thing I always ask a customer is, "Can I look at your room?" That way I can see the area, see how much light is around, make suggestions for where to place the display, electronics and seating to try and maximize your rooms potential.
Designing a media room can and should be treated like any other house overhaul. You need a budget! Weigh your options, ask questions, look at previous jobs the company has done. A media room is not an inexpensive purchase.
Laurel: What is the latest TV viewing equipment and technology—and, maybe more important: is it available in our area?
J.J.: The latest and greatest devices are the new 4k displays. They offer four times the pixels as today's high-definition 1080p displays. They are very bright and have amazing color and contrast. It's hard to imagine something clearer than the high-def shows and movies you watch now, but the technology is here. That said, at this time, there are limited movies and shows available, but the library will grow. So even if you can't run to Red Box right now and get a 4k movie, know that when you watch your HD content on one of these new displays, it will be the best it possibly can be.
Other technology advances that are really catching on have to do with transforming your house into a "smart home" where you can control the climate, view your security cameras, set the irrigation system's timer, unlock the front door, disarm the security system, and turn on few lights—with your smart phone or tablet device.
Laurel: Thanks, J.J.! You've really given me a lot to think about.
J.J.: Thank you for reaching out for some advice on new displays and media rooms.
With this great advice and some advance planning, maybe my husband and I can host that Superbowl party next year!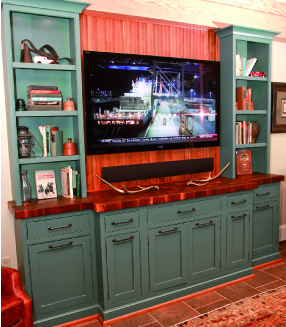 A great outdoorsman, Watt's hobbies include boating, fishing, hunting, paddling sports, skiing and wildlife conservation. His hobbies and interests are reflected through the décor in his home.