Setting the Bar: Don't be so Predictable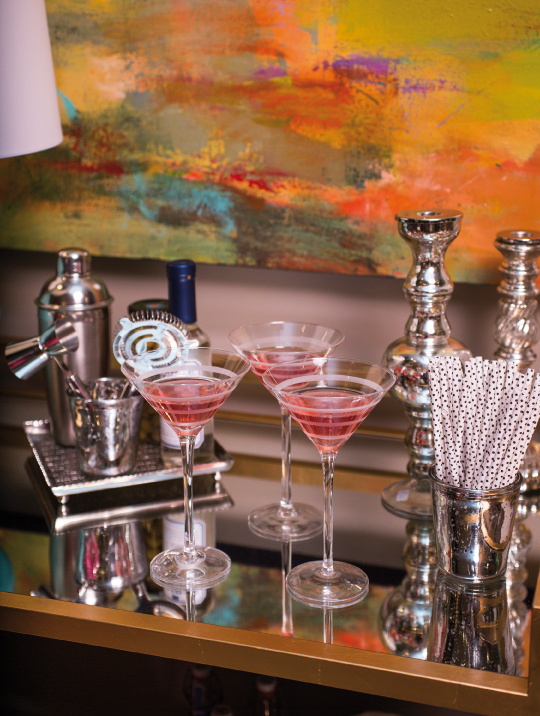 It's 6:00 PM, circa 1960. You can set your watch to the sounds of ice dropping into crystal highball glasses and the fizz of seltzer water. Nobody has to be driven to and from baseball practice (the kids ride their bikes), dinner is keeping warm in the oven and Ol' Blue Eyes is playing softly on the stereo. It is cocktail hour, the day is done and life is good.
Watch a black and white movie from the days of Old Hollywood. Cary, Humphrey and Clark were seldom seen without a cocktail in hand, one poured from a handy bar, never more than an arm's length away. The bar cart was a supporting character in television, movies and homes during this elegant era. I remember one in my grandparents' home as a fixture in the corner of the dining room for years. I wonder what happened to it? Undoubtedly, it met its demise during the 1970s when shag carpeting made rolling it a chore. Then, new homes began being built with wet bars in the basement and the need for a stylish bar cart became obsolete.
Recently, the bar cart has made a comeback. There are websites devoted to resurrecting the cocktail hour, when neighbors drop by for a cocktail, a handful of peanuts and good conversation. This revival could be attributed to a longing for connection with friends and time to enjoy simple pleasures. Dining alfresco has never been more popular, especially with the advent of the outdoor room complete with comfortable furniture and fireplaces.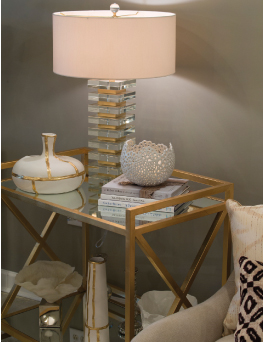 The bar cart is perfect for the impromptu indoor or outdoor party, and finding one has never been easier. Online resources abound and offer everything from vintage antiques to modern utility trolleys. Making your own is also an option by adding wheels to vintage dressers and desks. Whether you buy new or recycle one from your attic, personalizing your cart to your taste is a must. In other words, don't try to display an entire liquor store when hosting a fabulous social; choose a signature beverage to serve at your soirée. If you fancy yourself a wine expert, a variety of rare vintages might make an appearance on your cart, along with an ice bucket for chilling whites, a corkscrew and wine glasses. If martinis are your passion, stock your bar with good vodka or gin, a stainless shaker, olives and simple syrups for variety. Other accessories might make the cart, too, such as linen cocktail napkins, your favorite snack mix and proper glassware. Making the cart fit your tastes and the occasion is a simple way to entertain with ease. The key is to edit everything and use trays to keep glassware and bar tools organized.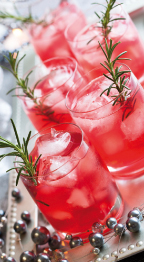 If you have been lucky enough to inherit your grandmother's cart but a cocktail party isn't your thing, there are many other ways to enjoy this treasure. Carts parked in the kitchen can hold your collection of cookbooks or ceramic crocks. In the bath, a variety of oils, your favorite bubble bath and fluffy towels can be wheeled to the tub and kept within reach. Carts in your garden can be piled with pots, soil and seeds on the shelves and wheeled right out to your beds at planting time. Finally, what little girl wouldn't love a cart in her room complete with hair bows, doll clothes and treasures?
If you are longing for the days of Old Hollywood, the clink of ice in a glass, and an hour to relax, consider the bar cart. As they say, everything old is new again!