Faucet-ology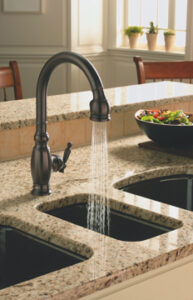 When I stopped to consider how often I use the kitchen faucet each day, I quickly realized the importance of this small device to daily living. From getting water for coffee or cooking, to filling the watering can for plant care, to rinsing and washing dishes, the kitchen faucet allows me to conquer all sorts of routine tasks. And while a new faucet can be an easy upgrade to an old space, the endless possibilities can be overwhelming. If you're shopping for a new faucet, you can find functionality as well as fashion in a wide range of price points, but it helps to understand some of your options.
Consumer "Must-Haves"


To gain perspective on what consumers are looking for in a new faucet, I surveyed a group of homeowners—diverse in their age and season of life—to see what they think is the most important feature to consider when purchasing a new faucet.  Check out the variety of responses I heard!
20-something new homeowner: "…the look of it!"
30-something mom: "I only buy faucets that have a pull-out sprayer!"
40-something father: "The faucet must be easy to use."
50-something empty-nester: "I like faucets that have a single lever for all functions; they are simple to use."
60-something widow: "My faucets should look nice, but also be functional."
70-something grandfather: "They need to be easy to use!"
Surprisingly, kitchen faucets are priced from about $40 to $1200 and up. With such a drastic range, you can refine your search by understanding the different finishes and designs that might fit your style, décor and budget.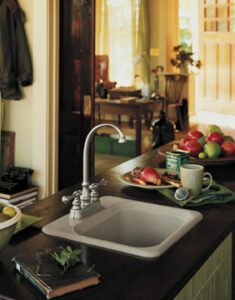 The Design


First, determine the most functional faucet design to fit your everyday needs.
Single-handle faucets
are convenient, enabling the user to adjust both the water flow and temperature with just one hand.
Dual-handle faucets
allow for precise water flow and temperature, but have two separate controls—one for hot and one for cold.
Pull-out spray faucets
allow you to pull the faucet out much like you would a hose, and target the spray. Side-spray units are another option, where this feature sits next to the faucet.
Wall-mounted faucets
come out directly from the wall above the sink and provide a unique look compared to the other options.
Perhaps the most important thing in considering the design, if you are replacing an existing faucet, is to choose one that requires the same number of holes in the deck of the sink as the faucet that is being removed. Most faucets follow one of several standard hole patterns, and your easiest option is to work with the same sizes and numbers of holes. For example, if you are replacing your old faucet that also has a side-spray unit, and you choose a new pull-out spray faucet, you may be left with an extra hole in your sink deck.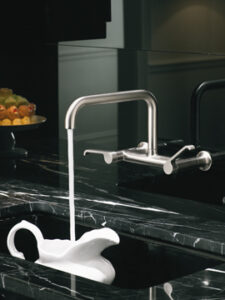 The Finish


Determine the finish you prefer by considering both material and color.
Chrome
is durable, tarnish-resistant, and the most popular faucet finish. Its classic appeal adds a silver shine to any sink and is available with a standard, brushed or polished appearance. From affordable options like the Delta Chrome Double-Handle Kitchen Faucet retailing around $50, to the Kohler Revival Brushed Chrome Double-Handle Kitchen Faucet with Side Spray retailing around $450, to the Kohler ProMaster Polished Chrome Single-Handle Kitchen Faucet with Pull-Down Spray retailing around $1,000, chrome represents a vast array of price points.
Nickel
has regained the popularity it had prior to chrome's introduction. A bit warmer in tone than chrome, nickel is a sophisticated finish, found most often with a brushed appearance. Nickel is also available in a range of price points. For example, Glacier Bay's One-Handle Kitchen Faucet with Pull-Out Spray retails around $100, while Barclay's Areco Brushed Nickel Single-Handle Kitchen Faucet with Side Spray retails around $830.
Stainless steel
is fairly new on the market and is often chosen to match the sink and surrounding appliances. A basic choice like the American Standard Connoisseur Stainless Steel Single-Handle Kitchen Faucet with Side Spray will cost around $180, while the Grohe Ladylux Plus Stainless Steel Kitchen Faucet with Pull-Out Spray costs around $650.
Brass
is a popular choice and is ideal when you desire a shiny gold hue. From a more ordinary design like the American Standard Hampton Polished Double-Handle Kitchen Faucet that retails around $200, to the luxurious Kohler Antique Polished Brass Single-Handle Kitchen Faucet with Side Spray that retails around $775, brass is also available at a variety of price points.
Bronze
is rich, hearty, and adds a deep gold element of sophistication to a sink. Again varied in price, the Price Pfister Wakley Oil-Rubbed Bronze Single-Handle Kitchen Faucet with Side Spray retails for around $140, while the Kohler Vinnata Bronze Single-Handle Kitchen Faucet with Pull-Down Spray retails around $602.
Gold
, for those desiring the ultimate faucet experience, is a finish option. Luxurious and bold, a faucet such as the Kohler Articulating Deck-Mount Kitchen Faucet with Gold Tube retails around $1,500 or higher.
The Extras


If there is something extra you wish for in the kitchen faucet, it is probably available! Some faucets include attached soap dispensers that can be filled from underneath the unit, yielding a sleek outward appearance. Others are available with built-in water filtration systems, enabling users to retrieve instantly pure water. Waterfall faucets add something extra by letting water cascade naturally from the spout into the sink. The possibilities are endless as increasingly unique designs are being developed. Set your budget before looking through all of the choices, and then find the most affordable option that best suits your taste and the atmosphere of the kitchen.