Renovated Georgian: Merges Business & Pleasure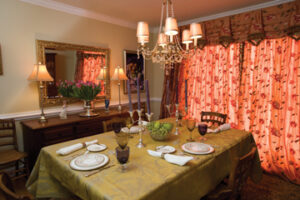 A brick pathway with a boxwood border leads visitors up the walk to a stylish Georgian entrance. Columns, shutters and antique English garden urns combine to make an elegant statement. This is the Gilkeson family's home.
For Lizi and David Gilkeson, home and business are one. As owners of The French Thistle, a fabric, upholstery and furniture store in Roanoke, they bring their work home with them. Their home is the perfect showcase for much of the beautiful merchandise that they carry in their shop.
Together the couple has just the right combination of talent to make their business work and create the home of their dreams. David's background in business and sales works well with his keen interest in French and English antique furniture, cabinetry and restoration techniques. Lizi, a native of Great Britain, graduated with a fine arts degree from West Surrey College of Art and Design in Surrey, England. Here her emphasis was in sculpture. She explains she lacked the portfolio to be admitted to their painting department, but in the end, studying sculpture was very beneficial to her art because it provides a three-dimensional aspect to her work. She also studied textiles, and brings a passion for colors, fabrics and textures to both the store and her own home. A professional artist, Lizi has displayed her work at area galleries, her shop and throughout her home.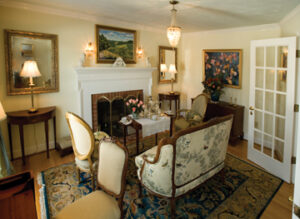 The couple purchased their Troutville home in 2002. Situated in a small development surrounded by farms and open space, the property looks out on Jefferson National Forest and is within steps of the Appalachian Trail.
The home was built in 1989 and had all the basic elements that the Gilkesons were looking for in a house. "When we started looking," explains David, "I had my mother with Alzheimer's [living with us], and together Lizi and I had four teenagers." So a big house was in order. A first-floor bedroom was also a necessity.  "We loved this house when we saw it, and decided that this was where we could be happy," says Lizi.
The front entrance of the classically styled brick home has been completely redone. "The house was screaming out to be Georgian," says David. When the couple was traveling abroad, they found the exact entrance style that they had envisioned. They took a picture of it and showed it to their carpenter, Chris DeVellis of Versatile Renovator in Roanoke. He was able to duplicate the entire entrance, and replaced the door with one of a Georgian style. To complete the effect, the couple found the perfect brass lion door knocker in England as well.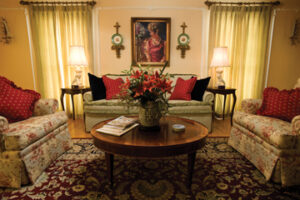 Cosmetic changes, while not radical to the structure, have produced an air of refinement to the home. All the interior doors have been repainted using a faux technique David discovered at Monticello, where the doors are painted to look like mahogany. David taught himself how to do the faux work, and implemented the idea here. He adds this to a long list of talents that he carries over to their store. Another cosmetic change included refinishing the original dark hardwood floors with a lighter stain, achieving an overall effect of brighter rooms. Throughout the home, David also used decorative molding extensively. Crown moldings, chair rails and wall moldings transform plain and simple rooms and provide just the right ornamental touch.
In the entrance hall, the "Lewis" family tree is on display, created in 1930 by Sydney Lewis, an ancestor of David's great grandmother. Lewis spent his whole life creating this amazing record, according to David. The tree traces the family back to Wales in 1635 and contains over 7,000 names. Also in the entrance hall stands a grandfather clock, another family heirloom which dates back over 300 years. Throughout their home, the Gilkesons have handpicked cherished heirlooms and found the perfect setting for each.
A charming front bedroom today serves as a guest room. Originally it was for David's mother. Painted sky blue with contrasting white molding, the sunny room exudes cheeriness, creating an ideal environment for guests. The antique bed, made of iron, belonged to David's mother when she was growing up.
A large living space that the Gilkesons call their family room exemplifies the couple's talent and flair for decorating. Before they got their talented hands on it, the room was a plain rectangle with a large, unassuming brick-faced fireplace. By refacing the fireplace with molding and a new mantel, and adding built-in bookshelves, the room was transformed into an elegant living space. An armoire and cello take up one corner. Here, David explains, they will position their Steinway piano when it is returned following restoration.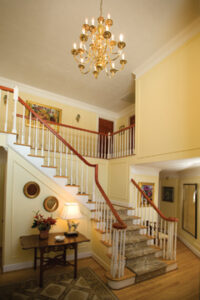 This large room offers several small seating areas. An upholstered sofa and two chairs comprise one arrangement. The sofa is monochrome while the chair fabric boasts red and white floral design; beneath the arrangement is an Oriental carpet with red overtones. Two gilded antique chairs, also restored and reupholstered at The French Thistle, complete the sitting arrangement. Bright red contrasting pillows bring the setting together.
Here and throughout the entire house, the walls are covered with the wonderful artwork of Lizi Gilkeson. Of special note is a self portrait in the family room. David took his wife's photograph and asked her if she would paint it. "Do I have to?" she asked. But Lizi did as she was asked, and the result is a stunning self portrait that truly lights up the room.
Another painting in the room shows an interesting perspective.
It was inspired by a carriage ride at Versailles, and portrays the back of a coachman driving a carriage down a long lane, and the back view of the horse. "I thought [the coachman] was charming, and I knew it could be a painting," says Lizi.
Double doors lead into a small parlor that was at one time a bedroom. "This room was transformed," says David. A loveseat and two overstuffed chairs face another miraculously reworked fireplace. This cozy space provides the perfect setting to enjoy afternoon tea. According to Lizi, while growing up, "Afternoon tea was very important. I was raised on it!" Of course Lizi's paintings hang here as well, providing bright splashes of color. A charming crystal fixture hangs from the ceiling. The couple discovered the antique in Europe. Luckily they found two vintage wall fixtures right here at home that match.
The formal dining room offers the perfect setting for an elegant dinner. An antique china cabinet holds the couple's collection of sparkling silver and glassware. Firm believers in using their fine china and silver every day, meals here are elegant affairs. The table is set with lovely old china and silver. Amber wine glasses and purple water goblets provide a delightful contrast. A cut glass bowl brims with fresh grapes and pears. Ornamental molding and an anaglypta centered on the ceiling with a vintage chandelier add more grace to the room than it ever had before.
Another of Lizi's paintings hangs here, a still life called "Bread and Butter." The draperies, from The French Thistle, feature billowing coral-red fabric cascading elegantly to the floor. Artwork painted by several other artists is displayed here, including pieces by Lizi's mother and grandmother. Clearly, talent runs in this family!
The kitchen incurred a major renovation. It was entirely gutted; all the cabinets were replaced, incorporating granite countertops for work space and walnut counters over storage areas. Ideal Cabinets did the installations, and Wards Appliance provided the appliances. A major problem occurred with the installation of the stove: It would not fit through the doors! The only path to the inside that was large enough to accommodate the stove was through an airy screened-in porch off the breakfast room. However, there was no outside entrance onto the porch. The solution? Add another entry. The new steps, with their Chippendale railings, now provide entrée to the garden area and lower level patio. Once the garden is completed—plans include Italian and English gardens with terraces and a greenhouse—this access will be a real asset.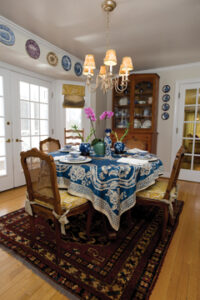 The Artist's Retreat
Lizi's studio, one of the most important rooms in the house, is situated upstairs. While this room may not be a showplace, it is here Lizi creates her works of art. "I love to paint!" she says. Here, natural light pours through windows, and easels and paint tubes are everywhere. According to the artist, she does not have time to take classes, but tries to spend one day a week painting.
Double doors lead to a large master bedroom suite. Over the past few months, Lizi and David have been concentrating their efforts here, what they would call a work in progress. Here, David has installed new molding and hardwood floors. The walls are painted a light French blue, and a four-post reproduction bed is covered with a floral spread with green and blue hues. Another refaced fireplace complements this room. An overstuffed chair, upholstered in just the perfect shade of green, is decorated with floral pillows. Another of Lizi's paintings—this one a tree—hangs over the fireplace. Many of her works feature a single tree. "I am drawn to trees and really love the lone tree," explains the artist. "It stands firm, tall and beautiful." Adjoining the bedroom is a bath yet to be renovated. Plans for this room include using marble to evoke a European atmosphere.
Making the Gilkeson house a home has been a labor of love. "Every year we have done something," says David, explaining their long-term game plan. They have prioritized projects, methodically going from room to room and project to project, repainting, restoring, improving and refurnishing. So what's next for the Gilkeson home? "Nothing!" Lizi exclaims. But David quickly adds, "I want to build Lizi a studio." Lizi explains that they are very busy with their store, and right now it takes precedence. Lizi says of their business, "We hope that we inspire people. We like to be facilitators for people who want to decorate their homes themselves." For Lizi and David Gilkeson, home and business are one. In conversation, one moment their thoughts are on their home, and the next, they are on the store. Luckily for them, they can bring their work home with them, and the result is a beautiful place to live.
Photography David Hungate, Dominion Images