Ugly Furniture Contest: From Ugly to Unbelievable!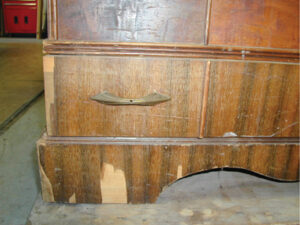 There sure is some ugly furniture out there. Fortunately, Roanoke Valley HOME teamed up with Astonish Antique Restoration of Roanoke in the Ugly Furniture Contest to bring a much-needed facelift to a piece entered by local resident Emily Jackson.
Emily submitted a photo of a circa-1948 cedar hope chest she found at the local thrift store. With original clippings, stickers and inscriptions adorning the inside of the lid, Emily was "drawn to its charm right away" —even though the outside of the trunk was not so charming. The chest was in poor condition, with almost nonexistent protective finish, structural damage to the base, loose or missing veneer, and stains.
So, how did Dick Patch, owner of Astonish, and his team turn the chest from ugly to brilliant?
First, the chest's original finish was stripped and thoroughly cleaned using a multiple-step process. Water damage was treated with a two-part bleach mixture to reverse the damage to the wood color. Next came the structural repairs. Previous repairs with screws and nails were reversed. The base was reconstructed using hot hide glue, which was the glue used in that period. Loose veneer was reglued with hide glue, and new veneer of the same species was cut and glued to fit the missing veneer. There were 55 veneer repairs.
To finish the chest, it was sanded with 220-grit sandpaper, and a seal coat of shellac was applied to reveal the stunning veneer character. Then two coats of lacquer were applied to protect it.

Emily contemplated how she could spruce up this thrift store find and give it new life without ruining it in the process; entering it in the contest was the perfect solution.
Emily is very pleased with the results of the Astonish restoration. "It turned out to be so much more than I expected it could be," she says. "Before, I kept the piece in the corner not trying to draw attention to it, but now I want everyone to see it!"
Astonish Antique Restoration is Roanoke's largest furniture restoration shop. Its three skilled craftsmen have a combined experience of 35 years. Owner Dick Patch has 30 years of experience with a degree in wood finishing, and has taken graduate courses from the Smithsonian Institute. See astonishrestoration.com for more information.