Enjoy the View | What's Trending in Windows and Doors
In historic and older homes, you often find smaller windows and solid wood doors without glass, as the builder or homeowner sought to minimize drafts and keep warm air inside in colder months, and air-conditioned air from seeping out in the sweltering summer. Single-pane windows were the standard in homes until the 1970s, when double-pane windows became common in residential construction. Since that time, windows and doors have become more efficient with newer technology and better building practices.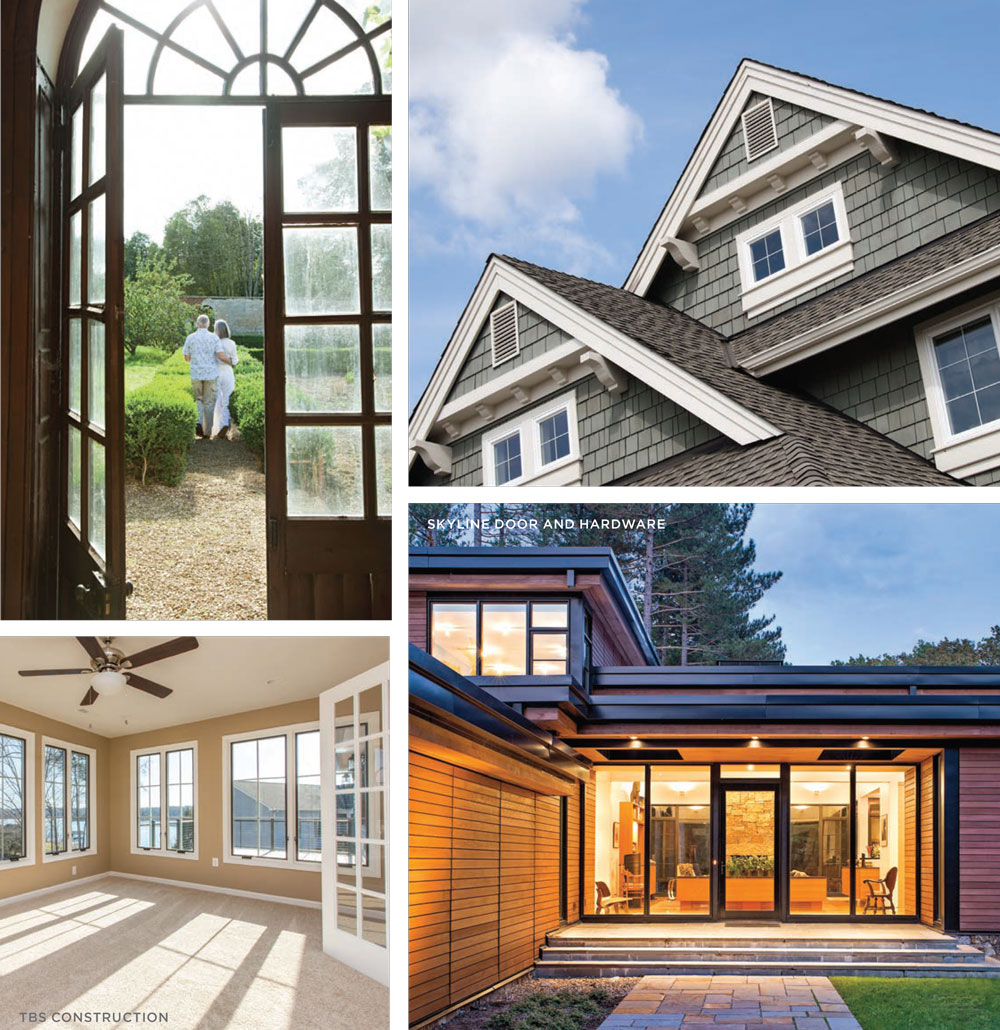 "The biggest advancements in the last few decades have been single-pane to double-pane windows, and the next advancement was filling that space between the glass with argon gas, which is invisible insulation that eliminates air leakage," says Jay Gauldin, president of TBS Construction. Low-e glass, Gauldin says, is another advancement, which was developed to minimize the amount of ultraviolet and infrared light that can pass through, without compromising visibility.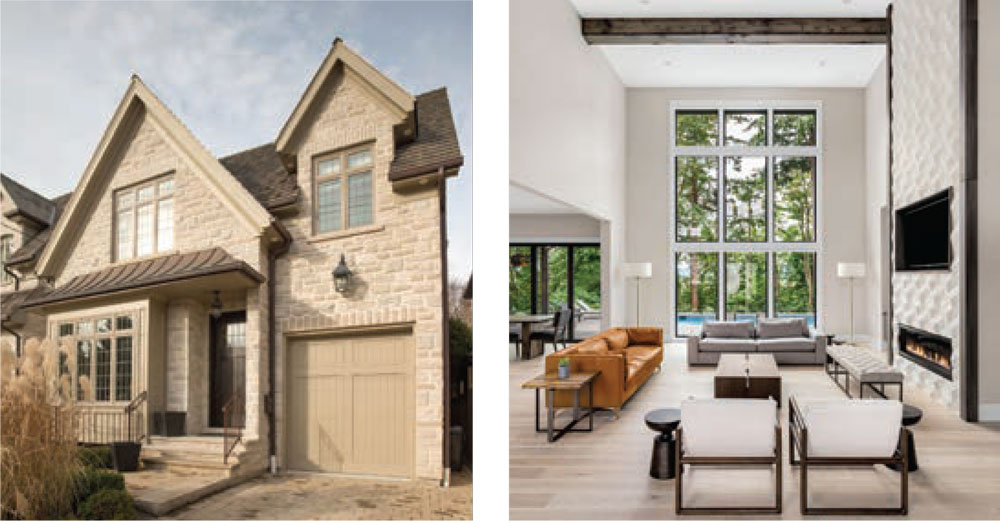 Homes built since the 1970s utilize larger windows and glass doors for better views of the outside, because windows and doors aren't the energy drain they once were. While 1980s- and 1990s-style homes often had two-story entries and soaring family rooms with arched and decorative windows to match, the new style of home, and the windows and doors to outfit it, is modern-leaning, with clean lines and wide views.
The rising popularity of screened porches, patios with entertainment options like firepits and outdoor TVs, and expansive decks have encouraged marrying indoor and outdoor spaces, and has increased the desire to bring the feeling of the outdoors in. Popular websites and apps, as well as home improvement TV shows, have shown people what is possible and available.
If you plan to build a home or a new addition, or are considering replacing your existing windows and doors, we talked with experts in the region to give you a primer on what's in demand, what the latest technology means for the longevity of your windows and doors, and how to maximize your views.
Window materials
Single-pane windows let air escape easily, driving up energy costs to heat and cool a home. While storm windows (a second window attached to the outside of the original window) provide some energy savings, eventual window replacement is usually on the agenda in an older home. There are several options for replacement windows, or new construction windows, with varying costs.
The main types of windows manufactured now are wood (most expensive), vinyl- or aluminum-clad (mid-range), fiberglass (mid-range), and vinyl (least expensive). Wood windows cost approximately 50 percent more than fiberglass or clad windows, and vinyl windows are approximately 10 to 30 percent less than fiberglass or clad windows. All of them can be good options, buying you at least 30 years (vinyl) to more than 50 years (fiberglass or clad windows).
New advances in manufacturing mean that vinyl windows are available in more colorways (such as black) and more diverse sizes than ever before, and are a maintenance-free and economical choice, but clad and fiberglass windows can usually provide more custom and higher-end solutions. Gauldin estimates that vinyl windows comprise at least 50 percent of the market share, but homeowners need to evaluate longevity needs and budget when making a decision.
There's been a style move in recent years toward minimizing the frame and sash (the areas outlining the window), and removing or minimizing the grilles (narrow strips of wood, vinyl or metal to visually divide the pane of glass) for a more unobstructed view, no matter the material selected.
"Windows can be a bit like mattresses; each manufacturer will try to dazzle you with specs and it's tough to compare apples to apples, but if you are worried about energy efficiency, look to see if a window is Energy Star certified, or not," says Gauldin.

Window styles
Once you've worked out a budget and chosen the type of material for your window, you'll need to settle on a style. There are more options than ever before, and color choices, for both the interior and exterior portion of the window as well as mechanical differences that affect how the window appears and operates.
There are many types of windows, but the most common are fixed, casement, slider, single and double-hung windows. A fixed or picture window is a large window that doesn't open, designed to give you an expansive view without obstructions, acting like a picture frame for the scenery beyond. It's usually used where the view of forest, mountains or a lake is picturesque, and the homeowner doesn't need or want to open the window.
Casement windows are increasing in popularity, especially for the front of a home, says Jamie Walters, showroom manager for Skyline Door and Hardware in Salem. A casement window has a crank function inside at the bottom of the window to open it outward, but the front lacks the large seam of a single or double-hung window for a more uniform appearance. "They are very energy efficient, because when a casement window is closed it is sealed all the way around because it is one fixed piece of glass, versus, say, a doublehung window," says Walters.

A slider is usually one of the most affordable windows, and slides open horizontally. A singlehung window means the lower half of the window opens vertically, but the top half stays fixed. A double-hung window means that both halves can move.
Sliding windows are great in sunrooms, as they eliminate the horizontal lines, requiring only one line in the middle of the window, where the slider opens on itself. Windows can be taken all the way to the floor, but if the window is within 18 inches of the floor, the glass has to be tempered, increasing the cost.
After you've decided on material, and desired function, you can choose an exterior and interior color. Colors range from white and off-white, which have been the most popular for years, along with black, which is soaring as both an exterior and interior window color. Others that are increasing in popularity as exterior options are grays, greens and tans. Arched, half-moon windows (called lunettes) that were often used in 1980s and 1990s construction have been swapped in favor of windows in traditional rectangle and square shapes, either alone or grouped together to form a window wall.
While kitchens once sported bay windows, one very current option, especially if the kitchen leads to an outdoor space, is to have an accordion window that can open all the way to connect the interior and exterior living spaces. Food can be passed from the kitchen to the person tending the grill, and a small exterior bar can be set up outside, underneath the window, for savoring a cocktail while conversing with the cook.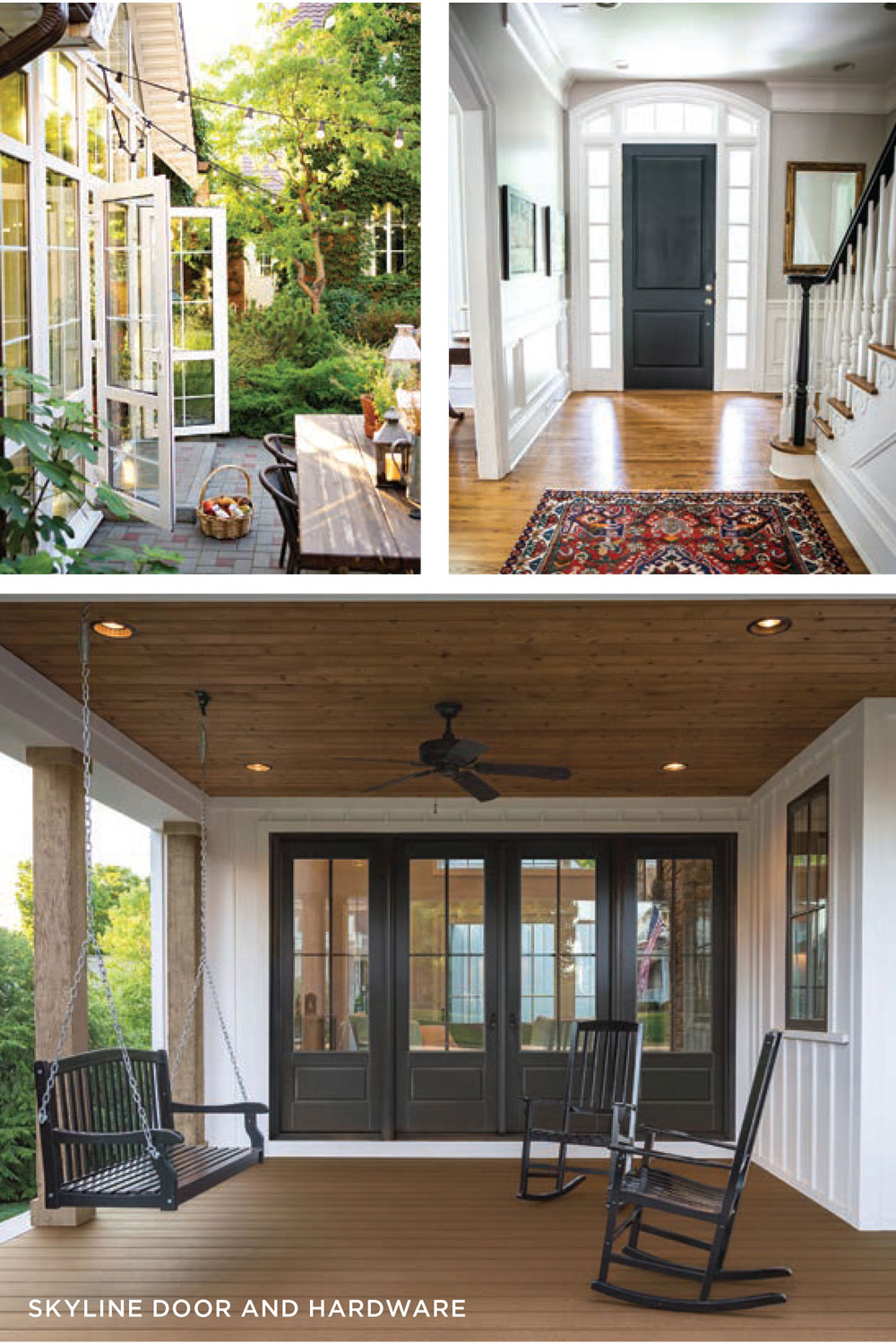 Door materials
Doors, like windows, come in similar material choices: the most common are wood, fiberglass or steel. A wood door is a classic choice, but is best in a covered porch area to minimize wear from the elements. A wood door is just that—solid wood. Fiberglass and steel doors are similar in that the inner frame is usually made of wood, and the core is usually made from foam. On a steel door, the outer skin is made of steel, and on a fiberglass door, the outer skin is fiberglass.
Steel doors are a cheaper option, are durable and can be painted. Fiberglass doors are also durable, and come in woodgrain or smooth finish, and can be ordered painted, or stained to look like wood. Fiberglass is typically more expensive than a steel door, and a wood door, depending on the species of wood, can surpass both in cost.

Door styles
Steel, fiberglass and wood doors all come in a variety of style options, including double French doors, various ways of integrating glass into the door, and even Dutch doors. Dutch doors, which had largely disappeared in the past few decades from residential construction, are surging in popularity because of their charm. They originated in Europe in the 17th century as an entry door, and later as a kitchen door. On farms, they were helpful in keeping animals outside while allowing for fresh air. They are being used now as side entry doors, and kitchen/ deck/entertaining space doors to bring the outside in while still keeping pets and small children contained.
Also trending is an accordion-style door for backyard and entertaining spaces. "It folds up against the wall for a full opening with no obstruction, and homeowners are liking them for large patioscapes and screened-in porches," says Walters. "The one we carry has a wood finish on the interior side, so it has a modern aesthetic but the warmth of wood, and a lot of people are looking for that."
These accordion doors are newer to the market and very expensive, running approximately $15,000 to $20,000 installed, but are a showstopper. To take advantage of a sweeping view, and also create a wide walkway, a comparable aesthetic can be achieved with sliders, or French doors and windows together. A four-panel sliding door can be installed for approximately a quarter of the cost of an accordion-style door, so it comes down to budget and preference.
While sliders largely disappeared in the 1990s in favor of French doors, they are once again popular, and are made with quality materials and better sliding mechanisms for a high-end feel. French doors maintain their popularity, though many homeowners are opting to forgo grilles for a clean, modern look.
As for front doors, textured glass and glass designs are falling out of favor, even for traditional homes. Clear glass rules the day, even though it compromises on privacy. A shade can be installed on the inside of the door, to pull down in the evenings or when extra privacy is desired. For those who want a painted rather than a wood-stained-look door, many product lines now offer factory spraying, in any paint color, for a very durable and consistent finish, similar to a car paint job. A clear UV finish protects the color, and eliminates the need for retouching.
If you are considering updating the windows and doors on your existing home, or are in the process of building an addition or new home, you have more style options than ever before for blending your inside and outside living spaces. Newer technology ensures that doors and windows are energy efficient, and building experts expect that smart-home technology will become more common, allowing you to open windows and doors from the push of a button or the sound of your voice. Imagine saying, "Alexa, open the accordion door." It may happen sooner than you think! ✦
casement, double-hung, double-pane windows, Dutch doors, fiberglass window, firepits, fixed, French Doors, glass doors, outdoor tvs, Patios, replacement windows, screened porches, single, single-pane windows, slider, storm windows, vinyl windows