Hot Off the Grill | Make Mealtime Fun with the Latest Trends in Outdoor Cooking
Summer cookouts will never go out of style. Lounging on a patio soaking up the fresh air, sunshine and conversation with family and friends while catching a waft of the deliciousness hiding under the grill hood sure beats standing over a kitchen stove. Today's outdoor cooking appliances are now more portable, more versatile, and "smarter" than ever, so you can take your backyard barbecue beyond the burgers and fire up the fun.
Restaurant-inspired
Some of the latest trends in outdoor cooking took their cues from restaurants. Brick oven and wood-fired pizzas are all the craze right now, and you can recreate that taste at home with an outdoor pizza oven. One reason these pizzas work so well for restaurant fare is because they cook fast. Customers never have to wait long for their order and neither should your guests. With pizza ovens capable of reaching temperatures 300 degrees higher than your standard kitchen oven, your meal is ready in about two minutes.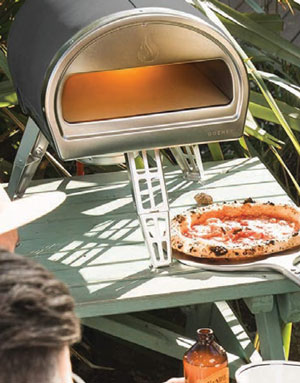 These ovens have stone bases and range from large luxury models to mini tabletop versions. The VITCAS Pompeii woodfired pizza oven, for example, is large enough to cook up to four pizzas at a time. Ooni offers a line of portable, tabletop models that can cook 12- and 16-inch pizzas and can be fueled with wood pellets, charcoal or gas. Gozney, which specializes in commercial pizza ovens, has a home line that promises a restaurant-grade experience. Their portable options feature a sleek design with silicone coverings that prevent burns. The company's Dome outdoor oven received special mention on TIME's 2021 Best Inventions list. While you'll spend up to $1,000 or more for high-end models, common kitchen appliance brands like Cuisinart have rolled out more affordable versions.
If you're joining the homemade pizza revolution, you'll need peels (paddles used to insert the pizza). They come in wood or metal; bamboo and stainless steel are favorites. To entertain large crowds, it would be helpful to have more than one. You can assemble the pizza directly on it. Also buy heat-resistant gloves since you'll be working around extreme heat.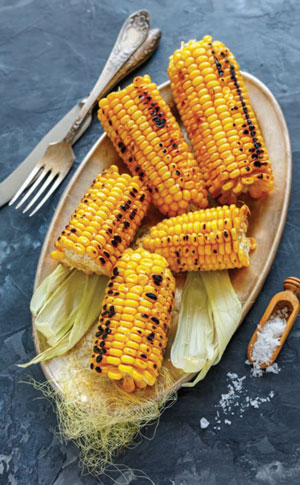 Another popular outdoor appliance, the flat-top grill, is reminiscent of roadside diner fare. You can cook everything from eggs and pancakes to quesadillas and stir fry. Many models offer separate cooking zones, so you can cook different items all at once.
If your family loves hibachi restaurants, where a chef prepares your dinner and entertains you at the same time, you can now show off your own chopping and flipping skills with a personal hibachi grill (check out backyardhibachi.com for examples). The griddle has a raised table surface surrounding it so your guests can pull up a bar stool and take in the show.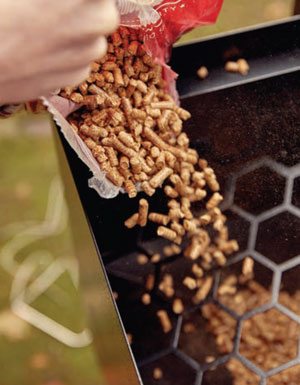 Pack in the pellets
The charcoal versus gas debate has gone on for decades now, but the grill versus smoker debate seems to be burning itself out thanks to the latest pellet grills that allow you to both grill AND smoke. Cooking with wood pellets has become more popular because cleanup is easy (minimal ash) and you can experiment with different wood flavors, a big part of the outdoor cooking fun.
Because they are powered by electricity, pellet grills have "smart" features, such as digital touchscreen temperature controls and Wifi- and Bluetooth-enabled services that allow you to monitor and control temperatures inside the grill and from thermometer probes inside the meat by using a cellphone app. Many probes come with the grills, but you can also buy them separately, such as the iGrill digital thermometer that syncs with the Weber app.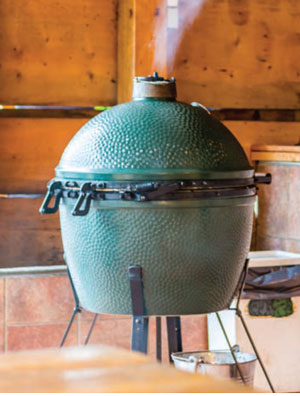 Even with the popularity of pellet grills, individual grills and smokers also continue to trend, like the Kamado-style grills (Big Green Egg, Kamado Joe). A cool nod to Asian cooking of 3,000 years ago, these deep-barrel grills feature ceramic housing that helps retain heat and smoke so it better penetrates the food.
Transformers
If you don't want to give up your old faithful grill but want to try something new, some clever products can transform it, at least momentarily, into a different appliance.
Inserts can turn your gas grill or standard charcoal kettle grill into a pizza oven (see examples at kettlepizza.com). A smoker box—a metal container filled with wood chips or pellets—can instantly turn your grill into a smoker (check out Kingsford's stainless steel smoker box). You can also turn your typical grated grill into a flat-top with a removable griddle plate; Traeger makes a cast iron version with a ribbed side for searing meat and a smooth side for pancakes and grilled cheese. You can also buy rotisserie kits for your charcoal or gas grill. The Signature Rib Rotisserie Rotating BBQ Grill Trays from BBQGuys remind you of a mini Ferris Wheel.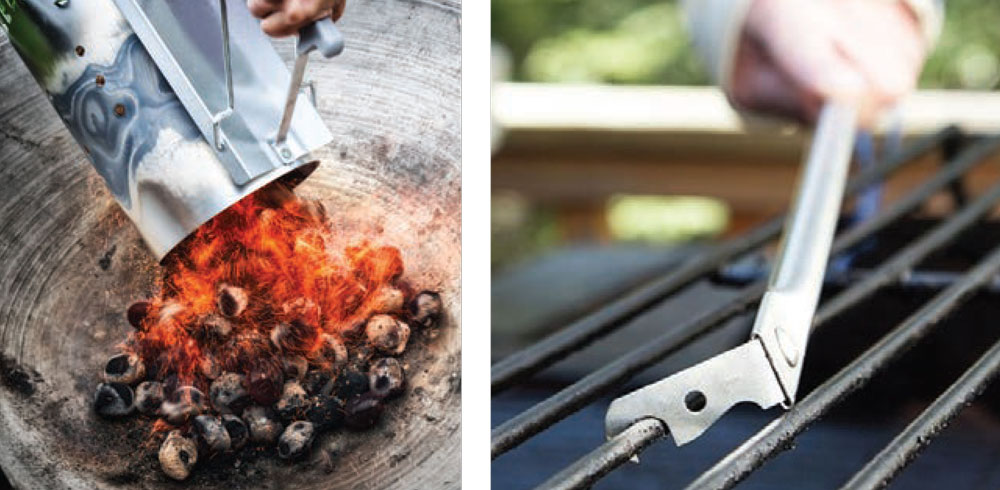 New accessories
The world of grill gadgets keeps expanding. For passionate charcoal grillers, chimney starters have become a much easier way to start the grill without lighter fluid. You'll never have to remove your grates to clean again if you use GrillFloss, a tool that can clean the top and underneath the grates at the same time. Check out GrillGrates, a line of insertable grates that eliminate flare-ups and a charred taste. They are guaranteed to never rust and can produce those bold sear marks for which pit masters strive.
Outdoor cooking has definitely progressed from the old charcoal kettle grills of the past. Whether you're a beginner or just want to up your grilling game, the best way to learn if a new appliance is right for you is to view a demonstration. Many manufacturers and specialty stores produce videos about their latest models (YouTube is a ready resource). After you decide, you'll need some taste-testers, so plan a barbecue and ring in the summer. ✦
charcoal versus gas, flat-top grill, grill, grill gadgets, grill versus smoker, outdoor cooking, outdoor cooking appliances, outdoor pizza oven, pellet grills, personal hibachi grill, summer cookouts