Easy, Breezy | Keep Cool with an Updated Ceiling Fan
Small upgrades make a big difference when redecorating your home. A fresh paint color, updated kitchen hardware, even a new rug can breathe life into an otherwise tired space. Ceiling fans are no exception, while adding a measure of utility to boot. The days of clunky traditional ceiling fans in uninspired finishes are gone, giving way to beautiful accessories that can add style, sophistication and comfort to any room in your house.
Supreme functionality
If you've never had a ceiling fan, you may not realize its numerous benefits. A ceiling fan provides even distribution of air throughout your room, and the continuous counter-clockwise breeze will keep you cool in the summer months. During winter months, the fan can be used in reverse and at low speed, drawing cool air up and pushing warmer air down, keeping you warm and cozy. Because most fans use only as much energy as a 60- watt lightbulb, they are extremely energy efficient. The use of a ceiling fan in the summer or winter reduces the strain on your heating or air conditioning systems, and using them in the fall or spring may eliminate the need to use those systems at all. This not only saves energy, but reduces your heating and cooling costs. A ceiling fan saves space in your room, omitting the need for a fan on a table or in the corner. It also can be a way to introduce more light into the room as many models come with the added feature of a light kit. If the light is on a dimmer, it can be used for illumination and dimmed to soften the mood.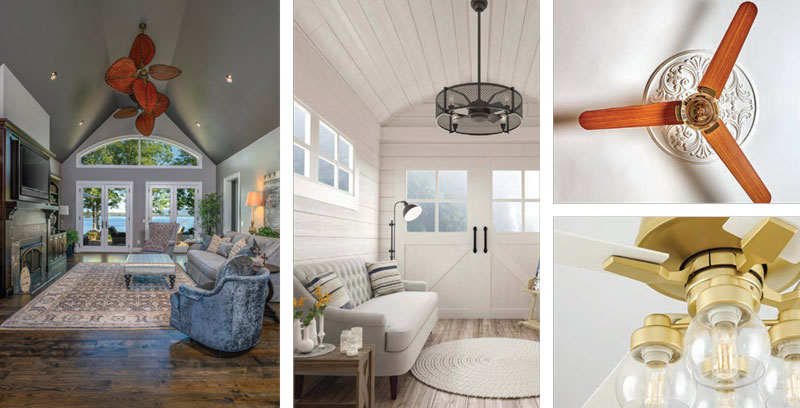 Find the right fit
Maximizing the efficiency of your fan requires choosing the right size for your room and installing it properly based on your ceiling height. Fans are measured by the blade span or the blade sweep, which is the diameter of the circle you see when the fan is running. First, find the square footage of your room by multiplying the room's length by the room's width. Then use this chart to find the best size for your room:
| | |
| --- | --- |
| ROOM SIZE | FAN SIZE (DIAMETER) |
| Up to 75 square feet | 29-39 inches |
| 76–144 square feet | 36-42 inches |
| 145–225 square feet | 44 inches |
| 225–400 square feet | 50–54 inches |
For a room with ceilings taller than 10 or 12 feet, or vaulted ceilings, choose a fan with a down rod. When installed, the fan should hang down 8 to 10 inches from the ceiling and ideally 8 to 9 feet from the floor. Smaller rooms with ceilings between 8 and 9 feet are best suited for a low-profile fan or a flush-mount fan, which hugs the ceiling. These fans are known as huggers or snuggers, and should be at least 7 feet from the floor for maximum safety.
Refined and well-designed
Adding a ceiling fan is an easy way to make an impact when creating the look of your home. The evolution of fans from simply functional to aesthetically pleasing has occurred over the past few years, and the results are stunning; no matter your style or taste, there is a fan to match. You may think a ceiling fan in a dining or living room won't work, however designs have been elevated to match the formal or upscale feel of these rooms. There are numerous fans to choose from, including fans adorned with crystals or ornate light fixtures; some appear to be chandeliers, but have blades that retract when not in use or completely hidden to disguise its true identity. Modern designs include fans with acrylic blades, curved blades or even a single blade. If you are looking for an industrial feel, consider one made of metal in black or pewter, or with a metal cage around the fan and that uses Edison bulbs in the light fixture. Trendy ceiling fans come in lots of colors either on the fixture itself or the blades. Even traditional fans have changed, providing many more options for blade color, style and finishes of the wood and metal accents.
An increasing popular and budget friendly way to add flair with a ceiling fan is to make changes to your existing fan. DIY projects include adding a ceiling medallion, stenciling or wallpapering the blades, and even painting the entire fan. So whether you are looking to increase your comfort level, add interest to a room or tackle a fan improvement project, these long hot days of summer are the perfect time to do it. ✦
blade span, blade sweep, Ceiling Fan, down rod, Energy Efficient, flush-mount fan, huggers, low-profile fan, snuggers