Cozy Up to the Outdoors | Extend the Season with a Custom Fire Feature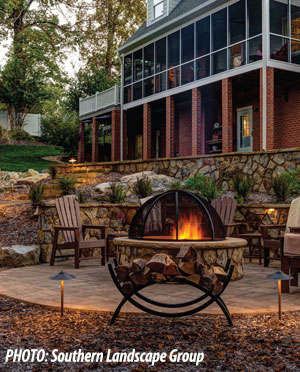 Since the early ages, campfires have been meeting our basic needs, keeping us warm and well fed. Now, our kitchens and home heating units do the job. But there's still something primal we crave from the flickering flames: a relaxing place to gather with friends and family.
From the natural and rustic to the modern and luxurious, today's options for fire pits and other outdoor fire features can complement any style home. Just a few steps outside your back door, you can serve up fresh air and a fun time for your guests.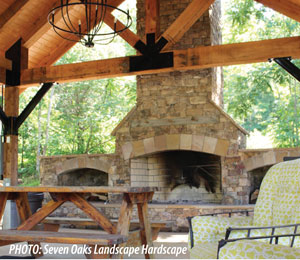 Meet Me at the Pit
Local landscape and hardscape professionals agree that adding a fire feature to your backyard will not only enhance your property but also your family and social life.
"People want to create additional outdoor living areas for rest, relaxation and social enjoyment," said Robert Greer of Seven Oaks Landscape & Hardscape, noting that fire pits are one of the company's most popular requests. "Customers want to extend the time outside and extend the season, even early in spring and into the fall."
Ronnie Mitchell of Ronnie Mitchell & Son Landscaping & Lawncare said fire features have become particularly popular for homes near the water, making it possible for families to enjoy the view even as the chilly temperatures creep in.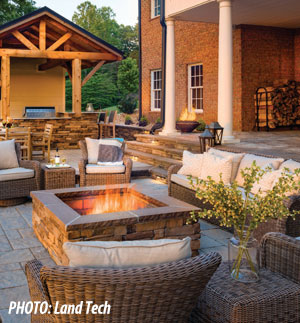 "People are investing in their homes so they can essentially vacation right there — have a staycation. They want to build fire pits for kids and grandkids to come and enjoy," he said. "The lake season from Memorial Day to Labor Day is usually the focus, when customers want to utilize their outdoor living spaces. We build a lot on the lake, between the house and docks, as a cool place to hang out halfway."
Homeowners can choose various styles, shapes, and sizes of fire pits. Although many companies will install kits (pre-designed with packaged features), they also encourage the homeowner to be creative in customizing their space. A professional will walk you through the entire design process, including determining the best location for your fire pit (adequate distance from your home and proper drainage and slope), and help you create a one-of-a-kind outdoor haven.
Mitchell said it's about helping customers realize the potential for their outdoor living spaces. Some customers come with a design in mind, while others view the company's work on the website for ideas.
"We help you determine the best use of your space, with the design and shape that will give you the best bang for your buck and utilize the most space you have," he said.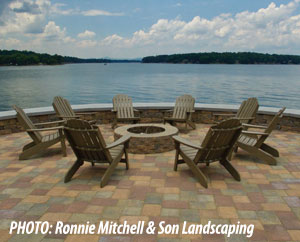 While many homeowners choose the traditional cylindrical pit, they may not realize there are more options for these than ever before. You can go with a standard brick wall design or raise the bar with natural stone installed by a skilled mason. The newer designs include a wider top surface, with plenty of room to prop your feet or park your food and beverage. A popular accessory, especially for woodburning, is the spark guard, a metal mesh that covers your pit and provides a measure of safety.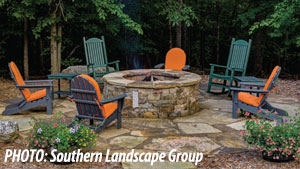 Many people prefer simple, rustic fire pits that match their natural surroundings. If your fire pit will be near a wooded area or garden space, you may want an in-ground pit encircled by large rocks to create a campfire feel. Or you can go even bigger with the rocks and design a boulder fire pit, where the center of a large boulder is actually cut out to hold the fire.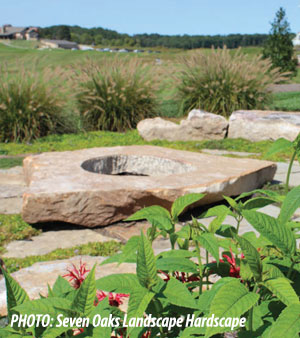 Seven Oaks specializes in boulder fire pits.
"We are seeing a trend toward natural products," Greer said, "which is why boulder fire pits are outselling block fire pits. Each and every boulder fire pit constructed by Seven Oaks is literally a unique masterpiece."
"The natural look is definitely trendy right now," Mitchell agreed. "It's a cool look, and we're using boulders more often than block for fire pits and retaining walls."
FIRE PIT DESIGN OFTEN COMES DOWN TO YOUR CHOICE OF FUEL. ALTHOUGH MANY STILL PREFER TO BURN WOOD (THERE'S NOTHING MORE NATURAL THAN THE CRACKLING SOUND AND THE SMELL OF A WOOD FIRE), THE CONVENIENCE OF A GAS PIT MAKES IT A POPULAR CHOICE.
Another option is a portable gas fire pit that resembles a tree stump, like the Bryndle Root Fire Pit.
Outdoor fireplaces, although not as common locally as fire pits and certainly more costly, are a feature that can really make a statement in your yard. Fireplaces have long been called the heart of the home, and some homeowners who want to plan for larger crowds install a fireplace as well as a fire pit, to give guests separate areas to gather.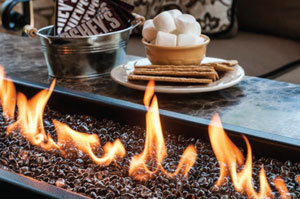 The Fuel Factor
Fire pit design often comes down to your choice of fuel. Although many still prefer to burn wood (there's nothing more natural than the crackling sound and the smell ofa wood fire), the convenience of a gas pit makes it a popular choice.
"The trendier thing is people wanting a gas fire pit so they don't have to deal with wood or smoke," Mitchell said. "It's the convenience of turning the gas on and justlighting it."

In recent years, a more modern fire feature fueled by gas has come on the patio scene. Fire tables, featuring gas burners buried under lava rocks, are narrow, rectangular pits, usually about the height of a coffee table, that produce a consistent, soothing glow and a decorative addition to your patio. You will often see them with a clear surround partition called a wind guard to keep them aglow on windy nights.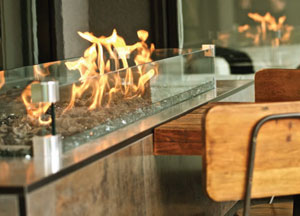 Also among the most attractive new fire features to hit the market are fire bowls. Like fire tables, the calming flames sprout out of a pile of rocks. The bowls are available in a wide variety of styles, colors, and shapes and can also be filled with "fire glass," a product made specifically for fire bowls and fire tables. The combination of the glistening glass, available in various colors, and the dancing flame is mesmerizing. There are also fire bowls that double as a water fountain. Installed at the edge of a pool or waterfall, these features add a luxurious feel to your space.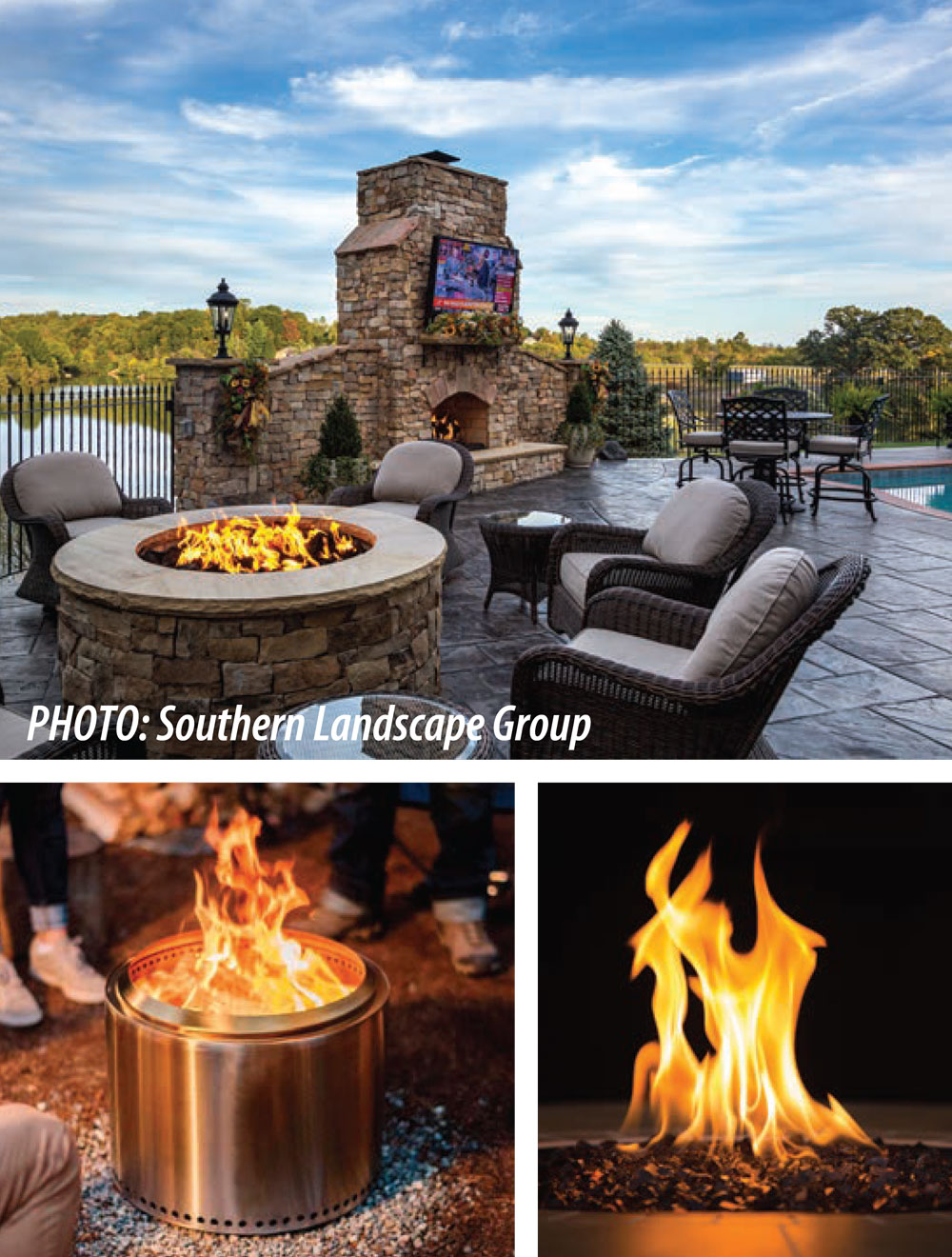 Going Smokeless
One drawback to a traditional woodburning fire pit is the smoke. It can sting your eyes and leave you with an odor that lingers long after your dinner party. If the smoke and stray embers are a concern, you may consider a smokeless fire pit. Brands like Breeo and Solo Stove are engineered as self-contained, portable devices that increase the airflow and eliminate smoke.
Mitchell said they are seeing more homeowners choose smokeless, portable fire pits, which actually gives the patio more potential when entertaining family and guests.
"We love when our customers do this because it makes their patio dual purpose, unlike a permanent fire feature," he said. "It's about creating different areas of the backyard for people to gather in."
About seven out of 10 of their clients are choosing smokeless fire pits, where they can take it anywhere on their patio for multiple uses.
If you do have a traditional stone surround pit, however, there are smokeless fire pit inserts and special ring inserts that can reduce the smoke output.
Some homeowners who want to plan for larger crowds install a fireplace as well as a fire pit, to give guests separate but different areas to gather.
Fireplaces have long been called the heart of the home. To create an outdoor living space that is just as comfortable and inviting as the fireplace in your living room, connect with your local hardscape expert. Welcome those chilly autumn nights with a fire pit or fireplace custom-made for your home! ✦
Boulder Fire Pit, Custom Fire Feature, Cylindrical Pit, Fire Bowls, Fire Pits, Fire Tables, Gas Pit, Outdoor fireplaces, Outdoor Living Area, Smokeless Fire Pit