Comforting Curves With Timeless Appeal | Incorporate This Inviting Trend Throughout Your Home
The lines of design are softening as the iconic circle and curve motifs surge in popularity among interior designers and consumers. From arched ceilings and curved walls to circular chairs and round mirrors, curved edges are trending. The COVID pandemic has helped fuel today's escalating demand for rounded shapes, rhythmic curves, and bendy lines in home design. Though lockdowns and quarantines are waning, we still spend more time at home and seek refuge amongst our furnishings and décor. Curvilinear shapes offer a comforting and captivating aesthetic, which enjoys timeless appeal.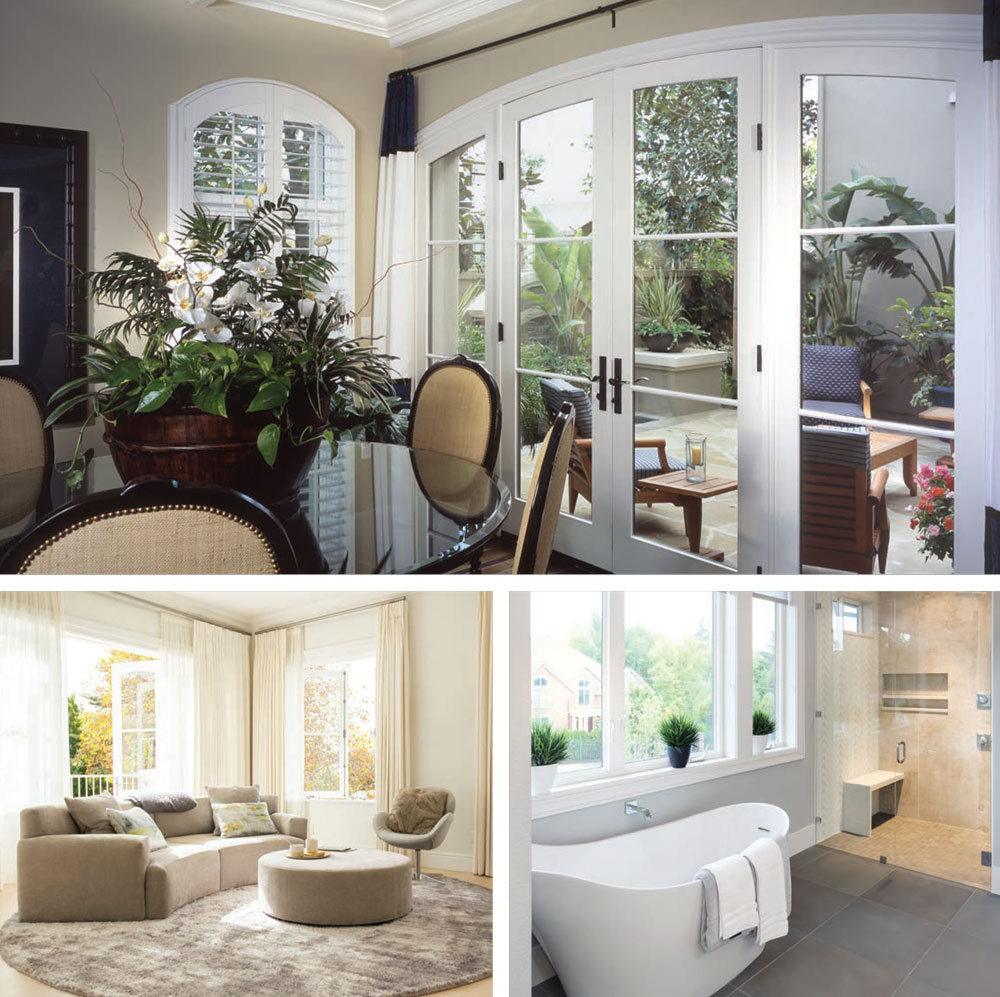 What's behind curve appeal?
Scientific research suggests that curves make us happy. In a 2013 study conducted at the University of Toronto, participants judged spaces with curvilinear features as more beautiful than those with rectilinear elements. Psychology Professor Oshin Vartanian explains, "We have found that people find spaces that have curved features more beautiful than spaces with sharp features, and that this preference is driven primarily by how pleasant they find those spaces to be." In an earlier 2011 study published in the Environment and Behavior Journal, participants also found that interior settings with rounded contours elicited greater pleasure and relaxation than those with angular contours. Evidently, we humans are innately drawn to curves.
Many designers opine that curves make us feel good because they remind us of the warmth of the human body and the calming patterns in nature. Australian architect Tony Owen, quoted in a recent Architectural Digest article, thinks we instinctively love curves because they "relate to the human body, the feminine form" and the efficient designs in nature. Biophilic design, an aesthetic which gained cachet during the pandemic, has as its guiding artistic principle that we have a primordial need to connect with one another and nature. The style incorporates natural materials and organic curves and aims to rekindle a connection to nature which, biophilic theory asserts, boosts mental health, creativity, and productivity.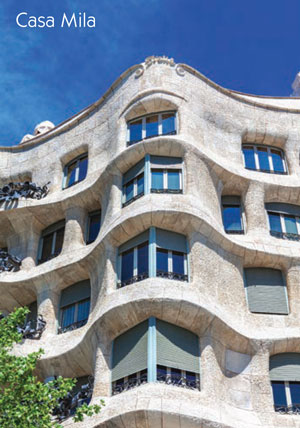 The rebirth of curvilinear design recalls earlier epochs in art history. According to some art scholars, curves and circles in design have long symbolized the inspiring notions of nature, femininity, infinity, perfection and eternal divine love. The Art Nouveau movement of the early 20th century turned to nature and the Industrial Revolution for inspiration as World War I raged. Influenced also by the 18th century Rococo movement's fanciful curves, the Art Nouveau style embraced serpentine lines, curvy shapes, arches, and stylized ornamental motifs. Catalan architect Antoni Gaudi's undulating architectural masterpiece, Casa Mila, and Louis Comfort Tiffany's elegant water-lily lamps are excellent examples of the Art Nouveau style from which the current curvaceous design trend descends.
Introducing curves on a budget
According to Pinterest and Zillow, curved furniture is a top design trend among retailers from high-end luxury to budget brands. You can incorporate sumptuous curves into your home without breaking your budget just by adding a few select pieces. In your quest for curvy elements, you don't have to abandon straight-lined furniture and accents: Blending curvilinear and rectilinear shapes sparks visual interest and even showcases your furniture's design.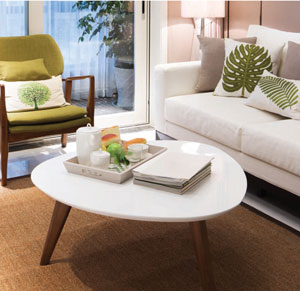 In the living room
Curvy sofas and round chairs create an inviting ambiance in any living or family room. Curved sofas engender intimate conversations better than boxy ones because your guests can easily chat without craning their necks to gaze at one another. A round coffee table establishes an attractive focal point for a circular chair and sofa arrangement that gracefully traces your furnishing's contours, creating a dynamic yet relaxing vibe. Design experts note that upholstery color palettes are trending toward earthy brown, camel, taupe and cream hues and away from minimalist crisp white. As well, nature-inspired textures are burgeoning, ranging from nubby, reeded, or furry textures like mohair to stone, marble, and terra-cotta.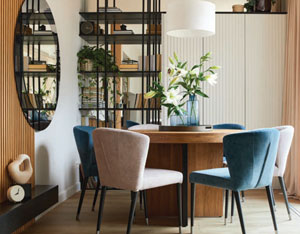 In the kitchen, bar and dining room
Pinterest reports a threefold rise in 2022 searches for curved kitchen islands. Curved kitchen islands and cabinets attractively streamline the flow of your kitchen and can significantly expand storage space. If your budget doesn't accommodate major kitchen renovations, you can add less expensive curvy flourishes in light fixtures, drawer or cabinet handles, and backsplash tiles. For your bar, a curved stone or marble topped bar and round stool seats create a stylish setting while a round drink trolley brings a dose of glamour and libations into your dining room. At the pinnacle of its popularity, the rounded dining room table proffers intimate and elegant dining, especially when illuminated by a cascading chandelier light.
In the bedroom and bathroom
You can easily infuse your bedroom with sensual curves that exude luxurious relaxation. Wavy bed headboards, graceful canopy beds, and furled sleigh beds soften a bedroom's atmosphere. If your bed doesn't have a headboard, try making a DIY painted circle headboard. A rounded decorative mirror can serve as a striking focal point in both the master bedroom and bathroom. Your master bathroom will beckon as a spa destination when you install an elegant, curved stone bathtub and circular marble sink.
Curves in architecture
Many architects are retiring box-style rooms and embracing curvilinear lines that reflect nature's fluidity. Lofty arched ceilings and doorways heighten a home's spaciousness while curvy walls create movement in rooms and halls, especially when ceiling lighting splashes over the curves. The return of arches, arcades and vaults reflects a stylistic shift toward more fluid architectural elements.
Getting ahead of the curve
When updating your home to include curvilinear designs, you can get ahead of the curve by taking some designing precautions. To keep your curved furniture from looking bulky or feeling uncomfortable, you'll want to carefully measure the base and back of the piece. If possible, try to construct the piece in 3D first and then translate its dimensions to paper.
A straight line efficiently connects point A to B, but a curvilinear one meanders, undulates, bends and turns before reaching its destination. Perhaps we have an emotional and timeless affinity to curves because they visually evoke life's amazing journey itself. ✦
Arched Ceilings, Arches, Circular, Curved Kitchen Islands, Curved Walls, Curvilinear Shapes, Curvy Shapes, Graceful Canopy Beds, Round Mirrors, Rounded Contours, Serpentine Lines, Stylized Ornamental Motifs