Color Me Happy: How to Choose Exterior Paint Colors for your Home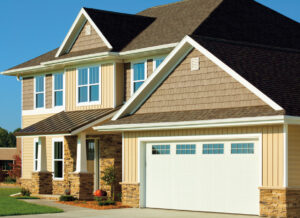 Ever stood in a paint store with a handful of paint chips, wondering how to choose what works best? Choosing paint colors for your home can be overwhelming, especially if you want to update your entire exterior scheme. If you've put off a change because you don't know where to start, there are steps you can take to make the process easier. Follow them and you'll increase the chance that you'll stand in front of your new gleaming exterior and say, "I love it!"
Consider Your Surroundings
If you are in a neighborhood with a homeowner's association and/or restrictive covenants, find out if you are bound by any rules for exterior colors. If you are free to make your own choices, take notice of the homes around you. You want to blend, but avoid looking the same. For example, suppose the house next door with similar architecture is white with black shutters. Even if you covet that look, you'll want to go for a variation that sets you apart, like a light gray house with deep gray shutters.
After you've looked at your neighbors' homes, turn to your own yard. For color inspiration, think about the elements of your landscaping that you love. Do you have a bed of sunny daffodils that bloom every spring, or holly bushes with beautiful red berries lining your walk? Make note of these as possible color cues for your shutters and/or front door—which, as the gateway to your home, can be an expression of your taste and personality.
The other important consideration before you visit the paint store is to think about the fixed elements of your house—things that won't change, like the roof, or existing stone or brick that won't be painted. Most roofs are neutral grays or browns, but some steal the spotlight, like a red metal or green shingle—and will narrow color choices for the rest of the house. Are your windows vinyl (meaning they can't be painted)? Do you have white storm windows? If so, choose a paint color that matches the vinyl or metal of your windows to use for trim to blend these elements with the rest of the house. If you have wood windows that can be painted, you can opt for a different window trim color.
While you're standing outside, snap a picture of the front of your house to take with you to the paint store. It can help you in conveying the style of your home and the changes you want to make to a professional at the store.

Be a Color Insider
Paint companies like Benjamin Moore and Sherwin-Williams sell fan decks—which are a must-have staple for designers to help them narrow down and choose paint colors. Purchase one at the store or online for about $25—a worthy investment if you are shelling out the dollars to repaint your exterior. If you are looking for a trim color that will blend seamlessly with your existing stone or brick, put the fan deck up against the house to color match a shade in your brick or stone. You may think your brick is just one color, like red, but it often has shades of grays and browns, and one of those would be a perfect trim complement. If the body of your house is painted, here's a designer trick for choosing trim paint: ask the paint store to add 10 percent of your house color to Sherwin-Williams' Pure White—a fail-safe way to match the undertones. If you have a favorite paint brand, any paint store can color match Pure White.
In addition to a fan deck, the color wheel can be your best friend in choosing paint schemes that work. Color combinations based on the color wheel are monochromatic (several shades of a single color); analogous (colors found side by side on the wheel); contrasting (three colors spaced evenly apart on the wheel); and complementary (two hues opposite each other). Pull up a wheel online and use it with your paint fan deck to see what inspires you!
If you decide you like a type of scheme (like monochromatic) but are lost when it comes to actual colors, ask the paint store consultant what some of their favorites are, because they are usually thrilled to help and their advice is free of charge.
Once you've narrowed down some color choices, invest in some sample quarts and some large pieces of white poster board. Paint the boards (covering all of the white) and hang them up outside on your house. Make sure you look at them at different times of day, and if you like what you see, you've arrived at color nirvana.

DIY Update
A cheaper and faster way to bring flair to your exterior, especially if your house paint and trim are in good shape, is to paint your front door a new hue. The sheen is up to you; go full-on high-gloss or understated matte.
If your house and trim colors are neutral, you've got more leeway in choosing a front door shade and can change it when the mood strikes. Decide on the statement you want to make and then get some sample boards ready before you commit. Are you a stickler for tradition? Deep green, red or black are all great tried and true choices. Does something bold and playful suit you? How about trendy turquoise, regal purple or even an interesting orange?
If you've followed these steps but are still knitting your brow in angst, consider calling in seasoned color experts. Many interior designers and decorators can help with a relatively inexpensive paint consult; many offer this as an affordable a la carte service. They may also be able to suggest and coordinate the painting contractors who will hopefully get you one step closer to "I love it!"
COLOR CHEAT SHEET
YOUR FRONT DOOR
Southern-inspired:
Dark green is a traditional Southern color that looks great on brick houses with white trim.
Try: Farrow & Ball Carriage Green
Regal and unusual:
Think deep purple that doesn't
read too grape.
Try: Sherwin-Williams
Majestic Purple
Bright and cheerful:
On the turquoise trend: Benjamin Moore Venezuelan Sea
Yellow without the shock value: Pratt & Lambert Beeswax
A pleasing green: Valspar Sassy Green
WHOLE-HOUSE SCHEMES
Harmonious color combo for stone facade or a slate roof:
House body: Sherwin-Williams
Relaxed Khaki
Trim and shutters: Sherwin-Williams Universal Khaki
A twist on the black and white traditional look:
House body: Benjamin Moore
Sandy Hook Gray
Trim and shutters: Benjamin Moore Kendall Charcoal
Front door: Benjamin Moore
Moroccan Red
Benjamin Moore, Front Door Paint, House Color Cheat Sheets, House Paint Colors, House Paint Schemes, Sherwin Williams