The Kitchen Remodel: Tips for Managing this Major Overhaul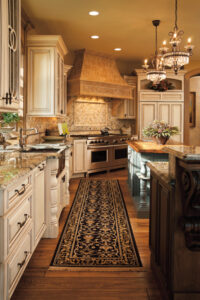 When we purchased our 100-year-old farmhouse several years ago, the seller, a lovely elderly woman who had lived there for over 60 years, was excited for us to see the kitchen. "It has a renovated kitchen!" she gushed, proudly showing us into the home's interior and into the kitchen where she'd cooked her family's meals for decades. My husband and I eagerly looked around the corner to glimpse this treasure, and paused. The kitchen had indeed been renovated…in 1960.
We did our best to nod approvingly at the 50-year-old painted pine cabinets, nonexistent counter space, and ancient appliances, while simultaneously making mental note: The kitchen needs work. The house was perfect for us in every other way, and the kitchen was outdated but usable. We went ahead with the purchase, knowing full well that renovations were in our future.
If you are considering a kitchen renovation, one valuable piece of advice from seasoned homeowners is to live with it for a while, as this gives you and your family a chance to really experience what works about the space, and what you'd like to change. Most people dreaming of kitchen renovations have lived in their kitchens for a significant amount of time, and this gives them an intimacy with the space that is invaluable. Some questions you might consider: Is your kitchen meeting the needs of your family, both in space and function? More counters? More storage? More light? Perhaps, as we were, you are happy with the basic footprint, but your cabinetry and appliances are desperate for some updating. If the time has come to consider a kitchen renovation in your home, there are some excellent local resources to guide you through every step of the process.
Before you race into that first gorgeous showroom and start salivating over countertops and appliances, there are some things you should think about first to streamline the process and make it more efficient and enjoyable for everyone involved.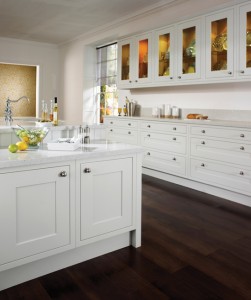 GET READY: Identify Your Kitchen's Purpose
The first thing to decide is your vision for your project. Any designer or contractor you use will ask you this, and it will save time and confusion if you have thought about it ahead of time. What is the main purpose for the renovation and what do you see as its scope? Do you like the existing layout, but feel it needs some updating, or will attaining your goals require a down-to-the studs operation or changing structural things about the home itself? There is a world of difference between, "I hate the countertops and wish for something brighter," and, "I want to relocate the kitchen to the new addition on the back of the house." It is important to be honest with yourself and prospective contractors about your goals. Lee Ann Carter, owner of Carter's Cabinet Shop in Roanoke, recommends keeping idea books, either online or the old-fashioned way with clippings and photos, of kitchens you love. These are helpful in identifying your style as well as some of the features that are important to you.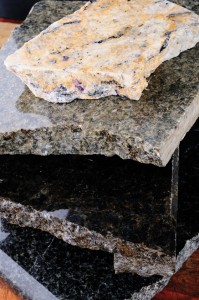 Think about your personal style and how you use your kitchen currently. Are you relaxed or more formal? Are you attracted to sleek modern lines, or more rustic finishes? When you cook, are you more of a warmer-upper or do you love to cook from scratch? Is cooking a family affair, or a solo operation? Perhaps you will want a kitchen that will complement your entertaining style. We all know that guests will eventually congregate in the kitchen, so think about how that aspect will affect your goals for the space.
Other things to take into account are storage needs and organization. What would you like to be visible and what would you rather have hidden (or at least camouflaged)? Perhaps you feel there are ways to make your space work more efficiently
from a work-flow perspective. Do you have specific storage needs? For example, an avid baker might need dedicated storage for the mixer, a surface for rolling out dough, and storage for various baking pans and trays. Perhaps there are collections you'd like to feature in your redesigned kitchen: antique plates, pottery or cookbooks.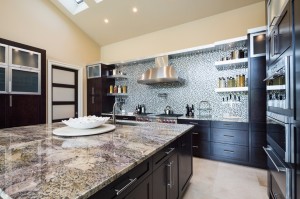 GET SET: Set Your Budget
Let's be real. Kitchens are expensive. Per square foot, they are easily the most expensive room in your home, and materials and appliances run a very wide range of quality and price depending on the size of your job. There are big box stores and there are custom hand-made cabinetry artisans, and there is everything in between at price points that seem wildly discrepant. So how do you approach this? An excellent rule of thumb is to decide first what you can afford, then go and see what your budget will buy. Sheri Howard, a kitchen and bath specialist at The Cabinet Gallery in Hardy, advises, "Knowing your budget helps us to guide you." She explains that once designers know your budget, they will then work within that to fulfill what you want and need from your kitchen renovation.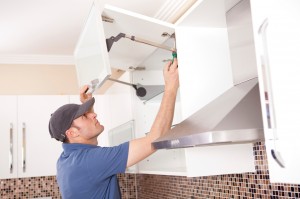 At Carter's Cabinet Shop, Lee Ann Carter has seen people come in afraid or unable to discuss their budget, for a variety of reasons. She cautions prospective clients that this is not the wisest way to go. Reputable designers are not trying to spend every last cent you have, but rather to make the money you have designated for your project go as far as it can. She has found that having a showroom with displays helps clients visualize and price the size and scope of their job by showing them actual kitchens installed right in the showroom. Be clear about your budget, and what it is meant to cover, Carter advises. "We have been in business long enough to know what type of cabinetry to look at that should keep clients within budget," she says.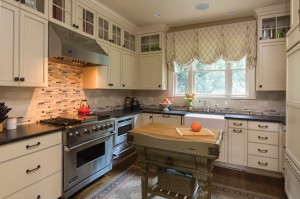 GO! Shop Around Find the Right Contractor
Contractor or designer, or both? These individuals have different jobs. A kitchen designer will guide you through the layout and selection of your cabinetry, counters and appliances. Often they can also assist with other design tasks such as choosing wall paint or lighting. They are the creative force behind the project helping you to pull the whole thing together and insuring that this investment is one that is both beautiful and functional. The contractor, on the other hand, is more of your on-site builder. Contractors will oversee demolition and removal of the old kitchen (and other related projects such as removing walls), and will be responsible for following the detailed kitchen design and installing it in your home. They also oversee the subcontractors, such as plumbers or electricians, who will be needed to complete your job. Many kitchen renovation businesses combine these services, for a more efficient and seamless renovation.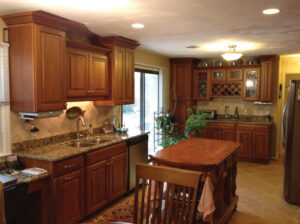 At Cabinetry with TLC for example, another Roanoke-based kitchen and bath business, owner Terri Langford explains how her business handles projects from "conception to completion." Like Carter's Cabinet Shop or The Cabinet Gallery, Langford has a staff that includes design service and trusted contractors and subcontractors. It is also possible to hire your designer or contractor individually; this may work for you if you already have a good relationship with an industry professional.
Teams of designers, contractors and subcontractors will carefully cultivate their relationships with clients, acknowledging the critical importance of referrals and recommendations in this business. Langford says, "Many of our clients become friends, and I wouldn't have it any other way!" People who are happy with a job tend to tell their friends, so the best way to find a great designer and/or contractor is to ask for referrals from friends and neighbors who have renovated kitchens and are not only happy with the result, but are also pleased with how the entire process was handled.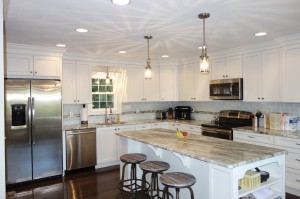 Howard suggests that prospective customers consider also those referrals from repeat customers. "Repeat business is important," she explains, "because it shows that customers are happy with their completed project enough to come back when they are ready for another project to begin." It's true that many companies have beautiful websites and even showrooms where you can see the workmanship and design firsthand, and all of that is important—but there is no substitute for a good referral from someone you trust.
Make a list of local contractors and kitchen designers whose work you admire and set up meetings; think of these meetings as a chance for you to evaluate each other. You and your contractor will work very closely over the course of your project, and you need to feel comfortable with each other and able to deliver on your sides of the partnership. Specific things to discuss include your goals and expectations; your budget and their billing policies (what you can afford, and when you'll be asked to pay); timeline to completion; and how all of this will be documented. An open and honest discussion with prospective designer/contractors will ensure that you choose the right person for your job, and avoid uncomfortable issues later on.
Once you've found a good match, you'll sign a contract, and be ready to begin. What can you expect? There are several steps to the renovation process and usually several weeks (or months) before you'll be happily cooking in your new space. Beautiful kitchens don't happen overnight.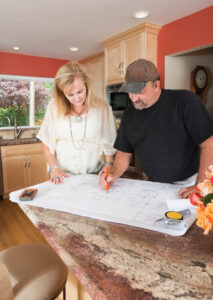 One of the first steps is a thorough and meticulous measurement of your kitchen to ensure that everything will fit properly. These measurements will determine the size of cabinets, countertops and appliances you'll order and will often also include a survey of existing electrical, gas and plumbing features so that subcontractors can be advised if things will need to be moved, upgraded or otherwise altered.
To make the process move more smoothly, it's a good idea to know what appliances you plan to order ahead of time. Keep in mind that some appliances (like dishwashers) are standard size, but others, like some ranges and built-in refrigerators, are quite a bit larger and will need extra space. These measurements, too, will need to be carefully documented to be sure that everything fits perfectly in your new kitchen.
Once you have measurements, it is time to work on design and make your cabinet and countertop selections. This is the fun part! Using what they know about your goals and budget, your designer will provide you with renderings (drawings) of the design so that you can see how your new kitchen will look. They will also guide you through the process of selecting other various components of your kitchen, including lighting, flooring and hardware, so that everything will blend together harmoniously and meet your goals for the space. Working together, this design phase can take a single meeting or it can go on for several weeks, depending on how many revisions you need to make. A good designer will guide clients through the process, as long as it takes, to get a design just right. "We really listen to you," says Langford, "then we use our knowledge and experience to help you achieve your goals." It is this type of personalized attention and individualized design that lure Roanoke Valley residents away from one-size-fits all kitchens and through the doors of such locally owned businesses.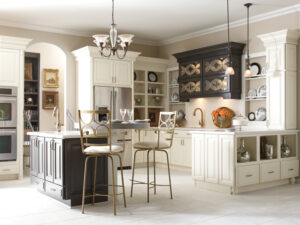 When your design is finalized, you are ready to order; this is also something your designer or contractor will likely walk you through. Your cabinets will be ordered, often along with your appliances, though in some cases you'll order the appliances yourself. When you place your orders, you'll probably be asked to pay a percentage of your estimated total job cost, generally in the neighborhood of 50 percent, with most of the balance being due upon delivery and inspection.
After all the flurry of planning and ordering, you can expect a lull of a few weeks. Most custom cabinetry takes anywhere from three to 10 weeks to fabricate and ship. You should expect to have a detailed calendar outlining the schedule of all orders and work to be done, and if you aren't offered one, ask for it. Customers are usually given this schedule at the time of order, and designers are careful to keep everyone in the loop about updates to weekly and daily schedules. As Howard says, "Communication is the key to making each project run on schedule."
Regardless of the timing of your cabinet delivery, this lull is the perfect time for you to make some plans of your own. You'll need to carefully pack up your existing kitchen. It's a great time to winnow out all those items you no longer use. It's also the time for you to plan how you are going to manage meals if you will be living in the home while renovations are happening—especially if you have a family. Where will you eat? Where will you store food? How will you cook it?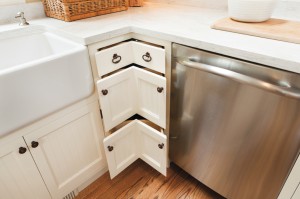 It's a good idea to keep a refrigerator somewhere, even if it needs to live in the garage or dining room during renovations. Particularly if you have children, it's hard to eat every single meal out, so this will require some extra thought and a lot of flexibility on your part (and theirs). So, can you put a coffee maker in your master bath? Sure. Have milk crates stocked with cereal bars and Pop Tarts next to your TV? Why not? Eat on disposables and make it up to Mother Nature after the renovation so you don't have to wash dishes in your laundry sink? Absolutely. This is a process that usually takes weeks, not days, so planning ahead will minimize stress on your family.
Finally you get the call: Your cabinets are ready! Things rapidly move from the planning stage to action. Experts stress that constant communication with clients is key and timing is important. You can expect a steady stream of installers and craftsmen to be pouring through your home in numbers that can be dizzying. You can expect regular calls, texts and emails from your designer or contractor to ensure you are up to date with all aspects of the project's schedule, including appointments with subcontractors such as flooring installers, electricians or plumbers.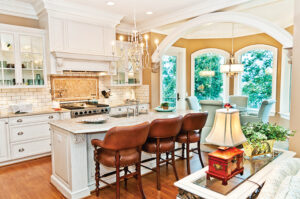 Demolition, or the removing of the old kitchen fixtures, takes a surprisingly short amount of time, often only a day or two, and the new cabinets are brought in and installed. Countertop installers come after cabinet installation to make a template for your countertops. They take this template and over the course of a couple of weeks cut, hone, and create your counter to your specifications. Meanwhile, your appliances are unpacked, inspected and installed, and little by little, your kitchen begins to take its finished shape.
Finally, with subcontractors' work complete and appliances, cabinets and countertops installed, you and your team turn your focus to the final steps—the finishing touches of hardware, backsplash and painting. These final details really make your project complete and also mean that you can start using your new kitchen!
The sense of accomplishment is huge for everyone involved. "Renovation is such a personal experience," says Carter. "The kitchen is the hub and the single-most important room in the home." It is fulfilling for everyone to experience the transformation. Though it has many steps, the process of renovating a kitchen can have profound effects on the way a family lives in their home. No one goes into a kitchen renovation expecting it to be easy or effortless, but with good communication, planning and patience, and most of all, a good team, you can transform this room, the beating heart of most homes, into a space that will be a joy to cook in, to eat in, and to gather in for many years to come.
SHOP SMART FOR NEW APPLIANCES
New appliances can make a world of difference in your kitchen. Here are some tips for selecting new appliances:
■ Buy local, not online! If you are tempted to order appliances online for convenience, remember that returns, as well as addressing any damages or problems with an appliance, can be a lot easier with a local business. Local businesses can also provide easier access to
service calls.
■ Speak to the sales staff to be certain that they are knowledgeable and factory-trained about the appliances they carry.
■  During a renovation, make sure your appliance company will communicate with and forward all product information and specifications to the cabinetmakers and contractors involved with the project.
■  Visit an appliance showroom to see appliances in a kitchen-cabinet setting. This helps you visualize not
only how everything will look once installed, but also give you an idea of how you will use the appliances within your space.
    Jeff Janney, Vinton Appliance Center
Built-in Refrigerator, Carter, Carter's Cabinet Shop, Counters and Appliances, Kitchen Measurements, Kitchen Work Flow, Laundry Sink, Local Contractors, The Cabinet Gallery, Vinton Appliance Center