A Feast Of Florals: Tablescape Ideas to Make the Season Merrier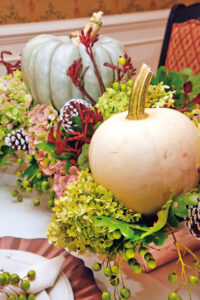 Who says Christmas trees get to have all the fun? Adorning your dining table is another way to celebrate the season and welcome your guests, using flowers, greens, candles, ornaments—even produce—and all the other trappings of the season. Your very own yard, kitchen and even your bookshelves and countertops may already hold most of what you need to design a beautiful table, perhaps supplemented with blooms from your local florist.
Here, we asked three floral designers to share with us tablescapes of their own creation that we could recreate in our own homes, using elements we may already have or can easily find outside. Whether you are setting the table for one family gathering, a big party, or just because you love flowers as much as we do at HOME, you're sure to be inspired by these seasonal looks.

Casual Chic
To kick off the holiday season, look no further than the pumpkin patch or farmers market to create a rustic-but-chic arrangement like the one imagined here by the talented creative team at Bloom by Doyle's in Lynchburg.
Designed by Karen Edwards, the arrangement features elements in a muted color palette, full of soft neutrals that can skew toward the oranges and browns of Thanksgiving or the richer greens and deeper reds of Christmas. An Irish linen white tablecloth and Juliska china on bronzed chargers are in perfect keeping with the air of sweet simplicity. Channeling a casual family-gathering vibe when she designed this arrangement, Edwards says, "We wanted to create something for a more relaxed feel—not too formal." This type of arrangement could translate just as well to an intimate gathering in the eat-in kitchen or as the anchor to a casual buffet.
The base of this arrangement—a wooden box—was constructed by Bloom's Chrissy Cangialosi from of a wooden pallet that she then whitewashed, to create a base that is not only versatile in looks but also intentionally long and low. "In this example, we wanted to use something low so that guests could make eye contact without a big object in their way," explains Debbie Miller, owner of Bloom.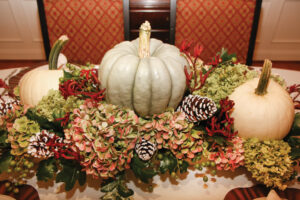 Edwards says she was inspired by the "go vintage/use what's available" trend to complete this look. She started with a focal point—in this case, locally sourced pumpkins ranging from a soft white to a silvery greenish gray—and built around it with flowers and other natural items to showcase them. Though hydrangeas are not in season at the moment, you may have dried some earlier in the season, or can get them from the florist if it's your favorite, she says. Pinecones, oak leaves, hydrangea leaves and china berries round out the arrangement—all items that can easily be found in the yard (or something like them). Berries are used in each place setting, tied with burlap ribbon around each napkin for a pop of color and delight, and to tie in to the main arrangement.
Edwards also suggests creating satellite arrangements that carry the theme further—repeating one of the items from the arrangement as a single element in a smaller container. Miller says to look around your home for vessels to hold your floral arrangements; you may have exactly what you need on a bookshelf or countertop, something you look at every day and can reimagine as a base for a bit of holiday cheer.
If you want to recreate the look at home, Miller says that floral foam and chicken wire will do wonders for the at-home florist to keep things fresh and in place. She also says that staffers at Bloom are happy to coach drop-ins on the art of floral design.
By Meridith Ingram
Photography by KG Thienemann

Southern Elegance
For Kerry McCarty of George's Flowers in South Roanoke, nothing says "holidays" like Southern tradition. McCarty, a Southern gentleman himself, has been doing floral design for 50 years, and has a horticultural degree from Virginia Tech. Experience has taught him that an eye-catching table arrangement is one which combines a mix of refined and rustic pieces, and he firmly believes that floral arrangements do not have to be expensive. He tells his clients that it's better to enjoy a modest posy every month than a grand display once or twice a year. That philosophy, along with his Southern roots, was the inspiration behind McCarty's holiday tablescape featured here, which is designed to be easily reproduced using existing elements from your home.
For the floral arrangement ingredients, McCarty begins outside. "The South has a long tradition of using garden greens to decorate for the holidays," he says. Collect evergreens from your garden to use as the base for the display. Here, McCarty uses white pine, juniper, yew, magnolia, Leyland cypress and ivy for the greens. A contrast of shapes and textures is important, and tucking in a few pinecones enhances that holiday feel. Sprigs of seasonal berries add a pop of color; McCarty suggests hypericum, holly, or viburnum berries if you have them.
Here is where a few key pieces from your florist will add a "wow" factor to your garden greens. In this design, McCarty chose a color scheme of pink, red, green and coral to complement his china. Coral-colored Amsterdam roses, clusters of miniature green hydrangeas, and sprays of purple wax flower bring the arrangement to life. All of these blooms are usually available at the florist, and using just a few is cost-effective. A trio of pomegranates from the market completes the look.

McCarty used a "very Southern" Chinese Rose Medallion vegetable dish to hold the arrangement. The dish's pastel colors complement the dinner china, and its low shape won't obstruct dinner conversation. A basket or silver bowl would also work nicely. To create this look, McCarty gives this advice: purchase some floral foam (he notes that it's actually cheaper to buy it at a florist than the craft store), then "condition" your cut greens and flowers by placing them in water overnight so that they are well hydrated. Then, take your block of floral foam and float it in a bowl of water until soaked (it won't take long). Begin the arrangement by creating a low, oval shape with the greenery, and build in a variety of textures. Trailing ivy over the edges creates an attractive effect. Once you have your shape, tuck in the flowers and pomegranates, and add what Kerry calls "a little shine" to your piece with a few simple gold Christmas ornaments.
Unusual candlesticks provide rustic contrast. Here, McCarty used birch logs from the craft store and sawed them to his desired length, then placed the candles inside small terra cotta pots lined with moss. Pink Japanese teacups are filled with faux sugared fruits for a little extra glimmer, but you could also use gold or silver Jordan almonds, ribbon candy, or even peppermints.
For the table, McCarty prefers the warmth of a wood table to a tablecloth. Herend "Fruits & Flowers" dinner plates are flanked by monogrammed, hemstitched linen napkins. Antique silverware and crystal goblets provide holiday luster.
This classic Southern setting, with its magnolias, hydrangeas, and antique tableware, has an elegant look that can be achieved with only a few florist touches. McCarty says, "I want people to understand that they can do a holiday table without spending hundreds of dollars, by using what they already have."
By Rory Rhodes
Photography by Kevin Hurley

A Vibrantly Festive Room
When designing a floral tablescape, Lucia Evans-Morse and Gregory Britt, owners of Tourterelle Floral Design in Charlottesville, emphasize customizing to both the client and the event itself. Evans-Morse and Britt collectively have 60 years of experience in the wedding and event industries, and together have formed a partnership that enables them to create enchanting floral artistry and unforgettable celebrations.
Evans-Morse says, "When we design a tablescape, we first think of the event and then who will be sitting at the table. Then we look to the client to see what they have available to use from their personal collection. The season always plays a role in the table design because we love to use what is available and on hand."
Here, the tablescape they've designed would surely highlight any holiday gathering with friends and family around the table, bringing energy and festivity to any occasion. It pulls together elements from both the garden and the home's interior, using magnificent dahlias and the art collection featured in the dining room for a show of color.
The setting is Keelona Farm in Southern Albemarle County, Evans-Morse's home, which has been in her family for generations. The dining room, pictured here, showcases an eclectic mix of sporting art, an antique carousel horse and vibrant contemporary paintings. The china is from Evans-Morse's own collection from the John Kluge Carriage Museum, featuring his "Carriage Museum" monogram and carriage motif. Using the exceptional dining room and farm as inspiration, Evans-Morse says, "It made sense to scour the farm itself for flowers, fruits and foliage. Jasmine vine, magnolia, chestnuts, camellia, viburnum, pokeberries and vegetables were truly locally sourced!" Dahlias from Tourterelle offer the finishing touches of seasonal exuberance.
A table runner and matching placemats add softness to the table. Feathered ball ornaments and lichen wreaths add further interest, and playful fox ornaments at each place setting add a touch of whimsy. A spray of glossy magnolia leaves on the sideboard echoes the leaves in the main arrangement, and two smaller but similarly engaging arrangements tie the mantel to the overall scheme of the room.

You can recreate this look by using items that appeal to your senses—your favorite flowers, greens and berries in varying colors, shapes, sizes and textures. To begin, consider the location and build your design from there. Incorporate dishes and linens, and keep in mind that your furniture and artwork can play a key role in the feel of the completed look. Use vases and dishes you already have to draw your personality into the design. You can even include seasonal bounty like Evans-Morse and Britt did here, piling clusters of apples, grapes, artichokes and even root vegetables around the base of the arrangement to add further interest. Placing a loose dahlia or two (or whatever flower you feature in your arrangement) among this cluster ties the arrangement above to this lovely free-form vignette below it.
You can certainly achieve a variety of looks with your holiday florals using what you have around your home, and supplementing with a little help from your local florist. Thoughtful tablescapes lend not only beauty and interest to an occasion, but show your guests that you are delighted by their presence in your home.
By Heather E. Towe
Photography by Melody Robbins
Bloom by Doyle, China Berries, Georges's Flowers in South Roanoke, Irish Linen, Japanese Tea Cups, Tablescapes, Tourterelle Floral Design in Charlottesville