Clean by Design | Laundry Spaces with Function and Personality Make Washing Less of a Load
In the not-too-distant past, the herky-jerky washing machine and its dryer buddy were banished to the corner of an unsightly, musty-smelling basement. At some point, some brilliant person realized that getting clean clothes — a chore for one person, let alone a family — deserved a better setup. Now, laundry spaces are going from dingy and dated to large and luxe. No matter your space or your budget, there are ways to make the mountain of laundry scalable, and the space to be both functional and aesthetically pleasing. The first step is to get organized.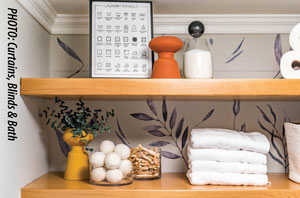 Get organized
Look around your space and edit. Keep only what is essential: detergent, stain fighters, wool balls/dryer sheets, clothespins/hangers and a place to throw away dryer lint. Even if you have a larger space, keeping just the basics within arm's length will help with efficiency. The more clutter you can remove from your space, the easier it will be to get the task at hand done. Some might suggest decanting products to reduce visual clutter, but, honestly, it's a lot of work, and we're trying to lessen the load, so to speak.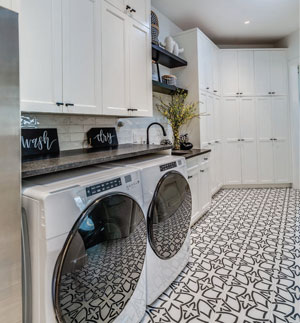 Another important tip: make sure you have proper lighting. While you might not think about it, good light is essential to properly sort clothing and treat stains. If you're someone who irons (kudos to you!),
proper lighting will help ensure settings so garments are pressed perfectly, and your creases are crisp. If you have space, consider adding a light fixture that not only brings you lumens but sparks joy and makes a design statement.
Keep different hampers for different loads — yes, basic ones for lights and darks, but also for items you hang to dry or that need to be pre-treated. Or have a basket for each person in the house. (Be sure to read labels, too, as some pieces of clothing react to certain ingredients; and some stain fighters should not be left to dry.) Teach others in the house your systems, too, so they can help.
Think about function, vertical spaces
The mantra of all good design is "form follows function." So think about what you need to do in your laundry area, and, if space permits, what you would like to do in your laundry room. Does it make sense to combine a laundry room and a bathroom or mudroom? Could an upstairs closet be turned into a laundry room? Would it make sense to have two dryers? Laundry spaces, just like kitchens, are really individualized.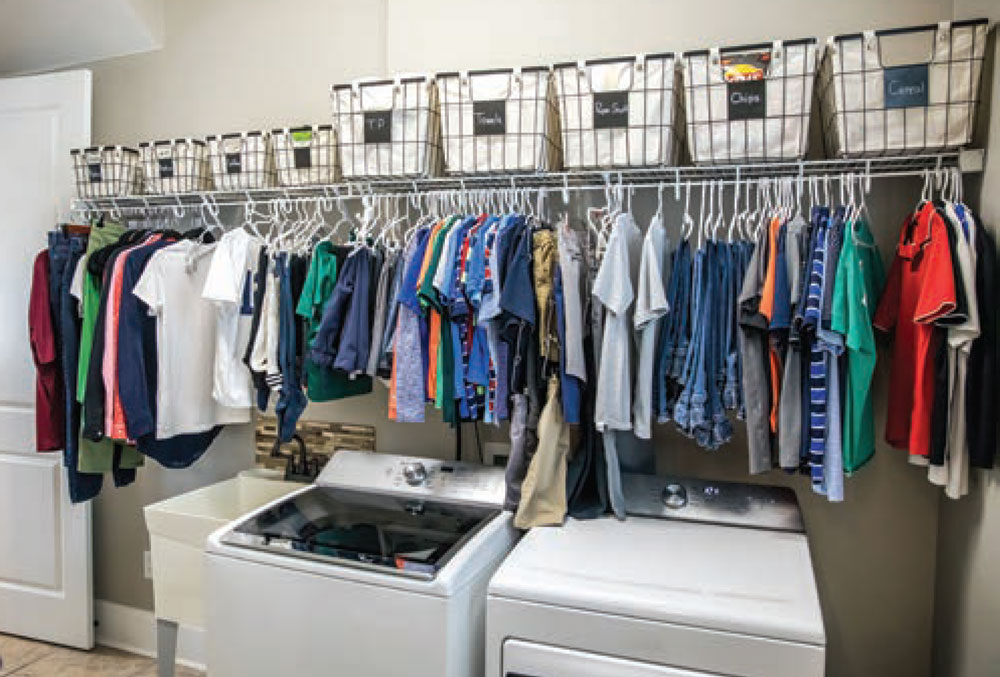 Being able to hang clothes directly from the dryer, or even straight from the washer, or after being ironed will help keep them looking fresh. A custom clothes rail to airdry clothes can be installed; a portable drying rack might work if you have space. Another quick fix is to hang tension rods at or above head height to allow you to keep hanging clothes tidy; just make sure the rods can withstand the weight of the clothing. Skinny, no-slip hangers help save space.
Install shelving systems in vertical spaces. Open shelving is particularly functional for your most-used items; a deep shelf over front-loading machines can double as a folding station. Be sure to invest in durable materials, as these shelves will see lots of use. Also, peg boards can be hung up near the top of the walls, and items (think laundry baskets, drying racks and even an ironing board) can be hung from hooks in the pegs.
---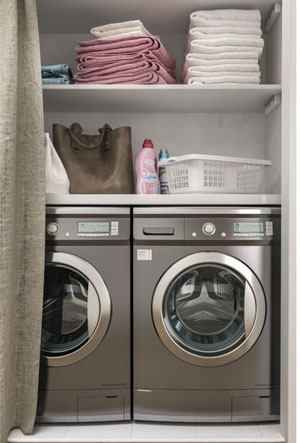 MAKE LAUNDRY DAY EASIER
Keep one bin near the washing machine that is an "emergency wash" area — so that items that are needed within 24 hours can get done first
Run a cold wash, hang-to-dry-load first thing in the morning — it won't take hot water for showers and will have all day to dry
Keep hangers in your laundry space, so you can hang clothes immediately after they come out of the dryer
Put socks in a mesh bag to wash/dry, so the pairs are always together
Use your phone: listen to podcasts/music/books while doing and folding laundry, it makes the time go by quicker
Set alarms to remind you to get clothes out of the dryer once it finishes
---
Make it pretty, or at least, not ugly
Just because a laundry room isn't a living space doesn't mean it should be outdated or a space you dread going into. While laundry spaces might not get top billing, it's easy to refresh your space without spending a lot.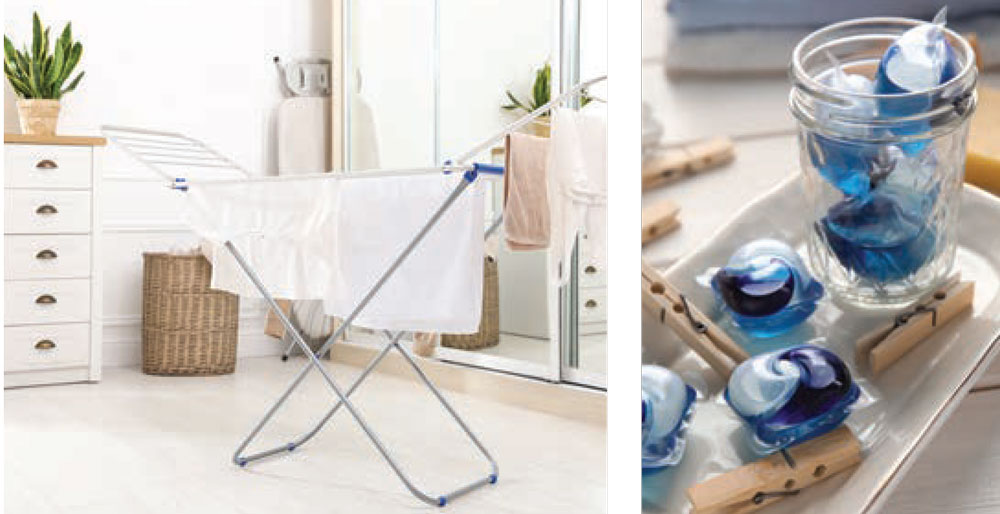 For bang-for-your-buck, buy some paint for the cabinets, walls, and even floors. Coordinate a colorful palette or stay all neutral. Chalkboard paint may also be used — and is a fun way to remember lists or leave messages.
Wallpaper is another way to add design to a space, but if it's too daunting, you could opt for adding paper to the back of open shelves/cabinets. Artwork might not have a place in smaller laundry areas, but if you have the wall space, a color-saturated print in a neutral area makes a statement; or prints in a monochromatic color scheme can add texture. If your space is large, consider adding a low pile, tight-weave area rug, or even a moveable cart.
If your space has a window, consider a window treatment as a way to make the space reflective of your style. Think about how much personality blinds or a valance can add. As for other décor, think aromatherapy, laundry-room themed items, a family portrait or a plant or two. However, keep in mind, you don't want to add more cleaning to your routine, so keep it simple.
Ideally, a laundry space is a highly functional, highly organized, pleasant place in which you get your clothes clean. You don't need a lot of square footage, but you need a good floorplan, and systems that help with efficiency. If doing laundry feels less like a chore, that can only be a good thing. ✦
Clothespins, Detergent, dryer sheets, Hampers, Laundry Area, Laundry Spaces, lighting, open shelving, Stain Fighters, Wool Balls