Changing the View | Bring Flair to Your Home
Even if you're not planning to sell your home in the near future, maintaining its exterior appearance is a smart move. Everyday home repairs are essential, of course, but occasional upgrades — new light fixtures and fresh landscaping, for example — will ensure your home stands out for the right reasons.
One of the easiest ways to enhance your home's curb appeal is by switching out a basic garage door for one that commands attention. Garage doors are available in a range of designs and colors, and are worth the effort, whether they're on the front or side of your home. Garage doors can also offer excellent return on investment (ROI). Remodeling magazine's 2022 Cost vs. Value Report indicates homeowners can recoup more than 90 percent of their new garage door costs when they go to sell, well above the ROIs for kitchens and baths.
Making it pretty
Many home garages include doors that are a solid color, usually white. Unless you live in a neighborhood with homeowner association covenants that specify the acceptable colors for a garage door, you can change that color to match your home's siding, trim or exterior structure.
"It's really a personal preference," says Lolly Quigley, general manager of Dixie Products in Roanoke. "We do have people replace [their door] with a standard white door, but a lot of people will match their garage door to their front door or the trim. All kinds of colors and stains [are available] and can make the door absolutely beautiful. They are highly customizable."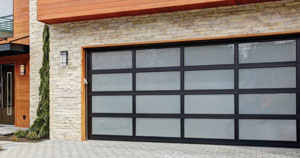 Glass panels are another way to add sparkle. Instead of a horizontal row of windows in the upper half of the door,try a column of windows, from bottom to top. Or you can opt for a door that is primarily glass, where the panes are clear, tinted or frosted.
"With a modern house, you can consider glass doors to match the architecture," Quigley notes.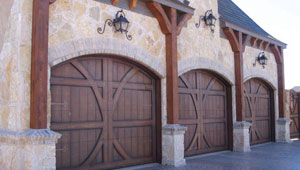 Manufacturers also offer different styles, either ready-made or custom, to complement the house's overall design. A Tudor home may feature a door that is paneled with timber accents. For a farmhouse-style home, details can be added to make a single door appear to be double carriage-house doors. Even a traditional colonial house's garage door can be upgraded with square paneling, for visual interest.
"What people want depends on where the doors are located," says Michael Harris, Dixie Products' service manager. "If the doors are facing the street, you may want to make more of a statement."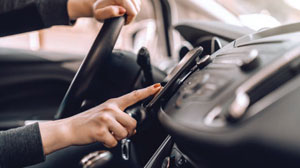 Bells and whistles
Mechanically, an automatic garage door is a simple device, with an operator – or motor – that provides the power for a pulley-and-spring system to lift the door. Today's motors can connect to a house's Wi-Fi via a mobile app, so you can check whether the door is open or closed from a remote location. For more security, the door package can include cameras as well.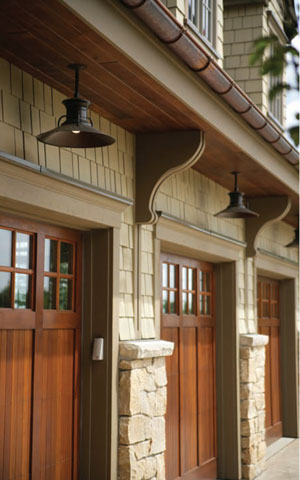 Quigley advises homeowners to consider the location of their garage when selecting a motor, as some are louder than others. "We always recommend a quieter motor when there's living space above the garage," she says.
To make the garage more appealing on the inside, some doors have built-in LED lighting that turns on when the door is raised, offering greater illumination than the light typically included in the operator. You can also add a battery backup to the system. In the event of a power outage to the home, the battery will open the door as usual. No muscles needed!
"The battery does have to be changed [occasionally], but this is good for elderly [homeowners] who can't pull the rope to open the door," Harris says. "Most people can pull the rope to open the door."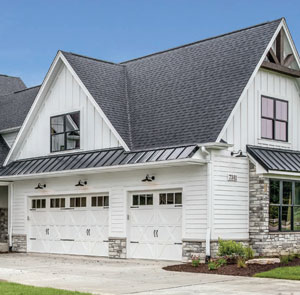 Hidden benefit
Depending on the size and style of the house, an attached garage door can represent a significant percentage of the home's total exterior. And every time the door opens, air flows in, whether hot or cold, placing added stress on the home's HVAC system. Even though doors come in a variety of materials – galvanized metal, wood, fiberglass, aluminum – nearly all can be insulated, which is a smart investment, especially if the opening faces the sun or prevailing winds.
"We only sell insulated doors," Quigley says. "They're sturdier, and they help regulate the temperature." Harris adds, "They're also quieter, because they don't rattle as much."
As with other home options, added features will increase the cost of your new garage door. But it's often worth it, Quigley says.
"You're adding to the value of the house with curb appeal," she says. "You have a better return on your cost for a two-door garage than kitchens and bathrooms. And you're adding personality. In the long run, you're going to be happier." ✦
Aluminum, Attached Garage Door, Automatic Garage Door, Built-In Led Lighting, curb appeal, Decorative Garage Doors, fiberglass, Full Glass Door, Galvanized Metal, Glass Panels, Wood