Beyond the Surface: All You Need to Know About Choosing Kitchen Countertops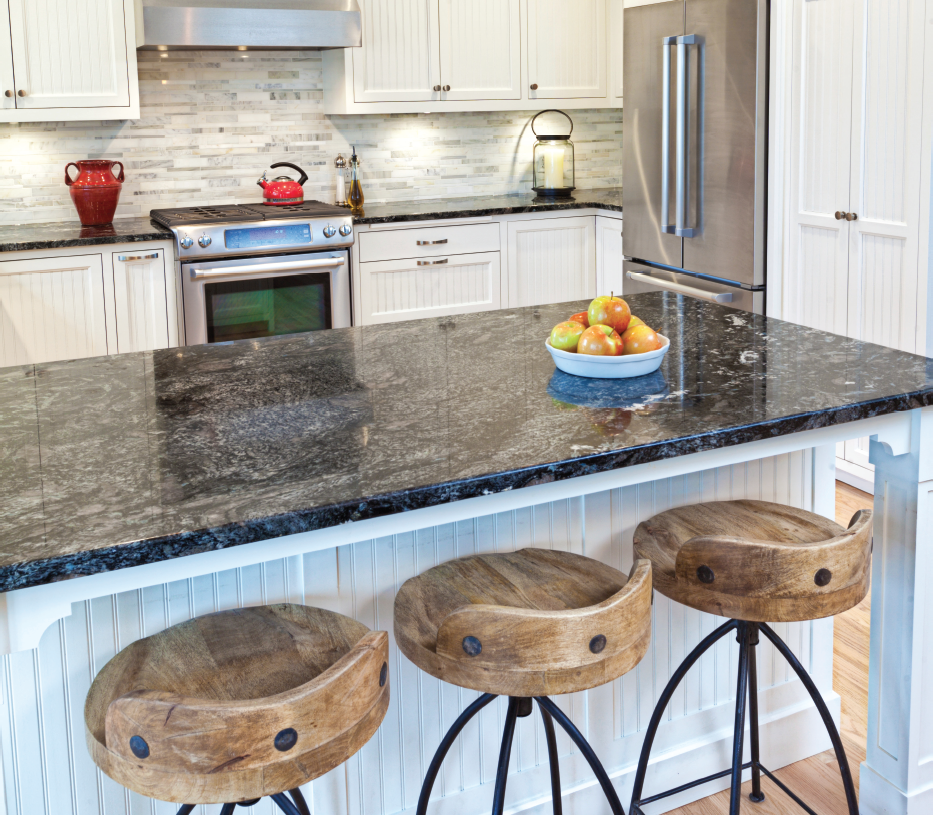 While cabinets, appliances and fixtures are important parts of any kitchen, we all know that it is the countertops that bear the brunt of our daily lives. From fixing that first morning cup of coffee, to mixing, chopping, and assembling meals, to serving as a buffet or homework station, countertops are the one part of your kitchen that gets nearly constant and varied use.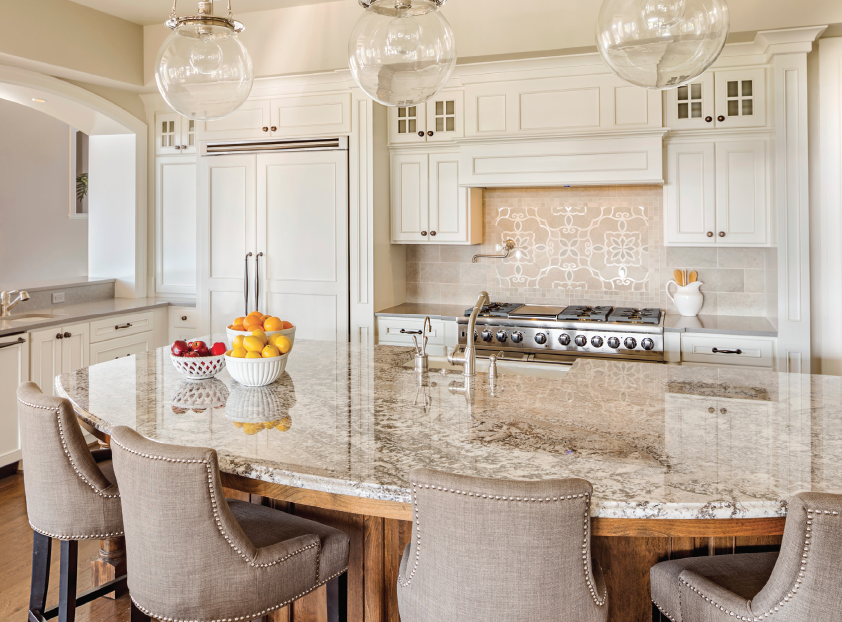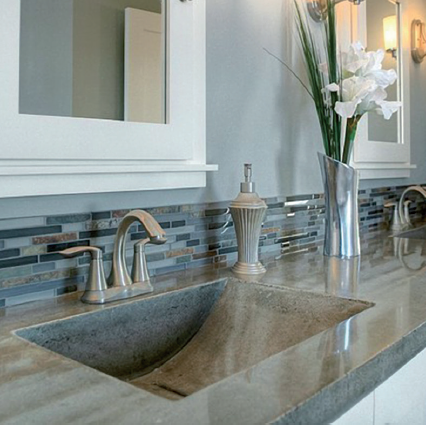 If you're in the market for a countertop update, it's important to evaluate all of your choices for this all-important kitchen feature, gathering as much information as you can. After all, today's countertops are made to last for decades, if not generations, so this could be a long-term relationship. It's easy to fall in love while watching a cooking show, with say, a Carrera marble countertop, as the show host enthuses about how wonderful it is for rolling out dough. But despite its beauty (and handiness for pastry-making), is Carrera the right choice for your family's countertops? What about a sleek, stainless-steel prep area, or a rustic butcher block top? Countertops offer large expanses of flat space that will immediately draw the eye. In fact, countertops are often the first thing most people will register when walking into a kitchen for the first time. Savvy buyers, looking to replace an old countertop or install a new one, will have one eye on the functionality of a material, but another on the aesthetics of their material of choice and how it works within the decor of the kitchen and the home itself.
Today's homeowners are fortunate to have so many choices when it comes to countertop materials, from real quarried stone, to manufactured stone, to solid surfaces, to laminate … your choices are nearly endless—and possibly overwhelming. We've heard that "natural finishes" are a popular trend, and indeed granite and other stones seem to be perennial favorites for countertop materials in our area. However, new materials are giving trusty granite a run for its money. Page Eggleston of Spectrum Stone Design, for example, says that quartz, or engineered stone, is now challenging granite as their number-one seller. "People are going for softer, lighter natural colors, and less busy patterns in their surfaces," Eggleston explains. "Quartz is able to replicate the solid-colored, light stones, such as marble, without the concerns of etching, staining or chipping often associated with the softer natural stones." Natural or natural-looking surfaces are enjoying tremendous popularity at the moment, but there are many ways to get a natural-looking countertop without investing in stone. With modern manufacturing techniques, many of the manufactured solid surfaces, and even laminate, can look practically indistinguishable from real stone, perform beautifully for years, and have price points to fit almost every budget. Additionally, there are some breathtaking alternatives to granite that are worth considering depending on your family's needs and tastes, including stainless steel, wood, and even concrete. So which surface is right for you, your kitchen, and your family?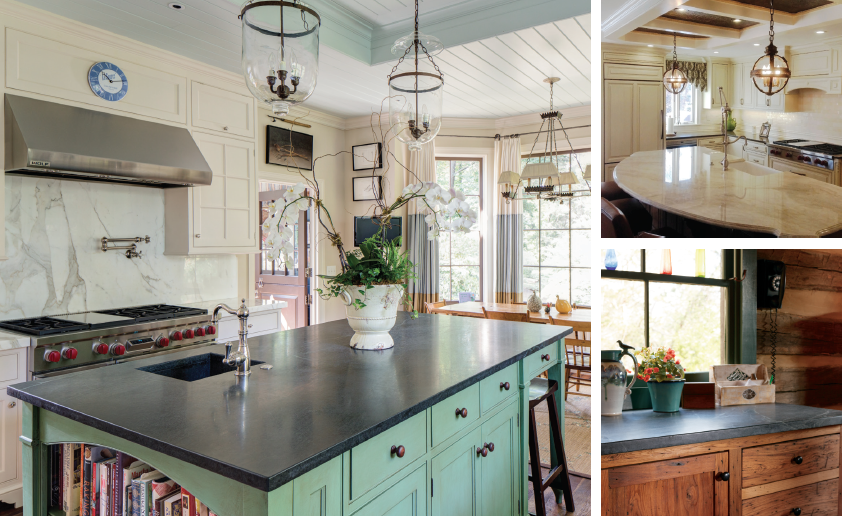 Natural Stone
(Examples: Granite, Marble, Soapstone, Limestone, Quartzite)

Natural stone remains the number-one choice for most countertops in our area. Unmatched in beauty and completely unique, every slab will have differences in pattern and hue, complements of Mother Nature. Because of this uniqueness, natural stone will never look completely uniform or color-consistent. This is seen as a strength to some, and a drawback to others. It really depends on your perspective. Sheri Howard, designer and kitchen and bath specialist at The Cabinet Gallery in Hardy, explains that, while some people may be frustrated by stone's lack of uniform pattern, particularly when trying to match countertop materials at the inevitable seams, most find that the natural beauty is worth it. "Especially in some of the new 'leathered' finishes," she notes, "which just came on the market a few years ago." These matte finishes solve some of the issues that ultra-reflective, highly polished stone caused, such as reflecting the underside of the cabinets. "Not the desired effect!" Howard laughs. The leathered finish gives a softer and less reflective look to natural stone countertops and is proving a popular choice, especially in historic homes.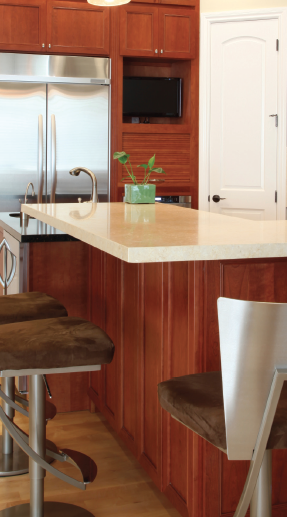 Natural stone refers to both granite and relatively softer stone, such as limestone, marble, or soapstone. Of the natural stone choices, granite is the most beloved (and most used) because of its durability. If properly sealed, granite is virtually stain-proof, and is impervious to scratches and heat and water damage. In fact, if you cut vegetables directly on a granite countertop with regularity, you'll find your knives will dull quickly. Whatever finish you choose, keep in mind that all natural stone will need to be professionally sealed before installation, and depending on your stone, at regular intervals in the years to come. For most natural stone countertops, subsequent sealing can usually be easily done by the homeowner. "Softer" stones, like marble, limestone, or soapstone are also very popular choices, due to their color and texture. But often, because of their softness, they will chip or scar in the daily wear and tear of family life. With its matte finish and soft "soaplike" feel, soapstone is a perennial favorite. Soapstone is particularly popular in our area of Virginia, as we are home to the sole soapstone quarry (Alberene in Nelson County) left in the United States. In Virginia, soapstone is the "buy local" of countertop materials.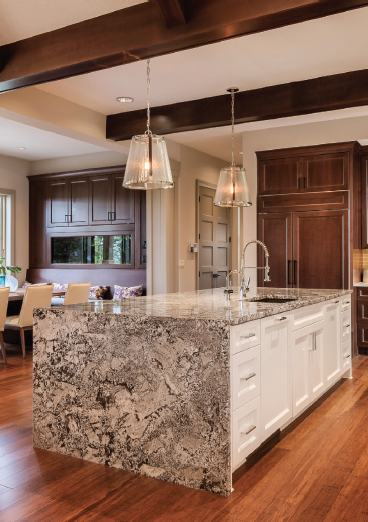 Engineered Stone
(Also Known as Quartz)
Engineered stone, or quartz, is indeed real stone (usually 93 percent reclaimed marble, granite or quartz) that is finely ground, and mixed with a durable binding material. The engineered stone products of today display the beauty of the natural stone they are made from, yet are very uniform, which makes it easier for installers to hide seams, and they are slightly easier to fabricate and install than natural stone. Different manufacturers such as Caesarstone, Silestone, Cambria and Hanstone specialize in mimicking specific natural stone, explains Eggleston. "It's rather like blue jeans manufacturers, in that everyone has their niche," she says.
At Spectrum Stone Designs, Eggleston has also noted an uptick in popularity of quartz that comes in the soft, light neutral colors of Carrera marble or limestone. As homeowners are tending to prefer a lighter, brighter surface for their countertops, they can opt for the durable look-alike, rather than putting in marble and stressing about stains or etching every time they pour a glass of wine. "Also, it's hard to find granites in soft colors," Page notes, "but with quartz, the possibilities are plentiful." Her one caution is to avoid putting anything hotter than 350 degrees on quartz. "It's in the fine print from the manufacturer," she cautions, "so I always recommend care with super-hot cookware."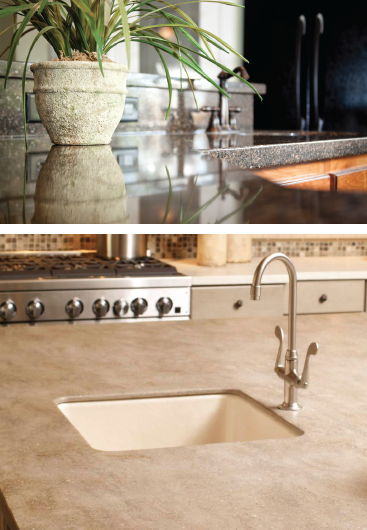 Howard sees an increase in popularity with her clients as well. "Many clients that have had granite are now switching to quartz," she says. She adds that quartz is nearly as strong as natural stone and far less porous, meaning that it is less likely to stain, and it never needs sealing, so it is virtually maintenance-free. She says, "The majority of customers these days are looking for ease of maintenance, and quartz gives them just that." With its easy care, natural look and excellent durability, it's easy to see why quartz is the "up and coming" material for many of today's countertops.
Synthetic Solid Surface
(Examples: Corian, Living Stone)
Synthetic solid surface countertops are made of polyester resins, acrylic and pigments. They stand up to natural stone and engineered stone in terms of durability and often come with generous warranties. They are completely non-porous, and stain-, mildew- and germ-resistant, and can be made to look like virtually anything from stone, to copper, to beach sand. For those with a strict decorating palette, the color choices are extensive, and can come in finishes from glossy to matte. While synthetic solid surfaces shouldn't have hot pots or pans placed on them, and shouldn't be cut directly upon, it is a simple matter to buff out most light scratches, and homeowners appreciate that there is zero maintenance for these countertops.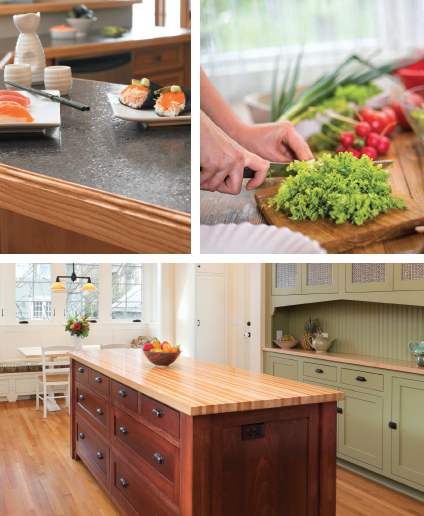 Laminate/Formica
Laminate countertops are a budget-friendly alternative as a countertop material, and as such, they have been popular since the 1950s. Laminate countertops are made from wood, or pressed wood, wrapped in a "laminate"—a heavy-duty vinyl material imprinted with the customer's choice of color or pattern. Laminate is generally easy to install, and because it does not require specialized tools and is relatively lightweight, it is a solid choice for a DIY countertop project. Today's laminate comes in every color under the sun, including patterns and finishes, and if treated gently (no cutting directly on laminate, and don't place hot dishes or pots directly on in) will stand up to years of use.
Wood/Butcher Block
Wood countertops, made from hardwoods such as maple, oak or walnut, and increasingly bamboo, are naturally anti-bacterial and infuse the home with a warmth unachievable in other countertop materials. Wood countertops are formed by running the wooden rails parallel to each other (known as "edge grain") or by fusing the end of the rails in a chessboard pattern (known as "end grain"). Of the two, end grain will be the most durable, but will also be the most expensive. Proponents of wooden countertops cite the convenience of being able to chop and dice right on the countertop (assuming it is sealed with a food-safe sealant, rather than polyurethane), and the ease of cleaning (usually just warm soapy water), as well as the warm, rustic feel wood imparts to any room. Be advised that wood will scorch if hot pans are placed on it directly, and requires regular sanding and oiling to keep it looking its best. You should also wipe up water spills and drips quickly, as standing water can cause warping or mildew. Because of the upkeep and care requirements, many local designers recommend wood countertops in more of an "accent" role.
Concrete
Concrete is no longer just a material to be used in foundations and flooring, but is becoming increasingly popular as a countertop material. Concrete can be poured into any shape, and is often a "green" choice due to its use of recycled or recyclable elements such as glass and aggregate. In the Roanoke area, Richard Taylor, owner of Designed Concrete Surfaces, explains the unique benefits of concrete as a countertop material. "Correctly engineered concrete is basically liquid stone," he says, "and because concrete is poured, rather than carved like stone, it can be shaped in endless artistic and creative ways." His countertops, for example, can be manufactured with built-in drain boards, trivets, and custom "drop front" edges. Concrete can also be made to look like natural stone. "If you can't find a stone you like," he says, "we can make you something you will love. Custom."
Taylor, who is a mechanical engineer, explains that concrete is a naturally porous substance and needs to be carefully blended to minimize chipping or stains, and professionally sealed to preserve its durability. In fact, he and his team at Designed Concrete Surfaces have been perfecting the chemistry of their formula for the past ten years, and enjoy the creative challenge of customizing countertops for customers. One of his favorite examples is a custom bar-area counter in the home of an avid bicyclist. "We were actually able to imbed little bike gears and parts into the countertop…Talk about a conversation piece!" For these reasons, Taylor says, concrete is definitely worth serious consideration for those looking for a unique and durable countertop with heirloom potential.
Stainless steel is the material of choice in commercial or industrial kitchens, but it is increasingly becoming popular as a countertop material in residential kitchens as well. Prized for its durability, it has found a new place in the sleek, modern-industrial look which is very popular today. Taking its place next to the stainless appliances that have been popular for years, stainless steel is relatively easy to install (professional installers will "wrap" it around a backing material like plywood to give added strength and to attach it to the cabinets). Stainless has practically no upkeep and is easy to clean. It doesn't scorch, stain or mildew, and scratches can be buffed out easily, though dents can sometimes be a problem. Stainless is 100 percent recyclable, making it an earth-friendly alternative as well.
Other than the material itself, what else can affect the price of your new countertops? Pricing of most countertops is done by square foot. There are three basic things that affect the pricing of your countertop material. First, the availability and location of the material; if you choose limestone from India, for example, you can expect the per-square-foot price to reflect not only the stone but the quarrying and transport costs for the stone. Second, the complexity of your design, sink placement and other countertop inserts, like integrated drain boards or trivets—affect the complexity (and therefore cost) of fabrication. Finally, your choice of edge for your countertops—round, ogee, bevel, bullnose, waterfall and many more depending on your fabricator—will affect your final price. Just be sure you know what is included with your per-square-foot price and what might be an upcharge to avoid any unpleasant surprises when the bill arrives. It's also a good idea to ask about warranties available for the material and the installation, just in case.
A countertop is an investment and one you'll likely have a long-term daily relationship with for many, many years. Like any relationship, you are wise to know its strengths and limits before going in. Before committing, it is important to ask questions and be certain that you choose the material that best suits your family's needs before placing an order. Choose wisely, and stay on top of the recommended maintenance, and your countertops should reward you and your family with years of good service and good looks.
countertops, custom counters, gabinet gallery, home decor, stone