Built to Entertain | Design with a Vision
Photography by Kathryn Feldmann
Heather and Jon Preu had designs on their perfect home for hospitality, filling a binder with creative and innovative ideas to make their home the perfect spot for friends and family. Their building journey began when they found an ideal location in the golfing community of Ballyhack.
"We were coming from 30 acres in Blue Ridge," explains Heather, "and we had definite ideas about the kind of home we wanted to build, one that would see us through our retirement, provide a comfortable living environment for us and our son Shawn who is in a wheelchair, and perhaps most importantly, be the kind of place our other two sons, friends, and family will always want to come."
---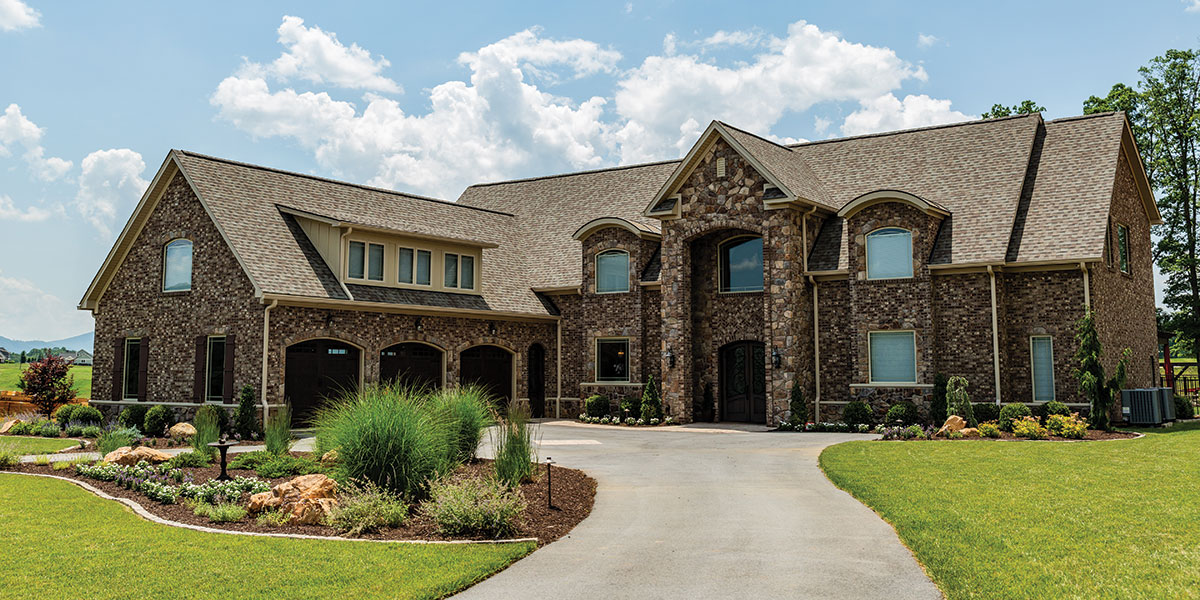 The number one requirement: a flat lot that would enable the Preus to build the sort of open concept design that would work best for all of them. Ballyhack provided the comfort and ease of being an easy 10-minute drive to downtown Roanoke, with the allure of living along the rolling greens of the club's championship golf course.

---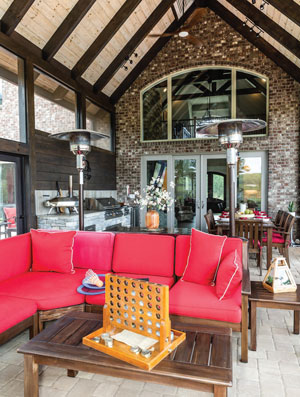 Heather, CEO of a software company, and Jon, a retired Navy submarine officer who is now the full-time caregiver for Shawn, had been collecting home ideas for years. The couple hired architect Craig Balzer of Balzer and Associates, and, after seeing a HOME Magazine feature of a home constructed by local builder George Baron of Baron Enterprises, they engaged him to help them turn their ideas into reality. They broke ground in 2019 and anticipated a 12-month build; however, COVID-19 hit toward the end of the project and slowed things down.
"We got close, but once everything shut down, we started having supply chain issues like everyone else," Heather recalls, "so the project extended to 18 months or so."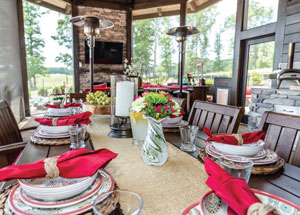 In search of ideas
In and around her busy professional life, Heather researched, organized, and designed her home herself. "Oh, I am very much a 'binder person,'" laughs Heather, "and I had them organized by room. I watched HGTV, tore things out of design magazines, browsed the internet, — often in hotel rooms on business trips — and kept careful records of exactly what I wanted to put where."
Over the months the couple spent building their Ballyhack home, Heather was placing orders for furniture, fixtures, lighting, even the front doors. "Because of the pandemic, I had to order everything sight-unseen," Heather adds, "It was a little nerve-wracking but it's kind of miraculous how well everything fit in the end."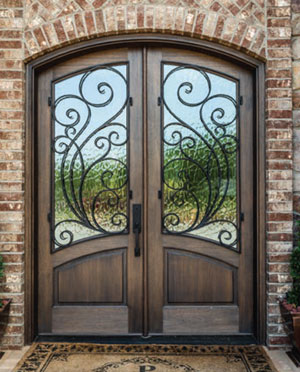 Today, it's hard to reconcile the warm and welcoming two-story brick home, with gracious opaque glass and wood double front doors, with stories of hundreds of boxes of housewares that arrived during the strange pandemic era. The home exudes "welcome" from the very first step inside. Guests are immediately ushered from a grand two-story entry with a catwalk above, into a large open-concept space that includes a dining room, kitchen, and a living room that opens into a huge two-story covered screened porch. The home is a "smart home," thanks to Audiotronics, who assisted the Preus with video, audio, security, and other automation such as blinds and lighting.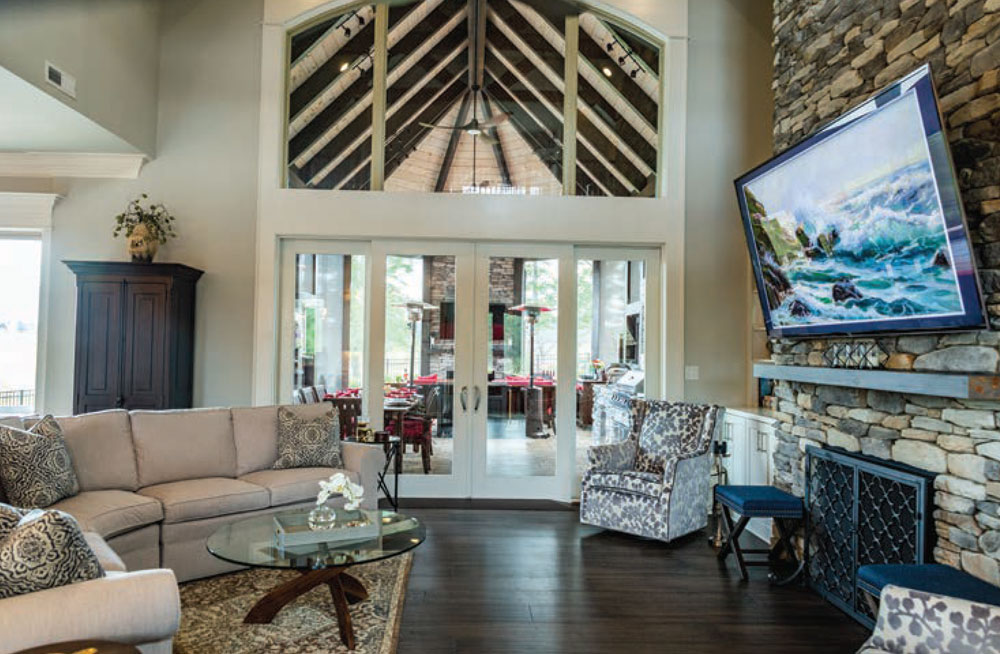 A look inside
Inside, Heather consciously kept her palette neutral with a light gray wall, and upholstered furniture in the vaulted living area. Wood beams and a stacked stone fireplace lend a rustic touch.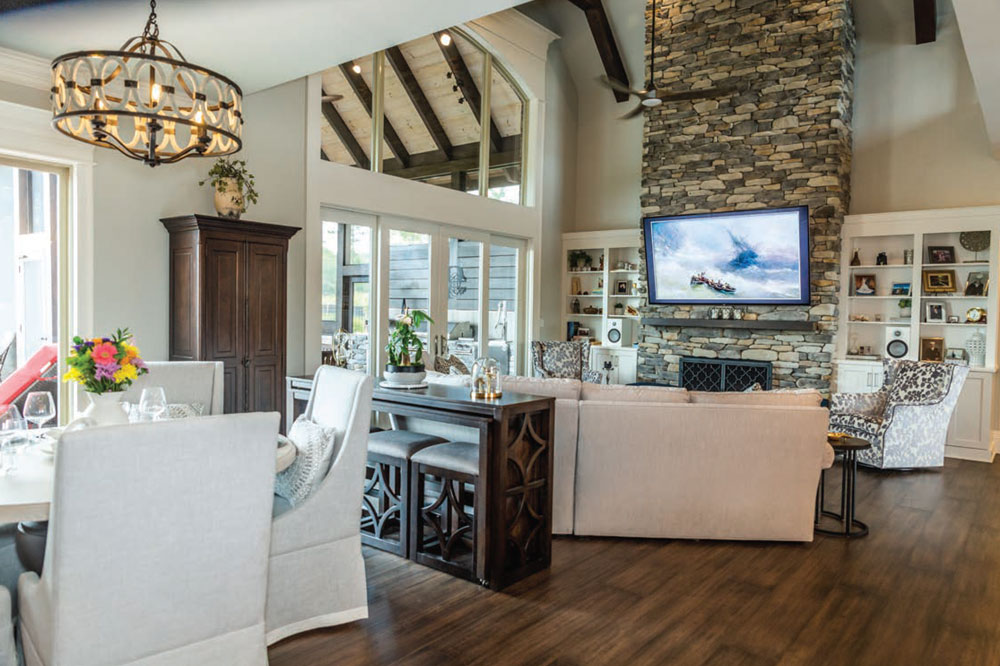 After years spent protecting cherry hardwood floors in their old home, Heather is pleased with the new home's wide-engineered plank flooring, which she has carried throughout the home. "I love the way this flooring has a bit of a weathered look to it," she says, "and with four dogs and three people and a wheelchair, it has really held up well so far."
On either side of the fireplace, built-in shelving displays family photographs of three generations of Navy men. The curved upholstered sofa, coordinating club chairs and glass coffee table are from Reid's Fine Furnishings in Roanoke. "I found everyone at Reid's to be enormously helpful in finding the pieces I wanted for this space," says Heather, "They were fabulous about letting me bring in pictures of pieces I'd found online and saved in my binder, and then finding and ordering them for me."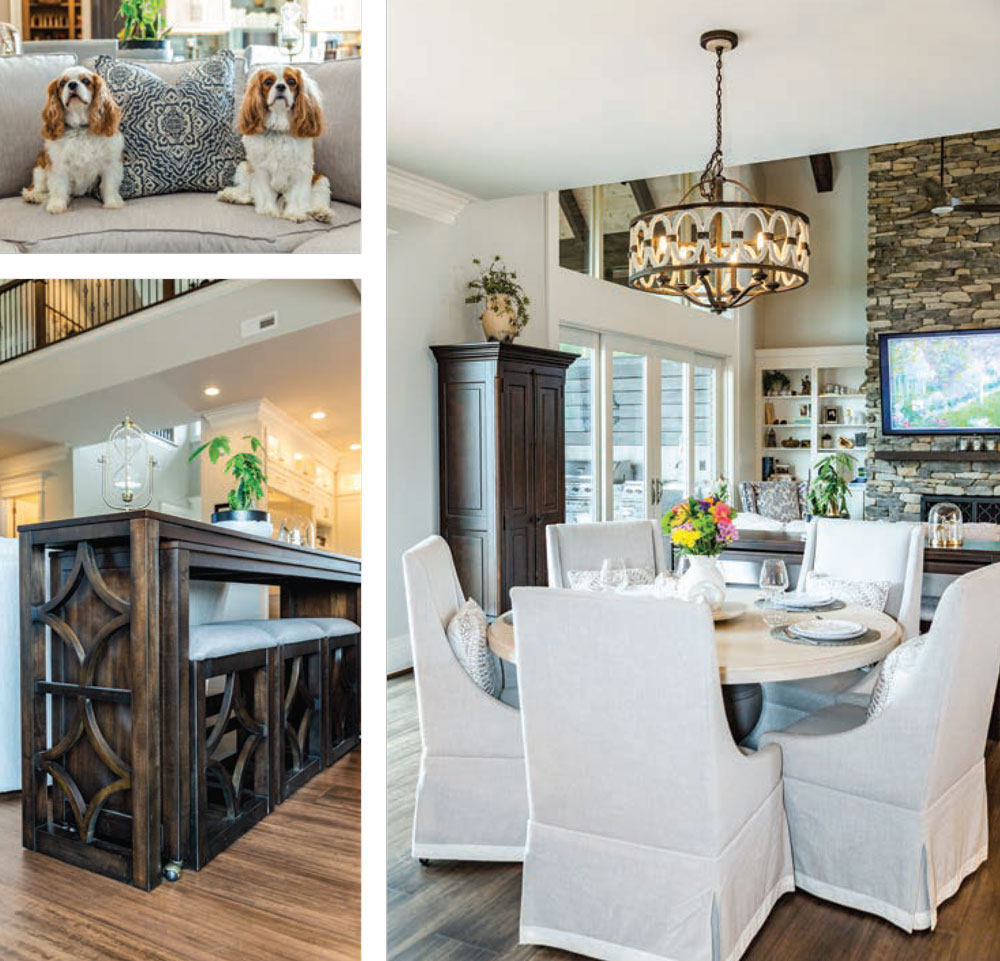 The dining area is what Heather calls a "flexible space," meaning that she can rearrange the sideboard, expand the table and seat 20 as comfortably as she can seat 6. The slipcovered white chairs from Restoration Hardware lend a casually elegant touch to Heather's modern farmhouse aesthetic. Regardless of size, the table boasts some of the best views in the house: Straight out through sliding glass doors to the sparkling in-ground pool, the undulating green of the golf course, and to the mountains beyond. To the side, is a well-stocked bar area complete with wine storage, legions of glassware, and everything imaginable to mix the perfect drink, no matter what your taste.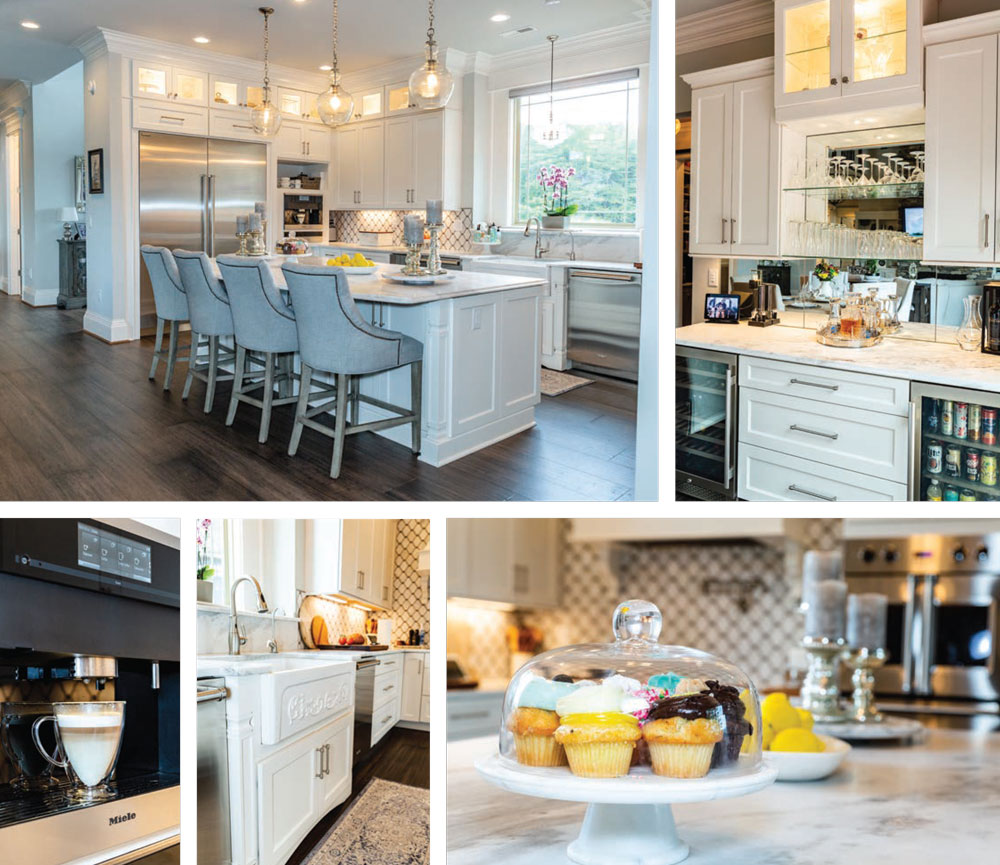 "Both Jon and I are avid cooks," says Heather, pointing toward the large U-shaped kitchen. "He gravitates to the exactitude of baking, where I am more 'let's see what we can do with this' type of cook." The kitchen (and pantry adjoining) are indeed a cook's dream, regardless of their proclivities.
Heather's favorite item in her kitchen is the wall oven with French doors, "Leaning over an open oven poses certain, ah, challenges to shorter people like me," she explains, "and this has been one of the best decisions I made." Heather chose an induction cooktop over gas because it is easier to clean.
When designing her kitchen, Heather kept their love of entertaining in mind. To that end, and working with The Appliance Studio in Roanoke, she ordered extra-large, side-by-side Sub Zero fridge/freezer units, double dishwashers, a built- in Miele coffee station, a trash compactor, and to the delight of family and friends alike, a pellet ice maker.
An expansive leathered Carrera marble island allows for plenty of workspace — plus counter seating. The outer countertops are Carrera as well, and its creamy tones are picked up in the striking geometric backsplash of Italian marble tile that provides textural interest in this mostly white kitchen.
Heather planned this kitchen down to the last inch, selecting the cabinets, countertops, backsplash, lighting, even the appliances. "I'd show up to meet with George [Baron] and get out my binders," Heather laughs, "I literally handed him lists of items to order, down to the part numbers, and he and his team put them all in for me."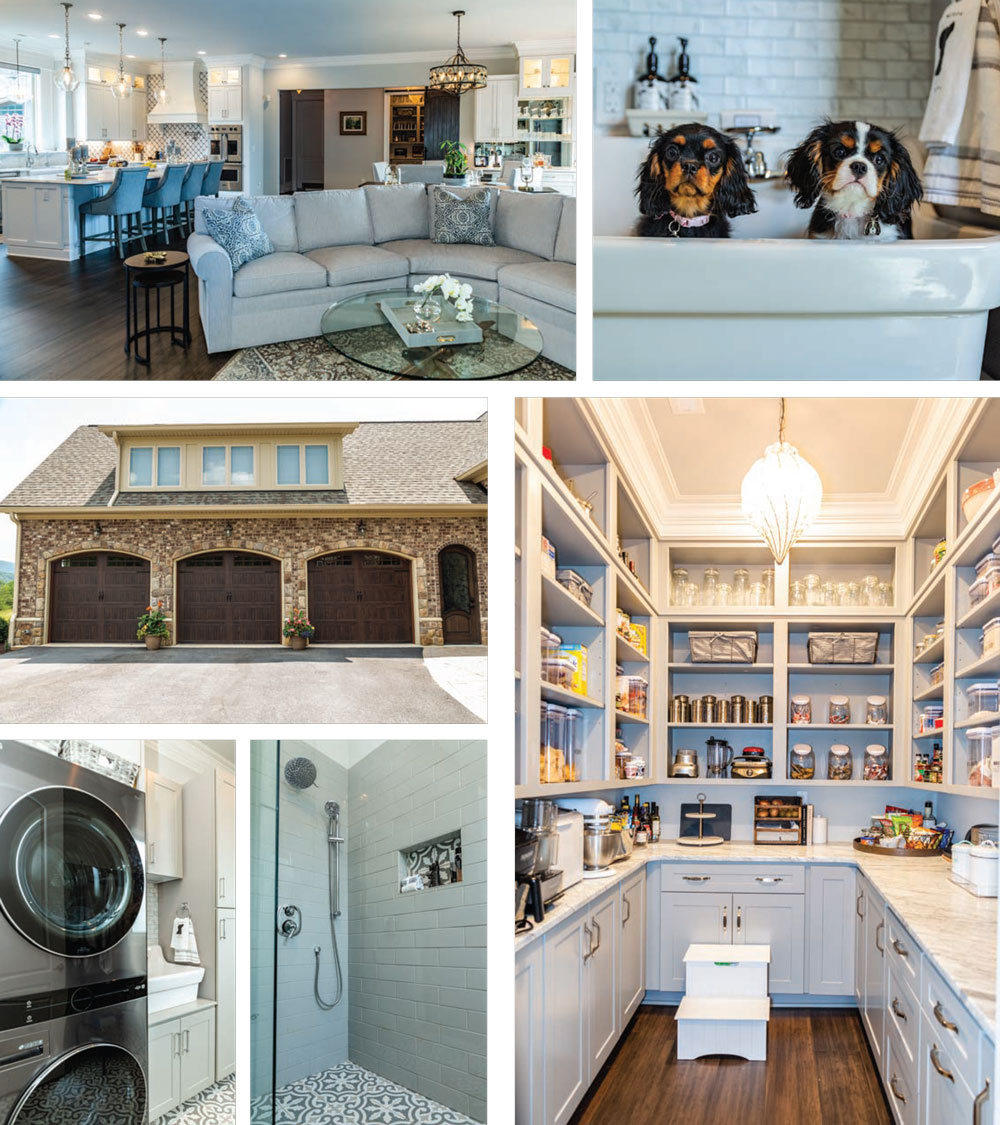 Off the kitchen, a hallway leads between the pool entrance and three-car garage. Sparkling Murano glass lighting that Heather found, negotiated, and imported herself from Italy, illuminate the multi-functional space. At the base of the back stairs, next to the garage entrance, is an organized "drop zone," and the entrance to a separate, private apartment for their son Shawn.
Behind a rustic sliding barn door lies a pantry that is nothing short of a work of art. "I have always been obsessed with pantry pictures online," says Heather, "I love this space so much that I wanted it to be shared — hence the sliding door…I envisioned a space that was easily accessible and where everyone can make themselves at home."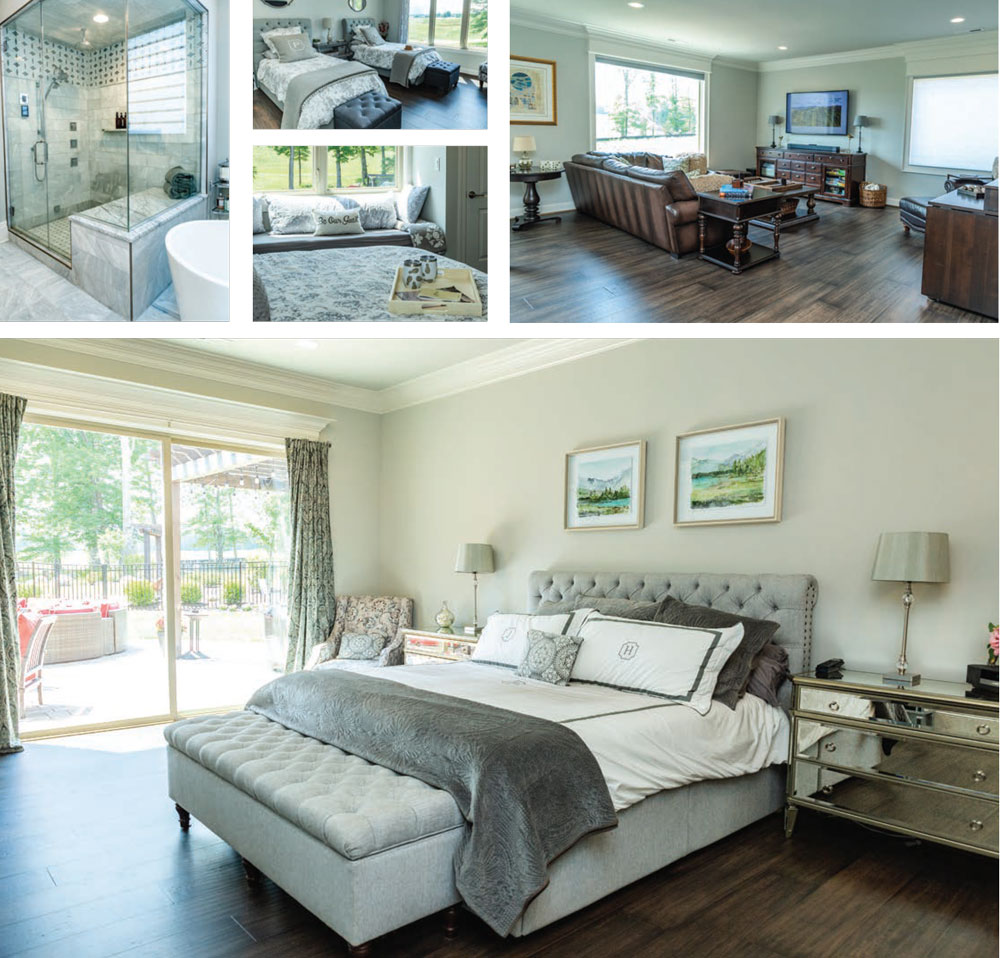 Thoughtful designs
Upstairs, the home boasts two guest rooms, two full baths, two offices (one for Jon and one for Heather), a second-floor gathering room, and finished space over the garage that doubles as a home gym and an overflow guest room.
Since Heather and Jon see this as the home where they plan to retire and, eventually, age in place, it was important to both to have their own bedroom located on the ground floor. Their elegant primary suite is situated to allow views of the back yard and the greens beyond. The space has a serene feel with perhaps a touch of old Hollywood glamour. A tufted platform bed with monogrammed Frette duvet and pillow shams, all in shades of soft gray, is flanked by mirrored bedside tables with matching tall boudoir lamps topped by gray silk shades. The layering of different shades of gray, with the textures of the tufting and the mirrors create a restful space.
Unsurprisingly, Heather put a great deal of thought into the large adjoining bathroom as well. Separate vanities flank the doorway, giving both Heather and Jon their own sink and space to get ready. An inviting soaking tub sits at an angle under a sparkling chandelier next to an extra-large glass-framed shower. Heather used marble tiles on the floors, as well as in the shower, where it complements the interlocking marble border at the top. The shower unites beauty and function with multiple shower heads, a steam unit, and an extra-large bench.
"I love our bathroom," Heather says, "I wanted it to feel classic — not trendy — even though you are seeing a lot of gray and white these days, I feel like they are such versatile neutrals that I can mix things up and still have it work."
Outdoors in
The easy flow throughout the ground floor spaces and the fact that nearly all rooms open onto the covered porch or back patios, means that the outdoor spaces feel like an extension of the home. The sheer scale and scope of the vaulted two-story screened-in porch would be almost intimidating if Heather hadn't carefully broken the space up into comfortable sections with clear purpose. There is a long dining table with seating for 10 next to an outdoor kitchen to die for: a smoker grill, a griddle, a pizza oven, even a bar fridge that houses two kegs of beer. Arranged around a stacked stone fireplace is a large sectional with red cushions.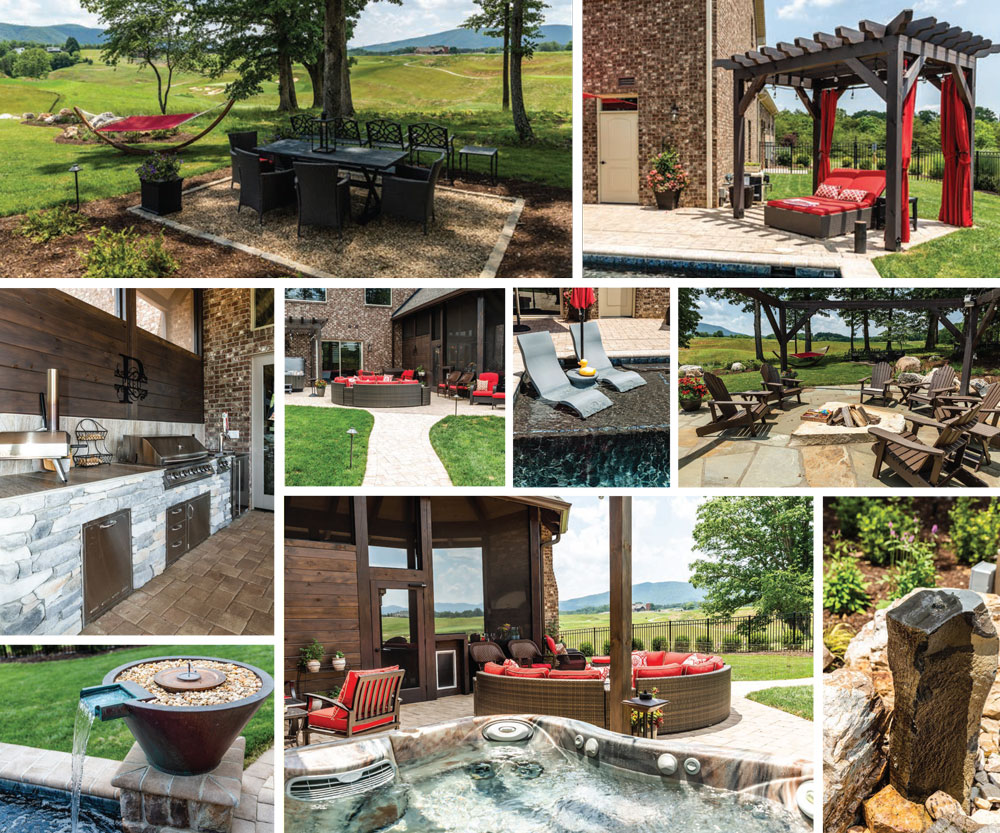 The screened in porch was a must-have for the Preu family, explains Heather, "We'd seen another enclosed porch that George Baron had built, and we thought, 'It's so beautiful here that we are going to be outside all the time. We need a space where we can enjoy it year-round.' This is actually the biggest one George has built to date."
The inground pool, installed by National Pools of Roanoke, was always at the top of the couple's list. All three resident Preus love spending time in the pool and its location, steps from the back door, ensures that friends and family spend a lot of time poolside as well. Chaise lounges with bright red cushions are arranged around the pool area, and, to give them a bit of privacy, a curtain-lined cabana sits at the far end.
To get the layout and design just right, the Preus engaged the services of Seven Oaks Landscape and Hardscapes. "We knew we had this amazing view," explains Heather. "We wanted to build a landscape that brought us all out into it, and Seven Oaks really got that."
Despite COVID delays, the company laid hundreds of feet of pavers and bluestone and sod, built a waterfall feature, and planted garden beds, that transformed a bare lot into an enchanting outdoor space. In addition to the pool area, the Preu family has an additional paved patio on the other side of the screened porch. This area is home to several red-cushioned casual sitting arrangements, including one built around a gas firepit and a multi-person spa tub under a gazebo strung with lights.
A meandering path leads toward the greens with several notable stops along the way: a porch swing with garden views, a second patio fire pit, a hammock and another dining area right at the edge of the green. Outdoor speakers are installed unobtrusively all over the home's outdoor spaces. It's clearly a house ready for a guests or a party, or both. "Our goal was to build the kind of house that all the kids come back to, for events, for holidays, or just because." Two years and a global pandemic later, they appear to have done just that. ✦
Ballyhack, Built-In Shelving, Catwalk, Double Front Doors, French Doors, Glass Lighting, Golfing Community, Marble Island, neutral palette, Patios, Plank Flooring, Screened In Porch, Second-Floor Gathering Room, Three-Car Garage, Two-Story Brick Home, U-Shaped Kitchen, Wall Oven