Beguiling Benches | Banquettes Uplift Your Home
Just as adults scoot to cozy booths in restaurants, children often scramble to climb a comfy padded banquette in a kitchen nook, eschewing more formal table and chair arrangements. Of French origin and Germanic derivation from the word "banc" or bench, a banquette comprises a long padded or upholstered bench that seats multiple people. Either built-in or free-standing, banquette seating can elegantly line a wall, wrap around a corner, or nestle beneath a bay window. Banquettes maximize space in tight places while creating convivial seating and dining nooks — warm zones, in design parlance — which beckon family and friends, not to mention the gregarious cook.

Photo: Curtains, Blinds & Bath
Marrying function with style
Banquette seating is trending in home design because it weds functionality with aesthetics, saving precious space while embellishing your home's existing décor. It comes in versatile shapes and sizes to complement your floor's layout. Straight line, U-shaped, L-shaped, semicircular, built-in or free-standing banquettes create dynamic silhouettes of your floor plan while they enhance its flow and spaciousness. Especially popular in kitchen nooks, an upholstered banquette and pedestal table pair occupies half of a conventional table and chair setting's dimensions, yet it accommodates the same number of people.
Designing a banquette kitchen nook takes meticulous planning. You'll want to ensure that the upholstered banquette seating has sufficient height (18 inches), depth (24 inches), and breadth (27 inches per person), so it's ample enough for its occupants. Likewise, the matching table requires sufficient height (30 inches) and coverage over the banquette (three to four inches) to allow for plenty of elbow and leg room. Pedestal tables best suit banquettes because their shape helps prevent the knocked knees of a four-cornered table.

Banquette seating not only augments a room's spaciousness, but it dramatically expands storage capacity. Some banquettes offer lift-up seat lids concealing generous interior storage space while others feature stylish drawers tucked below that can stash games, gear, or tablecloths. Whatever your preferred storage option, your kitchen banquette nook will multitask into a play, homework, and dining hub, making it a popular family hangout while clearing clutter and creating luxurious cooking space for the chef in the house.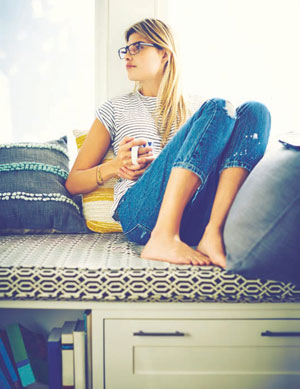 Banquette upholstery and design
Kitchen banquettes get lots of wear and tear, so their padding and upholstery should be spill-proof and durable as well as comfortable and attractive. Vinyl or leather (real or faux) padding is easy to clean, weathers well, and won't slip off the bench like some loose fabric cushions can. Boucle, linen, and wool also rank as hardy upholstery materials.
In contrast, family and living room banquette upholstery can be less utilitarian and more intentionally aesthetic. Brightly colored floral prints or soft, plushy velvet upholstery transform a bay window banquette, framed by cascading curtains, into a reader's paradise.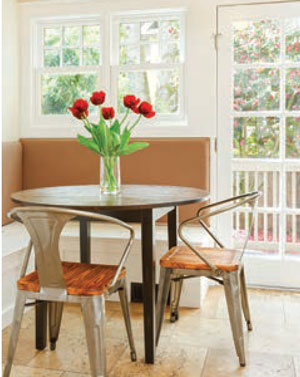 By mixing splashes of bold color, interesting textures, and unique details, you can fashion almost any look for your banquette nook, from nostalgic country to contemporary chic and refined classic. Custom banquette seating often features decorative details like buttoned or fluted seat backs, contrasting piping and trim, and built-in bookcases above or stylish drawers below. Once you decide upon your upholstery fabric, you can make your banquette pop with colorful, contrasting throw pillows or soften its ambiance through soothing natural, neutral-toned cushions.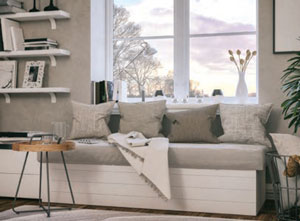 Is a banquette right for you?
If your family enjoys the comfort and coziness of restaurant booths, they'll likely revel in a built-in kitchen booth. For a cheerful window nook, pair parallel banquettes with a matching table; hang a charming pendant lamp or chandelier; decorate with colorfully patterned wallpaper and curtains; build bookcases for your cookbooks and stereo speakers; and adorn your oasis with treasured family photos and artwork. No one will want to leave the kitchen!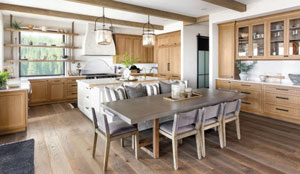 But there are some downsides to banquettes. Future home buyers may view built-in banquettes as too specific to your tastes, which might not mirror their own. Depending upon the materials used, banquette seating can be expensive to build and remove: Built-in banquettes cost between $1,500 to $8,000. Alternatively, you might consider buying an affordable ready-made banquette seating set.
Banquette seating often has a nostalgic and retro feel, but it solves some very modern design problems. For a house with small rooms, banquettes open space. They transform vacant walls, corners, and alcoves into warm and cozy settings to sit awhile and chat. In the beguiling banquette, the spartan, noble bench has reached its zenith. ✦
banquettes, benches, built-in, cozy booths, free-standing, l-shaped, pedestal table, semicircular, straight line, u-shaped