BE OUR GUEST
Design a Room that Welcomes
In Disney's animated musical Beauty and the Beast, Lumiere the candelabra, Cogsworth the clock, and Mrs. Potts the teapot charm and welcome the frightened Belle to the castle of their reclusive master, the Beast, through their buoyant rendition of "Be Our Guest." They "only live to serve," and their impeccable hospitality leaves no detail unattended. Likewise, you can take pride in hosting travelers this summer in a guest room that impresses, relaxes and enchants. Whether it's fresh flowers or beautiful bedding, the thoughtful details you add will make your visitors feel special and their stay unforgettable.

The five-star treatment
Nothing says "Be Our Guest" better than details that anticipate your guests' every need. Bedside tables adorned with nice lamps, a carafe of water and glasses and a bouquet of flowers will delight your weary travelers. Offer your guests an elegant place to unpack their bags on a bench or a small sofa at the foot of the bed. Declutter and give your guests ample closet and drawer storage space. A full-length mirror for dressing, a blackout curtain to hide the morning sunshine, a soothing sound machine and a cooling ceiling or box fan will ensure a memorable stay.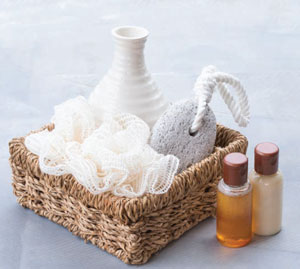 Elaine Stephenson, owner of Elaine Stephenson Interiors in Roanoke, describes this hospitality as "five-star." She explains, "You want your guests to feel like they are in a five-star hotel. Pretty candles, chocolate and nice soaps in the bathroom are details that make people feel special." For another gracious gesture, make a welcome basket with extra towels, toothbrushes and toothpaste, a handwritten note with your Wi-Fi password, your house key tied to a ribbon and a few water bottles.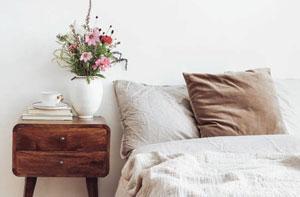 Dreamy Bedding
The centerpiece of the guest room is the bed, and what better time for a dreamy bedding makeover than when you're expecting a visit by loved ones? You'll feel proud about your bedding investment when your guests wake and praise your mattress, sheets and sleeping pillows. As Stephenson notes, "You want really beautiful bedding, nice quality sheets and good sleeping pillows so the bed is super comfortable. I am happy when my guests say, 'this is such a comfortable mattress or oh my gosh, we love the pillows!'"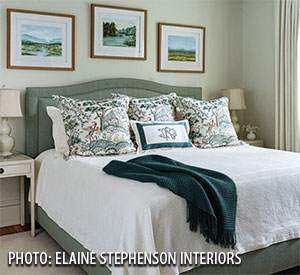 Consumer Reports ranks the Saatva Classic innerspring mattress first in overall quality. It has a dual layer of coils, memory foam layers, a soft pillow top, edge support and a variety of firmness levels. The Sleep Foundation rates the Helix Midnight the best overall mattress. This hybrid mattress (which comes in a Luxe version) features steel coil support, foam layers, a premium quilted pillow top and a cooling Tencel cover.
For Stephenson, quality mattresses with a soft pillow top are simply the best.
Like mattresses, sheets play a major role in how well we sleep. Cotton sheets with a high thread count are good quality and popular. Thread count refers to the number of horizontal and vertical threads per square inch: The higher the thread count, the softer and more durable the cotton sheets will be. Generally, good cotton sheets have a 200-800 thread count, but fabric and weave are also important. Cotton sheets come in several weaves. Sateen is silky and warm; percale is cool and crisp; twill has a dense texture and is durable; and flannel has a warm, soft feel.
Made of fibers from the bamboo plant, bamboo sheets are trending. They are eco-friendly, hypoallergenic and cooling. Bamboo sheets aren't woven in a manner that counts threads, but their weaves are akin to cotton sheets.
Among cotton sheets, Consumer Reports recommends LL Bean's Pima Cotton Percale. Among bamboo sheets, the Sleep Foundation rates the Luxome Luxury Sheet Set as best overall. Stephenson also shares her sheet preferences: "I've had good luck with sheets from Peacock Alley and Legacy Linens. If you like sheets that feel cool, I like the bamboo sheets they sell at Cariloha. My other favorite sheet is 100 percent cotton percale. It's soft, smooth and doesn't pill."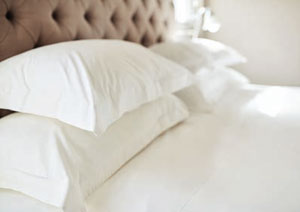 Sleeping Pillows and Shams
A good quality sleeping pillow depends upon a quality filler. Stephenson explains: "I prefer down pillows because they are the most comfortable to sleep on." Decorative sham pillows accent sleeper pillows, but they are not a substitute for them. For designer shams, Stephenson prefers a down alternative filler: "When I make decorative shams, I have learned you don't use down because it makes them heavy. I use alternative down."
The Sleep Foundation identifies three sleeping pillow fill categories. These include natural materials, like down made of duck or goose feathers, cotton and latex; synthetic materials, like polyurethane memory foam; or a combination of the two, such as a down alternative made of polyester microfiber. Down alternative sleep pillows have the airy feel of down pillows, but they are hypoallergenic (unlike feathers), firmer and less expensive. Consumer Reports ranks the Saatva Pillow "the best pillow ever" while the Sleep Foundation rates the Saatva Latex pillow as "best overall."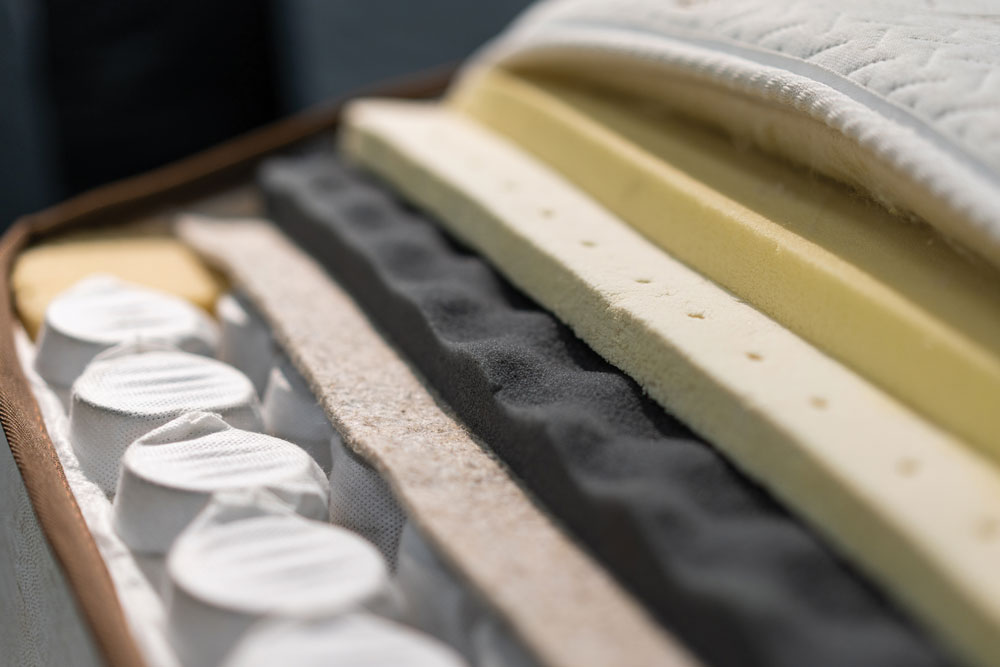 Mattresses 101
Mattresses are expensive, so it's important to research various types before you buy one. According to the Sleep Foundation, there are four basic mattress categories:
• foam
• innerspring
• hybrid
• latex
Made of polyurethane foam layers, foam mattresses cradle the body and give the luxurious feeling of sinking into the bed, but they can trap heat. (Queen size: $900-$1,300)

Innerspring mattresses, composed of a system of steel coils encircled by foam or latex layers beneath a pillow top, are supportive, firm-edged and breathable; however, they have limited motion isolation. (Queen size: $600-$1,100)

Hybrid mattresses, constructed with body-hugging foam or latex layers and steel coils much like the innerspring variety, offer contouring, support and breathability. (Queen: $1,500-$2,000)

Made with eco-friendly latex rubber, latex mattresses yield better bounce and aeration than foam mattresses but are more expensive. (Queen: $1,600-$2,000)
Making the most of your space
Guest rooms can double as a bedroom and office, play space or sitting area when you use a sleeper sofa or daybed that can be tucked away. Stephenson explains, "You could use a cute daybed that can double as a seating area or sofa-type situation. You could be comfortable watching TV there. In my son's room, he had a daybed, but it had a nice trundle which popped up to the level of the bed, creating two beds side by side. He had more floor space." By adding a TV, a bookshelf stacked with favorite books, a bin of toys and comfy chairs and sofas, you'll have a great seating area to hang out with friends and family.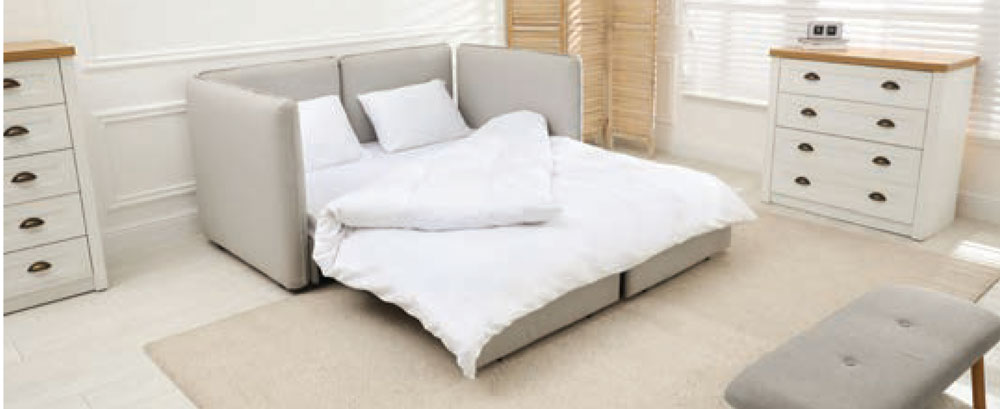 Transformative hospitality
In Beauty and the Beast, Lumiere, Cogsworth, and Mrs. Potts display a warm hospitality to their guest, Belle, which was transformative. It broke the spell that entrapped the Beast by opening their hearts to love. Who knows what small miracles your gracious hospitality might inspire when your guest room makes others feel special and welcomed. ✦
bamboo sheets, cotton sheets, foam mattresses, Guest Room, Hospitality, hosting travelers, Hybrid mattresses, Innerspring mattresses, latex mattresses, mattresses, pillows