Back to Brown | Incorporating Classic Wood Furnishings with Modern Style
We all have something. Maybe you couldn't help it: Grandpa really wanted you to use his partner desk; Mom insisted that you take the mahogany highboy. Maybe the rocking chair drew you in with the words vintage, antique and heirloom. Maybe the credenza was simply the right price at a yard sale. Whatever the reason, we all have a big piece of brown furniture. Recent trends have shied away from the dark, heavy drama of classic wood furniture in favor of lighter wood or paint, but now, brown is back, and trust us: It won't weigh down your space.
Designers generally use the term "brown furniture" for pieces made of solid dark wood, such as walnut, teak or mahogany. For the past twenty-ish years, interiors have been dominated by lighter finishes. Designers have avoided brown furniture in an ongoing effort to open up spaces and emulate a modern, minimalist style. Thus, using a big, dark statement piece has become a bit daunting. But when we look at history, brown furniture has never adhered to trends; it's truly timeless, popping up in Victorian England, Midcentury America, and Ming Dynasty-Era China (lasting approximately from the 14th to the 17th centuries). The reason for its timelessness is that highquality wood furniture is often made of solid hardwood, making it built to last and retain its value, adding the always-important sustainability aspect that resonates with so many of us.
---


BROWN FURNITURE ENCOMPASSES MANY STYLES, SIZES, TYPES AND FINISHES, MAKING THE PROCESS OF INCORPORATING A PIECE INTO YOUR SPACE A SMOOTH ONE. THE INFUSION OF WARMTH AND HOMINESS BROWN FURNITURE BRINGS WILL WORK JUST ABOUT ANYWHERE.
---
If you've been leaning into light and airy finishes, you may be worried that adding brown furniture, no matter how gorgeous, simply won't work with the aesthetic of your home. However, brown furniture encompasses many styles, sizes, types and finishes, making the process of incorporating a piece into your space a smooth one. The infusion of warmth and hominess brown furniture brings will work just about anywhere.
When it comes to the type of furniture, remember that just because a piece was designed for a specific purpose doesn't mean you have to use it for that purpose only. A quality piece of furniture can be used in a variety of ways: a writing desk as a bar console, an armoire as an entertainment center, even a pie cabinet as a linen closet in the bathroom. When it comes to selecting the right furniture for your space, think creatively about repurposing a piece that meets the size, style and finish you want.
After determining the appropriate piece for your space, consider the overall style and size of the room. When incorporating brown furniture, the most important factors to consider are wall length and ceiling height. One of the mostcited aversions to dark furniture is the fear of becoming the "crowded Grandma's house." This phenomenon arose as the population of the United States grew rapidly in the second half of the 20th century, necessitating more houses, quickly, for less money. Paired with the advent of air conditioning and climate control, the result was an abundance of homes with more small rooms and significantly lower ceilings than had historically been built, rendering Grandma's classic dark furniture much more domineering in the new smaller spaces. Designers overcome this problem by first determining which wall can "afford" such a bold statement. Especially in rooms with ceilings under 8 feet, placing a highboy dresser or hutch in front of a too-short wall makes the room feel smaller right away. If the piece is tall, placing it along a long wall will help balance out the space and won't crowd the room. Another option is selecting a smaller piece, such as a sideboard or chest of drawers.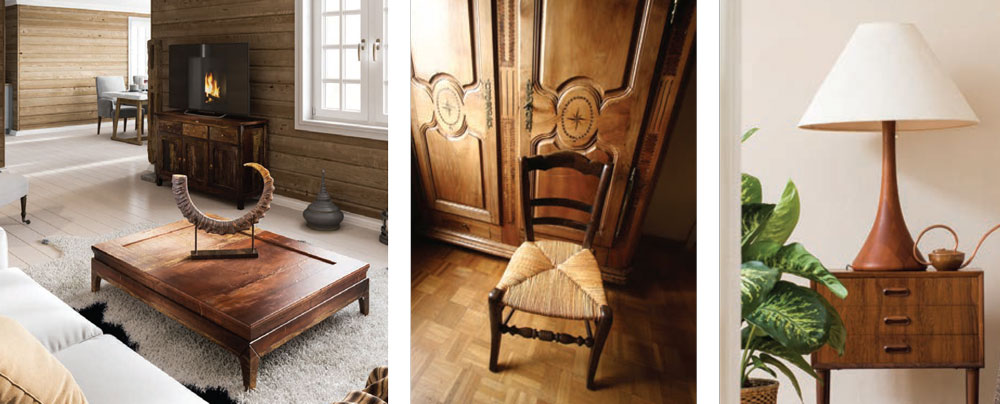 If your space is mostly lighter finishes, adding a darker piece is going to make a statement regardless of what it is or where you put it. With that in mind, you have some wiggle room to be creative with the style and type of furniture you choose. However, keep in mind the big risk with brown furniture: its weight. Balancing your space is important in any design decision, but especially in adding a sizeable piece that could overwhelm the room quickly. If you already have an eclectic style or a generally more maximalist vibe, consider starting with a dark mid-size piece with clean lines to make a bold statement without dominating the room. If your aesthetic is more minimal, you can play around a bit more with the size and style without overwhelming your space, but be sure that the piece actually makes sense with the rest of the room. For example, if you're looking to add a dark table into a mostly-white classic kitchen, perhaps consider a classic and simple design, such as Shaker, Arts and Crafts, or even a neoclassical Sheraton-style table. If your kitchen is more modern, you might consider a table that reflects the midcentury modern or Art Nouveau style. Brown furniture by nature brings history with it, so use it to your advantage to add depth and variety to your space.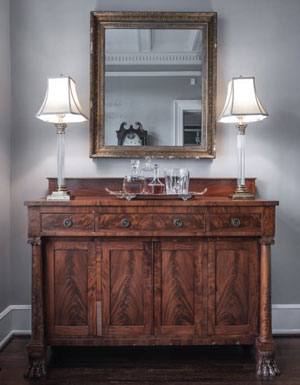 When it comes to finishes, brown furniture runs the gamut: dark to reddish brown, matte to shiny, monochrome to a whole (brown) rainbow. Lean into this variety by not trying to make all your pieces the same finish. Let your furniture be sisters, not twins! Having variety adds a layer of texture to your space, increasing interest and depth. A good way to conceptualize mixing finishes is thinking about the wall color in your space. If two finishes look great next to the wall color, then they will likely look great together. Additionally, mixing unique finishes with more classic ones is a great way to add interest without putting too much effort into matching all your furniture. For example, putting a burlwood coffee table in the living room with dark walnut end tables looks curated and cool without being too far out there to be classy.
Overall, you really can't go wrong with brown furniture. It's classic, natural, beautiful, and there is absolutely something for everyone. Basing your design decisions on the size, style and finish will help you select pieces that work in your space without overwhelming or weighing it down. Brown furniture is back, but in reality, it never really left. ✦
---
Art Nouveau style, Arts and Crafts, brown furniture, Classic Wood Furnishings, highquality wood furniture, mahogany, Midcentury America, Midcentury modern, Ming Dynasty-Era China, minimalist style, Modern Style, neoclassical Sheraton-style, repurposing, Shaker, solid hardwood, teak, Victorian England, walnut