Asian Influences from Whimsy to Zen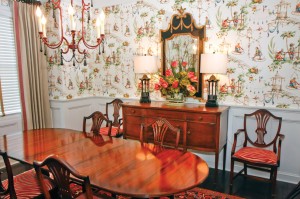 When it comes to creating a style for our interiors, how lucky we are to have a world marketplace and a rich global history from which to draw our inspiration. These days, most homeowners seem to prefer an eclectic aesthetic—mixing and matching pieces and patterns from many cultures and traditions to create their own personal and delightful style.
Asian influences seem to never go out of fashion. It's a collective term that means different things to different people. Is it shiny, lacquered red or black furniture with brass hardware? Bamboo details on a side chair or around a mirror's frame? You might associate colored porcelain jars and hand-painted garden stools with the style, while someone else thinks of natural colors and natural materials like straw and stone.
There's a lovely practicality to Far East-inspired furnishings. A screen can be an arty backdrop, anchoring a seating area. Or, it can divide a large space, provide a bit of privacy or even hide an unsightly radiator. A garden stool can hold a drink by your favorite chair or a stack of fluffy towels outside the shower. And a bamboo-trimmed dresser can do double-duty as a bedside table and storage for your clothes.
Let's look at a few hallmarks of Asian style and focus on two favorite looks—one that draws its inspiration from China, and one that calls upon serene Japanese influences for its design.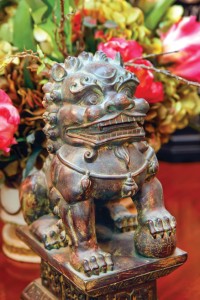 Chinoiserie
("shen-wha-zree")
Chinoiserie is colorful, fantastical and playful. Generally speaking, items with a Chinese influence feature gilt and bamboo details. Some might even portray bizarre animals like fire-breathing dragons, spooky guard dogs or monkeys dressed in human clothing.
Here's the catch: chinoiserie doesn't come from China at all. Rather, it is an Asian-inspired, but completely western, invention. Its name, in French, means "Chinese-esque." Throughout the 17th, 18th and early 19th centuries, wealthy Europeans decorated their homes with chinoiserie wallpapers, fabrics, ceramics, furniture—even pagoda-roofed garden follies. They just couldn't get enough of it!
Perhaps one of the best-known lovers of chinoiserie in more modern times was the legendary decorator Dorothy Draper. Draper is known for mixing flashy colors and patterns and anchoring them with glamorous white lacquered furnishings, complete with bamboo trim details and that telltale fretwork known as Chinese Chippendale woodwork.
Chinoiserie remains popular and is frequently seen on patterns in our dinnerware, blue-and-white ginger jar collections and even the bamboo-style legs on our brass bar carts. Just remember that too much whimsy can become tiresome and lose its effect, so mix chinoiserie into your décor in small doses.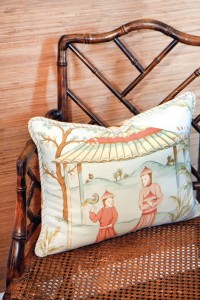 Japonica  
Whereas chinoiserie is bright and bold, japonica is understated—drawing inspiration from nature. Cherry blossoms. Pale and neutral colors like tan, grey and green. Stone, water and wood are also associated with the look. A Japanese-inspired interior décor places a premium on the ideas of calm, simplicity and harmony. It is a clean, contemporary look that evokes the serene feeling of a spa.
Of course, there is some crossover between these two Asian looks. For example, bamboo is a motif common to both styles. Today, japonica is most often expressed in our homes through jute rugs, nature-themed artwork in muted tones of grey, and intentionally uncovered windows that provide unobstructed views and abundant light to stream into our spaces.
Don't feel pressured to translate the look literally, but rather, incorporate the essence of it. Translucent paper screens called shoji ("show-gee"), a traditional Japanese architectural element, might be interpreted in your home through a paper lantern-style chandelier. Our interior paint color choices blend better into nature when we choose that ever-popular grey-beige hybrid known as "greige" or a creamy white over one that is stark.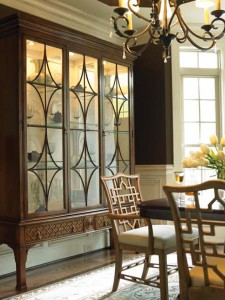 Another soothing way to add a touch of East meets West in your home is to install a tabletop water fountain or a painting that depicts a watery scene. Use ornamental grasses and horsetail in lieu of show-offy flowers in your sleek, minimalist floral arrangements and add smooth river stones to the vase. Set your dining table with bamboo or straw tatami ("ta-ta-mee") placemats and runners to add quiet texture and serenity at mealtime.
Remember, japonica is not just a look but also a lifestyle. If you'd like to add more zen to your home, just strip your space down to the essentials and arrange what remains in an open, flowing manner.
So much of the Asian style aesthetic has to do with simplicity and balance—it's a visual breath of fresh air in any home. Try adding a little yin-yang to your favorite room by pairing a touch of whimsy balanced with a spa-like natural element, and see if you can enlighten your state of mind every time you walk in the room. At any rate, it's sure to make you smile!
Bamboo Details, Chinoiserie, Japonica, jute rugs, Lacquered Red or Black