All-Season Arrangements: Decking the Halls has Never Been Easier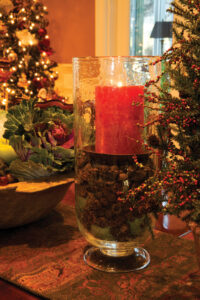 The arrival of holiday season means quick transitions. Swiftly we move from fall to winter, and from Thanksgiving to Hanukkah, Christmas and New Year's. There are overnight guests, family gatherings, parties and events that make this time of year so special, but accompanying those is the stress of so much to do in so little time. Holiday decorations, so ubiquitous this time of year, can be one more stressful demand on your time. Streamlining is key, so consider creating or obtaining a few base arrangements that you can update minimally throughout November, December, and January to bring a beautiful, natural sense of holiday cheer—from the time the autumn leaves change color all the way through the time when the Christmas tree is down and the carols have stopped playing.
Using this strategy, you can dress up a few simple bases—think potted mini-fir tree, boxwood topiaries, or a wreath made of dried vines—with cuttings from your yard and other adornments you can swap in and out in a varying wardrobe of cheerful holiday themes. With this approach, holiday decorating time is whittled down, and because you don't have to take down the bases, they are fresh, easy, inexpensive, and unique to your home. Pots and urns are obvious choices, whether they hold living houseplants, or are filled with florist's foam that can be watered to keep a base arrangement of dense evergreens fresh. Placed on sideboards in the dining room, or as centerpieces on tables and fireplace mantels, such base arrangements provide a green, and often fragrant, backdrop for your own embellishments.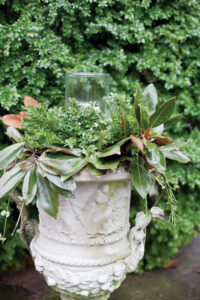 Other suggestions for bases include wreaths, garlands and swags. These can be constructed of dried vines, ornamental grasses, or you can weave them together yourself using evergreen branches and florist's wire. Even for the committed, though, live garlands, boughs, and swags are challenging to keep fresh, and will start drying out and dropping needles within a few weeks. Consider purchasing artificial versions to augment with fresh cuttings from your yard. Once arranged along your mantel, over doors, or down your staircase, they can be embellished with fresh greens or sprigs of berries from your own cuttings. Simply anchor embellishments with florist's wire or twist ties. This is also a great way to use the lower branches you cut from your Christmas tree to spread that wonderful smell to other areas of your home. Splurge on quality, realistic garlands if you are going faux, as you will use them year after year.
Once you have purchased or prepared a few base arrangements, you are ready to embellish them for the season. The first layer you apply will be the most permanent and should stay put throughout the life of your arrangement. As you progress with each layer, use lighter and airier greens, keeping in mind that these less hearty clippings may need to be replaced more often.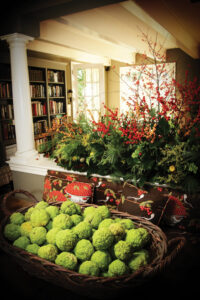 The best greens for indoor use (and longest lived) are evergreens—specifically pine, fir and cedar. Cut these the day before you plan to decorate. Remember: you are effectively pruning your outdoor evergreens as you make these cuttings. Keep the plant's health and structural integrity in mind as you snip. Trim, then crush the stem with a hammer to facilitate maximum water absorption. Submerge the cuttings overnight in a bucket or pail. If they are very large, the bathtub works beautifully. You can expect to get several weeks of sweet-smelling life out of these fresh greens as long as you keep them away from heat sources or direct sunlight, and mist them with water a couple of times a week.
The next layer is all about creating visual interest, so consider a frillier, lighter specimen like arborvitae, holly or cedar. Ivy also works well, but doesn't stay fresh as long and will need a constant water source. Variegated greens are especially eye-catching for this layer. Use your eye as a guide; if this layer looks too heavy against the base, then switch to something even lighter: chamaecyparis (false cypress) or mistletoe, or any other lacy green. Don't be afraid to experiment. You may be discovering a new favorite, and if it fails and goes limp in a day, just remove it and try again.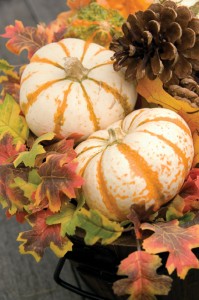 The final layer is the "fun layer," the layer you can adapt your base arrangement to the themes of each holiday. For Thanksgiving, consider embellishments such as nuts, ornamental grasses, pinecones, tiny gourds or pumpkins, and perhaps even the most beautiful of your autumn leaves preserved in glycerin. As Christmas approaches, remove any drooping or brittle greens, and replenish them with fresh cuttings. Remove the fall-themed decorations and replace them with cranberries, winter berry, pyracantha, and pomegranates. Magnolia leaves are another traditional favorite. Face them up for glossy green accents, or down for velvety brown ones. If you wish to add lights, be sure they are the cooler-burning LED lights, or they could cook your arrangement and pose a fire threat. For that same reason, don't put candles in or near these living decorations or place them too near a fireplace.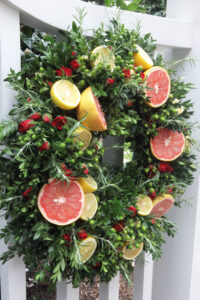 In January, as the last of the wrapping paper has been gathered up, the houseguests have departed, and the Christmas tree has been bundled away, your arrangements don't have to be taken down. Keep the post-holiday blues away by refreshing your base arrangements one more time. This time, focus on an entirely different theme or palette from the usual holiday reds. In keeping with the natural theme, think of dried flowers, interesting seedpods, lemons or limes, maybe even a pineapple. If you are especially green-thumbed, perhaps you could incorporate some forced blossoms such as quince or bulbs such as paperwhites, which will fill the house with a heavenly aroma very different from the December aromas of cinnamon and spruce. How could the cheerful colors of citrus and the beauty of dried flowers not elicit a smile and the realization that spring sunshine is not far off, even in January?
Fruit Wreaths, magnolia, Scented Candles, Swags, Table Greenery