With Sugar On Top: Host a Gingerbread House-Making Party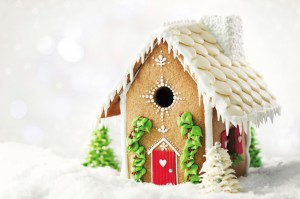 Decorating a gingerbread house is a centuries-old holiday tradition. Edible, sugary creations topped with delectable, colorful candies: what better way to celebrate the season? In our time-crunched world, though, building a house from scratch—even in miniature—may seem daunting for those of us just managing to decorate the homes we live in. However, when it comes to making these masterpieces, there are no rules, and there is no right or wrong way to have fun and enjoy the company of others while taking part in this beloved holiday tradition. Put a twist on your usual cookie exchange and follow these guidelines to help you plan a fun holiday party that can be enjoyed by kids and adults alike.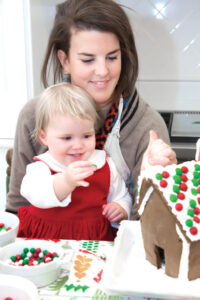 Get Prepped
Constructing gingerbread houses can indeed take a bit of time and skill, so it's important to consider your guests' ages when deciding just how much prep work to do before the main event. If adults are participating, you'll probably want to make and bake the gingerbread dough ahead of time, but perhaps let your guests assemble the pieces themselves. If working with a younger group, take it a step further and assemble the houses beforehand so guests can spend more time decorating. If little ones are attending, bake a batch of gingerbread cookies for decorating that are easier for tiny hands to manage.
Small graham cracker houses are another option for small children. There are many ways to create a house using graham crackers, but a basic model includes six whole, unbroken sheets of graham crackers—four for the sides and roof, and two to cut into gable end pieces (you'll need a super-sharp knife). Consider using a hot glue gun to assemble the pieces before guests arrive so that these mini houses are ready for decorating right away—but be sure to instruct these partygoers not to eat the house component because of the glue.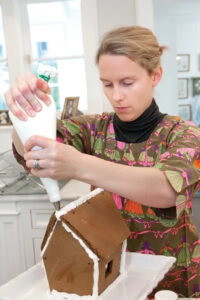 If you have the gumption to make your gingerbread from scratch, it's important to find the right recipe. Be sure to choose one that will provide you with a sturdy foundation for your cookie home. Do not wait until the last minute to test a new gingerbread recipe in case things go awry. You'll also need a template for the house, and you can find one easily by doing a simple online search. There are many pretty, printable patterns available that make cutting your baked and cooled gingerbread fun and easy.
Once the pieces are cut, it's time to assemble. If you're a purist and want to go the edible route, royal icing is the gold standard for "mortar," and most recipes consist of simple on-hand ingredients: egg whites, vanilla and confectioner's sugar. Or take the tried-and-true shortcut: use a hot glue gun for quick and easy assembly, again reminding your guests these houses are not for nibbling. If you're crunched for time or want to focus on decorating, not building, your houses, you can buy pre-made and/or pre-assembled gingerbread houses at your local craft or grocery store during the holiday season.
You'll also need to think about how guests will be transporting their creations home once they are finished. Sturdy paper plates are sufficient if crafting small gingerbread houses, but if the finished product will be large and heavy, go with some foil-wrapped cardboard or even cardboard cake rounds that can be found at your local craft store.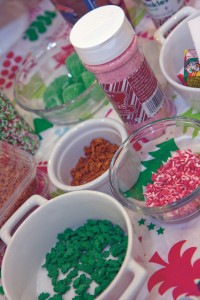 All the Fixings
With prep work done, it's time to set up a decorating station. If your builders will be working together around one big table, cover it with butcher paper for a clean, blank palette (and easy clean up!) and provide mounds of sweet accessories down the middle of the table—either in pretty containers (think apothecary jars, cupcake liners, baskets, mason jars and more) or even free-form heaping mounds. Provide a variety of shapes and textures for your guests to inspire creativity, such as sprinkles, marshmallows, pretzels and gumdrops, plus classic gingerbread embellishments like peppermints, candy canes and lollipops. Sticks of gum can be used as rooftop shingles, squares of chocolate for doors, pretzel sticks and pretzel squares as windows, ice cream cones for trees…the possibilities are endless and there is no such thing as too much!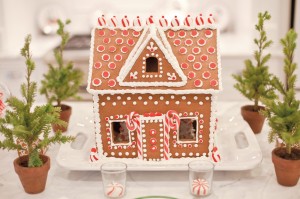 Provide guests with pastry bags or frosting bottles filled with icing to use to affix their embellishments to their holiday homes. You can also make your own pastry bags by snipping a hole in the corner of a zip-lock bag, or buy pre-filled tubes of icing. Or set out a few bowls of frosting so guests can spread it on with a knife.
A large, completed gingerbread house amongst all the building supplies makes a perfect centerpiece for this spread. Not only is it a great focal point, it also serves as inspiration for the party guests while they create their own masterpieces.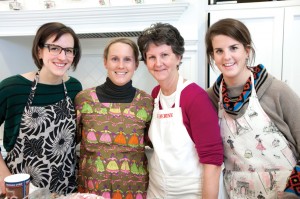 Beyond the Sweets
Since this is a party, be sure to offer guests a few snacks and beverages. Because most will be snacking on supplies while decorating their gingerbread houses, keep the sweets on your party menu to a minimum and add some savory items to the mix. Popcorn, a classic salty snack, is easy to prepare and can even be used as an accessory for the gingerbread houses. Old faithfuls like fruit and veggie trays or cheese and crackers would be welcome nibbles amongst all this sugar and excess of the holiday season. For kids, consider tea sandwiches (cream cheese and cucumber, peanut butter and jelly), cutting them into festive shapes using a gingerbread-man cookie cutter or other holiday motif. Wash down snacks with milk, hot chocolate, or coffee and tea for the adults. Jazz up the kids' milk with a bit of red or green food coloring for a note of holiday spirit.
At the end of your gingerbread house party, once bellies are full and houses are complete, send your guests home with their colorful creations as well as a keepsake from your time together, like an ornament, cookie cutter or recipe card for your gingerbread. They can use it to make their own gingerbread cookies and houses for years to come.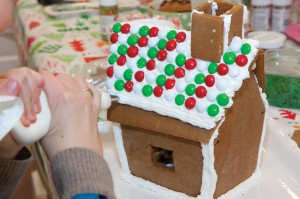 Gingerbread House Dough
6 cups all-purpose flour
1 teaspoon baking soda
1/2 teaspoon baking powder
1 cup (2 sticks) unsalted butter
1 cup dark-brown sugar
4 teaspoons ground ginger
4 teaspoons ground cinnamon
1 1/2 teaspoons ground cloves
1 teaspoon finely ground black pepper
1 1/2 teaspoons salt
2 large eggs
1 1/2 cups unsulfured molasses
In a large bowl, sift together flour, baking soda, and baking powder; set aside.
In an electric mixer fitted with the paddle attachment, cream butter and brown sugar until fluffy. Mix in spices and salt. Beat in eggs and molasses.
Add flour mixture; mix on low speed until thoroughly combined. Divide dough into thirds and wrap in plastic.
Chill for at least 1 hour.
Heat oven to 350 degrees. On a well-floured surface, roll out dough to 1/8 inch thick. Cut into desired shapes, or using template instructions, if desired. Place dough shapes on ungreased baking sheets; chill until firm, about 15 minutes. Bake 15 minutes, or until gingerbread is firm in the center, but not dark around the edges.
This recipe adapted from Martha Stewart Living (December 1995)
Frosting, Gingerbread Decorations, Gingerbread House, holiday party