Catering Begins at Home: Want to Throw a Party? Make it Easy by Hiring a Caterer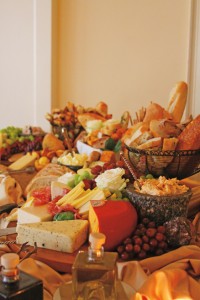 Some people seem to have a genetic predisposition for throwing parties. You know the type: The neighbor who can pull together an impromptu "my son decided to come home a few days early from college" celebration or 25 of his closest friends, or the executive's wife who can put on an intimate, five-course dinner for eight without breaking a sweat.
Then there are the rest of us. We love the idea of having groups of friends, family and coworkers over to our homes for good conversation and a great meal—until we start contemplating all the planning, decorating, shopping and cooking involved. Who has the time?
Fortunately, you don't have to be a natural entertainer to successfully entertain at home. You just might need a little help from a caterer. These experienced, talented professionals can assist you with any and everything party-related, from planning and cooking to decorating and cleaning—but it's not an all-or-nothing deal. They offer varying levels of support so you can stay within your budget—and still completely enjoy the personal, memorable experience that comes with hosting a celebration or dinner party in your own home.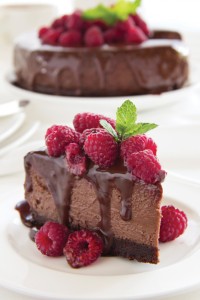 And if you think that hiring a caterer is only for the untalented and the ultra-busy, think again. There's a good chance that the neighbor who makes party-hosting look like a snap uses a caterer from time to time and may even have their number on speed dial.
"It's very generous to bring friends and colleagues into your home for a party, but most people are so busy that they need help with the food and other details, and they know that if they hire a professional, it's going to get done right," explains Victoria Longley, chef and owner of Chanticleer Catering in Roanoke. "Then they can just relax and enjoy being a host or a hostess."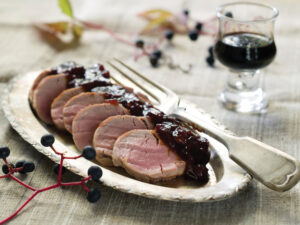 Right Party, Right Caterer
Before you head next door to ask for the name of your neighbor's caterer, keep in mind that not all catering firms are alike. They can have different specialties, different pricing models and different approaches to service.
Most caterers are willing to work with you to create customized appetizers, entrees, side dishes or desserts, while some prefer that you order off of a set catering menu. Some specialize in a certain style of cooking, and many are willing to prepare food items and even personal recipes brought to them by the client. Some caterers will send a full team, including chef, bartender and wait staff, and work out of your kitchen, while others will prepare the food at their own facilities and just drop off food trays at your home just before the party starts. And some will come into your home ahead of time to assist you with party setup and decorating.
As a result, before you start asking for referrals and calling caterers, it's important to take time to think about what kind of party you want and who you plan to invite. Will it be a sit-down dinner for a few friends? An upscale backyard barbecue for 100? A birthday, graduation or anniversary party? A bridal shower and luncheon? Perhaps you'd like to have your work colleagues over for a casual, buffet-style meal or you might want to invite your neighbors for a wine-tasting event and heavy hors d'oeuvres. Maybe you'd like to have a big Super Bowl party and were planning to make your own famous Texas chili, but you'd like a caterer to supply some appetizers, side dishes and dessert.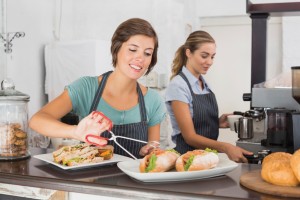 The options are endless, but your decisions on party theme, menu and services will impact the price, the amount of planning involved and the caterer's workload and approach to your event.
Most critically, you need to have a budget. "You've got to decide what you want to spend before we can start talking about menus," says Charlie Hamill, owner of the Rock and Roll Diner Food Truck in Roanoke, which offers both full-service, on-site, customized catering, as well as drive-up service. "We can do just about anything you want, but if you have a pretty low budget, you're going to have some great options, but we're probably not going to be talking about filet mignon or shrimp and grits."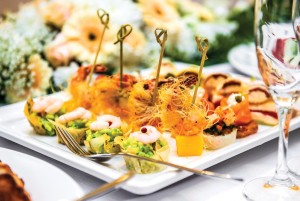 Even if you've got a pretty good idea of what you want to spend and how you want your party to go, there's a good chance you'll be at a loss on what type of food—and how much variety—to serve. Don't worry. Caterers are great at making suggestions, so at this point, make an appointment to consult with one or several caterers to learn about your options. Most will go over some pretty standard questions to figure out what foods will work. In what direction are you leaning? Casual or formal? Sit-down or buffet? Chicken, beef, seafood or vegetarian? Italian, American or French? If it's a 50th birthday party for your husband, what are his favorite foods? Do any of your guests have allergies or intolerances to any foods, such as nuts or gluten?
"Very often people don't have a clue about what they want and so they really need to have a caterer help them through all of that," Longley explains. "And so we'll go through a series of questions about what the event is for, who is coming, their taste preferences and so forth, and then start coming up with ideas and recommendations for the menu."

Unlike some caterers who have a catering menu to start from, Chanticleer customizes everything. "I really cook seasonally, so I shop the local markets for the freshest ingredients," Longley says. As an example, in the fall, she often serves roasted vegetable side dishes and squash soup sippers, platters of different meats and cheeses, salads with arugula, micro-greens and figs and pears, and desserts that rely on fresh apples and pumpkins. "There's no set anything. We can work to meet anyone's needs, preferences and budget."
If you'd rather make your selections from an established catering menu, you'll realize a couple of key benefits. You can sample the food ahead of time, the prices are already set and the recipes included usually represent what the caterer does especially well. For instance, many people hire the Rock and Roll Diner Food Truck to pull up next to the home for various informal events, like luncheons and bridal showers, because "it's easy, it's a fun experience, and the host can control their costs," says Hamill. Clients often decide to offer a choice of three entrees, such as his famous Key West fish tacos, authentic cheesesteak or chicken salad BLT, and a choice of several side items, a non-alcoholic drink and a dessert. Hamill adds that people can wait for their orders at the truck, or his team can deliver them tableside, or wherever the party is taking place.
Personnel at both Chanticleer and the Rock and Roll Diner encourage clients to bring their own ideas when planning a catered event, whether it's a recipe that's been in your family for 100 years or something that grabbed your attention while reading your favorite magazine.
"We're not confined to any one style," says Hamill. "We've done pasta dishes, chicken dishes, vegetarian dishes. Really, just about anything the client wants, we can do."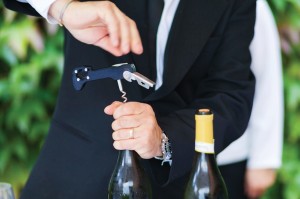 The Finer Points
Once the menu is finalized, you'll need to work with the caterer to determine other key details that can help ensure a successful and smooth-running party.
First, the beverage question. Are you planning to serve alcoholic drinks, and if so, what kind: beer and wine, specialty drinks, liquor and mixers, or some combination thereof? Most caterers have an ABC license and can help supply the hard liquor while you provide the wine or beer (or vice versa). Or if you just want to serve wine and beer, you can aid your budget by buying it yourself—and, if you ask, your caterer may help you develop a shopping list.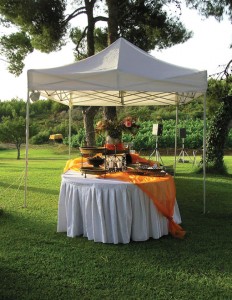 No matter who's doing the supplying, it's a good idea to consider paying the caterer to staff a bartender at your party, especially if you're planning an evening affair with more than 20 guests. "It's really a practical and classy thing to do because then you don't have to worry about it and, again, you can focus on your guests," says Longley, adding that an on-site bartender avoids bottlenecking and sticky spill disasters at the drink table, and keeps the host from having to be bothered with the need to restock drinks, ice and glasses.
For larger or more formal parties, the caterer, as part of the quoted cost, will generally supply at least one server (and sometimes more) to set out food, keep the party area clean of empty glasses, plates and crumpled napkins or serve hors d'oeuvres. However, if you're having a smaller shindig, you can still request an on-site server. It's an additional cost, but it can be money well spent if you'd rather spend your time completely focused on your guests and party activities.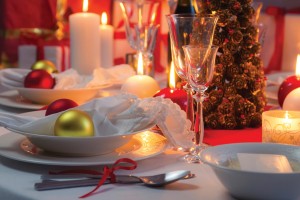 Another issue to contemplate: What kind of table service do you want? If it's a small, formal dinner party, you can ask your caterer to serve your guests using your own family china and platters. "We do have people who bring us their serving dishes ahead of time and we serve our creations on them," Longley says. "And I recommend it, because this is the time to use and show off those lovely things that have been part of your family or that someone gave to you as a wedding gift."
Of course, if you are concerned about damage to those lovely things, many caterers serve the food using their own upscale dinnerware, though this may or may not involve an additional fee. If it's a less formal celebration, the caterer can serve using any variety of pretty or plain plates, glasses and serving ware, or you can opt for disposable items to make clean up fast and simple.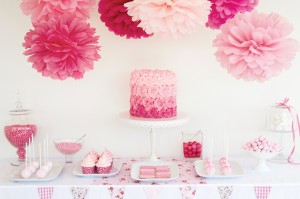 Setting the Stage
One of the big issues with a house party is making sure that you can easily accommodate your guests and ensure that they can move around easily and feel comfortable. To do this effectively, caterers will, for an extra fee or as part of the negotiated price, come in ahead of the big day and help you map out the flow of your party. This will help you determine the best spots for your serving table, appetizer stations and bar or drink area, and whether or not to bring in extra seating.
Some caterers offer other pre-party service offerings. Longley's staff is often hired to clean and prep the house beforehand, and they frequently create floral centerpieces from backyard gardens and supply other decorative touches. And in the case of the Rock and Roll Diner, a caterer can even provide the entertainment. Hamill is a long-time musician. "A lot of times, I'll spend the first half of the party in the kitchen doing my chef thing, then I'll make a quick change and come back in for the second half with my guitar," he says, noting that he is also happy to recommend and help book other bands and musicians for his catering clients.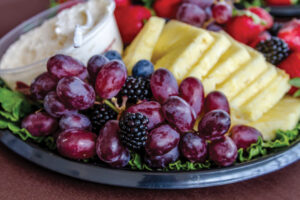 Although most caterers do much of their prep work and cooking before they arrive at your home, they'll still need use of your kitchen to stage, finalize and warm the various food items. The good news is that you probably won't need to supply anything, except, perhaps, your microwave, stovetop and oven.
"We generally have everything we need and are pretty much ready to go when we arrive, though we might need to do some finishing and heating or, if it's an upscale barbecue, we might set up a grilling station and do the actual cooking onsite," says Longley. "But we're so used to taking things all over the countryside and into different homes that we're always prepared for anything."
The one thing you will need to do is to clear your kitchen countertops of any paperwork, appliances or other clutter and make sure all surfaces and cooking areas are clean and disinfected so the cater has plenty of room to lay out supplies and work without impediment.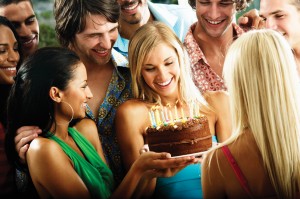 Party Down
On the day of your big party, everything is set up, the house looks beautiful, the staff is set and your guests are starting to arrive.
So what do caterers advise you to do now? Relax. Mingle with your guests. Let go and let the caterers do their job. "Don't be an uptight host, because there's nothing worse," says Longley. "The thing to always keep in mind is that people are going to enjoy your party no matter what, because, first of all, they're not the ones cooking, and it and they're getting a chance to come out, see new people and have a fun evening. No matter what you're offering, they're going to like it. So be a relaxed host and enjoy your party."
And isn't that exactly what you're paying for?
SIDE DISH
Make the most of your catering experience with these additional hints:
Plan ahead Caterers' schedules fill up fast, especially
during prime party seasons like Christmas and Saturday evenings in June. Once you know when you want to have your party, get yourself penciled into their calendar, even if you're still working
out the details.
Curb your costs You can get the party support you
need without breaking the bank. Among the possibilities: Supply your own beer and wine. Have the caterer cook and prepare your food for drop-off or for you to pick up right before the party, saving you on the cost of on-site service. Prioritize your spending by asking the caterer to create very simple, inexpensive appetizers, such as a tray of interesting crackers and cheeses, and use the
bulk of your budget for a couple of sophisticated entrée items.
Or divide up the food preparation so the caterer is providing only the most work-intensive or interesting items. As an example, you could prepare a large but simple meat dish, such as a Virginia ham or roast beef, and then let the caterer supply the appetizers, side dishes and dessert.
Party and learn Having a top chef working in your kitchen is a great opportunity for you and your guests to watch a professional at work, ask questions and learn a new cooking style.
Bartender, Caterer, Celebrations, Chanticleer Catering, Dinner Appetizers, Non-Alcoholic Drinds, Rock and Roll dinner Food Truck