Addictive Game Day Foods | You'll Want to Make All Year Long
The qualifications for a perfect game day spread are pretty straight forward. Here are the four magic ingredients:
1. Must be scalable — crowds can eat a lot.
2. Must be easy to prepare.
3. Must be delicious
4. Must be a little splurge worthy for the waistline.
Sticking to the classics is always a hit. But why not take it up a notch? These recipes take a spin on the classics from deviled eggs and pizza to cheese dips and sheet cake. We don't need to rewrite the classics completely, but these versions might make you want to add some extra notes to grandma's recipe cards.
TEX-MEX DEVILED EGGS
Who doesn't love a deviled egg? Can you call yourself a Southerner if you don't? Eggs are a blank canvas for flavors, so try this smokey and spicy version!
6 hard-cooked eggs, peeled
1 tablespoon green onions, thinly sliced
1 tablespoon fresh cilantro, chopped
1 small jalapeño pepper, seeded and diced
1/4 cup mayonnaise
1 teaspoon yellow mustard
1/2 teaspoon salt
1/4 teaspoon pepper
1/4 teaspoon chili powder
1/4 cup Monterey Jack, shredded
Smoked paprika, to garnish
Cut eggs in half lengthwise and remove yolks into a bowl. Mash egg yolks and stir in green onions, cilantro, jalapeño, mayonnaise, mustard, salt, pepper and chili powder. Spoon the mixture into egg white halves; sprinkle with Monterey Jack and smoked paprika. Serve immediately or cover and chill until ready to serve.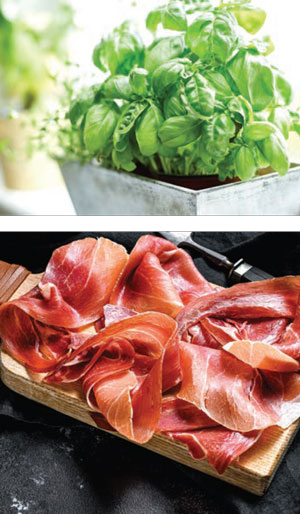 PROSCIUTTO AND BASIL PIZZA BREAD
OMG! This is pizza elevated and totally shareable. My biggest tip is to make more than one. It will fly! It is an easy finger food with very simple steps and pre-made ingredients! The prosciutto makes it slightly unique and utterly divine!
2 cups mozzarella, shredded
1 (5-oz.) package prosciutto, diced
3/4 cup Parmesan cheese, shredded (plus more for garnish)
1/2 cup fresh basil, chopped (plus more for garnish)
1/4 cup fresh flat-leaf parsley, chopped
2 tablespoons olive oil
2 garlic cloves, crushed
2 (16-oz.) cans biscuit dough, refrigerated
1 cup marinara sauce, jarred and warmed
Preheat the oven to 325°F. Combine mozzarella, prosciutto, parmesan, basil, and parsley into a bowl. Combine oil and garlic in a small bowl, and drizzle over the cheese mixture. Cut biscuits into quarters and add to cheese and oil mixture. Toss together. Transfer to a lightly greased nonstick Bundt pan and bake until the top is golden, about 45 to 55 minutes. Let the bread rest in the pan for about 5 minutes. Remove bread (by flipping over on a platter and garnish with parmesan and basil. Serve with marinara sauce for dipping.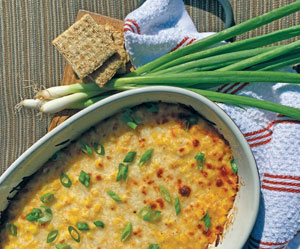 SPICY CORN CHEESE DIP
This is a spin on a Korean American dish. It's not what most game goers would expect like your typical buffalo chicken dip. This is best served straight from the skillet but is wonderful reheated. Serve with crackers and watch it disappear!
4 ears corn, shucked (if using canned, rinse and drain well, about 3 cups)
1/2 cup mayonnaise
2 teaspoons Sriracha
2 teaspoons sugar
1 teaspoon garlic powder
1/4 teaspoon Kosher salt
1/4 teaspoon pepper
1 cup whole milk mozzarella, shredded and divided
1 green onion, thinly sliced
Preheat the oven to 400°F. Lightly grease an ovenproof skillet. In a large bowl, combine corn, mayonnaise, Sriracha, sugar, garlic powder, salt, pepper and half of mozzarella. Spread corn mixture into a lightly greased ovenproof skillet, and sprinkle with the remaining mozzarella. Bake until bubbly, about 15 minutes. Then broil for 2-3 minutes, or until golden brown. Garnish with sliced green onions.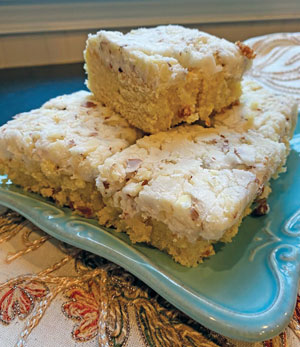 EASY ALMOND SHEET CAKE
I adore this recipe because the longer it sits, the better it tastes, which makes it perfect for game day! It's buttery, just sweet enough and will make all ages happy.
CAKE
2 cups all-purpose flour
1 3/4 cups sugar
1/4 cup brown sugar
1 teaspoon baking powder
1 teaspoon salt
1/4 teaspoon baking soda
1 cup butter, cubed
2 large eggs
1 cup sour cream
2 teaspoons almond extract
FROSTING
1/2 cup butter, cubed
1/4 cup half and half
3 1/2 cups confectioners' sugar
1/2 teaspoon almond extract
1 cup chopped almonds
Preheat the oven to 350°F. In a large bowl, whisk together flour, sugar, brown sugar, baking powder, salt and baking soda. Cream together butter, eggs, sour cream and almond extract. Add to the flour mixture and mix well. It will be thick! Transfer to a greased 15x10x1-in. baking pan. Bake until golden brown and a toothpick inserted in the center comes out clean, 25 to 30 minutes. Cool on a wire rack for 20 minutes. For frosting, add butter and half and half to a large saucepan and bring just to a boil. Be careful not to scorch. Remove from heat and stir in confectioners' sugar, extract and almonds. Spread over warm cake.✦
Easy Almond Sheet Cake, Game Day Foods, Prosciutto And Basil Pizza Bread, Spicy Corn Cheese Dip, Tex-Mex Deviled Eggs