A New Old Home: Green Living in an Arts and Crafts Cottage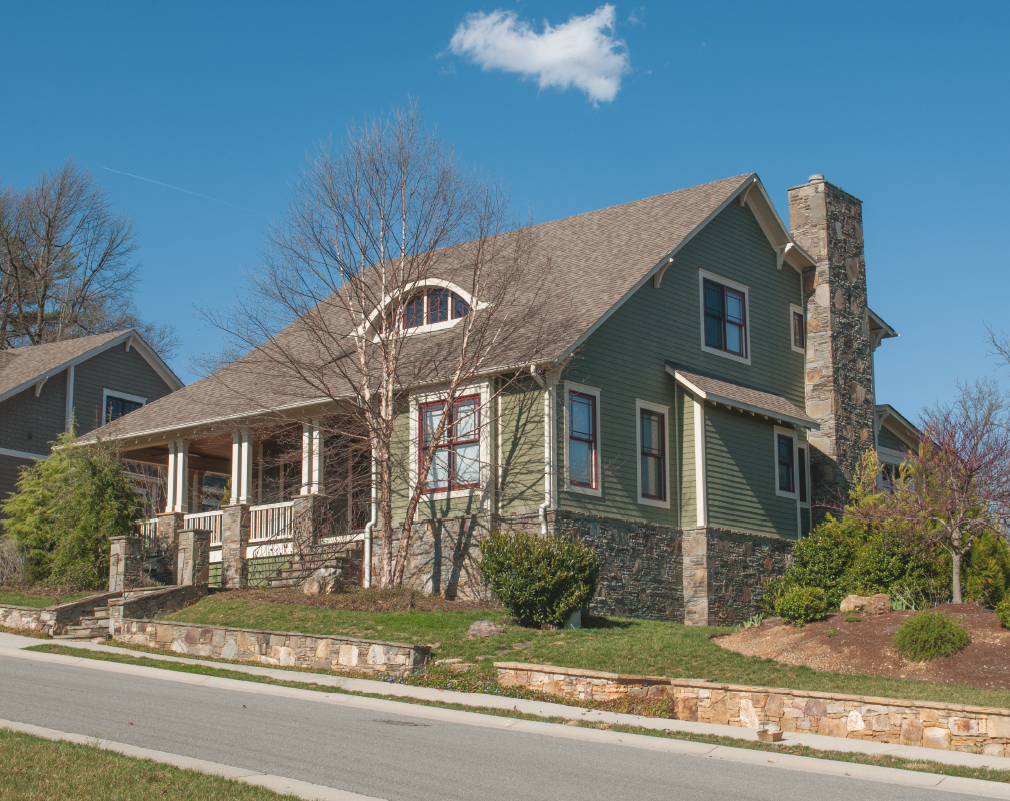 Tucked away in the hills of Southwest Roanoke County is a neighborhood unlike any in the Roanoke Valley. It's called The Preserve at Two Ford, and it is one of our region's first green neighborhoods, featuring certified EarthCraft homes surrounded by eight wooded acres. All of the custom-built homes are beautifully detailed, designed with sustainability, energy conservation, and low environmental impact in mind. The neighborhood has sidewalks in front, green space with walking trails behind, and is surrounded by mountain views. One of these homes, known as Camellia Cottage, is the abode of Suzi and Brent Fortenberry. Suzi and Brent, as founders and owners of Bench Mark Builders, are the creators of The Preserve at Two Ford, and as one of its residents, they are quite literally living their dream.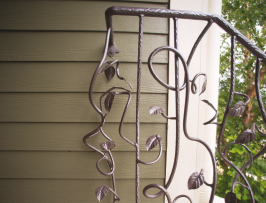 Camellia Cottage, which was built by Brent Fortenberry, is an Arts and Crafts-style home with a welcoming wrap-around porch just steps from the pea gravel drive. A wrought-iron railing, by local artisan Travis Nichols, frames the stone steps up to the front door. The balusters are fashioned after the curving and twirling camellia vines that give the home its name. An 8-foot Craftsman-style door welcomes visitors into the entry, while around the corner of the porch, a set of French doors leads directly into the kitchen area. And as anyone who's ever visited the Fortenberrys knows, the kitchen is where you want to be.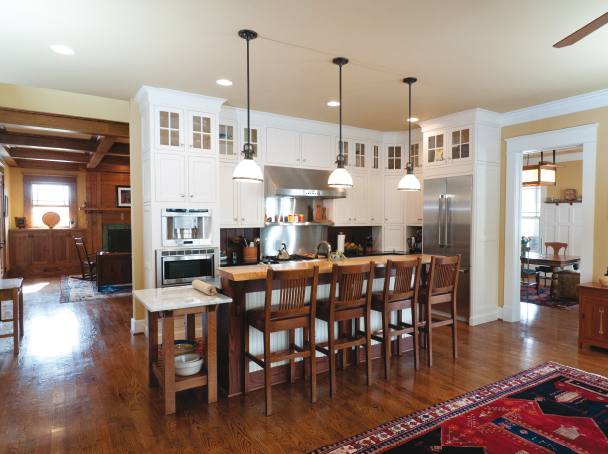 Suzi, an avid cook, has French loaves in the oven, and the heavenly smell wafts distractingly through the airy space. "I like to bake breads, and a Louisiana candy called 'Divinity'," she says. A Louisiana native and one-time dietitian, she loves recipes and hopes someday to get a cookbook together. The French loaves are for today's lunch, roast beef "po' boy" sandwiches. Suzi is the kind of person who will make visitors a delicious meal and send more home with them. This welcoming approach extends to everything she and Brent do at The Preserve, from designing a community with a village feel and neighborhood school bus stop, to throwing neighborhood get-togethers. "Brent and I host at least one dinner gathering a year where all the neighbors are invited to a potluck," she says. "Being Louisiana natives, the favorite gathering has been having catfish flown in from Baton Rouge where we have a traditional Louisiana fish fry." Suzi says another neighbor sent out a community dinner invite during the last winter snowstorm. "With folks being so transient today, getting to know the neighbors and their children is really special," she says.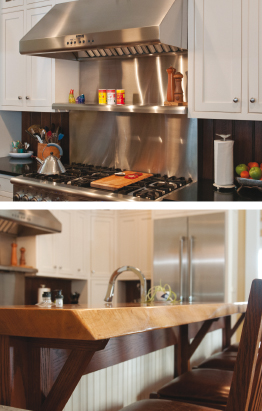 The Fortenberrys' kitchen is well-equipped to handle both neighborhood visitors and Suzi's cooking expertise. Its white cabinetry was inspired by Diane Keaton's Hamptons kitchen in the movie "Something's Gotta Give" and built by Custom Wood Products in Roanoke. A trio of Cajun seasonings called "Slap Ya Mama" rests on a shelf above a Thermador dual-fuel range. Stainless steel appliances, including a built-in coffee station, a warming drawer, and a built-in fridge, fit neatly into the cabinetry. An island with a stainless steel sink and honed granite counter faces the adjacent keeping area, and features a raised quilted-maple bar counter with a live edge. At the end of the island is a marble-topped baking station which holds a large rolling pin, one of Suzi's prized possessions. "My first job out of college was at a hospital in Baton Rouge, and I had a health inspection," she says. "The inspector said the rolling pin didn't pass because it had chipped paint on the handles, and the director told me to throw it in the garbage." But it was huge and well-made, with ball bearings for smooth rolling, and she loved it, so she took it home and has used it for 40 years.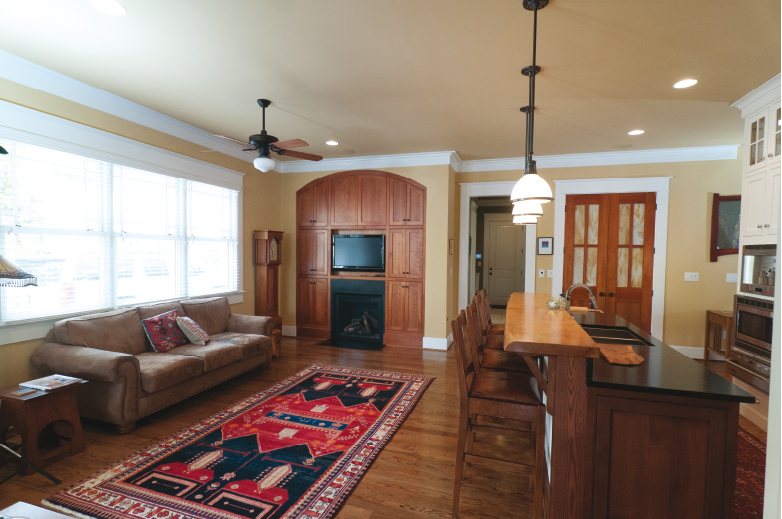 The keeping area, with its comfortable sofa and gas fireplace, extends the kitchen area and gives it a spacious yet cozy feel. The oak floor is warmed by one of many red-toned area rugs throughout the home—collected during the couple's travels over the years—and the fireplace is surrounded by cherry cabinetry. Noting the various woods used in the space and throughout their home, Suzi says, "A lot of people will think, can you mix different woods? In this room we have cherry, maple, oak—but somebody told me, if you don't believe woods mix, go out in the woods."
A hallway connecting the rear of the kitchen to the garage contains several small but useful spaces. On one side, Suzi's home office, with shelves full of both design and recipe books, overlooks the screened porch. She handles the interior design portion of their business, meeting early on with new homeowners to understand what they want, saying, "Each home has the personality of the owners, so I help them with design and selecting features."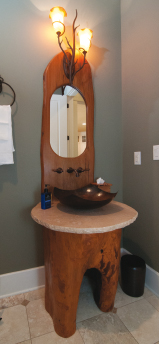 Across from Suzi's hard-working office are the laundry room, mud room, and a powder room with a one-of-a-kind feature: a hammered-copper vessel sink atop a large cypress log. Dubbed the Katrina log, Suzi says, "My brother in Louisiana did a lot of excavation after Hurricane Katrina," and found the piece for them. The mirror above the sink is embedded in another Southern feature, a slab of "sinker cypress"—so named for cypress logs that are sometimes found in the bottom of the Mississippi River. The unique vanity is finished with a limestone chiseled-edge counter, and a tree-like lighting fixture from Williams Lighting Galleries. With floors of travertine marble and walls painted in Sherwin-Williams' Connected Gray, the powder room is one small example of the natural aesthetic that fills the Fortenberrys' home.
Camellia Cottage, like all homes at The Preserve, is built with formaldehyde-free cabinetry, water-based finishes, and low- or no-VOC (volatile organic compound) paint, so it is environmentally conscious as well as beautiful. It is also a smart home, with multi-system control panels for security, lighting and more. A panel on the wall just inside the garage door allows the Fortenberrys to set custom lighting "scenes" for the house, such as "party" or "romantic," and the system can be accessed remotely from any web-based device. Though Suzi admits she is not especially high tech and doesn't use all of the available options, she says it does come in handy. "I could be in Europe and open and close the garage door if I get a package, and see who's coming and going."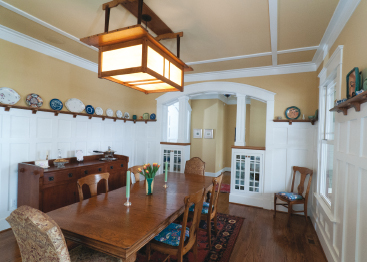 At the front end of the kitchen, a doorway—accented by a small oil painting of a Cuban village by Roanoke artist Nan Mahone Wellborn—leads to the dining room at the front of the house. Nine-light windows, a characteristic feature in Craftsman homes, bring in plenty of sunshine, and their pattern is replicated in the ceiling treatment. The walls are lined with white wainscoting that is topped with a plate rack displaying Suzi's collection, which includes plates and pottery from Floyd, Japanese plates, and oyster plates reflecting her Louisiana roots. An antique oak table, topped with a vase by Floyd artist Donna Polseno, sits beneath a custom light fixture designed and built by Brent. The fixture, like many other features in the home, was inspired by Greene and Greene, two brothers who were early influencers of the California Arts and Crafts movement. A colonnade with built-in china closets separates the dining room from the entry.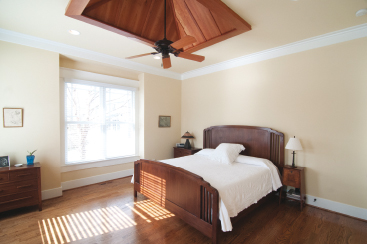 On the other side of the entry is the Fortenberrys' master bedroom, whose most striking feature is a cherry accent in the ceiling. "We wanted to do a unique ceiling treatment, so we kind of designed it in our heads, and a friend helped us with the trim work," Suzi says. It turned out just the way they wanted, though she says the level of detail made it an intricate process. "Our friend said he'd never do it again!" she laughs. The room features Stickley furniture and walls painted in Ivoire by Sherwin-Williams. The effect is fresh and light, and has a warm-weather feel. "Being from Louisiana, I tried to bring a little bit of that into the home," Suzi says. "I just like a happy bedroom." The adjacent master bath, with its radiant-heated travertine marble floors and towel warming drawer, also makes you suspect that Suzi hails from a warmer place. A marble-topped, cherry double vanity, shower with body jets, and soaking tub with a herringbone-tiled surround complete this inviting space.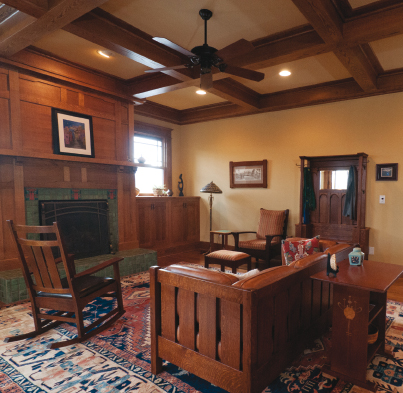 While the kitchen is where you want to be when Suzi's cooking, it is the great room that really reflects the style of Camellia Cottage. Located down a short hallway from the entry, its warm coffered ceiling gives an instant impression of coziness despite the room's expansive scale. The fireplace is set into Greene and Greene-inspired oak cabinetry, which features a "cloud lift" motif—an Asian-inspired horizontal arch or bridge that is a signature element of the period.
The oak is quarter sawn, which gives a "tiger" effect to the grain, and the fireplace surround features handmade tiles with dragonfly tile accents. "Dragonflies are very much a period look of the Arts and Crafts movement," says Suzi. Furniture in the room includes a custom leather "settle" sofa from California, Stickley pieces from Reid's Fine Furnishings, and an antique hall tree that they found in Suzi's parents' barn and refinished. A painting by Roanoke artist Ann Glover, depicting a home in South Roanoke that the Fortenberrys owned and restored before moving to The Preserve, sits between two sets of French doors leading to the screened porch that overlooks the neighborhood's green space.
Behind the settle is one of the home's most showstopping features, an Arts and Crafts-style staircase. Five newel posts, each constructed from 100 individual pieces of quarter-sawn oak, anchor this intricate structure. The staircase leads upstairs to the man who built it, Brent Fortenberry. His office is nestled into the spacious gathering area at the top of the stairs, and it's here that you can find him when he's not at his cabinet shop downtown or on site with clients. Brent's desk, a slab of cherry from the woods of West Virginia, sits beneath an angled beadboard ceiling and unusual arched window. "There's an eyebrow dormer on the front of the house, so the window fits inside of that eyebrow, and is just kind of a neat architectural detail," he explains. Details like the intricate newel posts and eyebrow dormer are Brent's specialty, and he gives this same kind of attention to every home he builds. At the moment, the Fortenberrys are working on a home for clients with a lot of antique furniture, which they have carefully measured and are designing the new home around. The juxtaposition of old and new is something they know well from their years restoring their South Roanoke home. In fact, it was this process which led them to develop The Preserve at Two Ford. At the time, Suzi was traveling a lot with her job in healthcare sales, and Brent was a CPA. "I wanted to get off the road, and we always had a passion for houses," she says. "After restoring our old house, we wanted to build a 'new old house,' with all the details of an old house, but we also wanted to focus on energy efficiency. We also felt that Roanoke was so beautiful that we wanted to have some respect for the environment, so that's why we set out to do a low-impact community." Brent's designs and paperwork are stored in a hefty grouping of antique oak file cabinets that they found years ago in an antique shop in Mississippi.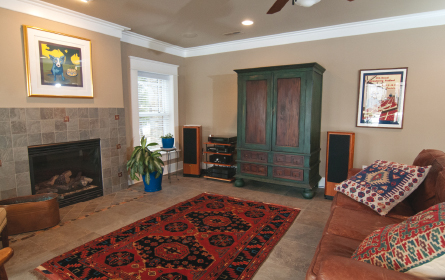 From Brent's office on the landing, the staircase descends past the main floor to the terrace level, where French doors lead to a small courtyard facing the green space. The family room is painted "Cappuccino," a Restoration Hardware color which Suzi had replicated in low-VOC paint. The floor is a slate-like ceramic tile, featuring more of their red area rugs, here from estate sales and Sedona. A leather sofa faces the gas fireplace, where a "Blue Dog" artist's proof by Louisiana artist George Rodrigue hangs, one of several Rodrigue pieces in their home. The terrace level has a second "mother-in-law" kitchen with Old English-style cabinetry and granite countertops, plus a couple of unusual rooms. One is a home theater—complete with a projection screen, theater seating, and soundproofed walls—decorated in a jazz-club style. The other room is a wine cellar, whose quarter-sawn oak entry door was made by Brent. Inside the climate-controlled room is plenty of oak racking for wine storage, interspersed with pillars of New York bluestone, the same stone used on the home's exterior. A walnut slab with a live edge, from the same West Virginia woods as Brent's office desk, serves as a tasting table.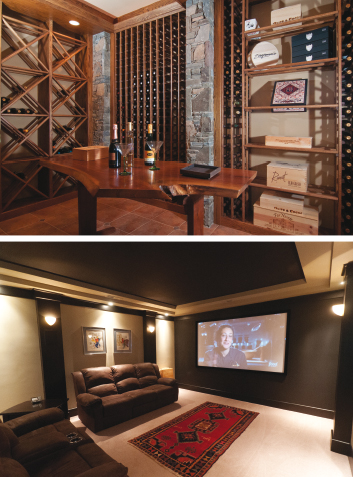 Between the theater room and the wine cellar, it would be easy to linger here for hours, but upstairs, the smell of fresh-baked bread calls. With New Orleans music playing through the built-in sound system, and piping hot roast beef po' boys dressed with all the trimmings waiting on the kitchen island, it's easy to feel at home at Camellia Cottage. Suzi and Brent are convivial hosts who clearly enjoy meeting new people and building relationships with them. The neighborhood they created, with its friendly cluster of homes and sense of camaraderie, is testament to their philosophy of living in harmony with both nature and neighbors. What was once a passion for restoring homes has evolved to include a passion for sustainable living because, as the Fortenberrys like to say, good planets are hard to find.
arts and crafts style home, bench mark builders, camellia, cherry cabinetry, Craftsman, green neighborhood, preserve at two ford, roanoke, stickley furniture