Historic Garden Day 2016: Beauty in the Blue Ridge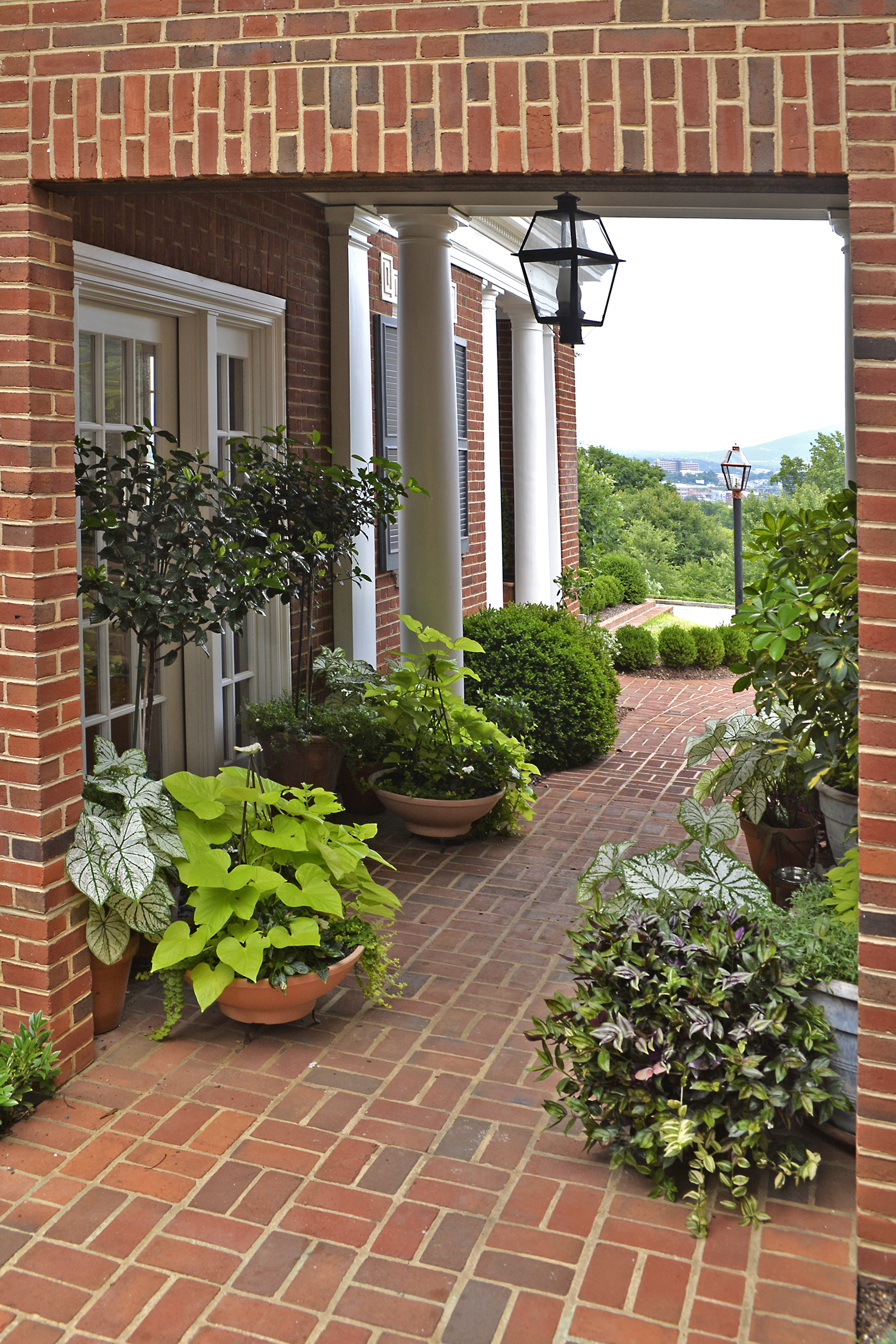 Each spring visitors are welcomed to over 200 of Virginia's most beautiful gardens, homes and historic landmarks during Historic Garden Week, which has come to be known as "America's Largest Open House." A beloved Virginia tradition, this 8-day statewide event provides visitors a unique opportunity to see unforgettable gardens at the peak of Virginia's springtime color, as well as beautiful houses sparkling with over 2,000 flower arrangements created by Garden Club of Virginia members.
Locally, Historic Garden Week festivities in Roanoke will be held Saturday, April 30 from 10 a.m. to 5 p.m., hosted by the Mill Mountain Garden Club and the Roanoke Valley Garden Club. Visitors are encouraged to enjoy this tour, showcasing the "Beauty in the Blue Ridge," via Roanoke's Star Line Trolley which will run on a continuous loop between tour headquarters at the Ronald McDonald House (2224 South Jefferson Street), and Oak Knoll (101 27th Street).
Special events on tour day include an exhibit of various floral designs and floral arranging tips presented in the fellowship hall of South Roanoke Methodist Church, and an early-morning wildflower walk in the Mill Mountain Wildflower Garden. Robert Kulp and Grayson Goldsmith of DIY Network's "Salvage Dawgs" fame will be in the garden of 2515 Stanley Avenue from 10 a.m. to 12 p.m. for photo ops and autographs. Lunch will be available from various food trucks located in front of 2320 Stanley Avenue with seating inside Ronald McDonald House. Tour visitors are also encouraged to enjoy Open Studios, a free self-guided tour of artists' studios and homes www.openstudiosofroanoke.com) and the Norman Rockwell exhibit at the Taubman Museum of Art. 
Advance tickets are available locally at various locations as well as online at vagardenweek.org; tickets may also be purchased on-site on the day of the tour. Proceeds support the restoration and preservation of Virginia's historic gardens and landmarks. For more information, check out Historic Garden Week in Roanoke on Facebook, or visit vagardenweek.org online.
Here, HOME offers a sneak peek at what this year's tour has to offer.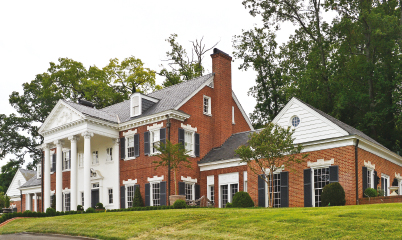 101 27th Street
On a prominent hillside in South Roanoke lies Oak Knoll, a brick three-story Colonial Revival home built in 1925 and designed by Robert M. Allen. Commanding panoramic views of downtown Roanoke, the interior and gardens of this stately home have been meticulously restored. Oak Knoll's large foyer features a spiral staircase rising to the third floor. The quiet colors of the wallcoverings and antique Oushak rugs are a perfect backdrop to the owner's collection of fine American antiques, important collections of silver and porcelain, and 18th- and 19th-century art. The formal dining room contains soft blue chinoiserie wall covering and Federal and English mahogany sideboards. In an adjacent reading room, Zuber French scenic wallpaper adds to the comfortable ambiance. The extensive redesign of the gardens began in 2013 under the guidance of William D. Middleton II. Entering the garden from the foyer, there is a putto garden statue in a fountain against a serpentine brick wall with trellises and climbing hydrangeas. Two moon gates enclose the patio that is paved with slate and bordered by miniature boxwoods. A herringbone brick walkway runs the length of the house and is planted on either side with hydrangeas, gardenias, perennials and herbs. A formal knot boxwood garden with a centered sundial is a recent addition to the grounds, as is a potting room above the garage. The Hodges Family, owners.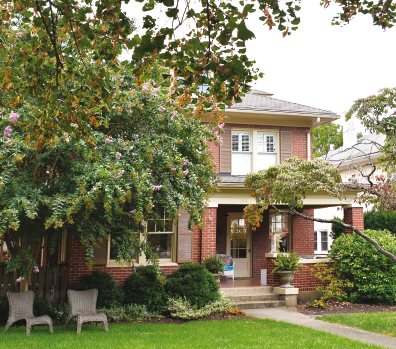 2515 Stanley Avenue
Built in 1927, this brick home is a primer on essential elements of the American four-square plan. Craftsman-style influences are found throughout the home beginning with the stairway in the foyer. Colorful paintings by local artists accentuate the cheeriness of the home. In the music room, an antique Baldwin grand piano occupies center stage and has fostered all of the Bingham children's interest in music. A two-story addition runs the width of the home and has an open floor plan on the first floor for the spacious family room and kitchen. On the backyard patio, teak chairs surround a vintage cauldron designed by Robert Kulp of Black Dog Salvage that serves as a fire pit in winter and a fountain in spring. The guest house was remodeled as the owner's office and is outfitted with a desk with an iron base that was salvaged from a Roanoke bridge. Hydrangeas, crepe myrtles, roses, daylilies, hostas and azaleas are present in abundance in the garden. The Bingham Family, owners.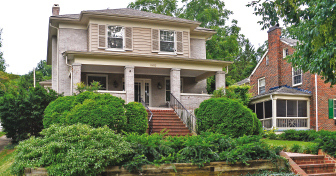 2402 Stanley Avenue
Situated on a corner lot, this 1922 home is painted with a gray wash and is another example of the American four-square plan. The home is surrounded on the front and sides with mature plantings of boxwood, yew and viburnum. The rear garden is bordered by a high wooden fence topped with copper caps and is enhanced by a patio as well as dry-stacked walls. Plants and shrubs include Japanese maples, Chinese fringe tree, butterfly magnolia, Cryptomeria cypress, Hinoki cypress and a Skylands Oriental spruce. Over 34 years, the current owners have made several updates. The most recent was in 2010 when the kitchen was redesigned, the back porch was turned into a family room and the upstairs sun porch was converted into a bedroom. Antique pieces include a grandfather clock whose works are dated 1730 and a small Oriental rug that was a gift from the Prince of Iran to the homeowner's uncle during World War II. Works of art by local artists Brett LaGue, Gari Stephenson, Mary Newbold, Marnie Holland and Diane Patton hang throughout the home. There are also works by Gerry Pearce from Arizona and Courtney Johnson from San Francisco (the homeowner's daughter). The Johnson Family, owners.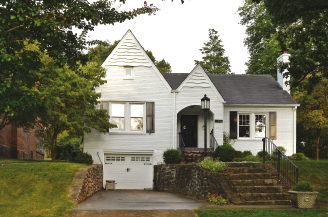 2320 Stanley Avenue
This two-story, Tudor Revival home features two front-facing gables; the smaller shelters the front porch. Light spills through the front windows into the living room with its centered stone fireplace and the adjacent study. Eclectic furnishings, treasures from travel, antiques and Oriental rugs create a relaxed atmosphere. Paintings by local artists abound. Of special interest are two hand-colored Wallace Nutting photographs in the study. As "do it yourself" enthusiasts, the owners have personally contributed many of the features of their home. The walnut and mahogany cupboards and dining table, as well as the bedroom's Mission-style furniture, were crafted by the owner. Fern botanical wallpaper in the garden room provides an appropriate transition to the intimate brick patio and garden areas. Stone walls retain manageable garden plots filled with flowering perennials, hostas, herbs and evergreens. The sunny plot by the back iron fence has the correct light requirements for a bountiful vegetable garden. The Jones Family, owners.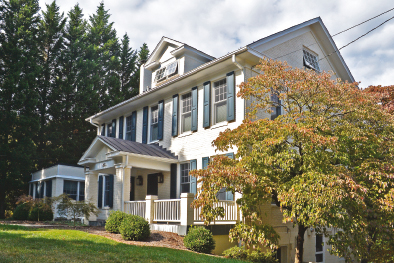 2401 Cornwallis Avenue
This painted brick Colonial Revival home, built in 1926, sits on a corner. The front and sides of the sloping lot are planted with boxwoods, Japanese maples, azaleas and gardenias. A 30-year-old volunteer dogwood, which stands 40 feet tall, graces the side lawn. The back brick patio is shaded by a large oak tree and surrounded by a Leyland cypress hedge. The rear garden was designed by Gretchen Van Tassel. The homeowners executed the garden design, planting the majority of the flowers and shrubs. The garden includes an apple tree, butterfly bush, crepe myrtle, weeping cherry, yew, germander, lily of the valley, Rose of Sharon, camellia, rhododendron, hydrangea, forsythia and many more perennials and annuals along with stately variegated holly topiaries. Since moving into the home in 1976, the homeowners supervised renovations in 1995 and 2009, with the most notable including the kitchen and two bathrooms. Family antiques in the home include a circa-1800 desk, a prism lamp from the Monroe White House, which was a gift to Mrs. Gwaltney's great-great-great-grandfather, and an English-made Windsor stick-back rocking chair. The home includes works of art by Nancy Stark, Eric Fitzpatrick, Gari Stephenson, Theodore Turner, Lynn Yeatts and Martha Dick. The Gwaltney Family, owners.
azaleas, Black Dog Salvage, Boxwood, Brett LaGue, butterfly magnolia, Chinese fringe tree, Colonial Revival, Courtney Johnson, crepe myrtles, Cryptomeria cypress, daylilies, Diane Patton, Dogwood, Eric Fitzpatrick, Forsythia, Garden Club of Virginia, gardenias, Gardens, Gari Stephenson, Gerry Pearce, Grayson Goldsmith, Hinoki cypress, historic garden week, Hostas, hydrangeas, Japanese maples, Leyland cypress, Lily of the valley, Lynn Yeatts, Marnie Holland, Martha Dick, Mary Newbold, Mill Mountain Garden Club, mill mountain wildflower garden, Nancy Stark, Oak Knoll, open studios, rhododendron, Roanoke Historic Garden Week, Roanoke Valley Garden Club, robert kulp, Robert M. Allen, Ronald McDonald House, Rose of Sharon, roses, salvage dawgs, Skylands Oriental spruce, South Roanoke Methodist Church, Taubman Museum of Art, Theodore Turner, viburnum, weeping cherry, William D. Middleton II, yew