A Love Affair with Local Art | Bring Color & Personality to Your Home
When you find a perfect painting for a blank wall, or a sculpture that makes your shelf complete, it can bring enjoyment to your everyday life. Owning a one-of-a-kind piece is an investment, but once you've experienced the dimension and color of an artist's original creation on your wall, you might never go back to mass-produced prints.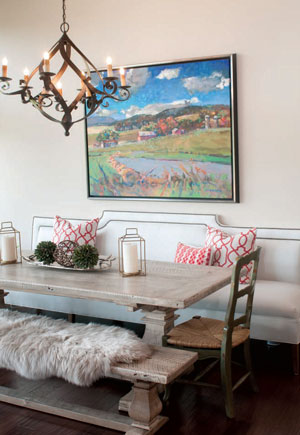 "Once someone starts surrounding their living area or office area with original works they enjoy and that give them pleasure, they never stop," says Dorsey Taylor, who co-owns LinDor Arts in downtown Roanoke with his wife, Linda. "I've had this gallery for 12 years but have been in the arts pushing 50 years, and some of my original customers are still collecting art into their 80s. It's awe-inspiring…and even as I approach that age, my collecting has diminished because I don't have the space, but I still have that urge."
If you are looking to start or expand an at-home collection of original works, the Roanoke region is bursting with talented artists in all genres, says Taylor.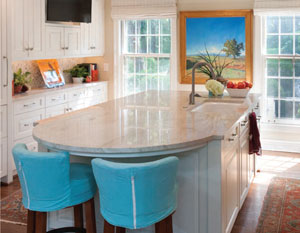 "I think Roanoke is just phenomenally filled with wonderfully good artists," Taylor says. "It's just amazing to me. I go into other towns and I see a group of artists in the gallery and co-ops and I think we can hold our own here with any big city there is. Even the artists that come in here that come from out of town, visiting family or whatnot, they come into the gallery and are just flabbergasted with the high quality of painting and sculpture. That's amazing."
There are some rules to follow—and rules to break—when it comes to selecting art for a space in your home. There are also reasons to support local artists that may surprise you. Read on for advice on how to fill your home with beauty and never suffer from buyer's remorse when you leave a gallery.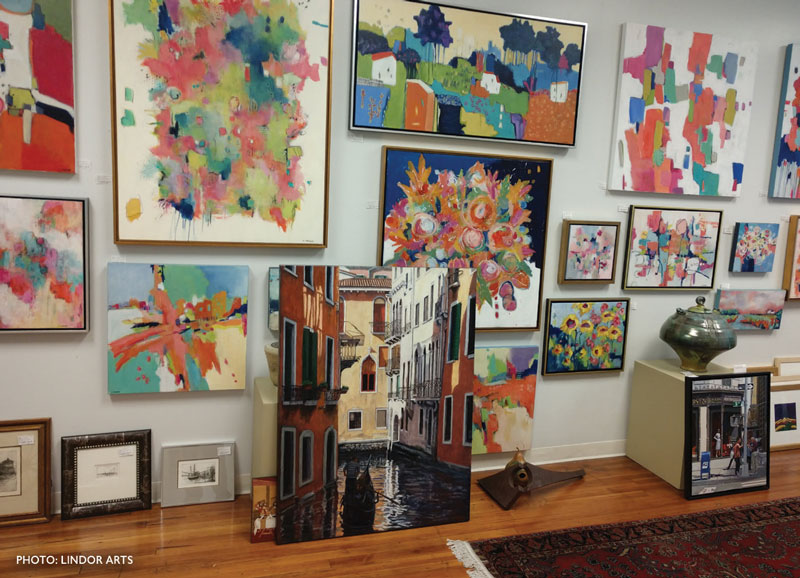 Discover your likes
If you're new to appreciating and purchasing art, the best way to discover what speaks to you is by viewing a lot of work, notes Taylor. Attend art shows, visit museums and galleries, and study the art at restaurants, shops and hotels. What subject matters speak to you? Do you favor a tight, realistic style, or a more loose, impressionistic style? Are abstracts for you, or do you like landscapes?
"The more you look at art, the more you start to pay attention to details and you'll begin to understand what you connect with," says Lacey Leonard, who is one of six co-directors of a new artists' co-op in Roanoke called The VALLT, which showcases emerging artists. "We all have a different way of seeing the world, and artwork resonates in different ways with different people."
---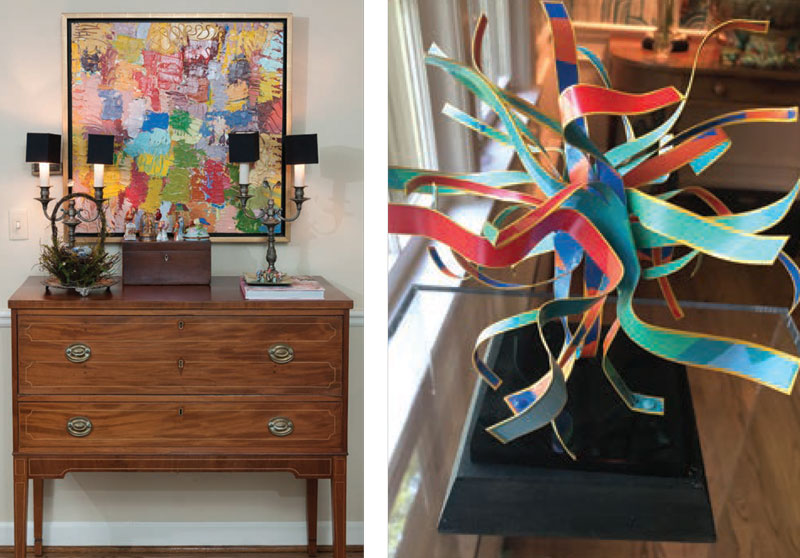 AS TO WHETHER THE PALETTE OF A PAINTING NEEDS TO MATCH THE PALETTE IN A ROOM, THIS IS STRICTLY PERSONAL PREFERENCE
---
When you discover an artist you like, follow them on social media, like Instagram or Facebook. Peruse the artist's own feed, and you may discover other artists you like as well, and you can get a feel for the artists' style and process from afar.
When it comes to purchasing, a simple principle can help when deciding whether to bring a work home. If it's something you never see again, how sad would you be? If you love a work that much, you'll always find a place for it in your home. "I know some people who are big art collectors, and the most successful ones only collect things that they like," says Leonard, who, in addition to her role with The VALLT, is the assistant gallery director at Roanoke College. "It sounds simple, but be sure you really love it, and will want to hang it up."
Visit galleries and stores often, seeing new works and determining what you can't live without. You might find that you gravitate to a certain palette, and you'll likely find that you echo that palette in your other home decor choices, and even your wardrobe. Appreciating art is about pausing and noticing, and you may find that you begin to notice other details in your surroundings as well.
The value of buying local
In the past several years, there has been a push toward buying local, and eschewing Amazon.com for supporting businesses in your area, which feed and strengthen the local economy. Art and artists are no exception. When you invest in local artists, so many of them give back to the local community through fundraiser donations of a painting or sculpture, and beyond the economic question of keeping money in the local economy, a vibrant arts community makes a place like Roanoke more attractive to newcomers. When people are considering a town, they might ask "What can I do culturally there?" A strong arts community includes artists, photographers, musicians and dancers, and shapes the cultural personality of a place. Buying art, just like buying tickets to a play, supports creativity and creation.
While very established artists may command a price for work that is out of your range, many emerging artists' works are more reasonable, particularly if you are buying an unframed watercolor or pencil sketch, which you can find for as little as $75 to $100 and can frame inexpensively with an off-the-shelf frame; great options are available at stores like Homegoods and Target. While the high cost of paint supplies and canvases can bump up the cost of a canvas piece, you may still be able to find an original painting from an emerging local artist for a similar cost to a mass-produced work.
A surprising reason to buy local is that it creates a connection between you and the artist. The artist created it, and you connected with the work in some way, which made you purchase it. Living in the same city or town means you have an opportunity to continually connect with that person, either through local shows, open studio days or even Instagram live sessions where the artist lets the viewer in on his or her process.
When that work hangs on your wall, the greater understanding of the artist behind it can increase your appreciation for the piece.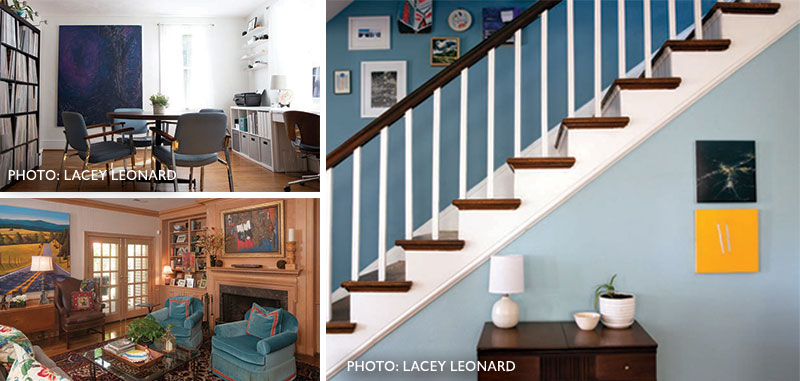 Practically speaking on size and hanging
Yes, buying art is emotional, but choosing a place to hang it is a practical task. Most paintings will come with wire already attached to the back, but be sure you are using a hook that is rated for the weight of the piece to prevent any accidents or damage to your walls or the art.
"People tend to hang art too high, but a good guide for a novice is that the center of the piece should be at eye level, approximately 56 to 60 inches [above the floor]," says Leonard. "Otherwise, you have to consider if a piece is hung over a couch, for example; don't hang something tiny there because you'll never be able to get a close look at it."
Leonard says you have to think about the piece and the attention it commands, so don't hang a piece with bright colors or an intense subject matter where you can't properly step back to view it. She says lighting is also key, so don't hang dark pieces in, say, a hallway with no natural light. For the opposite issue, if your space gets intense sun exposure, you may need to consult with a framer about UV protection so the work doesn't fade over time. In bathrooms, be mindful of constant moisture exposure, which can also degrade a work of art.
A few basic rules aside, how you hang work is largely a question of your own style. Do you prefer a clean, spartan look with fewer, large pieces, or do you like the eclectic and collected look? There is no right answer. If you have a collection of works you want to hang together, framing them in the same material can unite pieces that don't seem to have any connection. If you need assistance, gallery owners or interior designers can assist with choosing a piece or pieces that work in a room, and many galleries will loan out items for a few days so you can try them before purchasing.
As to whether the palette of a painting needs to match the palette in a room, this is strictly personal preference. It's fun to have some quirk here and there, so don't be afraid to incorporate pop art with your landscapes. You are the one who lives in the space, and in the end, the only critic that matters.
Another practical item to keep in mind as you expand your collection is to catalog it, and verify insurance with your carrier. If you rent, a renter's policy, or if you own, a homeowner's policy, should cover most collections. Catalog works by taking photos and scanning receipts, as well as recording the artist and title of the work. Forward the document to your carrier so in the event of fire or flood, your investment is protected.
While art may appreciate in value if an artist gains prominence, no reputable art dealer would recommend a purchase as an actual investment, says Taylor. The payoff, he says, is the enjoyment of the piece, the beautification of your home, and the commitment to your community as it evolves.
"Art holds such a special place in capturing a moment in time," says Leonard. "The more people that pay attention, the better we are. The VALLT, for example, is allowing a space for marginalized artists, like transgender and artists of color, to express themselves and show their work. There are some beautiful things happening in Roanoke." ✦
art community, Interior Design, investment, Local Art, local economy, one-of-a-kind piece, studio art