2022 READERS' FAVORITES
THE RESULTS ARE IN! Earlier this spring, HOME magazine readers cast thousands of votes for their favorite home and garden-related businesses in the area in our annual Readers' Favorites Awards. Here, we are delighted to share the winners, many of whom won multiple awards in various categories. If you need goods or services for your home, these pages may be a great place to start to find your favorite.
CONTRACTORS, REMODELERS AND HOME BUILDERS
 ARCHITECTS
Platinum: Mid-Atlantic Architects Group 
Gold: Balzer & Associates
Silver: Better Building Works
ELECTRICAL
Platinum: Shively Electric 
Gold: PSG Service Group
Silver: Sundown Electric
GENERAL CONTRACTOR
Platinum: Dollman Construction, Inc.
Gold: Construction Marketing
Silver: F&S Building Innovations
HEATING AND AIR CONDITIONING
Platinum: Bower Heating and Air Conditioning 
Gold: W C Butler Heating & Air Conditioning Inc.
Silver: Blue Ridge Heating & Air
HOME BUILDER
Platinum: F&S Building Innovations
Gold: Pitman Construction
Silver: TBS Construction
Silver: Consolidated Construction Services
HOME REMODELING/RENOVATION
Platinum: Construction Marketing
Gold: Dollman Construction
Silver: F&S Building Innovations
PLUMBING
Platinum: Big Time Plumbing
Gold: Wisler Plumbing
Silver: Layman's Contracting
ROOFING
Platinum: Cenvar Roofing
Gold: Bob Riddick Roofing
Silver: Vinton Roofing
---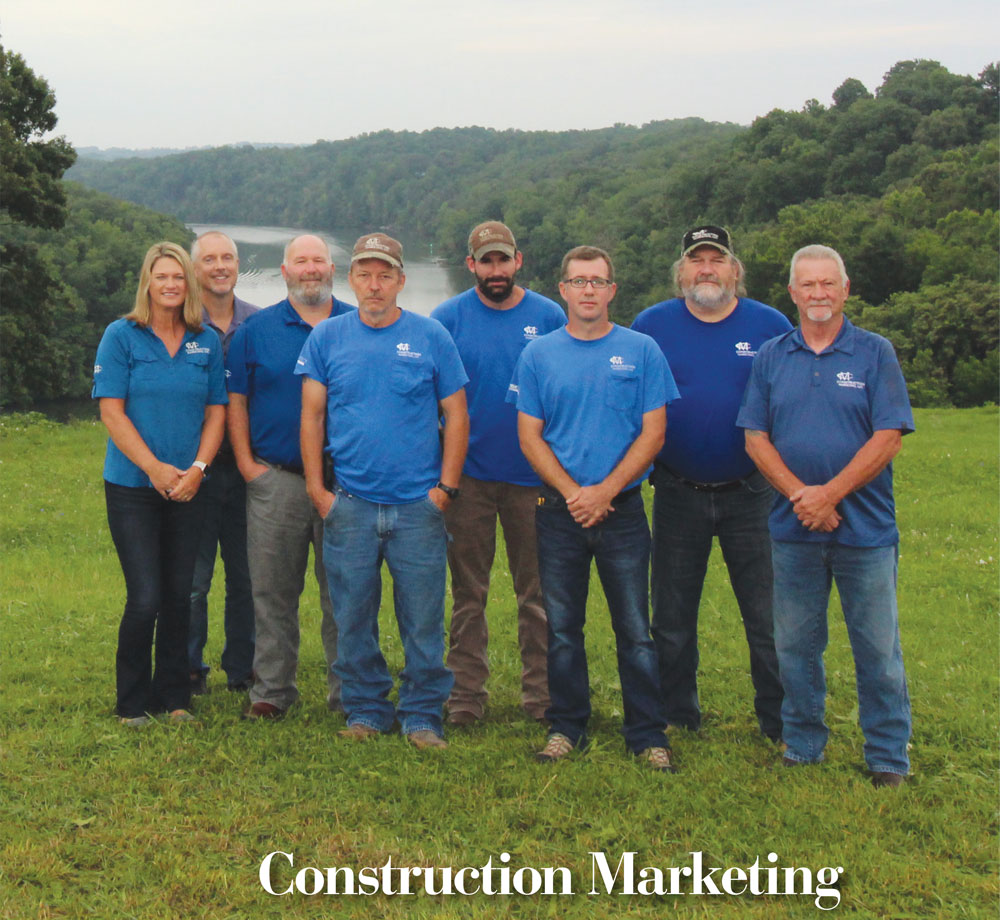 PLATINUM Landscape and Hardscape Design and Build
PLATINUM Home Remodeling / Renovation
PLATINUM Porches & Decks
GOLD General Contractor
When Construction Marketing Co-owners Mike Bryant and Ronnie Booth take on a job, they will see it through, communicating throughout the process. 
"We pride ourselves on doing what we say we'll do," said Mike. "We show up on time, and we communicate so you know what to expect." 
Since 2010, Construction Marketing has been serving the Roanoke and Smith Mountain Lake areas with a "unique approach to construction." A top-end remodeler, they also build custom homes. Construction Marketing specializes in outdoor spaces as a Trex Pro Platinum Installer, Fiberon Pro, and Azek / TimberTech Composite Decking Pro. 
"We know how to make your outdoor living space part of your home," Mike said. "We're trying to make your home feel like a resort." He points to photos of countless jobs where his team has transformed a deck, a patio or a lakefront getaway. 
More and more people need that kind of relaxing space at home especially as we've lived through the COVID pandemic. Looking around while we spend more time at home inspires us to think of what could be — Construction Marketing wants to help its customers make those dreams a reality. 
Their customers appreciate the team's honesty and transparency throughout their projects. That's why they often have repeat customers. The Construction Marketing team strives for 100 percent satisfied clients. Learn more at constructionmarketingllc.com.

---
SERVICE PROVIDERS
BUILDING MATERIALS AND SUPPLIES
Platinum: Capps Home Building Center
Gold: Ideal Building Supply
Silver: 84 Lumber
CARPET AND RUG CLEANING
Platinum: Robert's Cleaning & Restoration
Gold: Stanley Steemer
Silver: Chem Dry of Choice
Silver: Quality Carpet Cleaning
FENCE AND RAILING COMPANY
Platinum: Sam Fencing
Gold: Viking Fence
Silver: Powers Fencing
GARAGE DOORS
Platinum: Dixie Building Products
Gold: C&R Doors
Silver: Hall's Garage Doors
GUTTERS
Platinum: Blankenship Roofing
Gold: Perimeter Roofing
Silver: Brothers Who Just Do Gutters
Silver: Gutter Specialists
HOME AUTOMATION AND SECURITY
Platinum: Security Lock and Key
Gold: Sound Decision
Silver: Security Services
HOME FUEL COMPANY
Platinum: Davenport Energy
Gold: Webb's Oil Corporation
Silver: Glenwood Oil & Automotive
HOUSE CLEANING SERVICES
Platinum: The Happy Housekeepers
Gold: A+ Cleaning
Silver: Sunshine Cleaning
MOVING AND STORAGE
Platinum: Virginia Varsity Transfer
Gold: Two Men and a Truck
Silver: American Moving & Storage
PAINTING CONTRACTOR
Platinum: J Martinez Painting
Gold: Mountain Top Painting
Silver: Sergio Diaz Painting
PEST CONTROL
Platinum: Dodson Pest Control
Gold: Bug Man Exterminating
Silver: Perdue Exterminating
WATER AND FIRE RESTORATION AND CLEAN-UP
Platinum: ServPro of South Roanoke County
Gold: Consolidated Construction Services
Silver: Robert's Cleaning & Restoration
WINDOWS AND DOORS
Platinum: Capps Home Building Center
Gold: Skyline Door & Hardware
Silver: SJ Neathawk Window & Door Gallery
WOOD AND FURNITURE REPAIR AND REFINISHING
Platinum: Astonish Antique Restoration
Gold: Fred Wade
Silver: N-Hance
HOME FURNISHINGS, DECOR AND INTERIOR DESIGN
ANTIQUES
Platinum: Black Dog Salvage
Gold: The French Farmhouse
Silver: Willow Tree
Silver: Ivy's
APPLIANCES
Platinum: Vinton Appliance Center
Gold: Appliance Studio
Silver: Ferguson Enterprises
ARCHITECTURAL SALVAGE
Platinum: Black Dog Salvage
Gold: The French Farmhouse
Silver: Habitat for Humanity
ART GALLERY/STUDIO
Platinum: The Little Gallery
Gold: LinDor Arts
Silver: Taubman Museum
CABINETRY, KITCHEN AND BATH
Platinum: Ideal Cabinets
Gold: CTS&I
Silver: Carter's Cabinet Shop
COUNTERTOPS
Platinum: Johnson Granite
Gold: Premier Stone
Silver: Capps Home Building Center
CUSTOM FURNITURE AND CABINET MAKER
Platinum: Phoenix Hardwoods
Gold: CTS&I
Silver: Bowman Woodworking
FLOORING
Platinum: Fashion Floors
Gold: Carpetland USA
Silver: Whitt Carpet One
---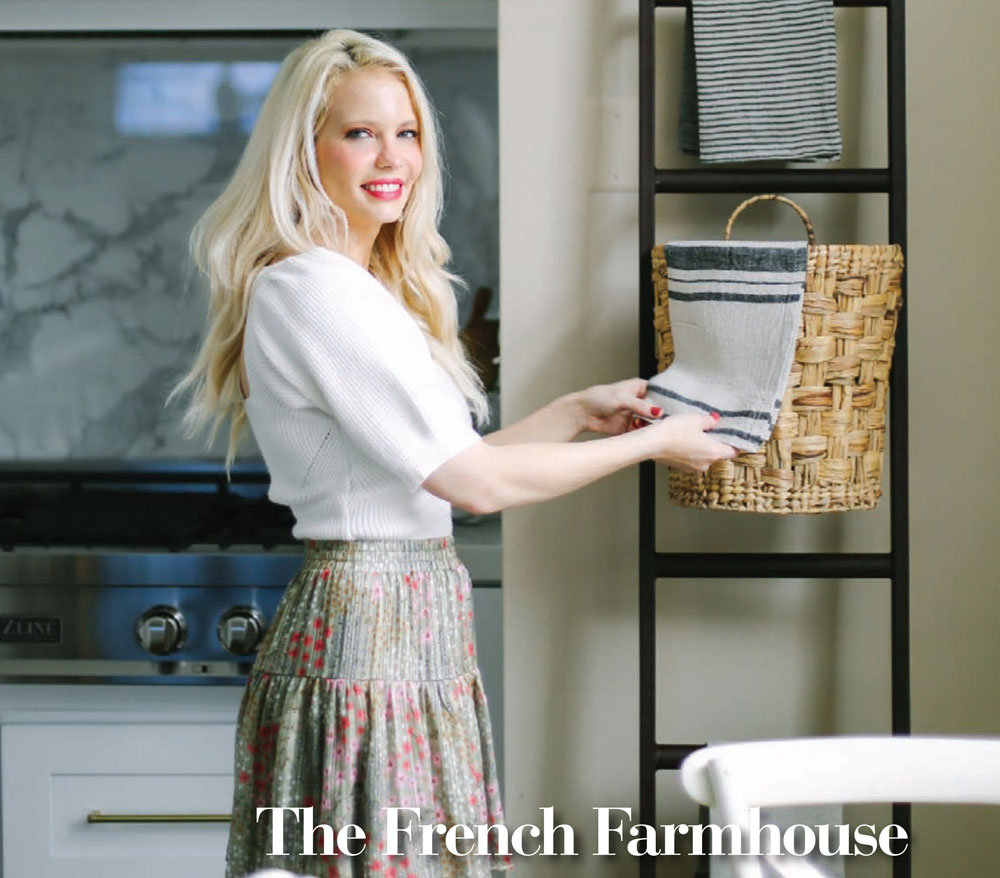 PLATINUM Home Accessories & Gifts
GOLD Antiques
GOLD Architectural Salvage
SILVER Interior Designers
SILVER Lighting Fixtures

When Ashley Lawson went shopping for items to fit her modern farmhouse style, she just couldn't find what she was looking for in Roanoke. That's when the idea of The French Farmhouse Home Market was born — in the middle of a pandemic! 
"I couldn't find anything like that here, so I decided to create my own," she said. When Ashley found her perfect downtown Roanoke location at 9 Church Avenue SE, she got to work. After months of renovations to the historic building, which was built in 1925, The French Farmhouse opened in October 2021. 
This small, female-owned marketplace sells items that marry elegance with practicality, at a wide range of price points. Along with décor for the whole house, you can find European antiques, kitchen items and unique toys. The team at The French Farmhouse also offers complimentary interior design consultations. 
Along with the downstairs market, Ashley opened Rendezvous, a studio and event space on the second floor. Hosting bridal/baby showers, parties, photo shoots and even small weddings, Rendezvous can accommodate 60 to 70 people. It now also offers event rentals to match the décor of the space. 
Rendezvous is also home to Virginia Made Saturdays, with seven to eight regional vendors displaying their unique creations. This monthly event is usually held the last Saturday of each month. There are also special events around the holidays — especially Christmas and Easter. 
Learn more at thefrench-farmhouse.com.
---
FURNITURE
Platinum: Reid's Fine Furnishings
Gold: Virginia Furniture Market
Silver: Ivy's
HOME ACCESSORIES AND GIFTS
Platinum: The French Farmhouse
Gold: Ivy's
Silver: Magnolia
INTERIOR DESIGNERS
Platinum: Alicia Smith, F&S Building Innovations
Gold: Elaine Stephenson Interiors
Gold: Vera Silcox
Silver: The French Farmhouse
LIGHTING FIXTURES
Platinum: Magnolia
Gold: Elaine Stephenson Interiors
Gold: Ferguson
Silver: The French Farmhouse
PAINT AND PAINTING SUPPLIES
Platinum: Northwest Hardware
Gold: Sherwin Williams
Silver: Capps Home Building Center
PICTURE FRAMING
Platinum: Picture Frame Warehouse
Gold: Brambleton Frame Shop
Silver: Jordan's Custom Framing & Art
RUGS
Platinum: Magnolia
Gold: Present Thyme
Silver: Reid's Fine Furnishings
UPHOLSTERY
Platinum: C and J Upholstery
Gold: Maxey Seat Cover Center
WOODWORKING AND TRIM
Platinum: CTS&I
Gold: Fine Line Interiors
Silver: Ideal Lumber
REAL ESTATE AND FINANCIAL
BANK
Platinum: Freedom First
Gold: Bank of Botetourt
Silver: American National Bank & Trust
CREDIT UNION
Platinum: Member One Federal Credit Union
Gold: Freedom First FCU
Silver: ValleyStar Credit Union
FINANCIAL PLANNING
Platinum: Freedom First Wealth Management
Gold: The Conner Group
Silver: Ayers Financial
HOME INSURANCE
Platinum: Bill Meador Insurance Agency
Gold: Dominion Risk Advisors
Silver: Bankers Insurance
MORTGAGE LENDING COMPANY
Platinum: Freedom First Mortgage
Gold: Member One Federal Credit Union
Silver: Atlantic Bay Mortgage
MORTGAGE LOAN OFFICERS
Platinum: Tessa Rider
Gold: Julie Nicely
Silver: Alicia White-Braxton
Silver: Bob Williams
REAL ESTATE COMPANY
Platinum: MKB Realtors
Gold: Coldwell Banker Townside Realtors
Silver: Long & Foster
REALTORS
Platinum: Bill Gearhart, Realtor
Gold: Curtis Sheets
Gold: Norm Pullen
Gold: Susan Bailey
Silver: Amy Cullen
---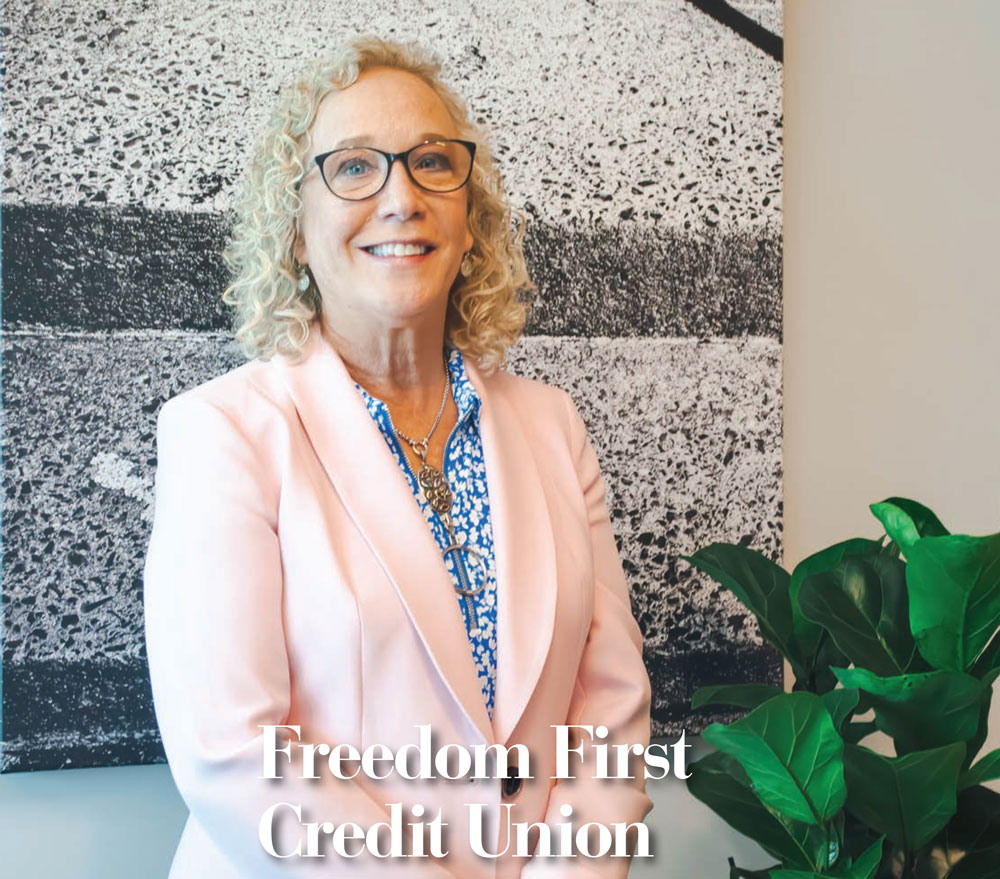 PLATINUM Mortgage Lending Company
PLATINUM Financial Planning Bank
GOLD Credit Union

Since 1956, Freedom First Credit Union, headquartered in Roanoke, has been "Helping People Prosper — Helping Communities Thrive." Now serving the Roanoke Valley, Shenandoah Valley, and Southwest and Central Virginia, the credit union prides itself on its community impact, free financial coaching, personal service, and quick local decisions. 
The credit union is growing quickly, expanding to more geographies and growing their product lines to better serve their local communities. Unlike a typical credit union, Freedom First provides full-service mortgages, including jumbo loans, as well as commercial loans, private banking, wealth management, and business banking. Decisions are made quickly because they're made locally. 
"Our underwriter not only knows Smith Mountain Lake, but she also goes there on the weekend," said Paula Brown, SVP Mortgage. "It's a real benefit to our borrowers that we understand our communities." 
Across all of its services, Freedom First reinvests profits back into the community. They commit 10 percent of their profits to charitable causes and have deep partnerships with local nonprofit service providers to empower community members to find stability. "Everyone who works here has a giving heart and desire to make a difference," Brown said. 
Deposits are insured up to $250,000 by the NCUA and backed by the full faith and credit of the U.S. government. Through Freedom First's mobile app, members can check their credit score at any time without impacting it, deposit checks and get access to their funds 
You can learn more about Freedom First at www.freedomfirst.com. 
---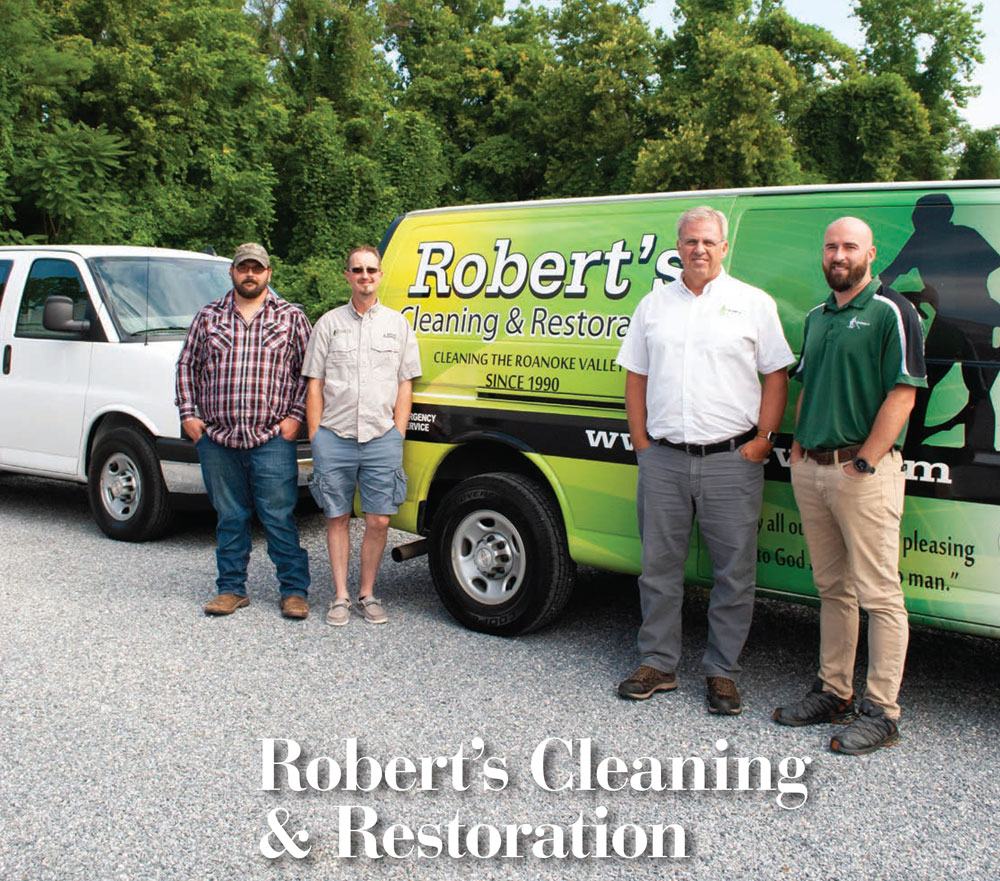 PLATINUM Carpet & Rug Cleaning
SILVER Water & Fire Restoration and Clean-up

Robert and Donna Webb started Robert's Cleaning & Restoration in their garage in 1990. Every day on Donna's way to her day job, she'd pray they'd get one call that day. As Robert worked three part-time jobs, he began getting that one call a day, then more and more. 
"We worked really hard," said Robert. "We made the customer first. I think that's what got us here." 
Today, the family business includes Robert's son, Josh, and a small team that still abides by values grounded in their Christian faith, putting the customer first and serving with integrity. Many of their customers have been with them for decades, and Robert says he appreciates and values those relationships. 
"We get very few complaints and when we do, we're immediately there to make it right," Robert said. 
Robert's uses the Butler System, the #1 van-mounted cleaning system for the past 30 years. The Robert's team prides itself in clean and well-maintained equipment to give their customers the best experience possible. 
Along with professional carpet, upholstery and tile cleaning, Robert's has been growing its restoration service. Robert said this is important because everyone eventually has a water leak, and they want to be there for their customers when a need arises. 
"We go into someone's house with 6 inches of water and it's the worst day of their life… we try to take that stress away," he said. 
Learn more at robertscarpetcleaning.com.
---
GARDEN AND LANDSCAPE
GARDEN SUPPLIES AND ACCESSORIES
Platinum: Townside Gardens
Gold: Northwest Ace Hardware
Silver: Capps Home Building Center – Garden Center
LANDSCAPE AND HARDSCAPE DESIGN/BUILD
Platinum: Construction Marketing LLC
Gold: Ronnie Mitchell & Son Landscaping
Silver: Seven Oaks Landscape and Hardscape
Silver: Varsity Landscaping
LAWN AND LANDSCAPE MAINTENANCE
Platinum: Seven Oaks Landscape and Hardscape
Gold: Ronnie Mitchell & Son Landscaping
Gold: Valley Landscaping
Silver: The Green Team
NURSERIES
Platinum: Townside Gardens
Gold: Greenbrier Nursery
OUTDOOR FURNITURE
Platinum: Indoor Outdoor Living
Platinum: National Pools
Gold: Virginia Furniture Market
Silver: Grand Home Furnishings
---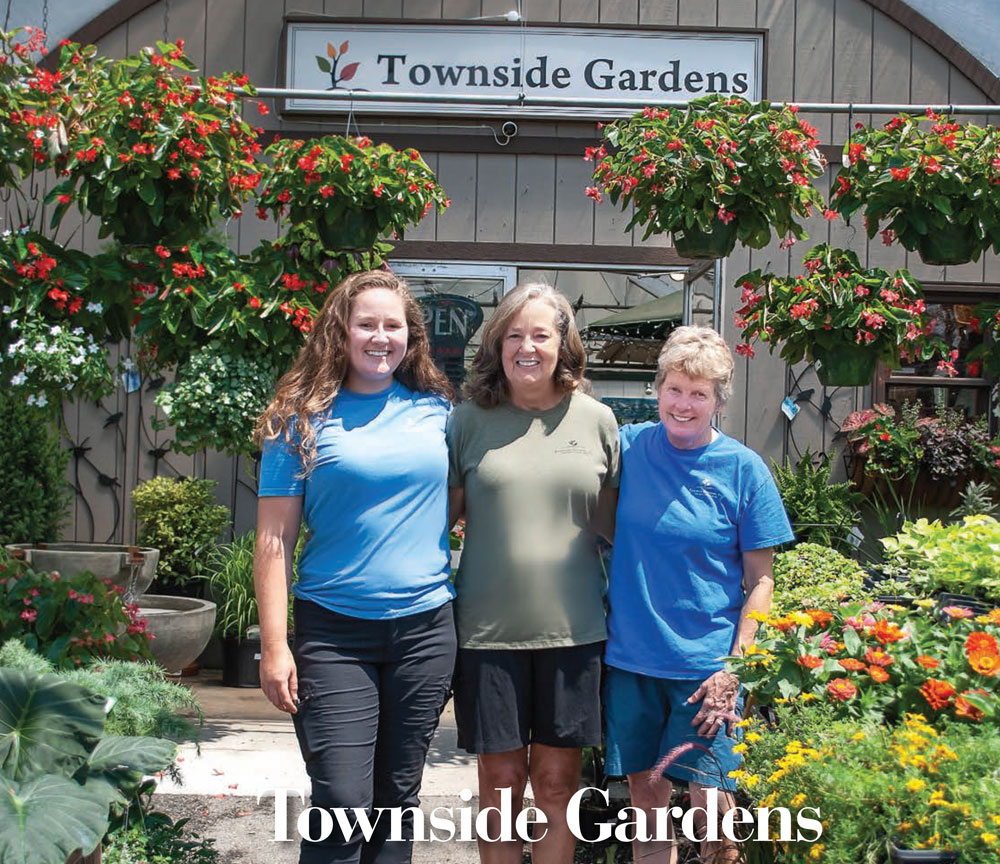 PLATINUM Garden Supplies & Accessories
PLATINUM Nurseries

The mother/daughter team of Liz and Casey Broughton took a leap of faith and bought Townside Gardens in September 2020. The Roanoke garden center, which opened in 1987, had many employees who had been with the business from the beginning. Soon, the new owners and the experienced team felt like family. 
To their surprise and delight, Townside Gardens just keeps growing in popularity, with year-over-year record-breaking sales since 2020. 
"COVID brought so many new customers to learn about plants," said Liz. And Townside Gardens has something for everyone, from the occasional buyer looking for colorful hanging baskets to the obsessed plant mom or dad looking for that rare cultivar — there's something for every price point. Townside even keeps a wishlist for customers so they can look out for those more unusual varieties. 
"We also have pottery and art — you really won't see the same thing twice," said Casey. 
Along with working with more than 40 vendors, Townside has its own full-production greenhouse. They also offer landscaping installations and design help. Barb Nelson, who has been with the business since 1987 has created more than 1,500 landscape designs in the Roanoke Valley. The garden center is active in Historic Garden Week each spring and offers a wonderland of trees, garlands and wreaths each winter. 
Located at 3614 Franklin Road SW, Roanoke, Townside Gardens prides itself on excellent service and a huge selection of houseplants, annuals, perennials, trees, shrubs, pottery, statues, fountains, tools, and much more. Learn more at townsidegardens.com and follow them on social media.
---
PORCHES AND DECKS
Platinum: Construction Marketing
Gold: F&S Building Innovations
Silver: Pitman Construction
SPA AND HOT TUBS SALES AND SERVICE
Platinum: National Pools
Gold: Water by Design
Silver: Waterworks
STONE, BRICK AND HARDSCAPE MATERIALS
Platinum: Boxley
Gold: Marshall Stone
Silver: General Shale
SWIMMING POOLS
Platinum: National Pools
Gold: Waterworks
Silver: Virginia Pool and Sales
TREE SERVICE
Platinum: Bartlett Tree Experts
Gold: Brown Hound Tree Service
Silver: Roots Arbor Care Tree Service

HOME LIVING OPTIONS
APARTMENT COMMUNITIES
Platinum: Daleville Town Center Apartments
Gold: Reserve at Daleville
Silver: Pebble Creek
HOME HEALTH SERVICES/AGING AT HOME
Platinum: EZ Rampz
Gold: Generation Solutions
Silver: Brandon Oaks at Home
RETIREMENT LIVING COMMUNITIES
Platinum: Richfield Living
Gold: Brandon Oaks
Gold: Our Lady of the Valley
Silver: Edinburgh Square
CONTRACTORS, DECOR AND INTERIOR DESIGN, GARDEN AND LANDSCAPE, home furnishings, HOME LIVING OPTIONS, Readers' Favorites, REAL ESTATE AND FINANCIAL, REMODELERS AND HOME BUILDERS, SERVICE PROVIDERS