Work It | Short Commutes Inspire Long-On-Style Home Offices
Remember a not-so-long time ago when people who worked outside the home were actively engaged in creating a work-life balance? But these days, with so many people working remotely, it might be difficult to say whether you are working from home or living at work. Adding to the chaos is that spouses and children are also participating virtually in jobs, schoolwork and extracurricular activities.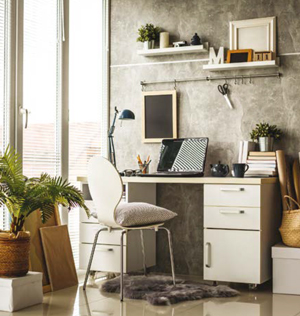 But there are ways to work from home and not lose your mind. While there are no hard-and-fast rules to creating a fantastic home office, there are some good, basic guidelines to follow in your quest for a home office: a location that has a strong internet connection, along with several outlets; a flat work surface, a comfortable and preferably ergonomic chair, and a space that would allow for fewer interruptions. And don't limit this thinking to human interruptions; think too about dogs barking, mowers outside, doorbells ringing and the like, especially if your job involves video conferencing with others. After that, each office space will be as individual as its creator, and should be an extension of his or her user. One of the more liberating but also possibly more intimidating things about creating a home office is that you're not locked into replicating industrial cubicles with giant metal desks, ugly filing cabinets and florescent lighting. Your new work space should be an expansion of your home, a space you want to be in because it feels both comfortable and inspiring. In fact, research suggests that creating a home office that reflects your taste and style will increase your productivity. Bottom line: If you can carve out a small space within your house where you will enjoy working, you will likely be happy and efficient.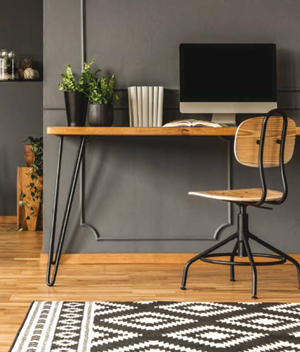 There is no question that being home all day can be challenging. So the first order of business is where to set up your office. For some, that will mean having a dedicated office space, with windows and a door. No guests for a while? Turn that spare bedroom into an office space. For others, it will mean creating useful space from unlikely places. A large closet, or "cloffice," perhaps, or the corner of a rarely used dining room, might fit the bill. Size does (and doesn't) matter: You will need to have places for essentials and figure out organizational systems to keep your office tidy—even if it's tiny. The reason you should pick a specific place to work is two-fold; mentally, you know when you are in that space, you'll be working, and, when you are not in that space, you are not on the clock.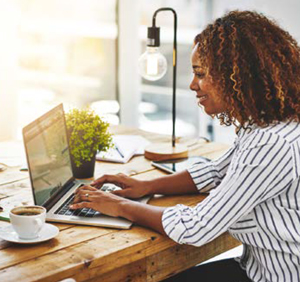 What do you need to work?
Once you've got your location down, it's time to focus on specifics. With a plethora of interior design web sites, Pinterest adding multiple pins every second, and influencers doing live feeds, it's not a bad idea to see if you can find some design ideas online. But keep this in mind: Being inspired is great, but don't forget that you need an office where functionality—not looking gorgeous in staged photos—is key. It also means really understanding your needs in an office, and being honest with yourself about what is and is not realistic for your space and budget.



One starting point is looking through your house and finding pieces you could cull for your office space. If you already own them, it's most likely because you like them. (Or, you know, someone in your family brought in "heirloom pieces" that you've never had enough energy to remove.) See if you can reimagine some of those pieces. An armoire or old TV storage cabinet could be repurposed as an office supply closet and a place to store papers and your printer; an added bonus is when the doors are shut—voila, no clutter. Maybe you banished ugly, old filing cabinets to the basement; imagine painting them with a high-gloss lacquer in a fun/funky color. Maybe you don't have a desk, but you might not need a traditional desk; a farmhouse table or even a thinner console table might suffice as your computer station. Putting an old bookcase on top of a dresser and painting the two pieces the same color is another clever way to get storage without incurring big expenses.



You will need—and there is no skimping on this item—a really good chair. People are not built for sitting for long periods of time. The Mayo Clinic suggests selecting an office chair that supports your spine and its curves, and adjusting the height of your chair so that your feet rest flat on the floor or on a footrest while your thighs remain parallel to the floor. Ergonomic chairs are more than just marketing hype; what sets them apart from ordinary chairs are the amount of adjustments you can make. A typical office chair will likely have a fixed seat height and fixed armrests; an ergonomic chair has multiple adjustments, including back heights, seat depth, armrests, lumbar support and more. True ergonomic chairs allow you to make tweaks throughout the day to help alleviate musculoskeletal disorders (such as carpal tunnel syndrome), muscle strains and lower back injuries. There is a huge variety of ergonomic products available for purchase; the chair is a non-negotiable item.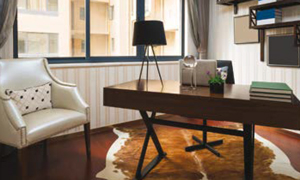 Look up, down, all around
Poor lighting can lead to eyestrain, headaches and fatigue. In an ideal situation, your home office will have a window to allow for big, beautiful natural light. Sometimes, that can be too much of a good thing; in those (rare) cases, consider blinds or lightfiltering drapes. If you don't have a natural source for ambient light, create it by adding a fixture that can bounce light off the walls and ceilings. Lighting should also include a task lamp on your work surface, which will provide focused light on a specific activity. Be aware of placement too; some task lights might create shadows and or glare if incorrectly placed. And pay attention to the bulbs in those fixtures. Sometimes switching from a warmer bulb to a cooler bulb, or vice versa, will change the entire feel of a room.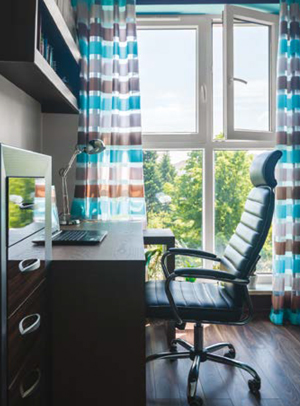 One thing designers (and environmentalists) stress is that where there is paper, there is potential for clutter. For some, clutter fuels creativity. For those for whom clutter is a distraction, consider upgrading your printer to a printer/scanner, so files can be stored digitally. (While you're at it, go paperless for monthly bills.) If you need to have paper storage, plan on creating a system that will work for you. Frequently used forms, for example, could be close at hand while other papers could be stored across the room in drawers or in bins on shelves. Bookcases, new or old, could do double-duty as places for storage while also serving as a room divider.
And don't forget vertical spaces, especially if your office is on the smaller side. Adding a desk hutch is one possibility. Dozens of manufacturers offer countless options for fixed, vertical shelving, and floating shelves are another option. Both systems can create significant storage space, and add personality, too. While some shelves can be used to keep items off your desk (think filing containers), others can be used to highlight knickknacks, fun photos, or even plants.
Make sure to incorporate systems to keep your space looking clean. This goes for office supplies (there are so many swoon-worthy organizational trays, bins and folders) and your electronics. Splurge on a great surge protector, along with a cable management system to keep all of the chargers and cords in one place. Consider mounting that system to your desk or to a wall, so you can access it when necessary.



Lastly, even though your home office is for work, it's important to make it feel like an extension of you. Add splashes of your personality. Don't be afraid to paint or paper the walls of your home office. The smaller the space, the more a boldly designed paper will elevate it. Not wanting to make a life-long commitment? Consider peel and stick removable paper. If you love original artwork, hang a piece or two. Want to dig your bare feet into a plush rug? Add it. Need a mid-afternoon caffeine hit? Consider adding a coffee maker. Add things into your office that matter to you, no matter what they might be: plants, delicious-smelling candles, inspiring quotes, whimsical items. And if there's a design trend you've been thinking about— layered rugs, perhaps, or adding prints to the backs of bookcases, or one single pop color for all accessories in an otherwiseneutral room—give it a go. Nothing here is un-doable.
Even if your new office is around the corner from your bedroom, it is nice to feel happy entering the office. When you're creating or redoing a home office, consider its location and how it needs to function; make sure to properly place hardware and all of the extras. Invest in good furniture and make an ergonomic chair a priority. But don't forget to have some fun with the space. Now get to work. ✦
creativity, dedicated office space, ergonomic chair, Home Offices, Interior Design, internet connection, lighting, organization, storage, task lamp, vertical spaces