In Love with Leather | Unexpected Accents Offer Fresh Autumn Style
When you think of leather in home decor, do you envision a traditional study with dark, masculine colors and heavy furnishings? Perhaps a tufted Chesterfield sofa, or a library chair with Queen Ann legs—cigar and brandy snifter optional? While it's true that leather has been used as furniture for centuries, new shapes and applications make it very much of the moment.
In modern interpretation, leather is a textural element, and its warmth is the perfect autumn accent. It can be utilized in a variety of ways to impart any feeling, from ancestral to du jour, refined to rustic. Using leather in unexpected ways, beyond the time-honored chair or sofa, can give your home an effortlessly stylish update.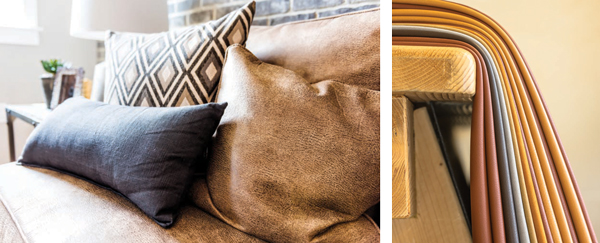 TYPES OF LEATHER
Common terms you'll encounter when selecting leather:
FULL GRAIN: The highest quality available, and the most expensive. It's the top layer of hide close to the hair. Thin, will have natural blemishes, but ages beautifully.
TOP GRAIN: The secondhighest quality. It's thicker than full grain and has had marks and blemishes sanded away. Strong and durable.
GENUINE LEATHER: The third-highest quality, also known as "corrected leather." Lower layers of the hide are fused together.
BONDED LEATHER: Made from leather scraps and shreds, combined with a filler and embossed for texture. Not known for durability; best for short-term uses.
NUBUCK: Made from top grain leather which is sanded to produce a soft, velvety texture. Thick and strong.
SUEDE: Comes from split leather (the middle or lower section of the hide) that has been textured to produce its distinctive finish. Softer than nubuck; open pores mean it's easily stained by water and oil.
VEGAN LEATHER: An ecoand animal-friendly option for the look of leather. Affordable, can be made from a variety of materials, often polyurethane. Will not patina; not known for longevity.
ANILINE: Refers to the dye used in processing. Retains leather's natural markings and blemishes, making it the most natural looking. More likely to scratch.
SEMI-ANILINE: Processing with a pigment instead of dye hides natural imperfections to make it look more uniform. Lasts longer and is more resistant to water and sunlight.
Where and how
There are many fresh and imaginative ways to use leather in your home. Know that while there are a multitude of both fun and traditional colors to suit any taste, shades of tobacco and caramel are especially current in modern leather decor.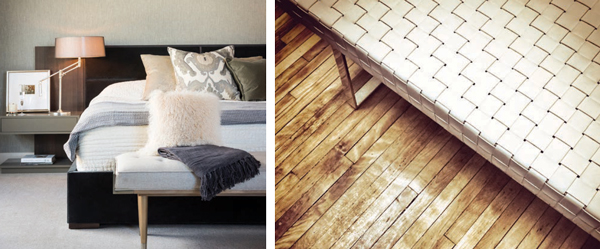 In a bedroom, tufted headboards offer a cozy and classic vibe, while smooth and sleek lines can have a bohemian, West Coast or rustic appeal. A leather bench at the end of the bed offers an inviting spot to sit or drape a bathrobe and slippers.
Leather-covered poufs and ottomans fit a range of aesthetics, often casual or Moroccan. Likewise, a leather stool offers a comfortable place to perch or put your feet up. For underfoot, consider a leather rug. They are generally hair-on-hide patchwork rugs in a pattern such as rectangular strips or herringbone, with tonal colors in grays and browns. Their pattern and texture make them a welcome addition to many spaces, including a family room, office or bedroom.
Leather floor and wall tiles are a creative alternative to more traditional materials. They offer a warm, luxurious feeling and also function well for sound absorption, making them a good choice for movie or music rooms.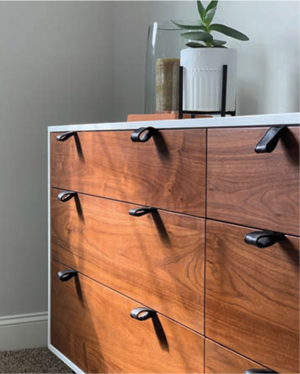 Drawer pulls and cabinet hardware can be made of leather too, and look chic on chests of drawers, desks and cabinetry. They can be purchased easily online, but are also a fairly simple DIY project if so desired.
Leather is a natural fit for desks, especially as an inlay, which offers a sophisticated touch. Desks with slender legs will balance the richness of the style; pair with a modern chair for an updated look.
Accessories are a wonderful way to add a touch of leather to any space without a major investment. Throw pillows, trays and trinket dishes are fun and easy additions. Leather desk accessories are a stylish accent your workspace. A home bar gets a dash of panache with a leather ice bucket and coasters.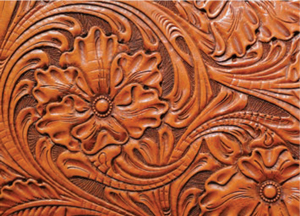 Tooled leather, which is embossed with a pattern (typically flowers, vines, and leaves) is an eye-catching option. Though more commonly seen in western wear such as belts, boots and handbags, it can be found in accessories such as trays and mirror frames. It makes a fun statement piece, and looks especially good when paired with silver.
Care and cleaning
Leather can dry and crack, so it's best to keep it away from direct sun and heat. It also needs to breathe, so never store it in plastic. While some people value the aesthetic of distressed leather, to keep it in top condition wipe it with a damp cloth and avoid contact with oil, including from hands or skin. Special leather cleaners and conditioners are your best bet for leather care. Be aware that some of them contain lanolin, which tends to soften leather.
For suede, use only a dry suede brush, never water or anything damp.
The warmth and texture of leather is an inviting accent to any space. Whether a furnishing or an accessory, full grain or vegan, there's something to suit every style, taste and budget. ✦
ANILINE, BONDED LEATHER, design, FULL GRAIN, GENUINE LEATHER, leather, NUBUCK, SEMI-ANILINE, SUEDE, textural element, TOP GRAIN, VEGAN LEATHER