We've Got You Covered | Flooring Trends for the Roanoke Valley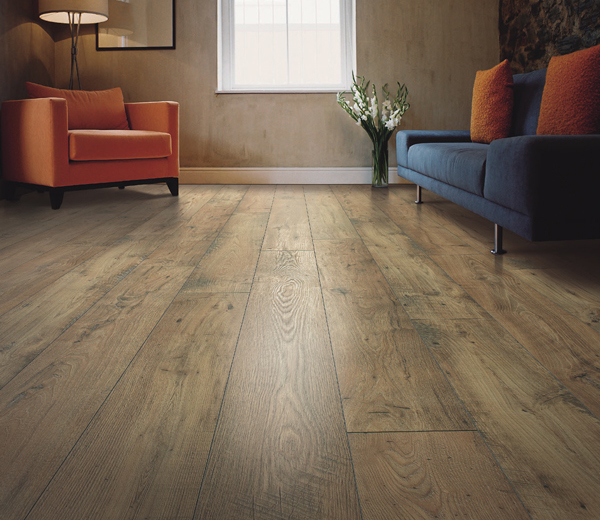 Sometimes, looking back, we wonder how we ever lived with things like cargo furniture, early American prints and avocado green shag carpeting. But as any designer or home decorator can tell you, what goes around comes around. Patterns, colors and style lines come and go as trends whether you're talking about kitchen cabinets, furniture or flooring.
With flooring, though, advancements in manufacturing have given us more choices in design and more durable products. We caught up with a couple of flooring experts to ask them about the trends they see now and for 2020. If you're thinking of replacing any flooring in your home, we think you'll be excited.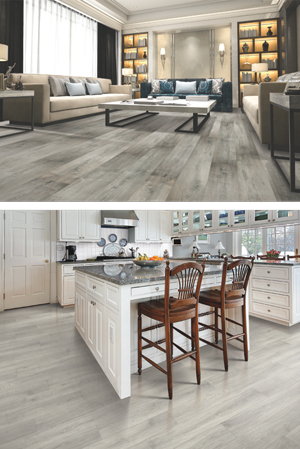 Luxury vinyl tile is the new champ
Certainly not your grandma's linoleum, luxury vinyl tile (LVT) or luxury vinyl plank (LVP) has increased in popularity since it came on the flooring scene a few years ago. And unlike the peel-and-stick your mom put down in the laundry room when you were a kid, luxury vinyl pieces lock together and float on the subfloor much like laminate. They come in a myriad of colors and styles and the best part is they're virtually indestructible.
"People like the LVT because it's waterproof, pet-proof, and kid-proof," said Bob Garby, flooring specialist with Whitt Carpet One Floor & Home in Salem.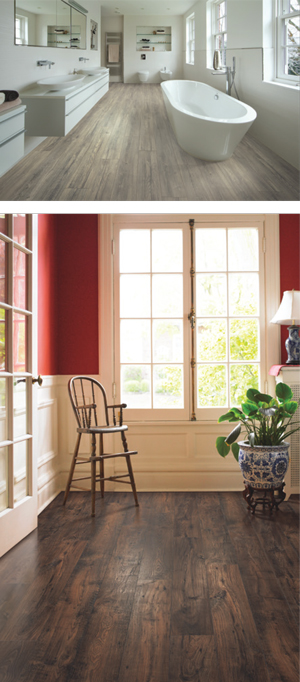 What started as a plank flooring that resembled hardwood, luxury vinyl now comes in a tile or stone look as well. Some plank varieties are textured to give it a more realistic wood feel. "We're seeing a lot of texture," says Jessica Byrd, interior designer and owner of By Design Interiors in Hardy. "It's so realistic, it's hard to tell the difference from natural materials." Likewise, some styles of luxury vinyl are designed to be installed using grout, producing a more authentically ceramic look.
The experts agree that wider planks are popular. Luxury vinyl planks come in a variety of widths from 5 to 9 inches with standard lengths of 36 or 48 inches, although some come in lengths of up to 6 feet. Satin and matte finishes are trending now, over the glossy finish seen in laminate flooring just a few years ago.
Will luxury vinyl hold its first-place title in 2020? You bet. "Every week there's something new," says Garby.
Colors to look for: "We're staying light in the colors," says Byrd. "Whites, grays and taupe are trending. The earthy tones."
DIY tip: "Watch the online tutorials for installing luxury vinyl," says Byrd. "It's pretty easy. My husband and I have done our own."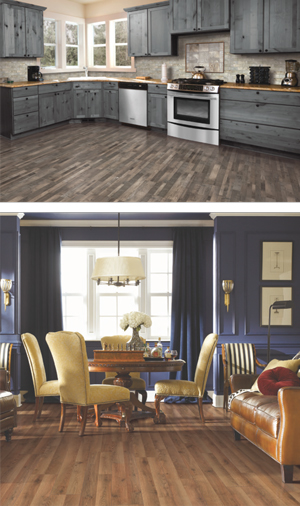 Solid hardwood flooring no longer top dog
Our experts agree that everyone loves solid hardwood floors. But is it the top choice when it comes to redecorating? Garby says not.
Solid hardwood flooring no longer top dog Our experts agree that everyone loves solid hardwood floors. But is it the top choice when it comes to redecorating? Garby says not.
"Installing solid hardwood floors is a lifetime investment," he says. It shows wear that the vinyl doesn't and isn't as durable. And engineered hardwood is less expensive. Unlike laminate flooring, which is constructed of wood fiber covered with a photograph of a wood grain, engineered hardwood is made from multiple layers of solid wood stacked together, not fiber. The outer layer is a real wood veneer, not a photograph. The layered construction makes it less susceptible to changes in climate or humidity. Therefore, you can install it in basements where you wouldn't typically use solid hardwood. You can also glue or float engineered hardwood on a concrete subfloor where a solid hardwood floor must be nailed down.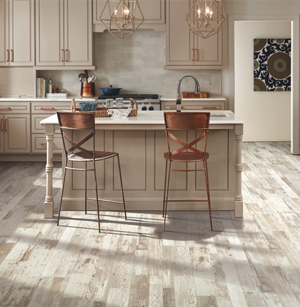 Although it's practically impervious to damage by kids and pets, water is the natural enemy of all wood flooring, even the engineered variety. That's why manufacturers have designed waterproof joints and topcoats on some of their products. Mohawk's RevWood Plus combines their Uniclic interlocking system, a Hydroseal coating on the perimeter of all planks, and a special bevel to create their waterproof flooring system. Shaw's Floorté Hardwood combines a hardwood veneer over a waterproof core and surface sealant to create a 100 percent waterproof product.
"Waterproof engineered hardwood is really going to kick off this year," says Byrd. "Because you can get more looks, more finishes, widths, and color variations with it than with solid wood."
Water is only one reason why wood flooring ranks second to vinyl. Sustainability and cost are other factors. You get more yield out of a tree when making engineered flooring than traditional hardwood. And according to Garby, government regulations have required manufacturers be more conscientious in their harvesting practices, removing trees only from certified forests. "Even for the exotic woods," he says. Consequently, if you want the popular rustic, antique look, it's more affordable with the manufactured product.
What's the prediction for solid hardwood in 2020? Still the classic, natural flooring option, homeowners who can afford it will continue to choose solid hardwood for high traffic areas not exposed to water. However, as homeowners discover the benefits of engineered hardwood, it'll leave solid hardwood in its dust.
Colors to look for: "Medium colors," says Garby. "Warmer tones are coming back. More of a reddish blonde look than a gray."
DIY tip: "The biggest mistake," says Garby, "is people don't leave an expansion space.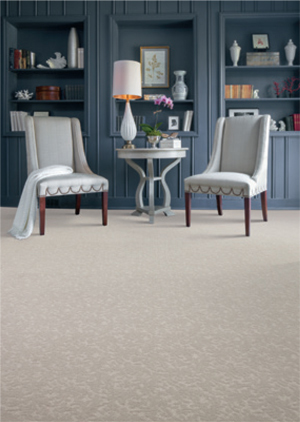 Carpet is not dead
Ripped up and replaced with hard-surface options by allergy-plagued families, carpet is holding its place by those who want the soft, warm comfort it brings, especially in the bedrooms. "Most people still like the feel of carpet," says Byrd.
Fortunately, carpet is now easier to maintain, more stain-resistant, and comes with hypoallergenic choices. The fibers of Mohawk's Air.o line are created with advanced polymers free of latex and harmful VOCs, making it a popular choice for parents of small children or sensitive pets. Manufacturers use less formaldehyde, making outgassing, according to some experts, a thing of the past. And some carpets are even waterproof.
"Shaw's LifeGuard carpet has a waterproof backing," says Byrd. It prevents fluids and pet odors from leaking through to the padding and subfloor. "And if you have kids," she says, "use an antimicrobial padding with a moisture barrier."
Byrd also recommends Phenix's STAINMASTER PetProtect line of carpet. "Its fibers are made to more easily release pet hair when vacuuming," she says.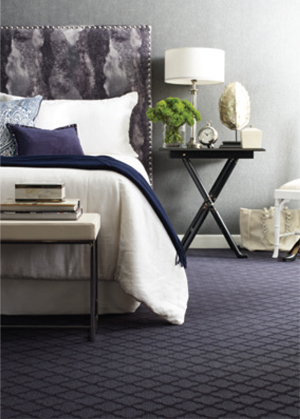 Garby has noticed a huge increase in multi-colored carpets. "They're mixing colors like grey and brown," he says. "Homeowners can more easily change wall colors when they install a multicolored floor covering." That's a boon for the person who enjoys redecorating frequently.
Carpet's still the most economical choice for the budget-minded homeowner. "In general, the installation of carpet costs half that of the luxury vinyl," says Byrd. So, contrary to popular opinion, it's still a sought-after floor covering.
Will carpet be a major player in 2020? Absolutely. Especially where you want a warm or comfortable feeling.
Colors to look for: "We're staying with lighter colors," says Byrd. "Even with carpet. And with speckled or tone-ontone to hide the dirt."
DIY tip: "Go on Pinterest or Instagram and get ideas of what you like before you go shopping," says Byrd.
Who are the outliers?
Ceramic tile is pretty much relegated to the kitchen and bath areas now. And, since luxury vinyl tile is waterproof, more homeowners are extending their LVT and engineered hardwood floors into the open kitchen areas—meaning less ceramic tile.
"Luxury vinyl tile is quieter, warmer and softer than ceramic," says Garby. "And, like hardwood, ceramic tile is a lifetime investment." If someone thinks they may change their flooring with a redecorating job, ceramic isn't the economical way to go.
And the others? "We're no longer getting requests for sheet vinyl," says Byrd. "And very little laminate." While some folks still choose this hardwood-look option, it isn't as waterproof, pet-proof, and kid-proof as the luxury vinyl.
Colors to look for: "For tile, natural materials like marble and travertine," says Byrd. "Again, white, gray, taupe, and even slate. More earth tones. The marble look really pops."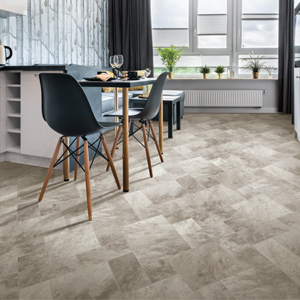 Keeping up with the times
Flooring experts agree that customers now seek an online experience. "Retailers need to embrace those who want to shop online," says Garby. "We have to adjust our selling patterns to get ahead of the game." And with the new trade tariffs, all the experts say that homeowners want American-made more than ever.
In households with children and pets, life happens. And that life can play havoc on your floors. But with technological advances in the flooring industry, ugly damaged floors can be a thing of the past. With the choices we have now, the sky's the limit. ✦
carpet, floors, hardwood, laminate, luxury vinyl plank (LVP), luxury vinyl tile (LVT), polymers, stone, tile, vinyl