Golfers' Rest | Ballyhack Custom Home Is Tranquil Haven
Photography by Kevin Hurley
Southwestern Virginia natives Nancy and Ken Sizemore had never heard of Ballyhack Golf Club until Nancy's brother decided to buy a lot and build a custom home in the new community just a few minutes outside Roanoke. However, once they saw the setting, Nancy and Ken were entranced. "We always wanted to come back," Nancy says. "Our family is here and we both missed the mountains." For over 40 years, Ken, a financial advisor with Morgan Stanley, and Nancy, a homemaker, artist and interior designer, made their home and raised their sons in Richmond. Their two grown sons have married and settled there as well. It seemed like a big jump to relocate, but the Sizemores always wanted to retire to a golfing community, and once they'd seen Ballyhack, with its stunning 360-degree views of the Blue Ridge Mountains and its expertly designed golf course, they realized that they'd never find a setting as uniquely beautiful as this one.
---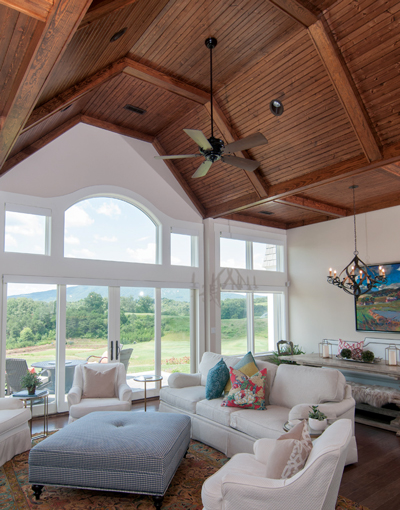 The Sizemores chose Ballyhack for its expertly designed golf course, serene setting and stunning views.
---
Ballyhack was initially developed about ten years ago, but in 2016 the entire enterprise was purchased by the Dormie Network, a large conglomerate which owns several premier golf destinations. The Dormie Network envisioned a world-class golf community in the heart of Virginia's Blue Ridge and has made major investments to that end. "It really is 'pure golf' for serious golfers," says Nancy. "They don't have plans at this point for tennis or a pool." Though she doesn't play herself, Nancy explains that Ken is an avid golfer and often uses the Ballyhack course to entertain clients, and one of the Sizemores' sons played golf in college. Nancy has logged many hours of spectating, and describes herself as a "professional golf watcher."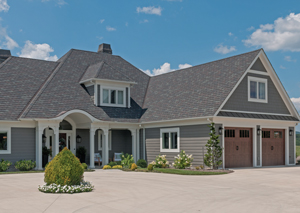 The Sizemores purchased their lot a couple years ago and began the process of designing and building the custom home. Architect Danny Goins drew their plans from "scratch" according to Nancy. "[Goins] designed my brother's house which is directly across the street, so we knew we liked his style … I honestly didn't really know exactly what I wanted to build at first," she says. "I just let him kind of give me ideas, and then we refined it together. One thing I did know was that I wanted a great room that was very open, with high ceilings, and definitely big windows to see the view." They envisioned a home of casual elegance: no formal living room or dining room, but ample room for entertaining family, friends and clients. They knew they wanted natural stone fireplaces, and lots of glass to capture golf course and mountain views, but other than that, they were more or less open to Goins' ideas for a shingle-styled home.
---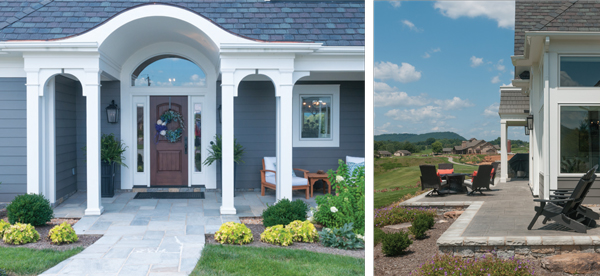 A zero- threshold entry is just one element of universal design built into the Sizemore home.
---
Given the unique views visible from every room, the Sizemores give Goins a lot of credit for siting the home to its best advantage. There were other things to take into account in the design as well. "We plan for this to be our retirement home, so we designed it with our future needs in mind," says Nancy. The home has 3-foot-wide doors throughout, a zero-threshold entry, and a master bath with elements of universal design. "We recently brought my mom here in her wheelchair and it was great because we could just bring her straight in. No steps," says Nancy. "It was a great test case." A lot of thought goes into planning a house that might potentially be used—or visited—by someone with mobility challenges, and though it adds another layer of complication to design, in the long run it means that the Sizemores will be able to comfortably age in place in their Ballyhack home.
Once the plans were complete and approved, the Sizemores turned to builder Matt Prescott of Prescott Construction. The Sizemores were still living in Richmond during the building process, and though they came down most weekends, they weren't always available to give day-to-day input on the project. It was therefore critical that they have utmost confidence in their builder. Fortunately this wasn't an issue. "Building a home is an extremely challenging process and Matt made it work … Everything was quality, no shortcuts. This is a well-built house," says Nancy. "I know because we built our house in Richmond, and we had to redo so many things over the years because they just weren't done right the first time. This house was an entirely different experience. I can't say enough great things about Matt and his crew." Ken agrees, noting that "his guys are truly craftsmen."
Landscaping was kept simple, reflecting the beauty of the natural environment, and complementary to the panoramic views enjoyed from the home's windows and patios. Large berms surround the house and driveway with plantings of black-eyed Susans, coneflowers, salvia laurel and other perennials. The couple turned to Seven Oaks to design, plant and maintain the landscape. The irrigation system was designed and installed by Aquaturf. But just because they wanted it to look simple doesn't mean that anything about the process was simple. "We had to bring in 43 truckloads of dirt!" Nancy says. "But when we drove up after it was installed, it was just like one of those big reveals on TV. My jaw was hanging down. I just couldn't believe what the landscaping did for the look of our house."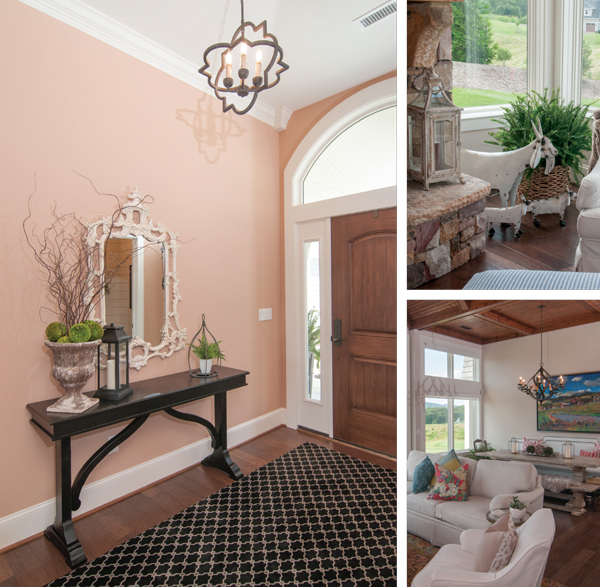 It took a little over a year to build, but finally the home was finished and the Sizemores could move in. The evening before their moving truck arrived, the couple enjoyed a quiet evening "camping" inside their new home and as they enjoyed a makeshift dinner, Nancy looked up and gaped: the sunset over the mountains had streaked the sky brilliant shades of yellow, orange and red. "It was just like an omen," Nancy recalls. "I had Ken snap a picture of it. It was like a huge welcome to our new home written all over the sky."
That was two years ago. Now Nancy and Ken are comfortably settled in their Ballyhack dream home. Nancy has done most of the interior design herself. It's an art she has largely taught herself over the years. An art major in her college days, Nancy turns that artistic eye on her own home and the results are what transform the house into a home.
The entry is painted a muted coral. A white carved mirror hangs over a lacquered trestle table, reflecting the light that floods in from the great room beyond. Across from the trestle table is a generously sized powder room. Nancy's own artwork, a charcoal sketch, graces the shiplap walls and an iron chandelier throws a unique pattern of its own onto the ceiling.
The open great room contains living, dining and kitchen areas which blend seamlessly across the large open space, due in part to a neutral color palette accented with small pops of color. The furniture and cabinetry are all finished in light shades of gray and cream to which Nancy has added fun accents: red floral and geometric throw pillows on couches, chairs and the custom banquette in the dining area; an oversized blue houndstooth-patterned ottoman that doubles as a coffee table; blue and white china—Nancy has collected it for years—scattered around the built-in shelving on the side of the fireplace and in the recesses of the cabinets; and the brilliant blue and red hues in the Greg Osterhaus painting in the dining area.
The great room has floor to ceiling windows that flood the area with light. When Nancy and Ken realized early on that they might get too much light at certain times of day, they installed low-profile electric shades to give them some protection and privacy when necessary. The space has dark-stained wood floors as well as on the arched cathedral ceiling. "That was such a tough decision," Nancy says. "I remember feeling like, 'Boy I hope the ceiling looks good!' There was no going back, so when we arrived to see it for the first time after it was stained, I said, 'Ken if it looks good, then it was my idea … If it looks bad, I had nothing to do with it!'"
---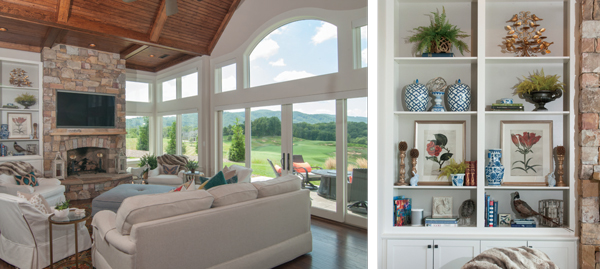 The interiors feature a soft, neutral palette accented with notes of blue and red throughout.
---
Nancy selected comfortable, oversized furniture in neutral tones for the seating, arranged strategically to showcase both the views and the floor-to-ceiling stone fireplace and cozy raised hearth. The area is anchored by a lucky consignment store find Oriental carpet. In the corner of the room are what Nancy calls "Ken's Goats," a grouping of metal goats. Nancy explains that Ken was captivated by the idea that Ballyhack had its own herd of goats, so she purchased these whimsical versions so that he could have a few goats of his very own.
The adjoining dining area has a trestle farm table and bench made from 1890s-era barn wood from a farm in Centreville. Nancy chose to have the piece painted and distressed to contrast with the dark-stained floors and ceiling. A custom-made cream-colored leather banquette with nailhead trim was designed by Nancy and made for the home by Better Sofas of Roanoke. The Currey and Company light fixture was Nancy's own find for the dining area. "The moment I saw it, I thought, 'That's the one.'"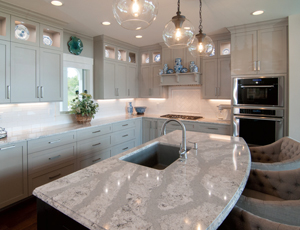 While Goins designed the kitchen, Nancy worked on the layout. "I knew, for example, that I preferred uncluttered countertops and so planned lots of storage to keep things out of sight," she says. There were features that she knew she wanted, such as the lighted windows in the top cabinets to showcase more of her collection of blue and white china. She also designed the shelf area over the stove to give her more display space. The kitchen also has fewer cabinets and more drawers, which Nancy prefers. Some of her other favorites in the space include the extra-large freezer and refrigerator and the ingenious built-in paper towel housing that is tucked neatly under the counter. Nancy laughs, "One less thing to clutter up the counter, right?" The cabinets are painted a light gray, blending with the light-colored granite and white subway tile backsplash. "I love white kitchens, but I just didn't think this was a white kitchen sort of house," says Nancy. "In fact, Ken kept saying he thought we needed more color, but I really wanted to keep things mostly neutral in order to focus the eye on the incredible views. I just love standing at this sink and looking out over this view."
The home's original plans called for a screened-in porch with a stamped concrete floor that opened off the dining area. It was outfitted with another floor-to-ceiling stone fireplace, including a mantel from an old dairy barn that once stood on the Ballyhack property, two walls of screens, and a door to the outside sitting and grilling area that overlooks the greens below. Even while the home was still being built, the Sizemores realized that what makes their setting so attractive—the 360-degree views from the vantage point of an exposed ridge—also meant that the effects of wind blowing down the valley would be more strongly felt. Really strongly felt.
---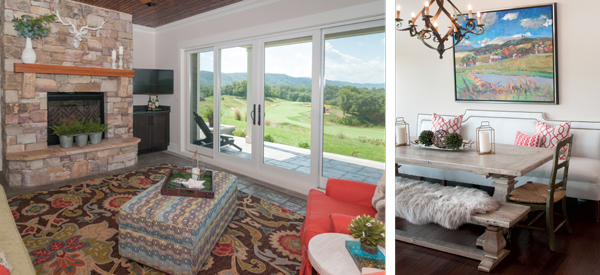 A custom banquette was made by Better Sofas of Roanoke to accompany the trestle farm table and bench made from 1890s-era barn wood.
---
Because they realized during the building process just how windy it can be during the winter, the Sizemores asked Prescott to enclose the porch. Prescott agreed and they set about transitioning it to a fully enclosed room. This meant ordering windows and an HVAC system that did not require ductwork since they were on a concrete slab. It required some transitions and out-of-the-box thinking, but these changes have given the couple a room they can use every day of the year. Nancy has warmed up the all white walls with warm colors: a patterned rug with a brown background, persimmon-colored upholstered chairs, and an apple green couch. "We can still have the effect of a screened-in porch in the summertime," says Nancy, gesturing to the room's many windows, "because we can always just open the windows. Then it's just like a screened-in porch … best of both worlds."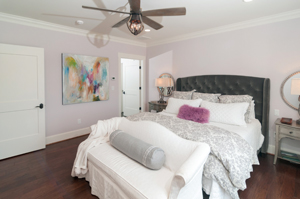 One the opposite side of the great room lies the Sizemores' master bedroom suite, painted a soothing shade of lavender and graced by floor-to-ceiling windows. Nancy has used simple linens in quiet colors of gray and white in their bedroom. "I wanted to keep it simple, let the view be the star—with the exception my angel, of course," says Nancy, gesturing to the large abstract oil painting on the opposite wall. The painting does indeed resemble an angel. Nancy was drawn to it immediately when she first noticed it at Magnolia in Roanoke, and loved it even more when she heard that the artist, Sandy Lear, grew up in Floyd.



The suite includes a large master bathroom with a water closet, a shower and a soaking tub. The shower was designed to have a hidden drain and a zero threshold entry, which might come in handy if mobility ever becomes an issue. Another feature the Sizemores have added and really grown to appreciate is lighting under the bathroom cabinets. "They are wonderful, especially when one of us has to get up in the middle of the night," says Nancy. "It's just enough light to see what we're doing without fully waking up."
Off the bath lies a room-sized walk in closet/dressing area. Nancy and Ken appreciate all the space this affords both of them, as well as the features of the room itself. The small square window is just the right amount of daylight, yet because of its height, they don't feel exposed. The six-armed white metal chandelier was a keepsake from their kitchen in Richmond. It lends a sense of elegance to the space and is a nice memento to boot.
The home's upstairs offers two guest bedrooms, and a sitting area with a balcony overlooking the greens that Nancy jokingly calls the "man cave." However with ample windows and views, nothing could feel less cavelike. They even found that a small nook in the eaves, originally designed for storage, was plenty big enough to give Ken a functional office space to use on days when he works from home.
The Sizemores' grown sons love that their parents have rediscovered their "roots" in Southwestern Virginia. "They are happy for us and they love coming to visit here," Nancy says. "It's a great layout for family and guests, and of course, we have the golf." Both Nancy and Ken feel the planning and work that went into building their dream home was all worthwhile and they enjoy sharing it with their family and friends, but most of all, they love the sense of peace and natural beauty they get to experience every day up on their ridge. "This almost feels like an escape," says Ken. "Living in Richmond for so many years, we were used to all the people, the bustle. Now, when we cross over the Blue Ridge Parkway and come around the bend, we can just feel any stress drain away. Ballyhack is perfect for us." ✦
big windows, casual elegance, custom home, golf community, great room, high ceilings, wheelchair, zero-threshold entry