Welcome Neighbors! | Perfect Get-Together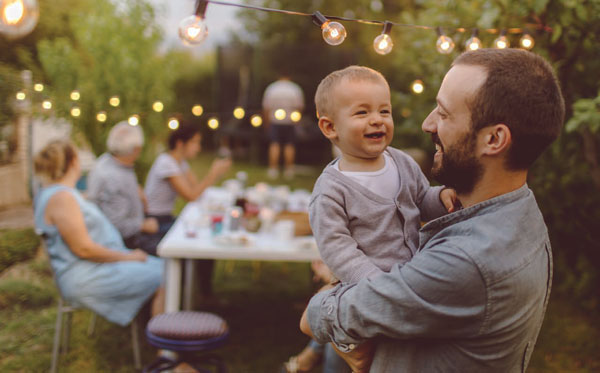 Although exciting, moving to a new home can be difficult and a bit lonely, regardless of whether the move is to a different neighborhood across town, or across the country. Neighbors frequently want to welcome new-comers but grow tired of showing up with the same uninspired plates of brownies.
Sometimes it feels as though we go through the long, cold winter alone, barely seeing our neighbors. Now that the weather is warming up, people long to get outside and socialize. Throwing a block party can reacquaint old neighbors and welcome new ones. Our neighborhood is made up of many cul-de-sacs, so we tend to gather in one of those. You can designate a front or back yard for the gathering—have "Cocktails on the Corner," or if there is a public space nearby, have a "Party in the Park."
Whatever you call it, the point is to get people together over food and drink and enjoy each others' company. Keep the menu simple and ask everyone to bring something. You may want to assign certain types of food, so you don't end up with six bowls of guacamole and no chips!
All of these recipes can easily be doubled or tripled to feed a crowd.
RANCH CHICKEN MEATBALLS
Serves 4 as a main course or 8 as an appetizer
It's nice to include an option for those who are eating low-carb, but these meatballs are so delicious, everyone will enjoy them!
1 pound ground chicken
1/2 c almond flour
2 T cream cheese (cut into small cubes to make mixing easier)
1 packet dry ranch dressing mix
1/2 t salt
1/4 t pepper
1/4 t garlic powder
In a large bowl, mix ground chicken, almond flour, cream cheese, contents of the dry ranch packet, salt, pepper and garlic powder. Using wet hands, form the meat mixture into 1-1/2-inch round meatballs. (The mixture should be sticky and wet hands help; keep wetting your hands as you go).
Heat a skillet over medium-high heat and add a little olive oil. When hot, add the meatballs, working in batches and adjusting the temperature if the meatballs are browning too quickly. You just want to brown them a bit, they won't be cooked all the way through. Once all the meatballs are browned, transfer to a baking sheet and bake in a 350 preheated oven for about 10 minutes until the meatballs register 165 degrees on an instant-read thermometer or cut into a meatball to check that it is cooked through.
These are very flavorful and moist by themselves, but dipping in Ranch dressing is also recommended. They can be served hot or at room temperature. (Adapted from the Instant Pot Keto Cookbook)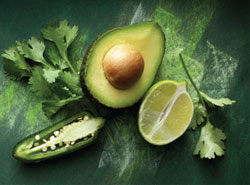 MARSHA'S CLASSIC GUACAMOLE
Serves 6 (or sometimes 2—haha)
This is one of my most requested foods from friends, family and clients. My daughter and I took a cooking class in Mexico a couple of years ago and I learned the techniques. You can add tomatoes, garlic, etc., but I like to keep it simple.
2 ripe avocados
1 small bunch cilantro
1/2 small sweet onion
Fresh jalapeno to taste
1/2 t kosher salt
Juice of 1–3 limes
Wash the cilantro carefully to remove any sandy materials, dry and cut off the end of the stems. Twist the bunch, fold over and twist again. Chop the leaves and stems.
Small-dice the onion and combine onion and cilantro on a cutting board. Sprinkle with salt. Chop through the pile with a chef's knife, then take the side of the knife blade and press the salt into the onions and cilantro. Repeat chopping and pressing until the mixture resembles a chunky paste. I really think this is what makes my guacamole different.
To chop the jalapeno, wear gloves to avoid burning your fingers. Also, be careful not to touch your eyes while working with peppers. Remove seeds from the jalapeno (that's where a lot of heat is), then finely chop the pepper.
Peel the avocados, removing the pits and place in a bowl with the onion/cilantro mixture. Mix with a fork to desired consistency. Squeeze the juice of one lime over the avocado mixture and taste. This is also when I add the jalapeno. Depending on the size of the avocados and the juiciness of the limes, you will probably want to add more lime juice. (I usually add the juice of one lime per avocado. This sounds like a lot, but it keeps the guacamole from turning brown and we love the tanginess.) I usually add extra salt as well, but it's important to taste as you go as the ratio of ingredients is a little different every time.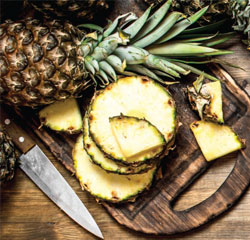 PINEAPPLE ROSE' SANGRIA
Makes 6 drinks
A signature cocktail can make a party feel special. Sometimes sangria can be overly sweet, but this one is light refreshing and quick to assemble. Just make sure you label the punch bowl or pitcher as "Adult Drink" and provide other non-alcoholic options for the kiddos and those who don't wish to imbibe.
1 bottle chilled rosé
2 c chilled pineapple juice
1 pint raspberries
1 pint blackberries
1 c pineapple, chopped
Mix all ingredients in a large pitcher, punch bowl, or even a vase. Serve over ice. (Adapted from The Roasted Root)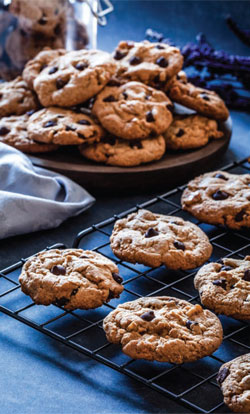 GROWN UP CHOCOLATE CHIP COOKIES
Makes about 30 cookies
Years ago, I worked at the lovely kitchen store, Culina, in Lynchburg's Boonsboro Shopping Center. Lance Yeatman taught a cookie class in the store's kitchen and this was one of the recipes. I've made a few tweaks over the years; friends and family insist this is the only chocolate chip cookie I should make. It requires a few special ingredients, but if you can't find them at your grocery store, you can always order online. Trust me, it's worth the effort!
1 c (2 sticks) unsalted butter, room temperature
2/3 c packed brown sugar
1/2 c granulated sugar
1/4 c golden syrup (preferably Lyle's— if your store has an international aisle, it's in the British section)
1 large egg
1 T vanilla extract or vanilla bean paste
1/4 c malted milk powder (preferably Carnation)
1/2 t instant espresso powder
2 3/4 c all-purpose flour
1 1/8 t salt
1/2 t baking powder
1/4 t baking soda
1 pound bittersweet chocolate chips (preferably Ghirardelli 60% bittersweet baking chips)
Adjust oven rack to the middle position and preheat to 375 degrees.
Line baking sheets with parchment paper.
In a large bowl, cream together butter, brown sugar, granulated sugar and golden syrup. Beat in egg, vanilla, malted milk powder and espresso powder.
Add flour, salt, baking powder and baking soda; stir until thoroughly combined.
Stir in chocolate chips.
Drop the dough by rounded tablespoonfuls (or use a small ice cream scoop) 3 inches apart onto prepared baking sheets.
Bake, one sheet at a time, for 10 minutes, until golden brown at the edges; the center will appear slightly under-cooked. Transfer the sheet of baked cookies to a wire rack. Let cool for at least 10 minutes before removing cookies from parchment. ✦
block party, Cocktails on the Corner, GROWN UP CHOCOLATE CHIP COOKIES, live, MARSHA'S CLASSIC GUACAMOLE, Neighborhood, new-comers, PINEAPPLE ROSE' SANGRIA, RANCH CHICKEN MEATBALLS, welcome