The Last Word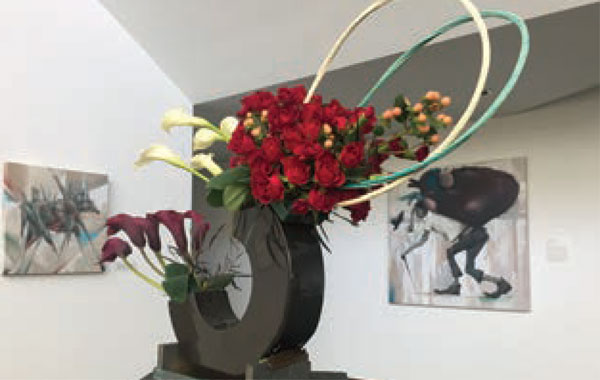 Alison Conte is a Roanoke Valley transplant originally from Newport News and a graduate of William & Mary. Alison and her family share their home with their 13-year-old westie, Rocky. As well as being a community volunteer, Alison is also the Children's Choir Director at Second Presbyterian Church.
HOME MAGAZINE EDITOR, ANNE MARIE POORE, HAS A FEW QUESTIONS FOR ALISON CONTE, COCHAIR OF THE UPCOMING ART GO BLOOM EVENT AT THE TAUBMAN MUSEUM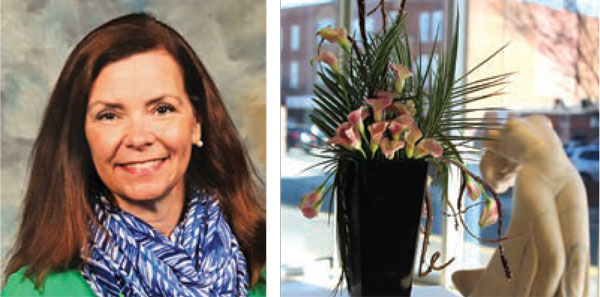 amp: What is your go-to host/hostess gift? AC: Something with Cocktail Napkins—I love Cocktail Napkins! amp: If you could have dinner with anyone from history, who would it be? AC: Queen Elizabeth I—How interesting it would be to have an audience with the most powerful woman in the world when the world was so treacherous! amp: What is your favorite first sign of spring? AC: I always get excited when I see the first daffodils in bloom! amp: What are you reading right now? AC: Unsheltered by Barbara Kingsolver—I grabbed it when I saw it was set in Roanoke and Vineland, NJ—both cities to which I am connected. amp: What is your pet peeve? AC: My college major was English and I have a difficult time when people use "I" and "me" incorrectly (my own children included!) amp: What is the best piece of advice you've ever had? AC: My friend's mother always told us not to worry too much about what we were wearing because no one would remember the next day. amp: What is the next big event you are most looking forward to? AC: Art Go Bloom at the Taubman Museum of Art May 16-19! This event combines two of my favorite things: art and flowers. I'm fortunate to have been asked to co-chair this event for the second time and I'm looking forward to seeing the floral arrangements interpreting works of art placed throughout all of the Museum galleries and public spaces. I am most excited about the special programs that will take place during this event! Opening night will feature a not-to-be-missed fresh flower and foliage fashion show with creations designed and created by Virginia Tech Students. There will be flower workshops and demonstrations, a High Tea at the Hotel Roanoke and a Sunday Brunch at the Museum. amp: What did you want to be when you grew up, as a child? AC: Surprisingly, I wanted to be a pediatrician until I was in 9th grade. Once I went to high school, music classes and a summer job at Colonial Williamsburg changed my direction. amp: Who is your favorite artist? AC: I don't really have one favorite artist, but I am drawn to the great impressionists—Renoir, Manet, Pissarro. amp: What would you tell the 25-year old version of yourself? AC: "Listen more! You have so much to learn!" amp: What design rule are you proud to break? AC: I don't like "sets" of furniture! amp: What is your proudest accomplishment? AC: I am most proud of the accomplishments of my husband and children. As for my achievements, I am proud of any positive influence I may have had on the children to whom I have taught music! amp: What inspires you most about Roanoke? AC: Roanoke, for a city of its size and location, has a tremendous amount of culture and cultural opportunities!
ART GO BLOOM, community volunteer, TAUBMAN MUSEUM, The Last Word