Wash, Wipe, Win | Choose the Right Towels and Scrubbers for Your Kitchen Jobs
Maybe they matched your decor perfectly so you just had to buy them. Or maybe your old ones are fraying, so you quickly bought the first pack you saw. Most of us don't give much thought to what types of kitchen cleaning cloths we should buy, choosing them more for their looks than their function. But with the variety of products available today, we can be more intentional in our selection for the specific task at hand.
Towel types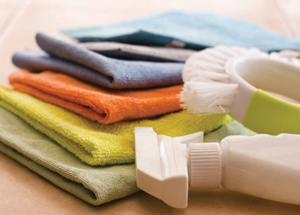 THE OLD STANDBY: TERRY CLOTH
This multipurpose towel and dishcloth is the most common type and usually the least expensive. Take a closer look and you'll see that this fabric (mostly cotton) has small, raised loops on both sides, making it soft and absorbent. The thicker the loops and the closer together they are, the greater the absorbency. Just make sure you buy a higher-quality terry cloth that won't leave lint behind, especially on glassware.
Ideal uses: Drying dishes and hands and wiping up spills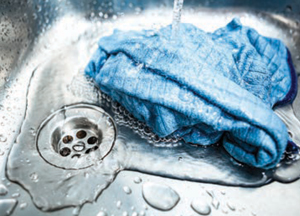 THE NEW AND IMPROVED: MICROFIBER
Many claim these scientifically designed towels that came on the kitchen scene in the 1990s can do magic. With thousands more fibers than a typical dish towel, these popular all-purpose towels can grab dirt with only a little bit of water, but can also absorb about six times their weight in liquid. They can endure hundreds of washings when you take care of them properly. (They can also attract a lot of lint, so if you wash them in the washing machine, make sure you do them with sheets or other microfiber towels, and don't use fabric softener.) Often touted as a green product, many don't need chemical cleaners to work. They are soft enough for more fragile items like glassware or a marble countertop and now come in many different vibrant colors and patterns.
Ideal uses: Almost all uses, especially washing dishes and wiping down counters, cabinets, and appliances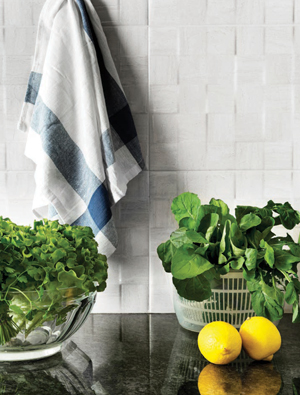 THE DELICATE TOUCH: TEA TOWEL
This traditional towel got its name from its dainty duty of wiping down china for tea time. Whether you call it a tea towel or a dish towel, we're talking about towels that are made of flat-woven linen or cotton (basically, smaller towels that aren't terry cloth). The fabric is perfect for embroidery, so you can find some unique and special designs to decorate your table for multiples uses, such as napkins or trivets.
Ideal uses: Drying and polishing dishes and silverware. Can also use between pots and pans to protect from scratches when storing and use to dry and store salad greens.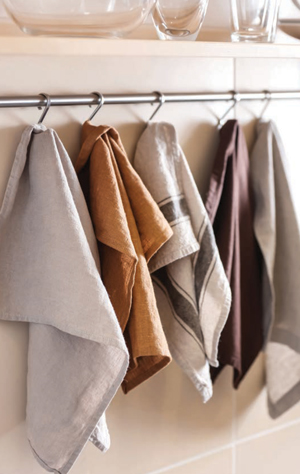 THE OLD-FASHIONED BUT FUNCTIONAL: FLOUR SACK CLOTH There aren't many of us who can remember when flour came in cotton sacks and that when you washed and bleached the sacks, the flour company logos would fade away and the sacks could be used for many other purposes, like making clothes, pillowcases and kitchen towels. Today, you can buy "flour sack towels" that come in the same, plain white cotton cloth with the natural, wrinkled look just like those flour sacks of the past. (Check out Norpro Old Fashioned flour sack towels online). But you can also find flour sack cloths in decorative, printed patterns too (often in vintage motifs). (Check out Baker's Floursack kitchen dish towels online). Flour sack towels absorb water fast and dry quickly. The smooth, thin, lint-free cloth won't scratch dishes. The towels often come in larger sizes than the standard kitchen towel, so they cover more surface area.
Ideal uses: Drying dishes, hands, and more delicate foods like herbs and berries, as well as polishing glassware. Also helpful for covering rising dough, straining stocks, and as a pastry cloth. They make excellent dusters and window wipers.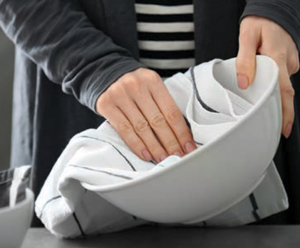 THE MULTITASKER: BAR TOWEL
Also called "bar mops," these are staples in restaurants and hotels, but they're also popular in home kitchens. Generally sold in solid colors (mostly white) and in bulk (making it a cheaper alternative), there's nothing fancy about them, but they can endure mess after mess. You can wring them out many times and they won't stay heavy and soggy.
Ideal uses: Drying dishes and cleaning up messes
TOWEL TIP:
LOOK FOR THE LOOP. MANY STYLES TODAY HAVE A LOOP ATTACHED FOR HANGING SO THEY CAN DRY FASTER.
THE GREENER CLEANER: SWEDISH DISHCLOTH
Paper towels are a common go-to, but if you're looking for an eco-friendly alternative, this new material can save you from filling up the trash can. These super-absorbent cloths are made from biodegradable cellulose (wood pulp) and all-natural cotton. Ecologie's version of Swedish dishcloths are marketed as "Swedish sponge cloths" and indeed are made in Sweden. They are sold as a single stiff cloth that softens when wet and purports to do the work of 40 paper towel rolls and five sponges. (If you have a small home with no place to store paper towels or thick towels and washcloths, this is a great choice.) They dry quickly, so they resist breeding bacteria and don't create odors. They come in adorable, whimsical patterns. Ecologie's products can last over 200 machine washes but can be composted after 6 months or more. People find they are less wasteful with their paper towels when they use these special items from across the sea.
Ideal uses: Washing and drying dishes, cleaning up messes



Scrubbers
If you think there are multiple options for towels, there are just as many options or more for dish scrubbers.
The gold (or more accurately the "silver") standard steel wool isn't going anywhere. It is best to use for cast aluminum pans and, of course, pots and pans that do not have a non-scratch surface. But many brands of sponges and pads offer a non-scratch product. The Lola brand makes a scouring pad called the "Wonder Scourer" that is good for wiping down kitchen appliances, cleaning your sink, and removing grease.
Brushes are also getting the thumbs up. While you can choose a simple bottle brush for narrow glasses and jars, there are also many styles with soft towel-like tips that help with wiping down and preventing streaks and scratches. Google "palm dish brush" and you'll find some attractive options, even ones with soap dispensers and stylish saucers for setting them in.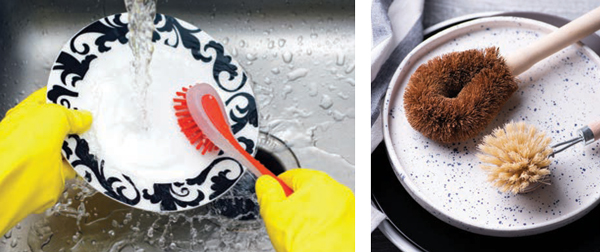 Make it a combo
The ingenuity of our kitchen tool designers has been cranked up a notch with new products that do dual jobs. I have several dishcloths with soft microfiber on one side and a plastic mesh scrubber on the other, making it easy to switch from washing dishes with soft food waste to scrubbing hard, dried-on messes. Talk about multifunctional, some products available today are like the Swiss Army Knife of kitchen cleaners. I use a silicone scrubber with a textured pattern for hard scrubbing, soft silicone bristles for wiping down surfaces, and a plastic scraper at the end. (Search "3-in-1 dish scrubber" online).
Replacing your tattered towels and washed-up scrubbers with a fresh set is an easy way to spruce up your kitchen and get the job done better, too. Some days, you may feel like throwing in the towel on your kitchen chores—and when you find the perfect one, that's just what you should do. ✦
3-in-1 dish scrubber, BAR TOWEL, bottle brush, Brushes, FLOUR SACK CLOTH, microfiber, palm dish brush, Scrubbers, silicone bristles, silicone scrubber, steel wool, SWEDISH DISHCLOTH, TEA TOWEL, TERRY CLOTH, towels