Wabi-Sabi | A Perfectly Imperfect Home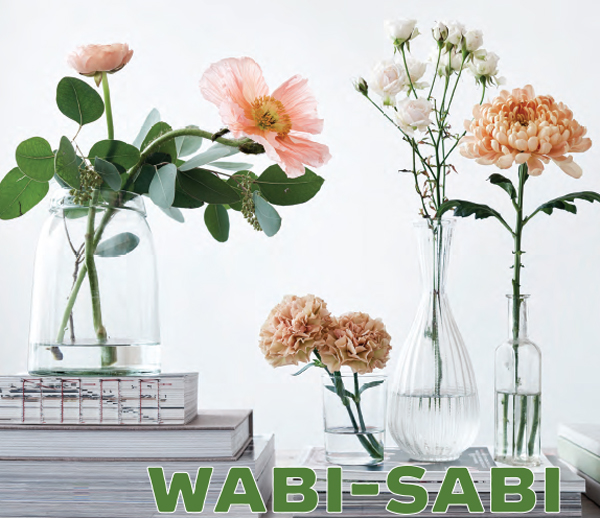 Marie Kondo sparked a decluttering trend that Western culture has embraced since the publication of The Art of Tidying Up in 2014. But what many people don't know is that her method (KonMari) grew out of a broader world philosophy with roots dating to 15th century Japan. With early links to Chinese Buddhism, wabi-sabi blossomed out of the Japanese tea ceremonies performed by Zen monks. According to legend, it is Zen Monk Rikyu who is credited with establishing the quiet, simple tradition that made it possible for everyone—not just the wealthy—to practice tea. In an age of peace following long centuries of civil war in Japan, gaudiness was all the rage. Rikyu rejected the gilded utensils used by the upper classes and served tea in bowls by anonymous Korean potters and indigenous Japanese craftsmen. He made his own utensils from bamboo and arranged flowers simply. Rikyu's ceremony endures in Japan to this day. Thus was born a philosophy from humble simplicity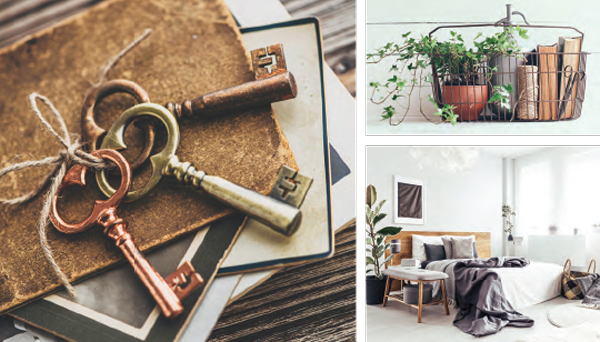 There is no direct Western translation of wabi-sabi. It is an aesthetic that values objects that are more beautiful, bearing the marks of age and individuality. Wabi can be expressed as fresh, simple, and not necessarily perfect. It can describe someone content with little, who makes the most of whatever he or she has. Sabi can mean the beauty that something acquires due to its age. It's about transience and learning to accept the natural cycle of growth and death, as well as embracing the imperfections that come over time. "It should come as no surprise that the wabi-sabi concept derives from Japan, since it's all about making modest examined choices in every part of our life: in our homes, with our resources, even in what we consider beautiful," explains Julie Pointer Adams in Wabi-Sabi Welcome (2017).
What does all this mean in terms of home décor? According to Robyn Griggs Lawrence in The Wabi-Sabi House: The Japanese Art of Imperfect Beauty (2004), wabi-sabi in home décor inspires minimalism that celebrates the human rather than the machine. "Possessions are pared down, and pared down again until only those that are necessary for their utility and beauty are left." Unlike the KonMari method of paring down that may seem to some ruthless in its execution, a wabi-sabi home is more forgiving. There is nothing perfect about a wabi-sabi home, whereas a home that has been organized by the KonMari method achieves perfection in its organization and tidiness. A wabisabi home embraces comfort above all in an aim to provide a sanctuary from the outside world.
The application of wabi-sabi in decorating has been on the scene for approximately a decade. In 2018, the Etsy Trend Guide predicted it as a growing trend in interior design. Wabi-sabi cookware is even available in Gwyneth Paltrow's Goop store. Traditional minimalism has begun to give way to more wabi-sabilike minimalism, allowing for imperfection, personal touches and even a dash of whimsy.
Since it is a fluid concept, a few comparisons and examples are helpful to understand this aesthetic. Wabi-sabi favors dried flowers or branches over fake flowers; cracked or chipped pottery over stained plastic; quilts with patches and frayed hems over synthetic bedding; belongings that reflect personality and meaning—photos, books, letters and collected treasures over mass-marketed art reproductions—flea market finds over big box store purchases.
As it is an organic aesthetic, you don't need to hire an interior decorator to welcome the art of wabi-sabi into your home. How might you begin? Decluttering is always the first step. Marie Kondo suggests getting rid of anything that doesn't "spark joy," but don't feel you need to get rid of family heirlooms, neatly fold everything into tiny squares and find the perfect containers for every possession. "Pare down to the essence, but don't remove the poetry," says Leonard Koren's book Wabi-Sabi for Artists, Designers, Poets & Philosophers (2008).
Here are a few tips if you want to dip your toes into the wabi-sabi
waters:
Embrace beauty and utility: Choose well-designed objects
that also assist you in daily life such as baskets that store
blankets, a wood-handled dustpan and broom, glass storage
for nonperishables. Add a pretty water pitcher to your table.
Add a personal touch: Display family photography,
children's art, and souvenirs collected on trips.
Bring the outside in: Pick wildflowers or distinctive branches for vases or pottery. Display shells collected on a favorite beach walk. Simple arrangements usually adhere to the "law" of uneven numbers; three is always ideal. Use earthinspired color on your walls or fabrics.
Repurpose or create your own wabi-sabi practice: Learn
to crochet, knit, or needlepoint. Paint furniture. Repurpose
found objects.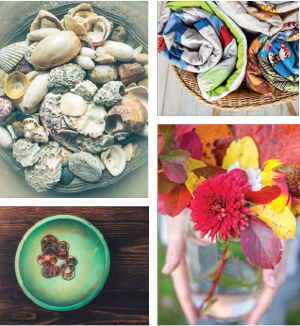 As I write this, I am sitting in my family's cabin in Western North Carolina. My mother decorated it in her inimitable style. I once described it as a cross between eclectic and whimsical, but now I see clear elements of wabi-sabi. Frayed quilts cover the beds in the children's loft; art by grandchildren hang in the study; a misshapen bowl that I made as a child sits on a side table alongside North Carolina pottery. My father's blown glass objects are scattered about, collecting coins, keys, and even dried lavender. Framed pictures of family are everywhere. The overwhelming effect she created is welcoming and comfortable. It is a special place where I relax, wind down, and honor memories of my parents.
When not pressured to turn out a perfectly curated home, you are free to welcome people in. In this age of glossy "perfection" splashed all over social media, it can be intimidating to entertain, but in today's high-tech world, it's essential to put down the smartphone, slow down and connect in person. Hosting humbly without the impetus to impress allows a host to make guests feel as welcome as possible. A casual outdoor gathering, a cup of tea in the kitchen, or a multigenerational birthday party are all ways to deepen connections. When we open our homes and ourselves, perfectly imperfect as we are, we are richer for that experience. A wabi-sabi house can help us get there. ✦
15th century Japan, Chinese Buddhism, decluttering, decorating, home decor, Japanese Art of Imperfect Beauty, KonMari, minimalism, wabi-sabi, Zen Monk Rikyu, Zen monks