Versatile Furniture | Does Double Duty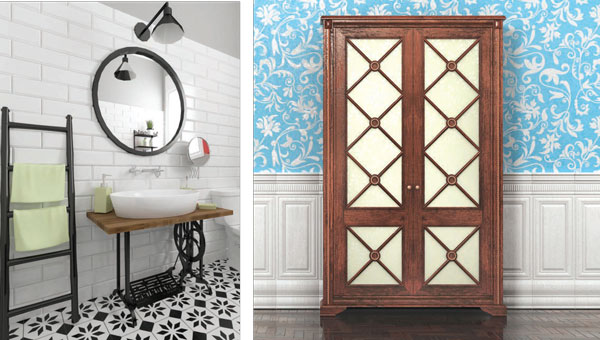 The urge to declutter this time of year is practically inescapable. Spring has officially sprung and with that, we yearn for freshness and simplicity. The desire may seem even stronger these days with the increasingly popular Marie Kondo mantra making its way into our lives. If you haven't heard of her yet (do you live under a rock?), Kondo is a professional organizer and author with a brand-new Netflix series out called Tidying Up With Marie Kondo and she is all the rage right now. Her method involves keeping only things that "spark joy," treasuring what you have and creating displays for you to value each individual object. Perhaps you have a cherished piece of furniture that you truly cannot part ways with, but you aren't quite sure what to do with it. Or maybe you need ideas for making the most of smaller rooms. I'm not here to preach to you about Kondo's ways, but I am here to help you simplify those tight spaces and expand functionality with pieces of furniture that do double duty.
When it comes to furniture in smaller rooms or spaces, built-in storage is an absolute must. There literally isn't room for useless pieces, so each item should have a purpose, or even better, multiple purposes. Ottomans are a great example of versatility in that some open up to reveal a tray and storage space to be used for kids' toys, remotes, video game controllers and more. These are usually pretty lightweight and can be moved around the room easily and used as footrests, side tables, or even extra seating when needed. A pretty and cozy storage bench goes along the same lines by housing blankets, pillows, or shoes, also providing additional seating. Coffee tables can be designed to contain large drawers or hidden compartments to use as storage. Some can even open up to reveal a cooler!
A bookshelf is probably one of the most modifiable pieces of furniture. Of course, it can always be used as intended—to hold books—but there are so many other great ways to organize and display different objects using bookcases. As a media console, store all your movies, music, gaming devices, TV boxes and more. Organize your shoe collection shelf by shelf and allow for easy access by using them in a mudroom, entryway area, or closet A smaller bookshelf could be used as a nightstand and serve as a stylish way to store your bedside needs. For a spalike touch, place a small-scale bookshelf in a bathroom to hold towels and other essentials. A large bookcase could be used as a makeshift wall to divide a room—just pull the bookshelf away from the wall, library-style. Make sure to stabilize and secure bookshelves to the floor or wall to prevent them from tipping and becoming safety hazards.
Make the most out of the furniture you already have and give your favorite heirloom and traditional pieces new flavor by using a little ingenuity and inventiveness. Take the armoire, for example, which usually houses linens, coats, or other clothing in the bedroom. Since most houses are equipped with fairly spacious closets these days, try thinking outside the box and come up with another, more useful, design for your freestanding cabinet. Perhaps it could be used as an office workspace— storing papers, books, file folders, pens and markers and a laptop—that can all be closed at a moment's notice. A chic, vintage wardrobe could be used for extra storage in the dining room.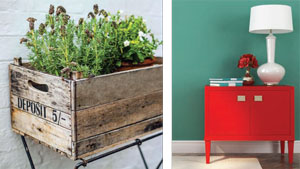 An old bachelor's chest doesn't have to be just for garment storage; a beautiful, substantial chest could be used as an island in the kitchen. Add rear cabinets and a marble or granite top and you've got yourself a new piece of furniture. For a less intimidating project with a smaller chest, install front hinges on the top drawer, slide it out and transform it into a "bar cart" in the blink of an eye.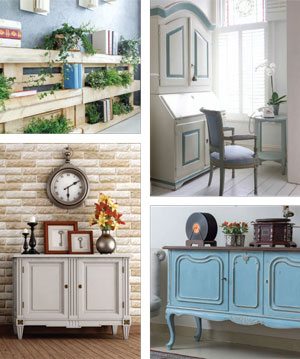 A vintage secretary can also be used as a small bar area. Store an assortment of fancy drinking glasses in the shelf area behind pretty, glass doors and use the desk portion as a spot for a tray filled with bottles and all of the necessities. Add a vase with flowers or a small lamp to give the older piece a pop of new life. The same style of furniture could also be used as a linen closet in a guest room or bathroom.
Perhaps you have inherited dining table that doesn't get much use. Rather than letting it sit there useless, why not push the table up against a wall when not entertaining guests and use it as a desk or office area. You could even make it kid-friendly by cutting down the legs and creating a place for children to do arts and crafts. Dressers are also versatile pieces that can be used for silverware and linen storage, as nightstands, or as television and media consoles.
Now is a perfect time to inventory space and furnishings you already have and evaluate how to best use them. What can you consolidate and simplify? What wasted furniture pieces can be refreshed and brought back to life by simply moving them to a new room and giving them a new purpose? Using a little imagination and mixing things up can go a long way to make every piece of furniture customizable to your needs, yet still "fit" in a fresh way. Make this spring your season to re-think, re-purpose and re-use! ✦
bachelor's chest, bookshelf, built-in storage, declutter, design, heirloom, multiple purposes, Traditional, Versatile Furniture, vintage secretary