Creative Spaces Make a House a Home | Local Realtors Reveal Their Personal Favorite Spaces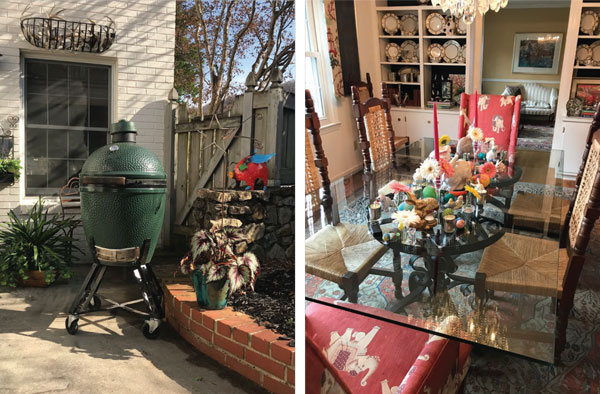 Realtors know houses well and they recognize what makes them unique. Sometimes that means keeping up with the latest trends in kitchens and baths; at times it means identifying the most essential features in a home. Being a Realtor is a vocation for someone who loves houses, so what spaces do they create in their own residence that makes it home?
"I love our location," says Dickie Roe, a realtor with Long and Foster's Electric Road Office. "We moved here 42 years ago and we stayed because we like the proximity to the school." Crystal Spring Elementary School is just a few doors down and across the street. Living in his neighborhood, watching neighbors of diverse age and demographics come and go about their daily lives is what makes South Roanoke a vibrant and busy community. "When we moved here, our oldest daughter was in the first grade, so we appreciated the location as first our children and now our grandchildren can easily walk to the school."
Over the years the Roes added on and improved the home. It was a basic colonial and one of the first things they put in was a large patio. Dickie is famous for his barbeque, logically, the back patio made the perfect place for a grill and a spot to entertain. Then in the 80s, they added an addition to give them a first-floor family room and a spacious master bedroom. Dickie adds, "Last year we updated the kitchen, my wife, Nene did a fantastic job designing it. We love it!"
But more about the grilling, the barbeque and the patio: "For this size house, we have a fairly large patio," Dickie says. He loves to barbeque and has lots of equipment: a grill, a Green Egg, a smoker, as well as oyster tables he built himself. All this gear allows for grilling and preparing the delicious food for which Dickie is well known. Dickie hunts and makes a tempting venison chili—in batches of 15 gallons. His Brunswick stew from a fullflavored recipe requires a slow boil of the chickens and the Boston butts. As early as his twenties, Dickie began treating friends and neighbors to the tasty fare he stirs up on his patio. He even bought a "Pig Cooker" a large barbeque you pull behind a truck so you can roast a whole pig on site. This addition to his arsenal makes his talents a veritable moveable feast he can take to an event or even a little farther afield to the family's beach house!
Cyndi Fletcher with Berkshire Hathaway HomeServices Premier, Realtors, has worked in the real estate field for 28 years; therefore, her perspective on the trends that come and go in home sales and marketing is definitive. A favorite home feature today—that is important to Cyndi also—is entertainment space. With our busy lives, inviting guests to your home for most of us means we want to do something we can plan quickly and efficiently ergo formal living space is less critical. Casual entertaining is what most people embrace, kitchens are a priority and right now the size of these rooms is as important as the finishes.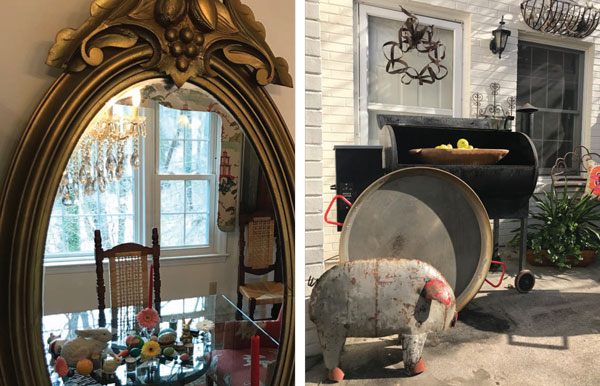 In Cyndi and Jeff's home, they have guests for dinner often so they did something ingenious—they flipped the living and dining rooms. Now they have a stylish and chic room arrangement where the deck is right off the dining room. They start with cocktails al fresco and move into the dining room for the meal. Cyndi loves to fix a beautiful spread replete with a fantastic flower arrangement and exquisite china that complement the season. She is known for her unique and award-winning flower arrangements, so the table setting is as eye-catching as the meal. With three silver patterns and two china and crystal patterns inherited from both families, Cyndi's dinners are spectacular events. They are uncomplicated, but elegant affairs that last for hours as they all sit around the table and talk after a delicious meal.
Cane and wooden carved chairs from Jeff's family surround a glass table with a black iron base. The large crystal chandelier came from Cyndi's mother, Gran Ruth; it hung over her dining room table. Cyndi has fond memories of the lights through the crystals shining on family dinners where family and friends lingered around the table to talk after the meal. Cyndi hopes to pass these traditions on to her children and it looks like she has. Her son Will wrote about his New Year's Day memories in a post this year, "One of the distinct smells of my childhood was collard greens and black-eyed peas in my Mom's kitchen every New Year's Day. I'm doing my best to make sure Elizabeth (Cyndi and Jeff's first grandchild) has similar memories, although I'm not sure my cooking will ever be as good as my Mom's. Here's to a great 2019!" Well said. Creating memories and traditions is an excellent way to connect one generation to the next. Family recipes, china and heirlooms can link the past to the present. Let's hope these small details stay constant as they, along with the creative spaces we craft to distinguish them, give unique touches that make our dwellings truly a home. ✦
Barbeque, Casual entertaining, creative space, design, diverse age and demographics, South Roanoke, trends