Ultimate Outdoor Kitchens: Cook, Dine, Entertain Al Fresco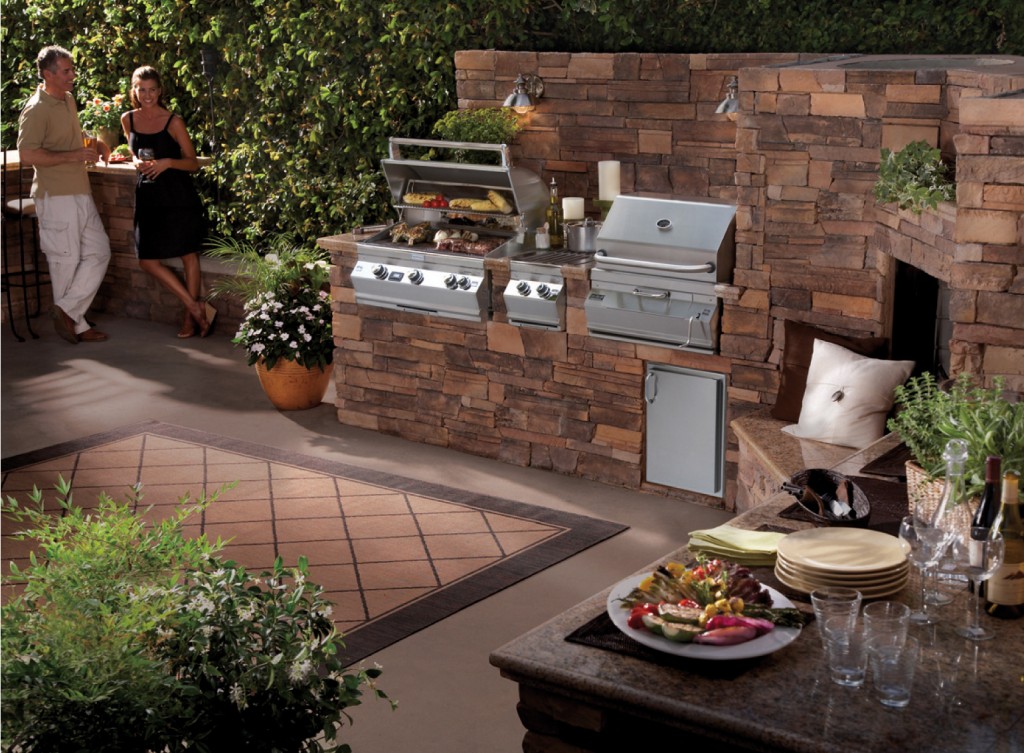 There is no doubt about it: food tastes better when it is cooked outside. But the days of struggling with charcoal briquets on a tired old grill in a remote corner of the yard are over. Today more and more homeowners are upgrading their backyard grills to full-on, all-out outdoor kitchens.
Outdoor units can be as simple as a small built-in grill fired by charcoal or a propane tank to an entire kitchen complete with a dishwasher, sink, multiple refrigeration units, and more. Entire meals from soup to dessert can be prepared, served and cleaned up in these outdoor kitchens. They are self-contained units.
What attracts a homeowner to an outdoor kitchen? There is the satisfaction to being able to invite friends and family to your home and enjoy an outdoor meal. Plus people want to take advantage of their time at home. They are following styles they see in their travels across the country. And according to Alan Wilkerson of Vinton Appliance, "Guys like to grill, and outdoor living is the growing trend."
When the housing boom slowed down, the interest rates dropped and people refinanced their homes. Today homeowners are spending more money on their own homes to upgrade their living space. One added incentive: the installation of an outdoor kitchen also helps the resale value of a home.
"Outdoor kitchens are the rage right now," says Lindsey Johnson of Ferguson Bath, Kitchen and Lighting Gallery, with showrooms locally in Roanoke, Smith Mountain Lake, Lynchburg and Blacksburg and retail locations in all 50 states. Johnson explains that destination vacations have been replaced with making the destination home. Instead of spending money to travel to a luxury spot, spending time at home and in the backyard becomes the actual vacation.
Ferguson's Lynchburg showroom recently added a complete outdoor kitchen to their location, giving homeowners a chance to see up close the wonders of a fully equipped outdoor unit. It includes ample cooking space as well as a sink, refrigeration units, dishwasher, television and speaker system. Johnson points out that having all these components "keeps everyone in one space." During a typical picnic hosted by a couple, you will likely find the man outside working the grill, and the woman inside preparing the rest of the food. The outdoor kitchen brings everyone together.
According to Johnson, the first step when considering an outdoor kitchen is to locate a landscape designer. A qualified designer knows what is important in the planning and layout phase of the project as well as understanding the local building code requirements. Permits must be filed, and the work is subject to inspections, just like any other home building project.
Designers can also help homeowners keep an eye toward future expansion, since you can run into problems if you don't think ahead. For example, when initially installing an outdoor kitchen, a swimming pool or other outdoor feature may not be part of the design. At this initial phase, keep options open so there is room later to include a pool and patio area. By using the experience of a landscape design firm, homeowners can design an area that is functional today and can easily be expanded upon later.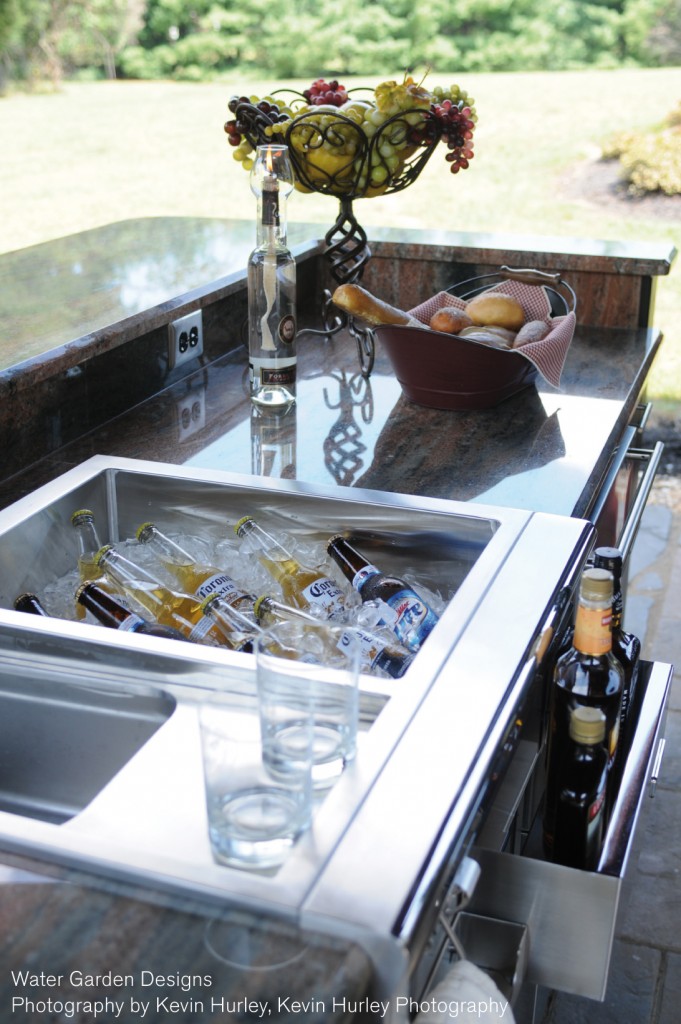 Norman Tharpe of Water Garden Designs by Tharpe Landscaping Company has installed outdoor kitchens all along the East Coast. He explains that location is a major factor in the equation of outdoor kitchens. His advice is to be sure it is accessible to the main house. The further the outdoor kitchen is situated from the house and household appliances, the more you'll need additional appliances in your outdoor design. The project "should not be an afterthought," says Tharpe. "It should be useable, convenient, and aesthetically pleasing." The design of the outdoor kitchen unit should also match or complement the exterior of the home.

Choosing Appliances, Options
Consider your lifestyle when planning your outdoor kitchen. Are you the kind of family who wants to rough it a bit when you are camping, or would you prefer a motor home with all the comforts of home? If you add too much, you may lose the fun of an outdoor kitchen. However, those who count on all the amenities of indoor space outdoors may want to include the freezer, icemaker, television, music, and even misters for insect control.
Outdoor appliances, according to Lindsey Johnson, must be outdoor certified. Tharpe recommends using the best quality craftsmanship and appliances possible. "They must be able to withstand whatever the weather brings," says Tharpe. Use heavy-duty and commercial-grade appliances. For cabinets, reinforced stainless steel holds up well, as do certain types of marine-grade polymer materials. Use natural stone and masonry for flooring and countertops. It is important to make them as low-maintenance as possible.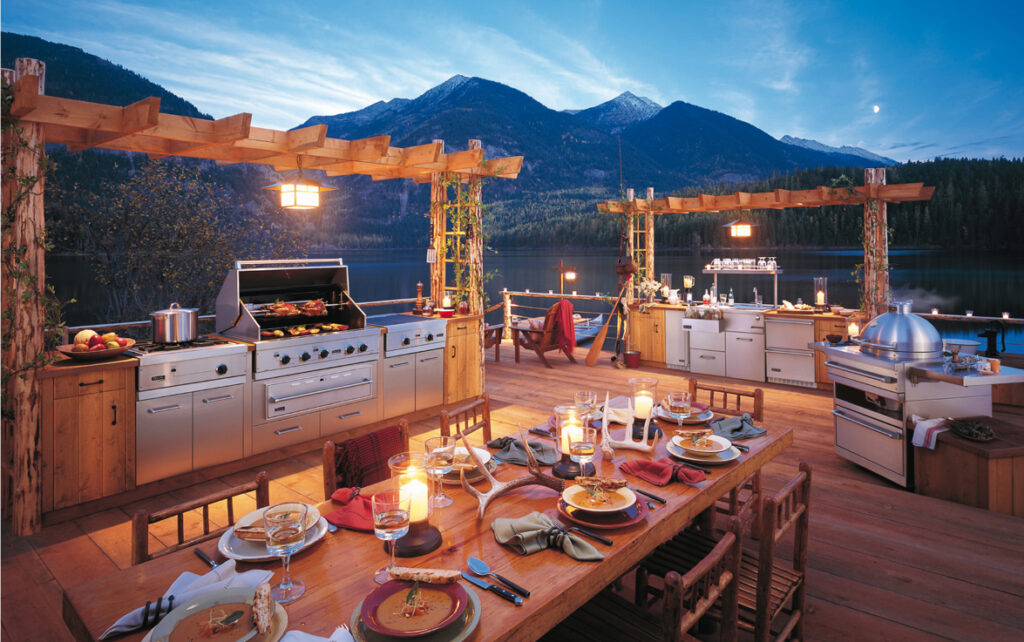 Vinton Appliance's Alan Wilkerson points out that today homeowners not only want beautiful indoor kitchens but well-planned outdoor kitchens. Vinton Appliance carries a large selection of outdoor appliances ranging from grills, warming drawers and ice machines to cabinetry. When planning an outdoor space, homeowners need to consider what appliances they would use the most; while the choices are limitless, think carefully about what is really necessary and what can make the outdoor kitchen extra special.
Whatever is available for an indoor kitchen is also available as an outdoor appliance with an outdoor rating. Cold drink dispensers hold and refrigerate a small keg of beer to be served directly on tap. Some grills will sear or blacken meat and fish and even turn meat over when it is ready. There are warming drawers and refrigerator drawers to keep everything at your fingertips. Fire pits provide ambiance plus a place to roast some marshmallows. Outdoor chimneys offer a spot to stay warm, and a pizza oven provides perfect conditions for baking that homemade pizza. Misting machines that run on timers spray a fine, cooling mist of water mixed with organic oil of St. John's wort to deter insects.
Some sort of shade or cover for protection from the elements is essential. A solid roof or an awning are both effective solutions. Overhead fans help keep the air moving and outdoor-certified lighting fixtures provide lighting and ambiance. Speakers with docking stations for iPods and even televisions are added features that make the area particularly ideal for entertaining. In your space planning, you should also consider if you'll want to dine outside, and how to place the dining furniture in the space.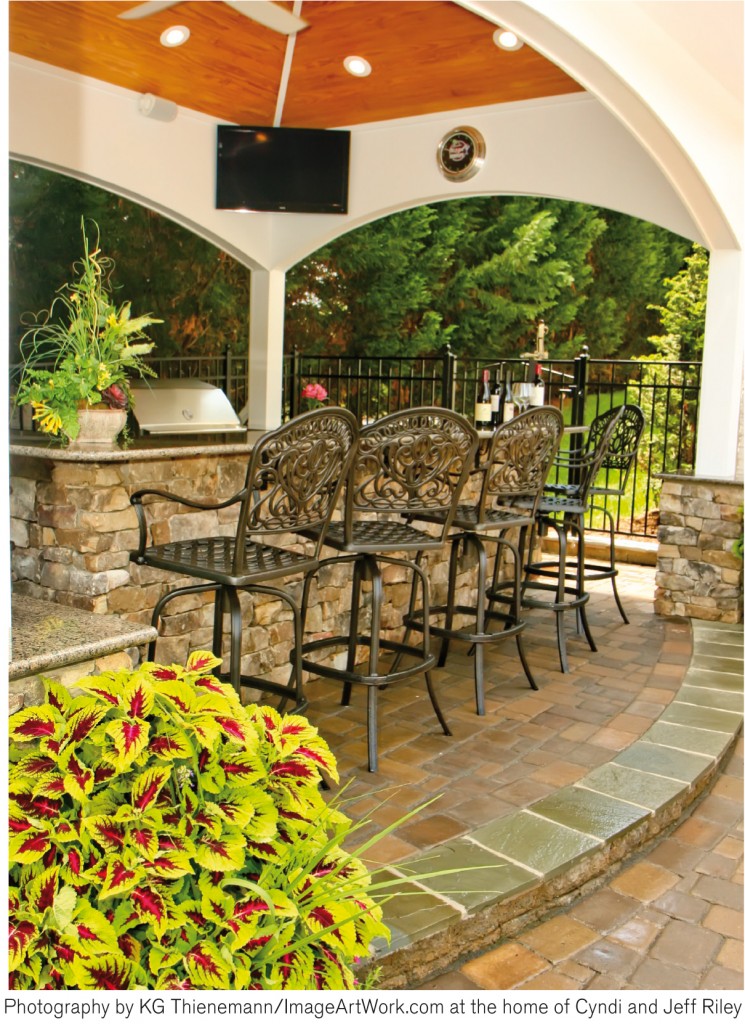 Local Couple Enjoys Outdoor Kitchen
Cyndi and Jeff Riley already had patios, a pool house, a swimming pool and a water feature. To complete their outdoor space they installed an outdoor kitchen in one corner of their patio. They asked Mark Maslow of Southern Landscape Group to help them with the project. "The Rileys had an idea and we developed a plan that included all of its elements," says Maslow.
According to Jeff Riley, "We like to be outdoors." Cyndi adds, "Jeff is the grill master and we wanted a nice area where we could grill." Family and friends can gather around while the meal is prepared.
The couple looked at many plans before they came up with their design. Comparable to an indoor party where everyone congregates in the kitchen, their outdoor kitchen had to be designed so it is not only functional for the cooks but accessible to the guests. A long stone countertop easily seats eight and looks directly into the cooking area. The countertop forms a frame around the kitchen, and a roof provides shade and protection from the elements. A ceiling fan keeps smoke from settling and provides an even air flow.
Inside the kitchen, the couple decided to keep things simple. A small built-in refrigerator, a sink, a grill, and storage cabinets provide all of the necessary elements for a functional kitchen. The couple plans to add a warming drawer to keep side dishes hot while the rest of the meal cooks.
With the counter space and additional poolside tables, the area easily seats 24 guests. Cyndi points out that they have a large extended family and the outdoor kitchen is perfect for entertaining them. In fact, it was ideal for hosting a prom party this past spring for their daughter.
According to Mark Maslow, outdoor kitchens are not a do-it-yourself project. "Designers think about certain things that homeowners don't," he says. Sun exposure, drainage and space requirements are just some of the concerns that can easily be neglected in the planning stage. This type of project calls for a licensed professional to complete a quality job.
Easy, convenient and functional: This is what homeowners look for in their outdoor kitchen designs. As Maslow points out, "If you properly plan and design a project from the beginning, the outcome will be on time, on budget and with the quality that the customers expect."