Trish Roth
BEING A PART OF JAMES RIVER MEDIA AND JOINING FORCES WITH WLNI WILL PROVIDE OUR ADVERTISERS WITH ADDITIONAL RESOURCES TO EXTEND THEIR REACH AND BROADEN THEIR AUDIENCE THROUGHOUT THE ROANOKE VALLEY AREA.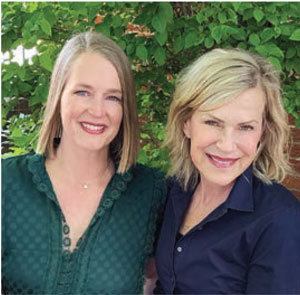 Over a year ago, HOME magazine publisher Julie Pierce met with Rich Roth, president and general manager of James River Media (JRM), to discuss the idea of a home and garden radio show to feature HOME on Lynchburg's local talk station, WLNI. After multiple conversations, Julie asked, "Rich, why don't you buy HOME?" An idea was sparked and ultimately JRM purchased HOME in April of 2022. It was extremely important to Julie that HOME's new owner carry on her vision for the magazine.
"HOME magazine has been a part of me for 15 years and will always have a huge piece of my heart," says Julie. "I've met so many amazing people and cherish all the friendships I've developed along the way. I'm confident JRM will continue to provide our readers with quality content full of ideas and inspiration, as well as showcasing local businesses and experts who can help homeowners implement their ideas. Having Trish on board will ensure a unified transition."
So let me introduce myself, I have lived in central Virginia for over 25 years and currently reside in Forest with my husband and two sons. In my spare time, I enjoy hiking with our dog Piper, tending to our koi pond and garden, watching our boys play lacrosse, and baking vegan treats for my family and friends! I have been a part of HOME since the beginning, early on as an ad designer, then as the art director. I'm honored to return as HOME's publisher. HOME has always been an elite and upscale publication that I am proud to have my name on. Being a part of James River Media and joining forces with WLNI will provide our advertisers with additional resources to extend their reach and broaden their audience throughout the Roanoke Valley area. Julie and I will be working closely together on a seamless transition as we continue to produce your go-to resource for all things home and garden. Thank you for reading, and here's to the future at HOME!
Trish Roth, Publisher