New Arrivals | A Young Family's First Home
Photography by Kathryn Feldmann
Allison and Matthew Parry arrived in Roanoke in late 2017 from Los Angeles. Matthew, a neuro-radiologist fresh out of training with a new position at Radiology of Associates of Roanoke and Allison, a physician's assistant who was then expecting the couple's first child, chose Roanoke very deliberately. "After LA, we were ready to return to the East Coast," Allison says. "Roanoke is the perfect-size town. It's close to family, has lots of opportunities to do things outdoors, and it just feels like a great place to raise a family." After long years of training, Matthew and Allison were excited to purchase their very first home. With a baby on the way, time was of the essence, so in May 2018, after several months of looking, they found the perfect spot: a 1929 Tudor in the heart of idyllic South Roanoke that only had two previous owners. "We found it almost by accident," Allison says. "It had been for sale by owner, and we weren't even sure if it was still for sale." As luck would have it, the owners were still interested in selling, and Allison and Matthew settled the deal with handshakes right in the home's kitchen. The couple's first daughter, Katherine Grace, was born a few months later.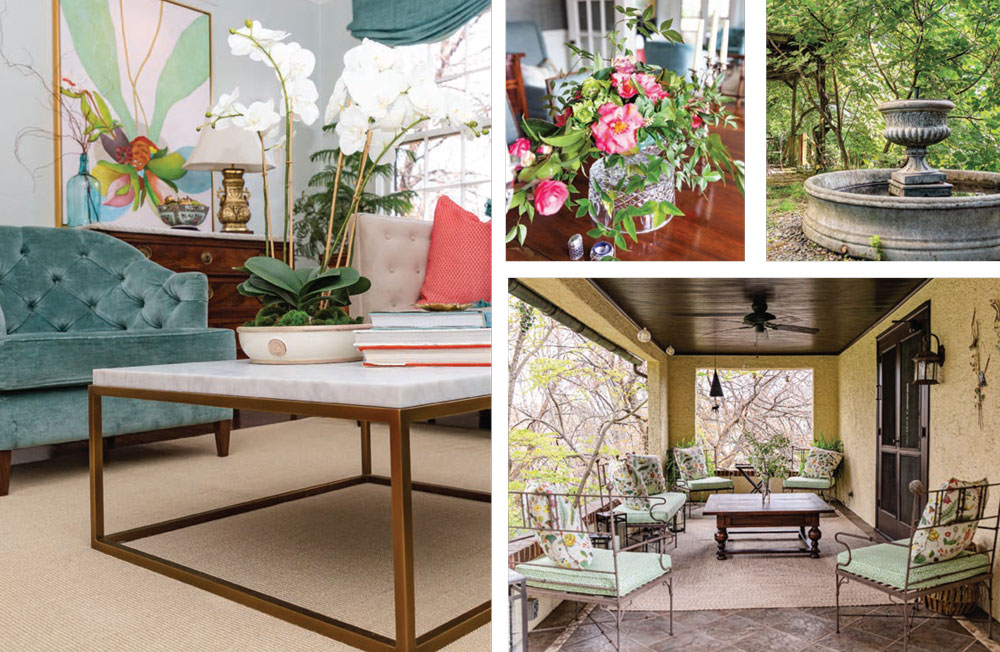 Since settling into their own home, Allison has stepped away from medicine and focused instead on parenting and designing a home that feels welcoming and comfortable for the young family and their friends. The couple hired Dovetail Design and Cabinetry of Charlottesville to help them update the home's dated kitchen, and Stone River Contracting to update a bathroom and rework a partially finished basement to suit their needs. "Stone River was amazing," Allison says. "We sometimes joke that we need to buy another house just so we can work with them again."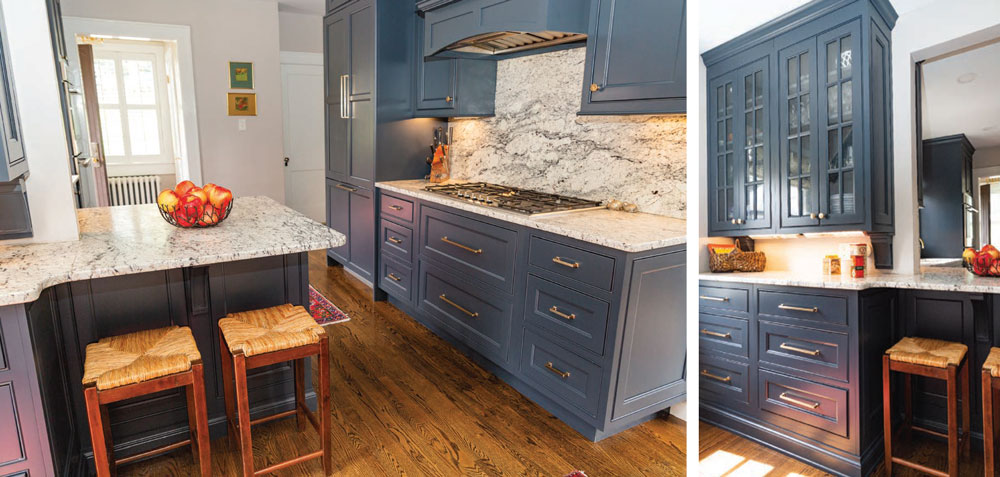 The kitchen project involved removing a wall, and replacing all the cabinetry, appliances and flooring. "Since this is a Tudor house, I just couldn't see a classic white kitchen here," Allison says. "It didn't feel right in this house. We just decided to embrace the darkness." Allison indulged her love of inset, colored cabinets, using customized Wellborn Cabinetry in a shade called "Bleu" which provides contrast to the deep red area rugs and white countertops. The Thermador dishwasher and refrigerator are also faced in cabinetry. "Because it is a smaller kitchen, we decided to cover as much as we could for continuity's sake," Allison explains. "It's still a small kitchen, but it is very functional." Premier Stone Fabrication in Salem fabricated and installed the white leathered granite countertops in the kitchen and adjoining eat-in area.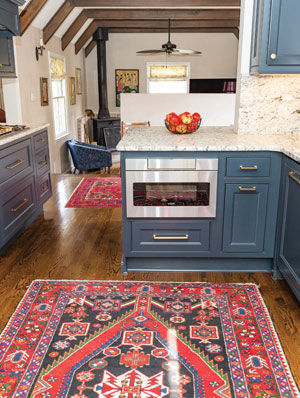 Beyond the kitchen, a few steps down lead to a sunken seating area the Parrys call "The Cozy Room." The arched, wood-beamed ceilings, the woodstove, the comfortable leather furniture, not to mention the large flatscreen TV are all giveaways that this is indeed where the family spends a great deal of time. It's perfect for movie night or a peaceful evening around the woodstove. Allison has hung an heirloom sketch of Trinity Episcopal Church in New York City, and her own favorite Jon Serl painting called "Procession," an oil on canvas from the Cavin-Morris Gallery in New York City. The woodstove surround was updated by Allison and her mother, Katherine Bullis McCutchen, using a process known as "German Schmear": a technique to enhance the mortar joints by spreading diluted cement-based mortar over the brick to give it a more rustic yet updated look.

The Parrys enjoy entertaining, and Allison has transformed what was once a dark-painted and heavily carpeted living room and dining room into rooms that exude an airy, understated elegance, where antiques and family heirlooms cheerfully coexist with more contemporary pieces and blooming houseplants. "I gravitate towards 17th- and 18th-century antiques, but I think there needs to be a balance." Allison says. "A house feels heavy when it is too antique-y. I prefer to mix it up with modern pieces—something with cleaner lines—to keep it contemporary. I think it makes the antiques show up better and gives a room a more curated look once you do pull in antiques." Her approach gives these rooms a unique stamp: a casual blend of styles that work together to create a room that feels both refined and comfortable.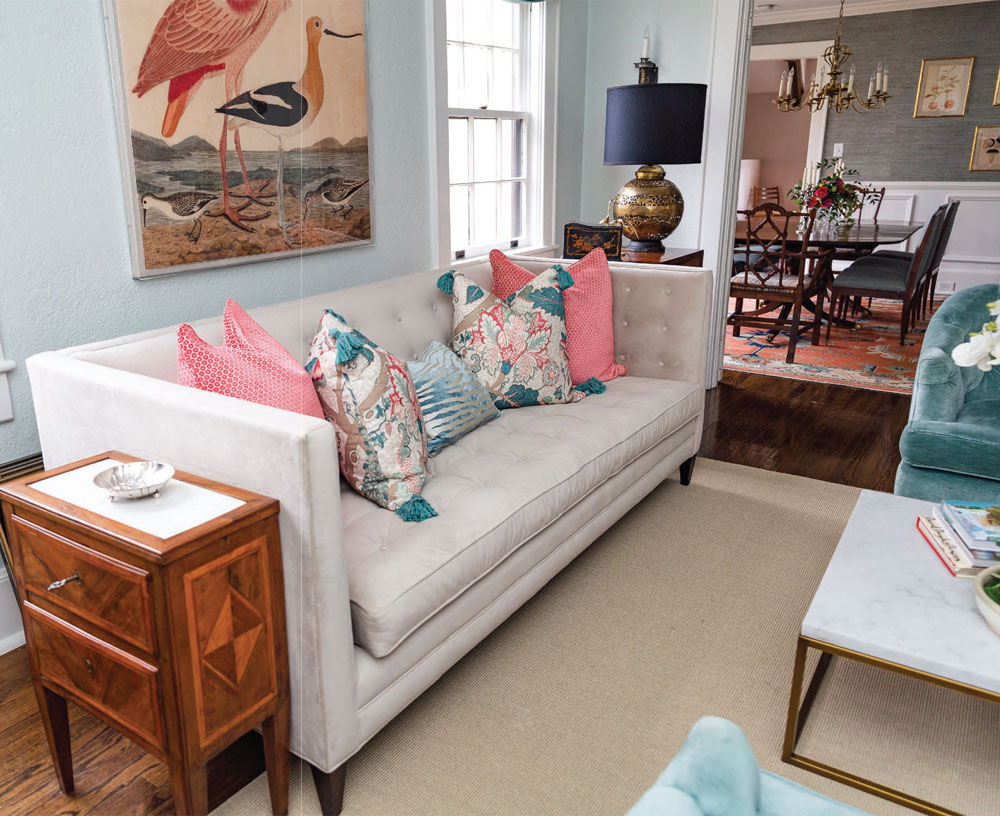 In the large living room, French doors open onto a generous covered porch overlooking the verdant backyard. A baby grand piano sits in the front window. Allison's great grandmother, who lived in China, has passed along many of her Asian antiques, including the carved jade tree which stands just inside the front door, the foo dog sculptures on the mantelpiece, and a large collection of rose medallion china. The contemporary tufted sofa with cushions in teal and coral patterns ties together the teal linenvelvet chairs which Allison used as a starting point for her design in this room. Allison tends to gravitate to colors of teal and coral, she also loves integrating bird motifs and other natural elements such as botanicals and live plants. Above the sofa hangs an American Audubon Society spoonbill print in a Lucite frame. An abstract oil by Jean Cauthen from LinDor Arts hangs above the piano, and a Whitney Alley above a 17th-century marble-topped chest. Allison is always on the lookout for special pieces. The chest was found at Enchanted, one of her favorite antique stores in Lynchburg. The large inlaid chinoiserie chest and intricate lacquered "makeup box" were estate sale finds. "My mother and I spotted them together, and she said, 'If you buy that chest, you must buy the box too!'" Allison recalls. "She's right. They look perfect together."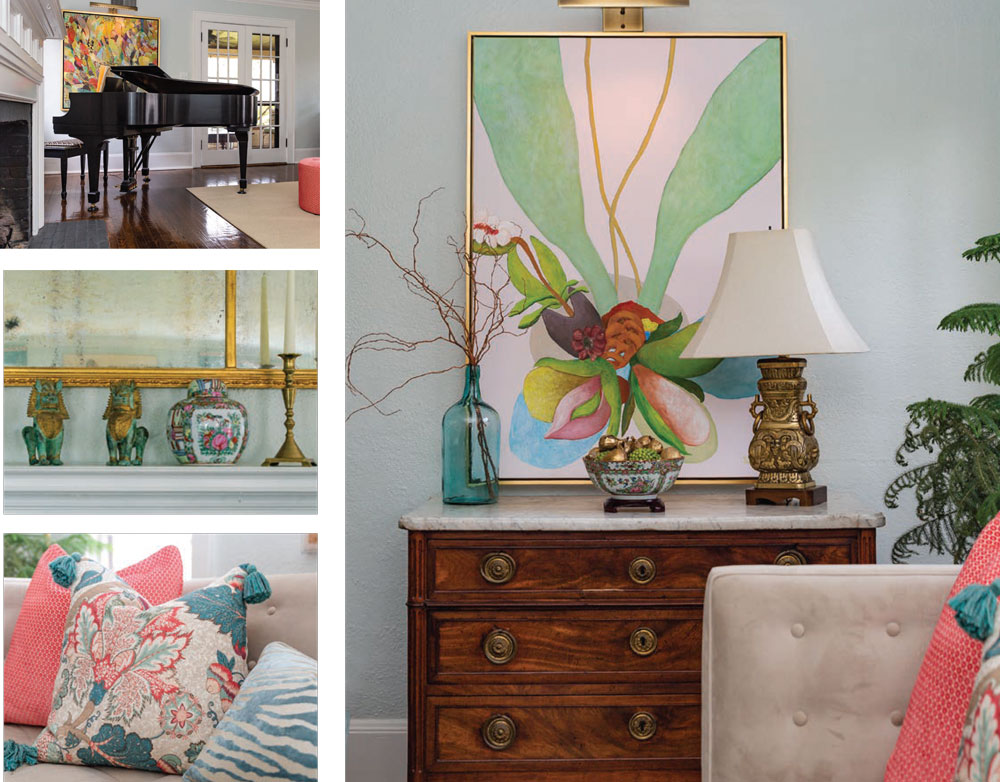 With its Oriental carpet, antiques and silver, the dining room exudes a classic traditional feel. The Parrys added a ceiling medallion and a brass antique chandelier, wainscotting, and teal metallic grass cloth by Thibaut Design. Simple linen panels dress up the double windows without obscuring the view of the back yard. Allison chose a Samuel and Sons geometric tape to embellish the window treatments; the coral and teal colors provide continuity with the dominant colors in the adjoining living room. The sideboard, where Allison displays her heirloom silver, is another 17th-century English piece from Enchanted, and the table was imported from England. Allison deliberately mixed chair styles around the table: 1940's midcenturymodern side chairs from France, and armchairs in a Chippendale style, all with upholstered seats in coordinating fabrics. The botanical watercolors, found in an antiques store in Los Angeles, are originals from the 1600s.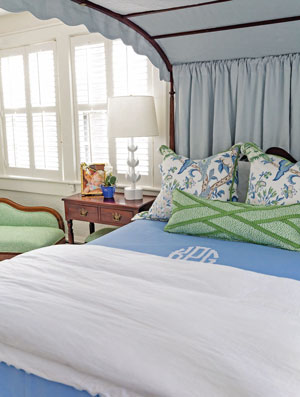 Upstairs, the home offers two full baths and three bedrooms. A primary bedroom, a nursery for newborn Anne Clark, and the room Allison has recently designed especially for three-year-old Katherine Grace. "With the new baby's arrival, I put most of my design energy into Katherine Grace's room. I wanted her to have a real 'big girl room,'" Allison explains. "I liked doing color other than pink, so I chose fabrics that were light and fresh and bright. My aim was to make it appropriate for her now, but also make it a room she could grow into." The room has a bright feel with clean white walls, plantation shutters on all windows, and textiles in cool shades of blue and green. Allison commissioned a painting by Maria Driscoll which complements the sconces and bedside lamp. The mahogany furniture originally belonged to Allison's great-grandmother and has been handed down through her family. The canopy bed sports a Jacobean-patterned fabric on the bed skirt and coordinating pillows that are offset by the solid Wedgewood-blue monogrammed bedspread, custom-made by Katie Peters and India Atkinson, co-owners of Shelter Sewing Studio. The leaf-green chaise lounge was given new life by local upholsterer Geobany Lemus-Nolasco of Geobany's Upholstery.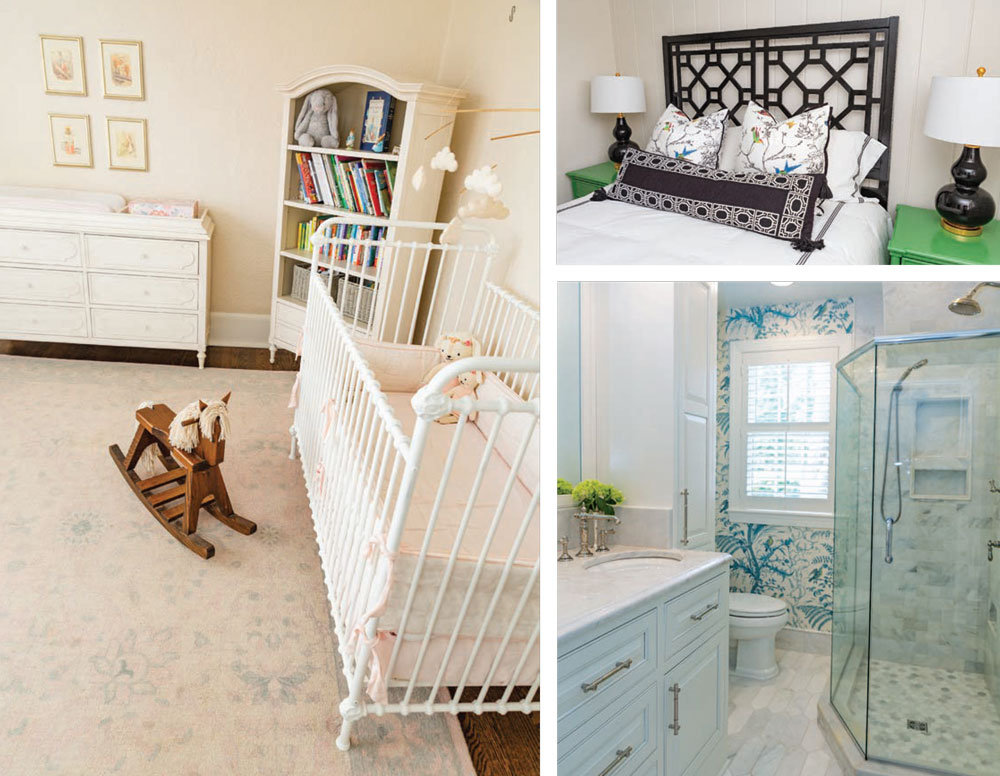 Anne Clark's nursery, in contrast, is a study in neutrals. The furniture is painted in a creamy white, with linens of lightest pink. A large plush Oriental rug with a muted pastel pattern fills the room and provides a soft place to play as baby grows. The upholstered rocker in the corner is a cozy spot for bedtime stories and nighttime feedings.
The house, like many homes of its era, provided housing for live-in help in the 1920s and 30s. In this case, because the home has a walk-out basement, the underground space was intended as a rudimentary bedroom and bath, plus a laundry and a garage. Allison and Matthew have renovated the space to be a playroom for their girls, as well as a guestroom, utilized mostly for Allison's mother who visits frequently, and they've preserved—though updated—the laundry. The walls were painted, new tile flooring went in, and all toys were relocated to the play area at the bottom of the steps. "People sometimes visit and say it doesn't look like children live here," laughs Allison. "But it's that I really want my girls to share and to think of toys as something they own together."
Allison is especially pleased with the way the guestroom has turned out, even though it took reconfiguring a wall so that the bathroom could be updated. With large windows facing the back yard, the space is comfortable and inviting, bringing colors of the outdoors in with bright green side tables and botanical prints. The bed, with its geometric, black-enameled headboard, sports a duvet in Schumacher's "Birds and Butterflies." Shelter Sewing Studio did all the custom sewing in the bedroom and in the en suite bath.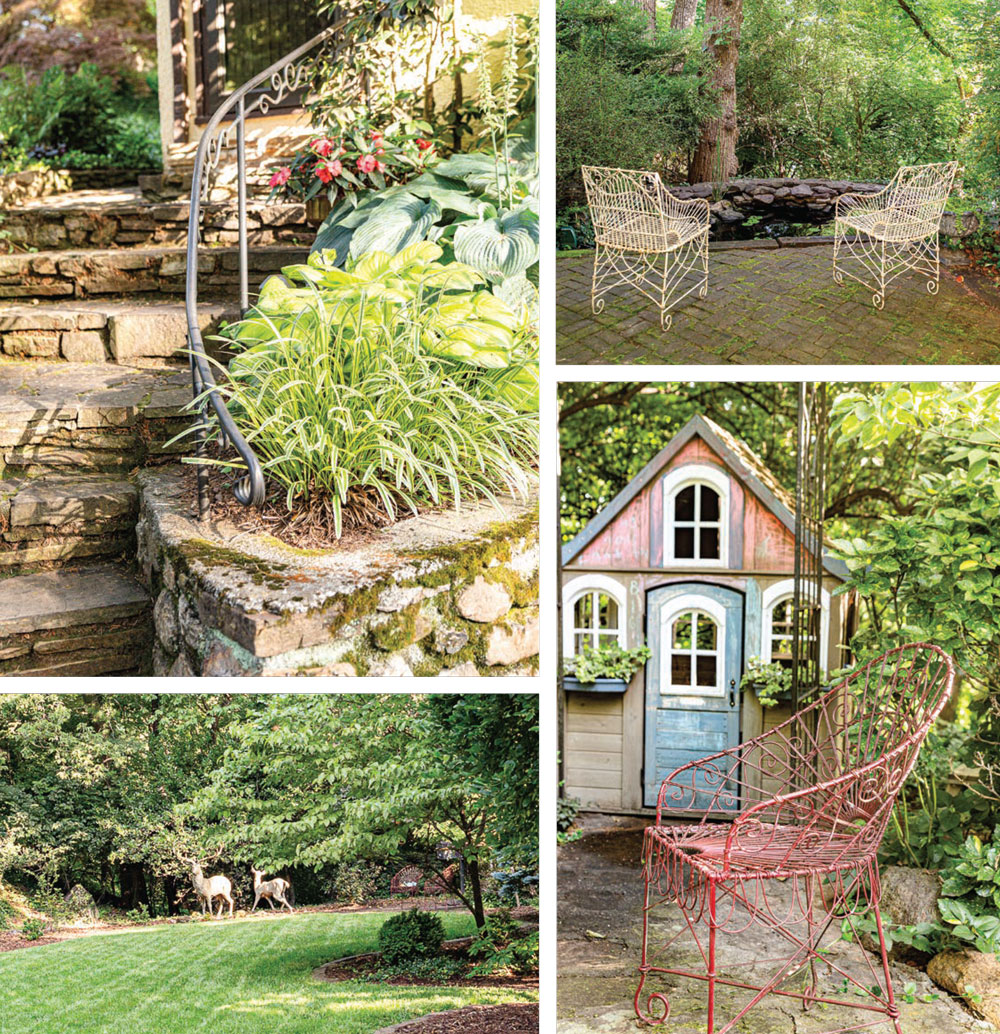 The house is situated on a gently rolling hillside, and the Parrys were fortunate to inherit a yard that was carefully cultivated and lovingly cared for. There is lots of old stonework: paths, retaining walls, even a fishpond. Mature plantings abound. Tucked in throughout the yard are specimens of camelias, holly, and a star magnolia, and lots of lushly blooming hydrangeas. "The yard was probably one of the things that sold us on this home, and my mother is also passionate about gardening and has helped a lot with design," Allison says. A grassy flat lawn extends away from the driveway, and at the far point, stand two statues of deer: a doe and a stag that Allison and Matthew purchased at a local estate sale and relocated to this perfect spot. Unfortunately, Allison admits wryly, the deer sculptures have not done much to deter the real thing.
Four years in, and the Parrys have transformed their nearly 100-year-old home, making improvements and updating its look. They've made other transformations as well, as they welcomed not one, but two daughters. It's the first home they bought as a couple, but now have filled with the joy and bustle of family life. "We knew we loved this house when we first saw it, and I like to think we have improved it," Allison says. "I do know it is the perfect place for us. It's where we became a family." ✦
"German Schmear", 1929 Tudor, cabinetry, canopy bed, covered porch, fishpond, French Doors, large windows, paths, plantation shutters, retaining walls, South Roanoke, stonework, sunken seating area, walk-out basement, wood-beamed ceilings, woodstove