The Big Chill
THE COLD, HARD TRUTH ABOUT REFRIGERATORS
Thinking of replacing an aging refrigerator? Or choosing one for a new home build or kitchen remodel? With the kitchen typically the hub for the waking hours spent in a home, picking just the right chiller is key to how well a home works for its residents.
Refrigerators have recently evolved substantially from the once-standard freezer-on-top design. Side-by-side models came along to meet the demand for more eye-level shelves and easy access to chilled water and ice without opening a door, thus keeping refrigerated air inside the box. Typically between 33 and 36 inches wide, they offer up to a claimed 29 cubic feet of storage capacity. According to Consumer Reports, however, usable storage space for any fridge is usually 10 to 15 percent below what its manufacturer claims due to shelves, ice maker and other special components that take up inside space. And while a side-by-side's narrow doors are a plus for smaller kitchens, the tall, slender compartments can make items that migrate to the back hard to find. And the doors can be just too narrow to satisfy some buyers.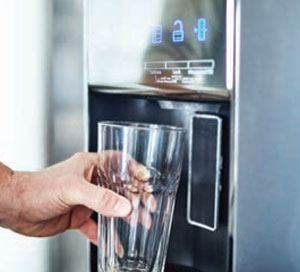 What buyers want
"People are buying the largest refrigerators they can squeeze into their kitchens," says Jeff Janney, owner of Vinton Appliance. "Models with a full-width freezer drawer at the bottom are the rage, with the eye-level fresh-foods space behind a pair of French doors, each wide enough for pizza boxes and serving trays."
One new innovation, he notes, is a "soft freeze" drawer between the fresh foods section and freezer compartment. "Temperature there is individually controlled — for keeping beverages and snacks a bit colder than the regular refrigerated space would. And opening it lets a minimum of chilled air escape."
Janney also points to "fingerprint-resistant" stainless steel finishes as a very popular innovation. This addresses the major complaint about original stainless steel, he explains, "…which seemed to need cleaning almost daily and required WD-40 or a similar product to get the job done. The newer stainless finishes go weeks between polishing."
Other technology innovations include phone-controlled Wi-Fi connections, see-through door panels, in-door video screens — perhaps handy for accessing YouTube food prep videos — and "smart" fridges that purport to keep track of their contents, help prepare a shopping list and even place an order online. Hmmm … that last one sounds like an invitation to set up frustrations and future repair bills, but perhaps a fun capability to brag about for those who value tech supremacy.
"We don't push the really high-tech options due to servicing issues," Janney cautions.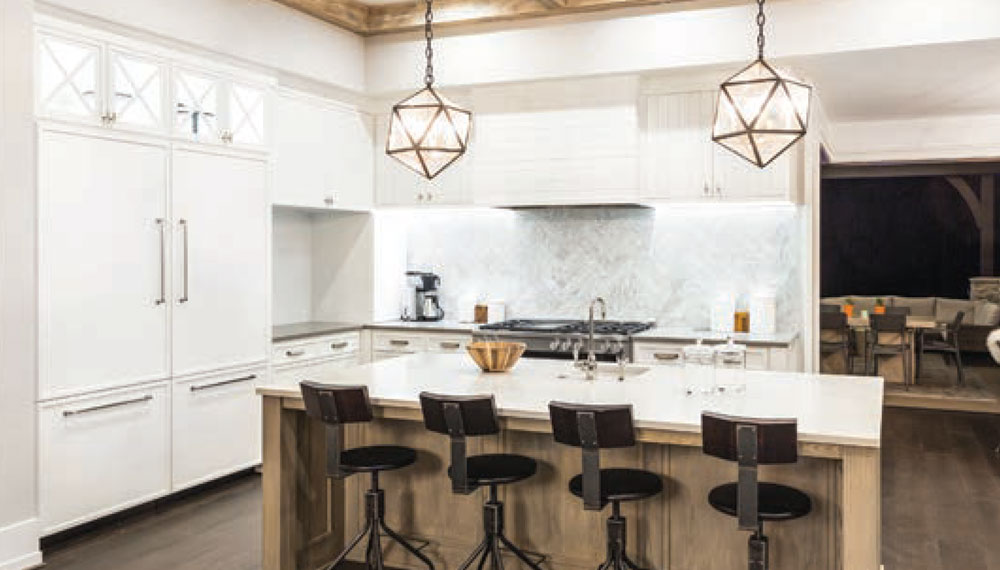 Built-in refrigerators
Made to fit flush with cabinets and counters, built-in refrigerators come in bottom-freezer, side-by-side and French-door styles. Pricey, they are usually tall (upward of 85 inches) and wide (up to 48 inches), with claimed capacities of 29 cubic feet and more. Some come ready for front panels that can make them seem to disappear into the kitchen cabinetry. Another built-in option is a column refrigerator, which forgoes a freezer compartment to maximize fresh-food storage and is typically paired with a matching freezer unit.
Buyers designing spacious gourmet kitchens may wish to consider commercial-grade Sub-Zero units—beginning around $7,000 in either their traditional stainless steel or "panel ready" option for the ultimate built-in look.
A refrigerator is a significant purchase these days, so it's wise to shop around before taking the polar plunge. Consumer Reports offers a Refrigerator Buyer's Guide that summarizes their independent test results. ✦
HOW TO KEEP YOUR FRIDGE CLEAN
Use these tips from The Home Depot to get started with your refrigerator spring cleaning.

STEP 1: Unplug the refrigerator, which saves energy while doors are open. If you are cleaning the freezer section, let the walls warm while working on the fridge section.

STEP 2: Remove all food, putting the most temperature-sensitive items into coolers with frozen foods as "ice." Toss outdated leftovers.

STEP 3: Remove drawers and shelves; wash them with warm water and dish soap, rinse and dry.

STEP 4: Use a vacuum to suck up crumbs and other loose debris.

STEP 5: Use an all-purpose cleaner or cloth soaked in baking soda water to wipe down all inside surfaces. Baking soda paste will loosen caked-on spills and tough stains.

STEP 6: Give surfaces a final wipe-down with baking soda water. Allow to dry. Wipe off top surface.

STEP 7: Replace washed and dried shelves and drawers.

STEP 8: Plug in unit and place food back inside, reorganizing as needed.

STEP 9: Close doors, then clean and polish outside surfaces and handles.

Note that it is wise to periodically pull your refrigerator out of its niche, vacuum the floor underneath and any exposed coils. Be sure fridge is unplugged while cleaning coils, compressors and any exposed wiring. ✦
built-in refrigerators, commercial-grade, fingerprint-resistant stainless steel finish. stock refrigerator, French-door models, in-door access, Refrigerators