The Art of Crostini | Make Your Next Party a Masterpiece
With the air turning crisper comes the intoxicating idea of holiday parties, putting many of us in partyplanning mode. Creating an inventive and beautiful menu can be daunting; the internet is flooded with recipes that look gorgeous in Instagram photos, but often fail the flavor test. But I got you! You will not have a "Pinterest fail" with these recipes.
We all want the perfect party, but it does not have to be overly complicated. I venture to say that many can remember their parents' parties, where kiddos were sent to play quietly while the adults reveled in "fancy" things long into the night. I remember sneaking smells and swipes of food while dreaming of the day when I could host my own fancy party. These are not your mother's cocktail wienies on toothpicks. This is table art that will delight your guests' eyes and make their tastebuds dance. Crostini are perfect party food—gorgeous, easy and beyond delicious.
THE PERFECT CROSTINI
Start the "canvas" with this recipe. Adjust for how many guests you are feeding and top with endless possibilities!
1 baguette (about 10 ounces, about 50 to 60 slices)
¾ cup extra-virgin olive oil
Coarse kosher salt and freshly ground pepper
Preheat oven to 350. Slice baguette ¼ to ½-inch thick crosswise and on a slight bias. Arrange on two large baking sheets and brush both sides with oil. Season with salt and pepper. Bake until crispy and lightly golden, rotating sheets halfway through, 15 to 20 minutes. Top crostini with desired toppings. If not using immediately, store at room temperature for up to 1 week in a resealable bag or container.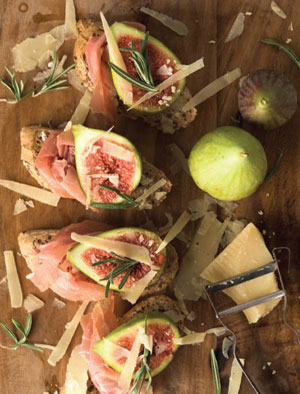 MANCHEGO, CRANBERRY "BUTTER" AND ARUGULA CROSTINI
Manchego is a classic sheep's milk cheese originating from Spain. It is salty, buttery, and tastes amazing with the sweet tartness of cranberry. Top with peppery arugula and you have hit all the right strokes.
½ baguette (30 slices, prepped per recipe)
1 cup cranberries, frozen
1 cup brown sugar
1 jalapeno, seeded and finely diced
1 cinnamon stick
⅛ cup water
30 slices of manchego, about ¼-inch thick
2 cups loosely packed arugula
TO MAKE CRANBERRY BUTTER: Place cranberries, brown sugar, jalapeno, cinnamon and water in a heavy-bottom saucepan. Cook on medium until the cranberries thaw and start to pop, about 10 to 15 minutes. Stir frequently. Remove from heat and discard the cinnamon stick. Blend the mixture with an immersion blender or food processor. Return to the stovetop and heat on medium until thickened, about 10 minutes. Stir frequently. If not using immediately, transfer to sterile jars and cool. Store in refrigerator until ready to enjoy. Once opened, leftovers can be kept up to 1 month in the refrigerator. Unopened leftovers can be refrigerated up to 1 year.
TO ASSEMBLE CROSTINI: Place a dollop of cranberry butter on each baguette slice and top with manchego. Garnish with arugula.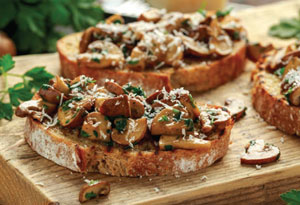 MUSHROOM AND SHALLOT DUXELLES WITH SHAVED PARMESAN CROSTINI
With a classic French duxelles, nothing can go wrong. Duxelles is a French word for sautéed mushrooms and shallots, and often, additional garlic and parsley. It works great as a base for a sauce (just add cream) and in stuffings. This duxelles recipe is earthy and slightly nutty, and when combined with the sharp saltiness of good parmesan, it's a masterpiece on a crostini.
½ baguette (30 slices, prepped per recipe)
8 ounces button mushrooms
2 tablespoons butter, divided
¼ cup shallot, finely chopped
2 teaspoons dried thyme
Kosher salt and ground black pepper, to taste
¼ cup sherry
4 ounces of parmesan, shaved
Finely chopped chives for garnish
TO MAKE DUXELLES: Finely chop mushrooms in a food processor. Transfer mushrooms into an extra-fine cheesecloth or flour sack towel. Wring extra moisture out of mushrooms. Heat a large skillet to medium and add half of the butter to coat the bottom of the pan. Add mushrooms, shallots and thyme, and season with salt and pepper to taste. Cook until the moisture is gone, and mushrooms start to brown, stirring frequently, about 5 to 7 minutes. Stir in remaining butter and sherry. Cook for another few minutes to cook out the alcohol, and season if needed.
TO ASSEMBLE: Place a dollop of duxelles on the prepped baguette and top with shaved parmesan. Repeat on all baguette slices. Drizzle a small amount of olive oil and sprinkle chives on top.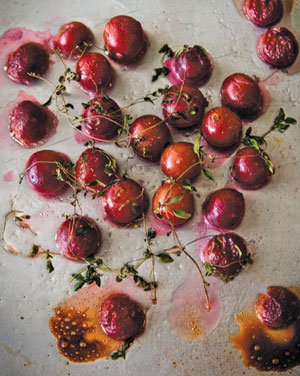 THYME-ROASTED GRAPES WITH RICOTTA, HONEY AND PINE NUTS CROSTINI
My go-to is always roasted grapes! They are beautiful, flavorful, and complex yet simple. The creaminess of whole milk ricotta and buttery pine nuts will make everyone sing your praises.
½ baguette (30 slices, prepped per recipe)
1 pound seedless red grapes, no stems
1 tablespoon balsamic vinegar (as aged as you can find!)
1 tablespoon fresh thyme, chopped
2 tablespoons olive oil
Kosher salt and ground pepper
1 cup whole milk ricotta
3 tablespoons pine nuts, toasted
Honey to drizzle
TO PREPARE GRAPES: Preheat oven to 400. Line a baking sheet with parchment paper. In a large bowl, toss grapes, vinegar, thyme and olive oil. Season with salt and pepper. Roast, stirring occasionally until the grapes soften and start to pop, about 15 minutes.
TO ASSEMBLE: Place a dollop of ricotta onto each toast. Spoon warm grapes on top. Sprinkle with pine nuts and drizzle with honey. ✦
arugula, baguette, Crostini, Duxelles, Manchego, Mushroom, Party Food, Shallot, Thyme-Roasted Grapes