THE ART OF COLLECTING
Photos by Kathryn Feldmann
TREASURES IMBUE THE HOLIDAYS WITH SPARKLE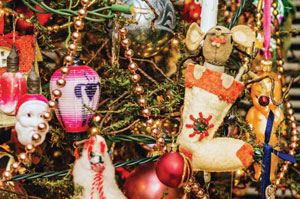 A simple mouse brings to mind a dear friend. A Christmas village hearkens back to childhood. Kerry McCarty can tell a story about each of his beloved decorations, and with a masterful eye, he thoughtfully arranges them throughout this home during the holiday season.
---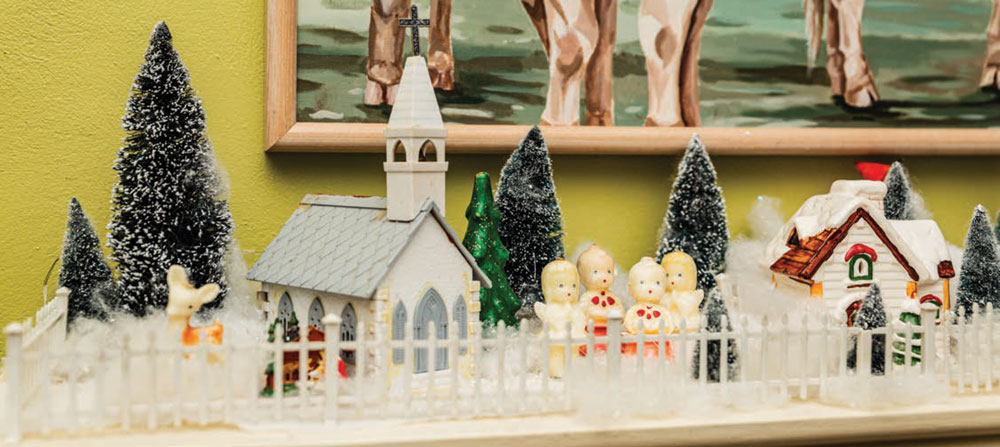 ---
Some of his treasures are priceless simply because of the loved ones who shared them. The mouse, for instance, was made by a friend who started one of Kerry's collections. The felt and beaded creature was made from a pattern that circulated in a woman's magazine in the 1970s. Likewise, handmade ornaments hold a special place in Kerry's decorations, reminding him of the people who made them and the history they represent. Many decorations came from family members who knew Kerry would care for them once they became part of his collection.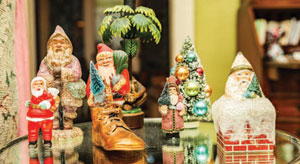 Decorating with themes
Kerry excels at bringing together different decorations through themes and vignettes. "I started collecting when I finished college and had regular employment," Kerry explains. It is an adventure that he began in the 1970s, and each year when he unpacks his holiday collections, his home becomes a winter wonderland.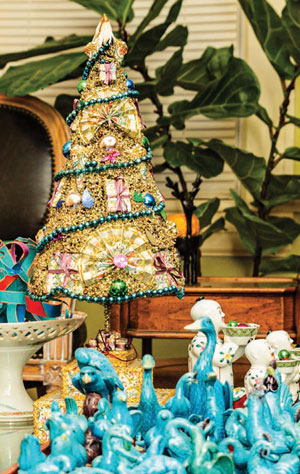 Entering the living room, your eyes take in a carefully curated series of holiday vignettes. There is the Christmas village on the mantle and special groupings throughout the house, many with unexpected details. Kerry doesn't always set the same vignettes in the same place each year. Collections and décor evolve — a continuous mixture of old pieces with a few new trinkets and fresh greenery infused. That twist keeps his home energetic and inviting. 
Kerry shares, "I am a visual person. I like eclectic — everything from vintage to pinecone ornaments. My mother always made a Christmas village under the Christmas tree. As long as I can remember, the church, a small cottage and some of the carolers were under our tree each year. There is a hilarious picture of me and my brother as young children sitting in front of the Christmas tree with the Christmas Village beside me. Those decorations have been here as long as I have."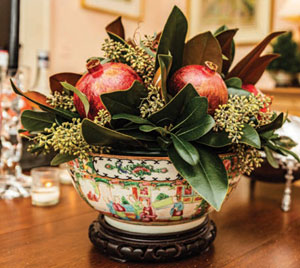 Kerry spent 56 years in floral design, primarily at Greenway Court and George's Flowers, and his creations add to his home's beauty. Growing up, Kerry was mentored by his maternal grandmother who grew lovely roses and kept large planters full of flowers on her porch. In high school, Kerry was encouraged by a neighbor, Mrs. Garnet Hargis, who enjoyed gardening. She taught him the art of flower arranging and "indulged" him: "Mrs. Hargis always let me do what I wanted, and she nurtured me."
After college, Kerry went to work for Dorn's, an interior design studio with a flower shop in the back. It was there he learned to buy quality goods, and he started collecting. Kerry believes in encouraging others to collect. Each year he gives his goddaughter an ornament for Christmas and selects one to add to his collection.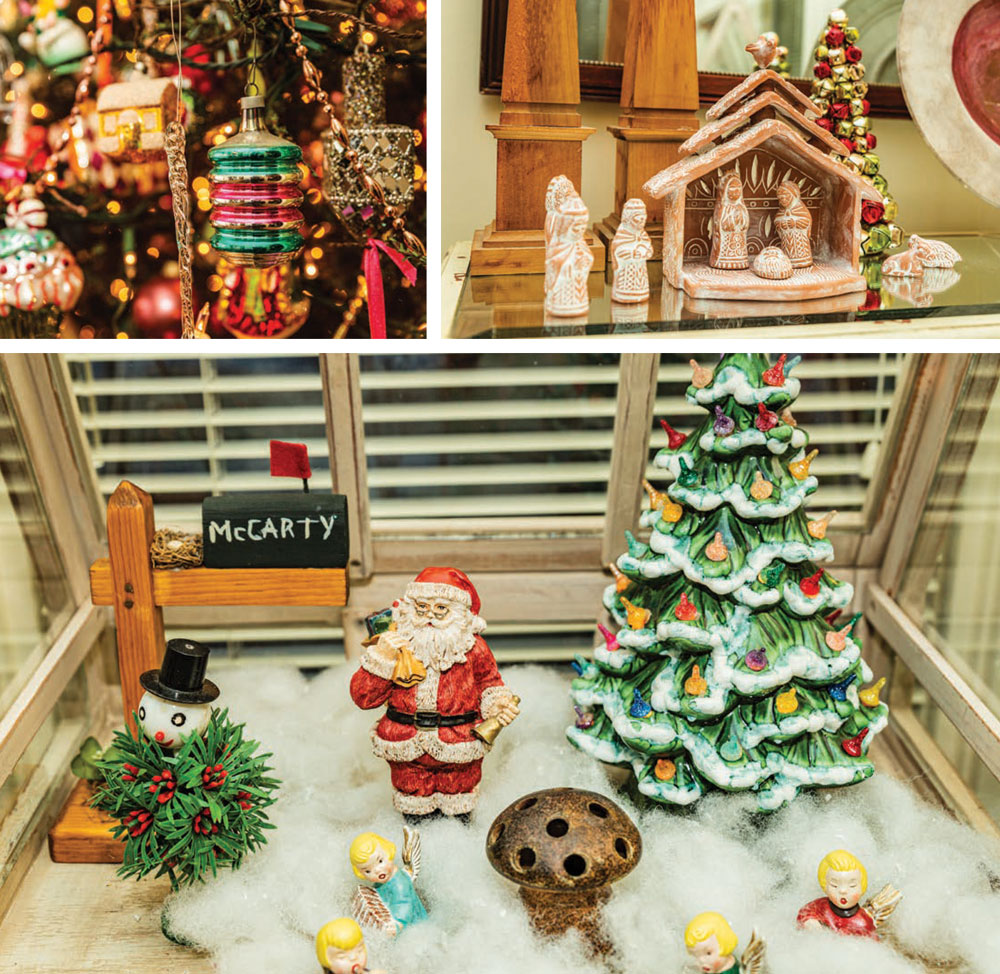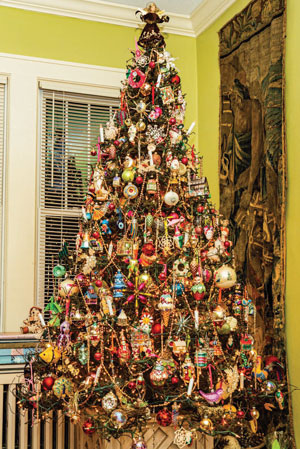 The beloved tree
Kerry's tree glitters with a wide array of ornaments that dazzle the senses. Vibrant tinsel ornaments mesmerize; the sparkles from white lights hitting the metallic colors announce it is celebration time. Three ornaments are true tinsel, a rare vintage find. Kerry's favorite tinsel ornament is one he refers to as "the white hairy eyeball." "Real tinsel ornaments are a big deal," Kerry explains. This wire tinsel snowball is a rare antique that he looks forward to hanging on the tree each year.
Glass ornaments in many shapes and colors create an illusion that challenges the eyes to search for the customary and the unique. The traditional ones like the shimmering brown pinecone, the ice cream cone and the many vintage painted glass balls recall traditional Christmas decorations. Others like the Strawberry Man, the gardening tools and the gardener's shed encourage a closer look. What else does the tree behold?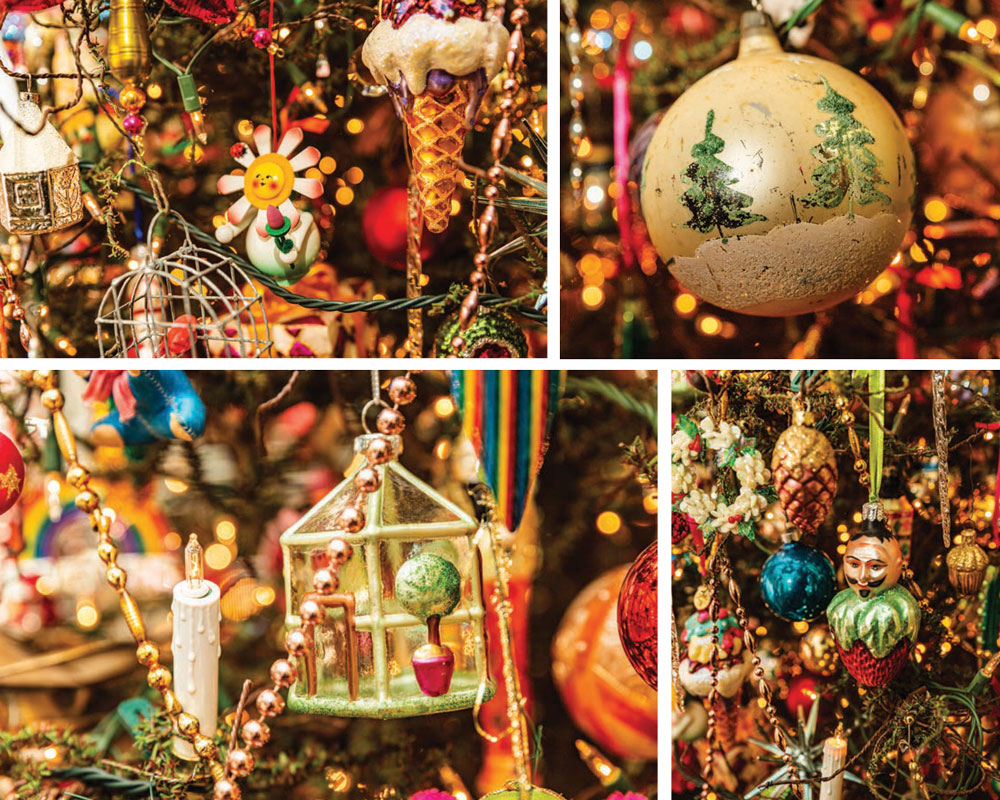 Friends give Kerry ornaments that remind them of his style. One friend gifts Kerry an antique ornament each year. Kerry adds curios to his collection when he sees one that catches his eye. Some of his most special holiday décor was passed down from his family.
Family traditions
"Christmas was a big deal for my mother. A lot of what I have was hers and some of it was my grandmother's." Kerry even has the candles his mother bought as a newlywed to decorate her first home during the holidays. Each year, she carefully packed and stored them in the basement so they would not melt.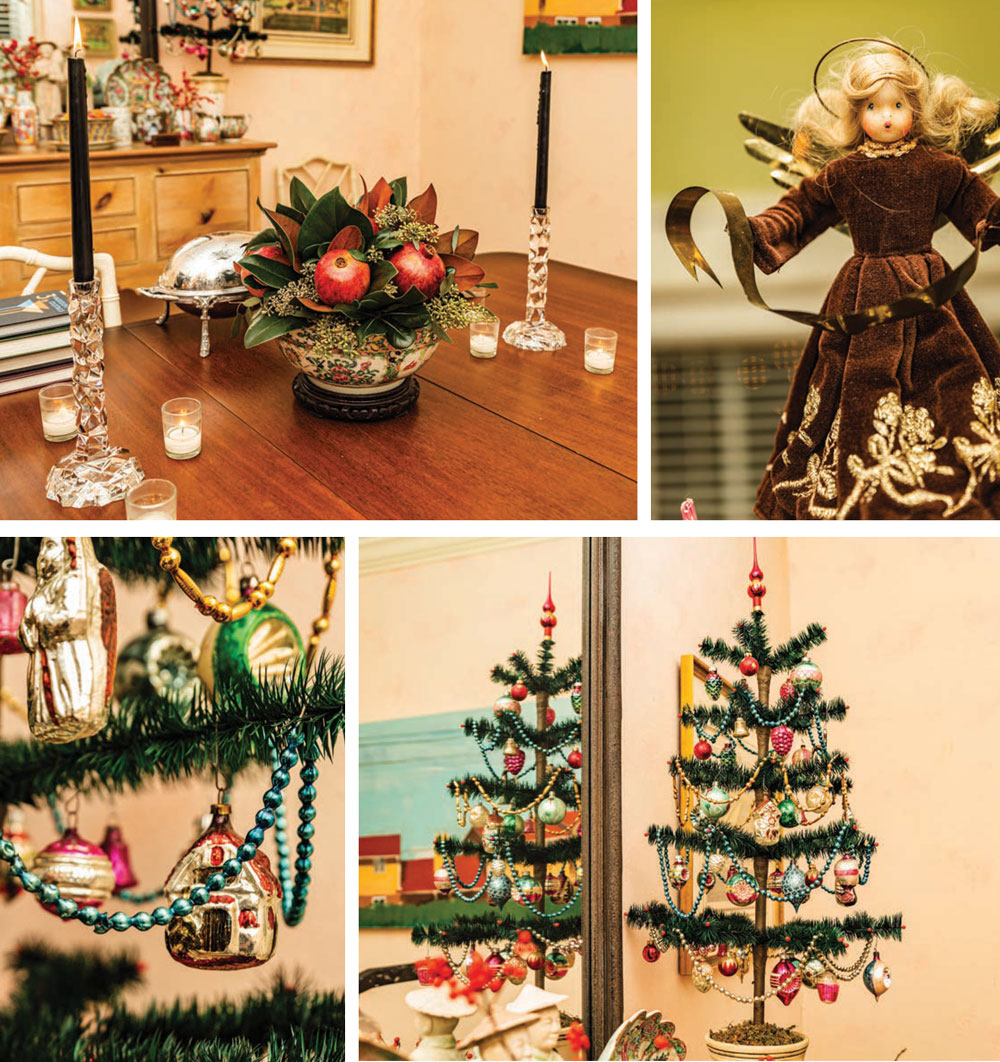 In the dining room, a "wedding set" of 12 glass ornaments from the 1940s hangs on a German feather tree Kerry purchased to display them. This set of ornaments was purchased by his mother for their first Christmas tree. According to tradition, each ornament signifies something necessary for a happy life together — the house represents shelter and protection; the pinecone represents motherhood and fruitfulness.
The first year Kerry had his own apartment, he decorated the Christmas tree himself in a brown and gold theme. "That really dates me," Kerry notes. The tree was covered in ornate brown angels, gold balls and dried baby's breath. Although his taste changed over the years, one of those brown angels presides on top of his tree every year. That angel heralds the history of his collecting — a tribute to the Christmas he decorated his first tree.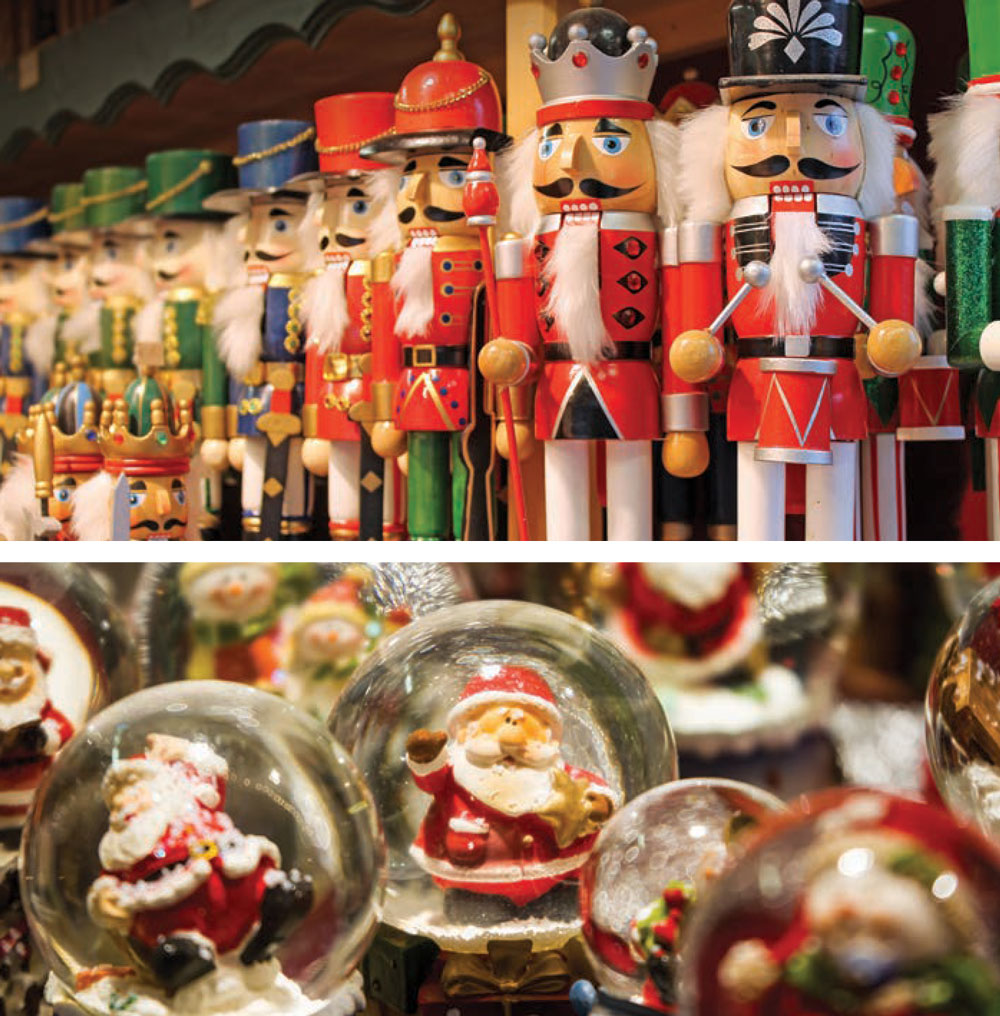 Tips on collecting for the holidays
Unify a collection with a color, a certain

 

type of ornament (like tinsel or wood), or

 

a theme, such as nutcrackers. This type of

 

collecting provides friends and family

 

with easy gift ideas.
Look for good quality pieces.

If a

 

piece of furniture or décor has "good bones"

 

it will last and evolve over time. You will

 

always enjoy using it — even relocating

 

it to another room when rearranging or

 

moving to another home.

Keep an eye out everywhere you shop

— from antique shops to thrift shops

 

to boutiques. Decide what style and pieces

 

you like. Research and learn the history if

 

these are old pieces or patterns.

Use filler to focus attention.

When you

 

start a collection and only have a few

 

items, fill in with inexpensive pieces that

 

allow the unique ornaments to shine.

 

Using gold balls or red ribbons on a tree

 

or mantle vignette makes the décor

 

look full and complete. Greenery is a

 

good filler when you have a few special

 

pieces to highlight.

✦
antique ornament, Christmas village, eclectic, glass ornaments, handmade ornaments, holiday collections, holiday vignettes, Ornaments, wire tinsel snowball