Summer Suds | Roanoke's Brew Scene is Bubbling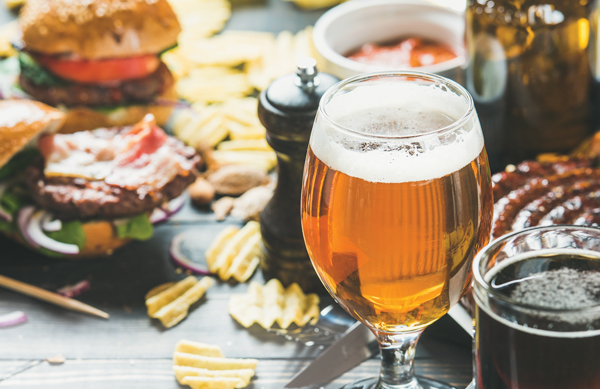 In recent years, Roanoke has been getting attention for our burgeoning beer scene. From local microbrews to high-profile West Coast names, new breweries have been popping up all over the area. There's even a beer spa, Hop in the Spa, coming to downtown, focused on "craft brew inspired wellness," where customers can have massages and soak in tubs filled with various barley, hop, and grain concoctions.
In short, beer is here. While the area currently has almost a dozen breweries to choose from, here's the scoop on four places serving up some tasty suds…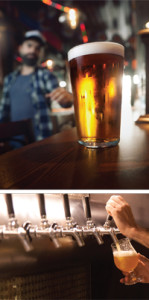 Deschutes Brewery Tasting Room
It was big news in 2016 when Roanoke landed Oregon-based Deschutes Brewery after a years-long courtship by state and regional officials and an enthusiastic "Deschutes2Roanoke" campaign by local citizens. While the brewery has recently indicated that it will extend the construction timeline on its East Coast operations center (originally slated to break ground in 2019 and open in 2021), a downtown tasting room opened last summer at the corner of Market Street and Church Avenue. The 4,700-square-foot space, formerly Thelma's Chicken and Waffles, has been converted into a modern brew pub that can hold about 145 patrons. Counters line the taproom windows looking out onto Church Avenue, and photos on the walls take you through the journey of Deschutes' original 1988 Oregon pub, founded by Gary Fish.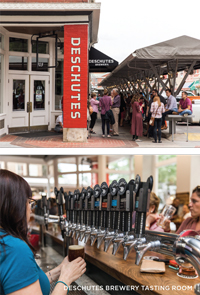 Around the corner from the taproom, merchandise and beer to-go are available for purchase. There's also an experiential room featuring a brewing process sheet and large vinyl photos of outdoor scenes, including Black Butte and Mirror Pond, two Oregon locations for which Deschutes beers are named. Outside, a roped-off section of sidewalk on the market has several tables and is dog-friendly.
According to Sara Sloan, Roanoke tasting room manager, 24 beers are available on tap, ranging from mainline brands to specialty Reserve Series beers. She notes that in general, IPAs are the leading craft beer style. "Our Fresh Squeezed IPA is our highest volume brand. And, Twilight Summer Ale, our summer seasonal, is back this year due to overwhelming feedback from our fans demanding its return after we tried to replace it a few years ago," she adds.
Brewer Jeff Schauland uses an 18-gallon brewhouse for special on-site offerings. Sloan explains, "This gives us the agility to try new recipes, create interesting beers, collaborate with locals—like our recent collaboration with Two Roosters Coffee Roaster—and learn about what offerings excite the community." Fresh Squeezed IPA and Pacific Wonderland Lager are the most popular draft beers in the tasting room, she says, and adds that sours and hazy IPAs are "by far" the most popular beers among patrons.
While no food is served at the pub, guests are welcome to bring their own or have it delivered from one of the many nearby restaurants. And, weekdays have various themes. "Every other Monday is a special Reserve tasting night," explains Sloan. "Tuesday is Community Pints, where $1 per every pint sold is donated to our local nonprofit partner that has been chosen for the month. We have a Market Street Series beer release on Wednesdays to accompany our Olde Time Jam sessions, game nights including bingo and trivia on Thursdays, as well as a community table coming soon for people to come together over a pint."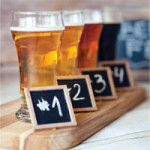 Parkway Brewing Company
Named after the iconic Blue Ridge Parkway, Parkway Brewing Company opened in Salem five years ago and has been doing brisk business ever since. An annual production of 17,000 barrels allows them to bottle beers for retail distribution and put brews on draft at restaurants in several states, as well as serve visitors at the taproom. Parkway has three flagship beers: Get Bent, an IPA; Majestic Mullet, a Kölsch; and Raven's Roost Baltic Porter. These three beers are served year-round at the brewery, along with various seasonal brews and experimental pilot batch beers, dubbed the "Overlook Series."
Mike Pensinger, Parkway's brewmaster and general manager, says that Get Bent, their West Coast-style IPA with 7.2% ABV (alcohol by volume), is their most popular brew. He also notes that another IPA, the well-known Factory Girl (named for local author Beth Macy's book "Factory Man") is a long-standing favorite, though it's no longer available in bottles. "It was my favorite beer when I came here, and people still love it, so it's still available on draft in the taproom," he explains.
That said, Pensinger's focus is on exploring new options. "We have to cater to the change—you want to keep people's interest," he says. For summer, Parkway offers two packaged seasonal beers—currently, Float Your Boat, a saison (French-Belgian farmhouse style) ale; and Mama Tried, a blueberry gose (sour ale) with 4.5% ABV. Beers between 3 and 5% ABV are known as 'session beers'—basically meaning you can have more than one without getting cross-eyed—and Pensinger said session beers are his preference, so he's been working to add them to the lineup. He goes on to say that they put out about six seasonals per year, each one available for two months. He notes that seasonals generally only run about two years in a row—so if something strikes your fancy, get it while it's hot! Parkway also offers 12 different draft-only beers each month for bars and their taproom.
If it sounds like there's a lot going on—there is. Parkway's Overlook Series allows them to produce more flavors and styles, such as double dry-hopped IPAs and fruited kettle sours. One of the specialty brews on tap for summer is Cockadoodle Brew. "It's a tropical coffee Kölsch," says Pensinger. "It's got notes of orange, grapefruit, and coffee, but it's not dark; it's a light beer like Majestic Mullet." Pensinger also notes that it "packs a punch"— not necessarily in ABV, which is 5.9%—but because it's made with specially roasted coffee from Red Rooster Coffee out of Floyd, Virginia.
Parkway's taproom can hold about 250 people, and several hundred more can fit on their event grounds. Parking, however, is limited. For this reason and to encourage responsible drinking, the brewery offers a discount for any Uber or Lyft tickets that patrons present. Live music and food trucks make regular appearances at Parkway, and dogs are allowed on the patio. Six packs and growler fills are also available on-site.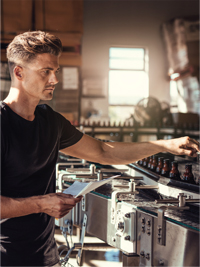 Big Lick Brewing Company
In the last couple of years, Big Lick Brewing Company has moved up—up in production, and up the street from its original location. In 2014, Bryan Summerson and Chuck Garst opened what Summerson refers to as a "nano brewery" on Salem Avenue in downtown Roanoke, brewing two barrels at a time and offering customers small-batch brews on tap. Several years earlier, Richmond developer Bill Chapman had begun revamping the 400 block of Salem Avenue, creating the "West Station District" by rehabbing empty historic warehouses into modern spaces. The area now boasts loft apartments, Beamer's 25 restaurant, eco-friendly "live-grow" apartments (each apartment has private planter gardens and rain barrels), Tuco's Taqueria Garaje restaurant and, as of last fall, Big Lick Brewing. The brewery's new digs are a one hundred-year-old former trucking depot (and former site of the Habitat for Humanity ReStore) that was transformed into a contemporary steel and glass space with warm wood accents. Big Lick's original location is still used for what Summerson calls "research and development," but the main operations have moved here, where 15 barrels now house a changing selection of brews, including 10 big-batch beers plus a few small-batch.
"I do what floats my fancy at the moment, instead of making the same thing over and over," says Summerson, while brewing a future batch. "I will repeat a few, but generally I am always doing something different." Availability is purely supply and demand: A small-batch brew —generally about two barrels —might last a couple of weeks, while a big-batch could be around for a couple of months. "IPAs are really popular and don't last long," Summerson says, adding, "And that's a good thing, because over time the hops would drop out of them. IPA is best when it's fresh."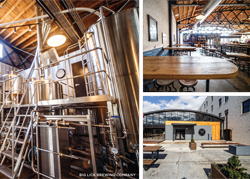 Big Lick offers a variety of brew styles, including Peace, Love & Hoppiness, an award-winning double IPA; White Bronco, a New England-style IPA; Status Quo, a cream ale that goes down easy on a warm summer day; Pomegranate Gose, their first kettle-soured beer—pink-tinted thanks to fresh pomegranate puree; and Casey's Kölsch. Summerson says the Kölsch is one of his favorites and was named in honor of Roanoke Times columnist Dan Casey. In his column, Casey jokingly declared himself in "a fit of despair and jealousy" that Beth Macy had Parkway's Factory Girl named in her honor, and promised to shamelessly promote any brewery who made one for him. (Casey also promises the brew will "cure cancer, heart disease, body odor and bad breath".)
The taproom holds 150 people, and the 6,000-square-foot beer garden, strung with cafe lights and outfitted with modern fire pits with bench seating, plus umbrella tables, can hold plenty more. Visitors can order food for delivery from Beamer's 25 next door, or from Tuco's Taqueria across the street—a kiosk inside Big Lick's front door has an iPad where you can place your Tuco's order. Cornhole boards and a live entertainment stage featuring bands on Friday and Saturday nights add to the good time. 32-ounce crowlers (made from aluminum) and 64-ounce ceramic growlers are available for sale, or you can bring your own growler for a fill-up.
Ballast Point Brewing Company
Ballast Point, a well-known San Diego-based craft brewer, opened its East Coast production facility last summer in Daleville's Greenfield Industrial park. Now owned by Constellation Brands, a major beer, wine, and spirits company, Ballast took over an automotive parts factory to create the area's first industrial-sized brewery, producing about 240,000 barrels annually. The taproom and retail section—which actually opened before on-site brewing began—is a two-story space that can hold about 200 patrons. It features a large bar, plenty of seating, an outdoor patio with fire pit, gorgeous views of Greenfield Lake and the surrounding fields and mountains, and a kitchen serving up crowd-friendly fare such as burgers and nachos. There's also a Sunday brunch from 10 a.m. to 3 p.m.
Ballast Point has an extensive selection of beer on tap—32 to 35 on average, says Chelsea Moneymaker, one of the brewery's retail leads. Brews vary with availability and season, but Moneymaker notes that fruit and sour beers have been popular at the Daleville location. "We sell a lot of Sour Wench Blackberry Ale on tap, and we've had a lot of calls about Moscow Mule," she says. Moscow Mule is a sour-based beer with flavors of ginger and lime and a substantial 10.2% ABV, and is also available for purchase in sixpack and growler fills at the brewery. Moneymaker says Tart Peach Kölsch, a "bright, refreshing ale" with 5.2% ABV, is a good summer beer, and adds that Aloha Sculpin, an IPA with "notes of mango, pineapple, and guava" is also great for sipping this time of year.
Anyone familiar with Ballast Point will recognize the name "Sculpin." While it's actually a fish, to beer aficionados, Sculpin is Ballast's best-known, award-winning brew. In addition to the classic 7% ABV Sculpin IPA, there are also Grapefruit, Pineapple, and Unfiltered Sculpins, along with the Aloha. Many of Ballast Point's brews have nautical, marine, and West Coast-themed names, such as Longfin Lager, Grunion Pale Ale, California Kölsch, and Even Keel IPA. The brewery's West Coast vibe, impressive facility, full menu, and beautiful scenery make Ballast Point in Daleville worth a visit.
This summer and all year long, Roanoke locals can quench their thirst at any of these area breweries. Before visiting a brewpub, be sure to call or check their website or Facebook page for specific hours, upcoming events, and new releases. Cheers!
---

Deschutes Brewery Tasting Room
315 Market St SE, Roanoke
540-259-5204
deschutesbrewery.com/ roanoke
Big Lick Brewing Company
409 Salem Ave SW, Roanoke
540-562-8383
biglickbrewingco.com
Parkway Brewing Company
739 Kessler Mill Rd, Salem
540-404-9810
parkwaybrewing.com
Ballast Point Brewing Company
555 International Parkway, Daleville
540-591-3059
ballastpoint.com
Ballast Point Brewing Company, Big Lick Brewing Company, Deschutes Brewery Tasting Room, Parkway Brewing Company