New Growth | Gardening Trends for 2018

Gardening is an art form that has been around for centuries. Organizing a vast array of plants, trees and flowers into a dedicated garden is a delightful experience that is pleasing to the eye and beneficial to the environment. There are so many varieties and colors to choose from, and no two gardens are alike. However, if you've had the same plants for several years, you may be looking for something a little different this season. Luckily, there are always new things to discover at your local nursery that can spruce up your existing plantings and create a fresh look just in time for summer.


Adding something new
Southern magnolias, crape myrtles and hydrangeas are extremely popular in our area, chosen by gardeners year after year. But there are variations on these favorites that you can add to your garden if you are looking for a change. For example, Barb Nelson, long-time manager of Townside Gardens, recommends a new hydrangea variety called 'Tuff Stuff.' "It's a lacecap mountain hydrangea that is very cold hardy, and a repeat bloomer," she explains. Tuff Stuff produces blooms from the beginning of summer up until the first frost.
Other shrubs Nelson suggests include edgeworthia, a deciduous shrub also known as Chinese paperbush. She says, "It's a spectacular early bloomer that's fragrant and has gorgeous light yellow blooms." She recommends aronia, a deciduous chokeberry, saying, "It's a low deciduous shrub that has white flowers in the spring, and dark purple fruit and brilliant red fall color. Aronia grows great in many climates and is perfect as a ground cover." Another option for both spring and fall color is hypericum, also known as St. John's wort. "Hypericum 'Magical Red Flame' has yellow blooms that turn into bright red berries and are great in flower arrangements," she notes.
If you are concentrating on new flowers for your garden this season, Evelyn Elwell, owner of Walter's Greenhouse in Hardy, is enthusiastic about some new twists to old favorites, including begonias, petunias and marigolds. Ewell describes 'Lemon Falls' begonia as "fragrant, similar to a peony with a citrus scent." In petunias, 'Night Sky' is a new variety with showy, purple-andwhite speckled blooms. And 'Fireball' marigold, with its red, orange, bronze and gold colors, now has double blooms also measuring larger than before. Ewell notes that plant breeders have recently been able to improve flowers so they are not only disease resistant, but their blooms last longer and are larger in size. She loves the new vincas, which she says, "used to have a flower the size of a nickel, and now can be seen with flowers two and a half to three inches in size." For gardeners in search of the elusive true-blue bloom, both Ewell and Nelson recommend 'Evolvus Blue My Mind,' a dwarf morning glory, for summer blooms. It boasts brilliant blue flowers with silvery-green leaves and does well in our climate.
Cottage gardening
According to Elwell, cottage gardens have been gaining popularity. With less emphasis on formality and the traditional rules of gardening, it's a more relaxed style that works especially well in smaller areas. You don't need a big budget in order to create the perfect cottage garden, and you can use existing hedges, fences, or walls to give the garden the structure it needs to take shape. Since cottage gardening is all about personal preference, simply add your favorite plants, shrubs, flowers and trees. Using different colors and textures will enhance the space. Your plantings should climb walls and drape over trellises and flow over each other. Containers can be used to outline and highlight a path through the garden leading to a bench, a sculpture or a birdbath. You can even add upcycled items like an old window or crate for a vintage look. The goal is to create an inviting, natural place where you will want to spend time.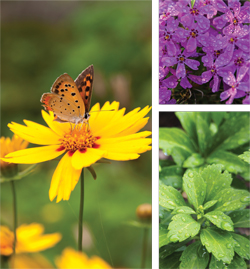 Giving back
Eco-friendly gardening has become more attractive lately, as people vow to be kinder to the environment and find solutions to the challenges provided by Mother Nature. For example, ground covers like pachysandra and creeping phlox can reduce mowing and watering, and will also aid areas prone to erosion. Planting pollinator-friendly plants makes sure that generations of plants will continue to survive. Elwell points to the "Save the Monarch" movement across the country, which continues to aid in the survival of one of the most popular butterflies in North America by adding nectar plants to our gardens, such as milkweed, coreopsis, and bee balm. Organic gardening and composting is good for the soil and even better for our water supply. "Composting keeps yard waste and vegetable scraps out of landfills and will turn these items into wonderful soil amendments," says Nelson. Not to mention, growing our own food allows us to produce fruits and vegetables with less pesticides and more nutrients.
Updating your garden can be as simple as adding a few new plants or flowers, or as complex as recreating the entire space. Whether you want to focus on new annuals for your containers, create a cottage garden, or focus on environmentally friendly options, there are experts in your community ready to help. One short trip to the nursery can provide you with fresh ideas and a new look that you can enjoy for months to come!
aronia, Bee Balm, Chinese paperbush, coreopsis, Cottage gardening, crape myrtles, edgeworthia, hydrangeas, milkweed, Southern magnolias, Townside Gardens, Walter's Greenhouse