Summer Fun | Create Your Own Hometown Getaway
There's no place like home … but sometimes, it's nice to venture beyond your own digs and deck. If you've got a free day or are enjoying a staycation, there's plenty to do this summer in our area. From simple pleasures to day trips, working up a sweat to kicking back, getting wet to keeping it cool, we've got you covered in the Star City and beyond.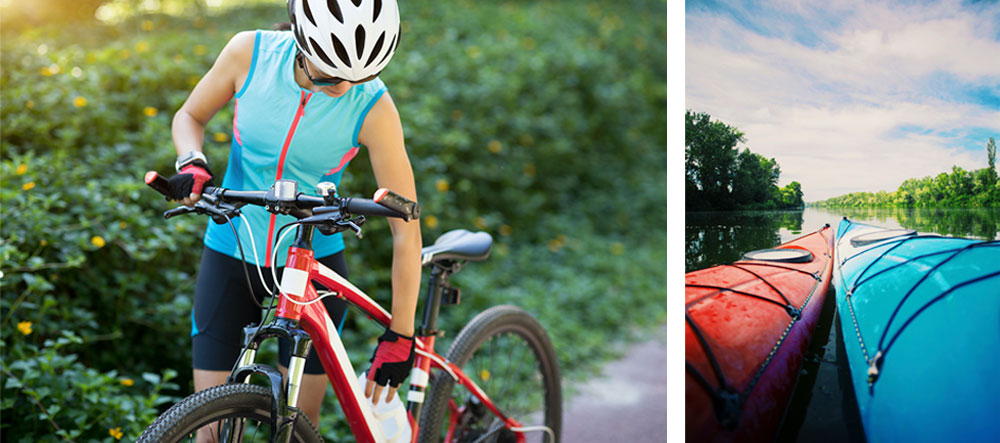 Hiking and biking
A morning hike or bike ride offers the best opportunity for activity while avoiding the heat and the chance for afternoon thunderstorms. Southwest Virginia is full of trails ranging from leisurely to intense.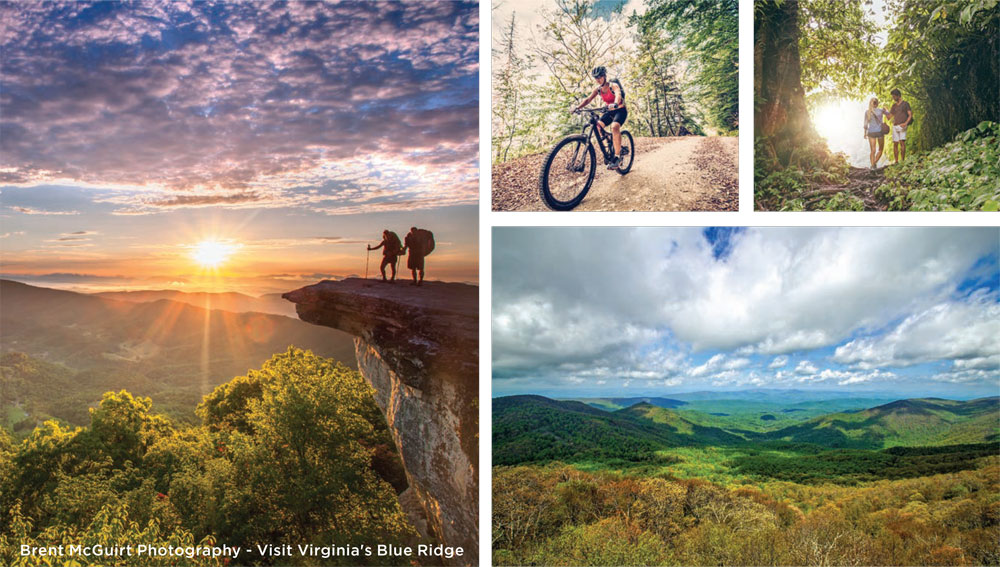 Roanoke River Greenway is an easy 15-mile path which follows the river from Bridge Street to Bennington Park. There are multiple access points, including centrally located Rivers Edge Park (302 Wiley Drive SW). Roanoke Mountain Adventures (806 Wasena Avenue SW) offers bike and e-bike rentals and is right next to the Greenway for hop-on hop-off convenience. Close by is The Green Goat (802 Wiley Drive SW) where you can stop for sandwiches, snacks and drinks, as well as Hang 10 Hawaiian Ice & Cream which serves up tasty frozen treats (see "Ice Cream").
Mill Mountain Greenway (2000 JB Fishburn Parkway) is a 3.3-mile paved trail that ascends from the valley floor to the Mill Mountain Star. Mill Mountain Trails offer 10 miles of unpaved paths that wind around the mountain. Access points include the Riverland Road parking lot (1230 Riverland Road SE) and from the Mill Mountain Star and Discovery Center.
Explore Park (56 Roanoke River Parkway), located at Blue Ridge Parkway Milepost 115, provides 14 miles of hiking and biking trails which meander to the Roanoke River and past historic structures. The park is also home to Treetop Quest, a family zip line course, and Twin Creeks Brewpub (see "Breweries").
Read Mountain Preserve (6101 Crumpacker Drive) offers 4.5 miles of challenging unpaved hiking trails, the pinnacle of which is Buzzards Rock, which overlooks Carvin's Cove and the Hollins area.
Roaring Run Trail, (450 Roaring Run Road, Eagle Rock) in Botetourt County is a great place to hike in warm weather, as it follows a shaded stream up to a waterfall. There's also a picnic area and a 19th-century iron ore furnace.
McAfee Knob (4440 Catawba Valley Road, Salem), with its panoramic views, is one of the most photographed sites on the Appalachian Trail and has become increasingly popular in recent years. It's about 8 miles roundtrip and moderate difficulty; parking can be an issue, so carpooling and weekday visits are recommended.
Dragon's Tooth (Catawba Valley Drive, Catawba), with its unusual rock formations atop Cove Mountain, is also an extremely popular 4.5-mile hike. Parking and crowds are an issue here too, so research before you go.
Carvin's Cove (9644 Reservoir Road) offers more than 60 miles of multi-use trails, in addition to boating, fishing, and picnicking facilities. Rugged technical trails, some with bermed turns and jumps, make this a mustvisit for mountain-bike enthusiasts.
Peaks of Otter (85919 Blue Ridge Parkway, Bedford) has multiple trails, from the easy and scenic Abbott Lake Trail, to the strenuous Sharp Top and Flat Top trails. The Peaks of Otter Lodge offers a dining room as well as a bar and lounge.

Watersports
If you're looking to make a splash, local rivers and lakes are the place to go.
In addition to bike rentals, Roanoke Mountain Adventures rents kayaks, tubes and stand-up paddleboards which you can transport to local spots. They offer weekend shuttles for Roanoke River floats, and valuable intel on river safety.
Twin River Outfitters (640 Lowe Street, Buchanan) provides multiple float options on the Upper James River, from tubing to various paddle day trips via kayak or canoe, to guided camping trips.
Smith Mountain Lake is Virginia's largest freshwater lake, with its own state park and two public beaches. Smith Mountain Lake Community Park (1480 Parkway Avenue, Moneta) is the smaller of the two beaches, featuring a fishing pier, kayak and canoe launch, picnic shelters and tables, restrooms, playground, and swimming when lifeguards are present. The beach at Smith Mountain State Park (1235 State Park Road, Huddleston) is a 500-foot beach featuring a concession stand, picnic pavilion and bathhouse. Boat rentals (including kayaks, paddleboats, jet skis and pontoons) are also available. (Check fees before you go.)
There are also various boatrental companies where you can find tritoons, deckboats, fishing boats, wave runners, and more. Check out Bridgewater Marina & Boat Rentals (16410 Booker T Washington Highway, Moneta), Smith Mountain Lake Boat Rentals (3553 Trading Post Road, Huddleston), and Westlake Boat Rentals (2050 Morewood Road, Hardy).
Claytor Lake (6620 Ben H. Bolen Drive, Dublin) on the New River has its own state park with a swimming beach and boat launch. At the marina, Claytor Lake Water Sports rents motorboats, pontoons, kayaks and canoes, while Mountain 2 Island Paddleboard Company rents kayaks and paddleboards, and also offers lessons.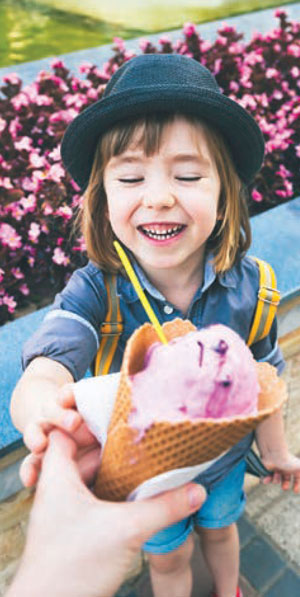 Ice cream
Nothing says summer like a creamy frozen treat. Beat the heat with a classic cone or cool concoction.
Blue Cow Ice Cream Co. (1115 Piedmont Street SE) is a convenient stop on the Greenway where you can sample flavors like Sea Salt Brickle with Caramel Swirl or Blueberry Goat Cheese on a homemade waffle cone.
Hang 10 Hawaiian Ice & Cream (805 Winona Avenue SW) in Wasena is another Greenway-friendly stop offering shave ice and soft-serve concoctions along with several flavors of Dole Whips, including the iconic pineapple.
Pop's Ice Cream and Soda Bar (1916 Memorial Avenue SW) in Grandin will keep you cool with ice cream floats, frozen citrus slushes, milkshakes, and ice cream flavors like Blackberry Swirl and Coconut Fudge.
Rookie's (611 S Jefferson Street) specializes in handcrafted ice cream sandwiches made with homemade cookies and homemade ice cream. Cool off and perk up with an affogato, a scoop of ice cream topped with espresso.
Chris's Coffee & Custard (1824 9th Street SE), as the name suggests, offers frozen custard concoctions along with coffee drinks, smoothies and more. Named for Chris, who has Down Syndrome, the business focuses on our special needs community and employs "individuals of all walks of life."
Sugar Magnolia (3749 Franklin Road), in the Townside Festival Shopping Center, features flavors like Apple Crisp, Sea Turtle and Michigan Pothole.
Champloo Desserts (9 S College Avenue, Salem & 4434 Electric Road) offers an extensive menu of rolled ice cream flavors, including Peach Cobbler and Thai Tea, along with boba teas, milkshakes, smoothies and frozen lemonade.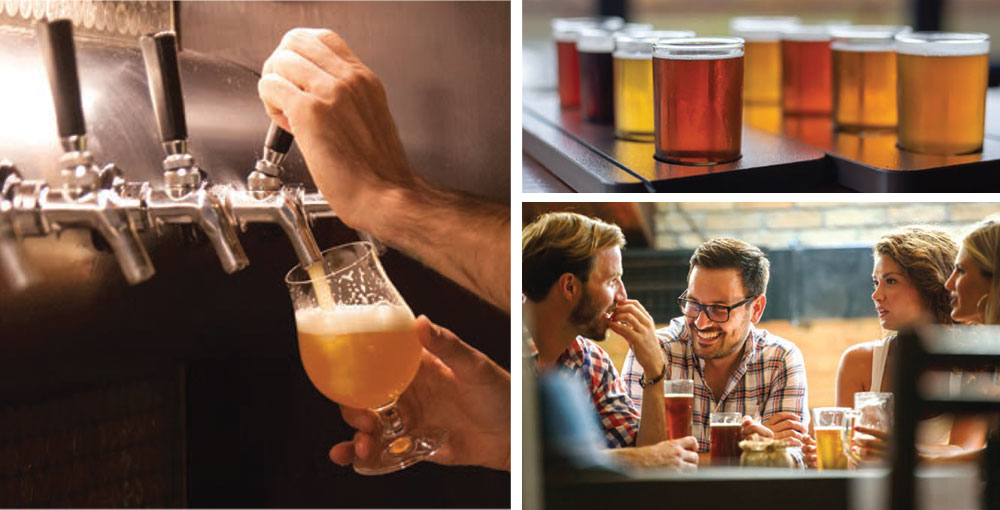 Breweries
The past few years have seen some promising new additions to Roanoke's bubbling beer scene.
Parkway Brewing Company (739 Kessler Mill Road, Salem) has been serving up tasty brews for a decade, including Majestic Mullet Kölsch and Get Bent IPA, at their popular Salem tap room. Their frequent live music events (complete with food trucks) are also well attended.
Big Lick Brewing Company (409 Salem Avenue SW) has a sleek and modern downtown setup. With plenty of indoor seating, a 6,000-square-foot beer garden, and food deliveries from nearby restaurants, it's a great spot to relax with friends.
Olde Salem Brewing Company (21 E Main Street, Salem), housed in a stylish 1920 brick building in Salem's historic district, is slated to open a second location this summer at 315 Market Street, the former downtown tasting room of Oregon-based Deschutes Brewery.
Three Notch'd Craft Kitchen & Brewery (24 Campbell Avenue SE) is one of five Virginia locations for this Charlottesville-based brewery. Located across the street from the Historic Downtown City Market, it has the distinction of offering "beer-infused dishes" as well as cocktails.
Starr Hill Pilot Brewery & Side Stage (6 Old Whitmore Avenue), a Crozet-based small-batch outpost, showcases "new beers and new music" in The Bridges neighborhood.
Twisted Track Brewpub (523 Shenandoah Avenue NW), located at the site of the former Soaring Ridge Brewpub, also serves "pub fare" along with wines, ciders and soft drinks.
Twin Creeks Brewing Company has locations in Vinton (111 S Pollard Street) and at Explore Park (1 Old Salem Turnpike), which is housed in the 18th-century Brugh Tavern and includes a full-service restaurant.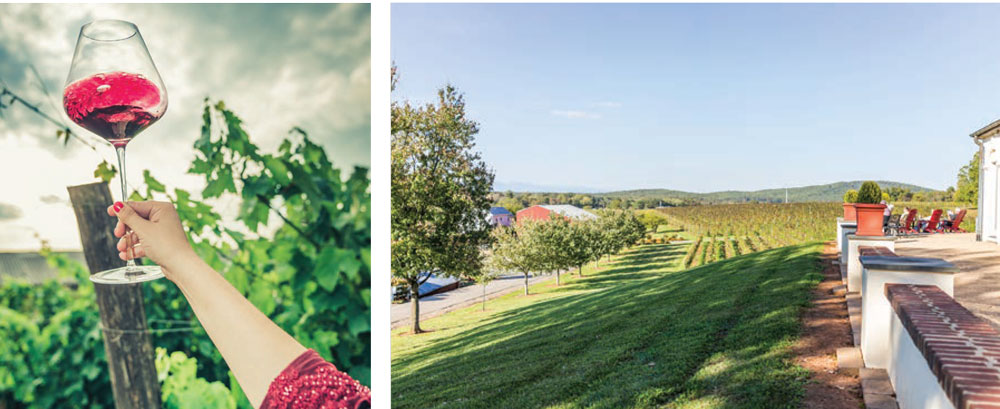 Wineries
Enjoy beautiful views and regional vintages at a Southwest Virginia vineyard.
Valhalla Vineyards (6500 Mt Chestnut Road) welcomes visitors to its great hall, the Cellar Door, set atop a 2,000-foot mountain overlooking the Roanoke Valley.
Virginia Mountain Vineyards (4204 Old Fincastle Road, Fincastle) has a large covered courtyard and various shady seating areas overlooking gentle rolling hills.
Chateau Morrissette (291 Winery Road SW, Floyd) is just off Blue Ridge Parkway Mile Marker 171, and boasts a large tasting room and gift shop, as well as plenty of courtyard seating.
Beliveau Farm Winery (3899 Eakin Farm Road, Blacksburg) bills itself as a "destination winery" (and brewery!) with scenic vistas, picnic areas and hiking trails. Snacks and specialty pizzas are available for purchase.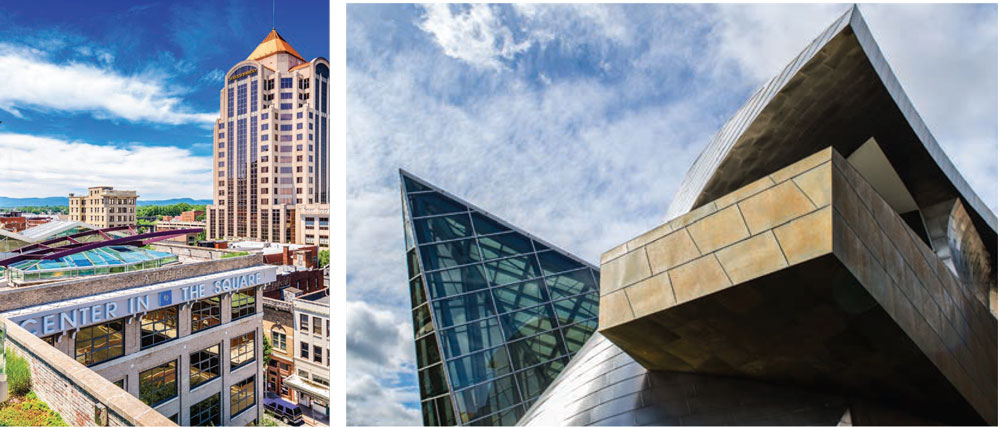 Downtown and the valley
Make a day of it downtown, starting with a visit to the open-air Historic City Market for local produce and other products. Head around the corner to Center in the Square and check out the Pinball Museum, Starcade arcade games, Science Museum, Harrison Museum of African American Culture, or just pop up to the rooftop observation deck. Grab lunch at the City Market Building or a local restaurant, and see what's shaking at the Taubman Art Museum. Walk to shops like Mast General Store (401 S Jefferson Street), Unleashed Dog Bakery & Boutique (131 Campbell Avenue SW, Suite B), and The French Farmhouse Home Market (9 Church Avenue SE.) In the evening, see a show at Mill Mountain Theatre or The Spot on Kirk (22 Kirk Avenue SW), or catch a Salem Red Sox game.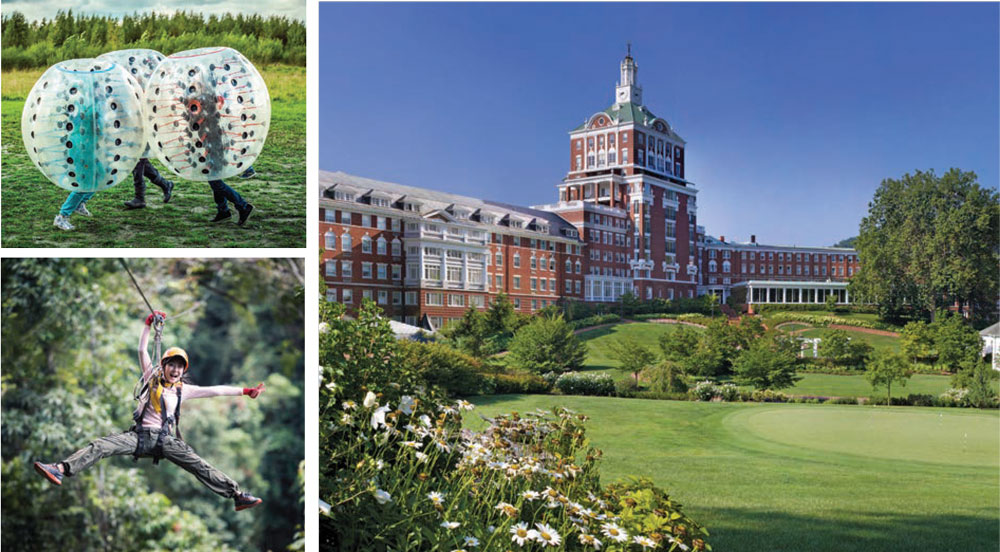 Day trips
If you'd like to venture further afield, Southwest Virginia provides easy daytrip opportunities.
Wilderness Adventure at Eagle Landing (11176 Peaceful Valley Road, New Castle) is an adventure camp offering weekend tubing, fishing, zip lining, and plenty of other outdoor fun.
Mountain Lake Lodge (115 Hotel Circle, Pembroke), the iconic 2600- acre property and resort where "Dirty Dancing" was partly filmed, offers multiple outdoor activities through Mountain Lake Outfitters including mountain bike rentals, archery activities, Bubble Ball (giant inflatable body balls) and the Treetop Adventure course. Grab a refreshment at the Lodge's Stony Creek Tavern, or a meal at Harvest, their farm-to-table restaurant.
The Omni Homestead Resort (7696 Sam Snead Highway, Hot Springs) is a National Historic Landmark and luxury resort which has hosted 23 U.S. presidents and other dignitaries. While the mineral pools and two-acre water park are for hotel guests only, many of the resort's other amenities, such as archery, the Homestead Shooting Club, the spa, and golf can be enjoyed by day visitors (call the concierge for reservations). The resort is home to two golf courses, The Cascades and the Old Course, the nation's oldest first tee. Visitors can also browse the shops and grab a bite to eat at one of several on-site restaurants.
Summer fun can be as simple as a bike ride and an ice cream cone, or an itinerary full of history and culture. No matter your preference, Southwest Virginia offers easy access to local escapes and attractions that will help you soak up all the season has to offer. ✦
breweries, Carvin's Cove, Claytor Lake, day trips, Dragon's Tooth, Explore Park, hiking and biking, ice cream, McAfee Knob, Mill Mountain Greenway, Peaks of Otter, Read Mountain Preserve, Roanoke River Greenway, Roaring Run Trail, Smith Mountain Lake, Smith Mountain Lake Community Park, Smith Mountain State Park, watersports, wineries