Striking Gold | Designing with Today's Metallic Hardware
Metallic hardware is striking gold in the design world. But forget about the shiny gold and glossy brass finishes that were popular in the 80s. They have taken a back seat to today's softer tones. Gold, copper, brass and bronze hardware with various finishes have taken center stage. Whether it be oil-rubbed, matte, brushed or antiqued, gold metallic hardware can add a touch of elegance to any space. These warmer tones are updating the brushed nickel and chrome finishes that have dominated the market for years.
---


PHOTO AND PROJECT: EMILY MANGUS INTERIORS
---
Emily Mangus of Emily Mangus Interiors uses metallic hardware in her designs. "For a while it was solely gold, but mixing metals with gold is a strong trend right now," she says. She likes the look of contrast when using metallic features; for example, she might pair matte black oil-rubbed fixtures with natural-looking white walls.
Warm metals like brass, gold, copper and bronze come in different finishes, and it is helpful to be familiar with some terminology when selecting hardware. These finishes are produced in much the same way as jewelry is crafted. A polished finish is created by using polishing compounds and a fast-spinning brush to smooth out the gold surface. Brushed finishes are created by brushing a fine-grit surface in one direction against the gold. The varying applications of buffing and grinding result in the subtle difference of the finishes. Oxidizing and patinating occur chemically in copper and brass. Oxidized copper and brass are typically blackish, green or blue, and harden like a thick crust.
---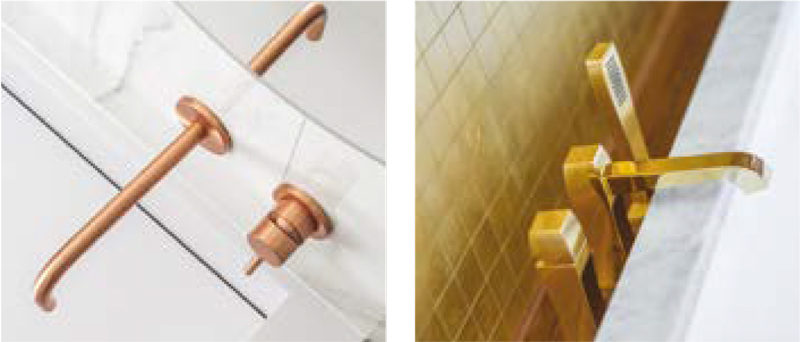 HARDWARE FINISHES
So just how do you decipher manufacturers' hardware finish descriptions? In addition to getting a sample, it's helpful to know:
Brushed gold is a dull polished metal that has a unidirectional finish.
Satin gold will appear more matte than a polished finish, but will lack the texture that a brushed finish offers.
Vintage brass, or antique brass, is a metal that will naturally patina with age, giving it depth and history. Polished lacquered brass is shinier and has taken a back seat to vintage brass.
In the copper family, champagne bronze is a brushed copper tone with more yellow than an antique bronze; it is a deeper version of gold.
Honey bronze has a finish reminiscent of brass or gold, but it tends to be a softer, lighter shade.
Oil-rubbed bronze is a chemically darkened surface designed to simulate aged bronze. It is very dark and varies from a deep chocolate brown to a dark gray and usually has copper undertones.
Copper hardware has a distinctive reddish hue. It is malleable and supple and makes for beautiful cabinet hardware. Sometimes it comes with hammered indentations.
---
On Trend
"Natural elements are big right now," says Mangus. She likes the look of the natural aging of unlacquered brass. She might incorporate subtle touches using it as a base of a lamp or for finials. She says it is showing up in a bathrooms as well, finishing off tile edges with a strip of brass as opposed to using bullnose tile.
---


PHOTO AND PROJECT: TERA JANELLE DESIGN
---
Mixing metals is a wonderful way to add depth and layers to a space, but it should be approached with caution. It should look intentional rather than haphazard. Using too many similar metals can look poorly planned. To accomplish this, choose a metal you love for the most prominent finish in your space, then select metal accents to complete the look; just make sure there is contrast. For example, if your kitchen hardware is in an oil-brushed bronze, copper accent pieces will add a warm glow. If you have a modern, stainless steel kitchen, choosing a chandelier or vintage piece with gold can add charm and texture. Or if you love the gold and white look, add a chrome table, mirror or pendant light for metallic balance. A general rule of thumb is to mix one dominant metal with two or three accenting metals.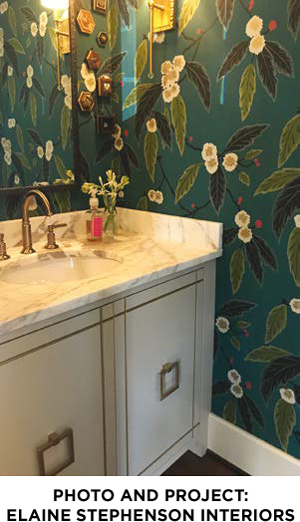 Elaine Stephenson of Elaine Stephenson Interiors, Inc. incorporates gold-toned hardware in her interior designs with moderation. She loves the look of the soft brushed gold finish that is trending right now. She uses such gold hardware in satellite areas like mudrooms, book cases and powder rooms. "I would avoid using it in a kitchen or master bath because it might not have staying power," she says. "However, gold hardware can definitely be fun and dressy in a powder room."
Playing with hardware is an easy way to transform a look without breaking the bank. Trying out some of the goldtoned hardware pieces trending in today's design world is much easier than switching out countertops, replacing cabinetry or repainting walls. Like wardrobe accessories, they can easily be switched out if you want a change. ✦
antiqued, brass, bronze, brushed, brushed finishes, copper, Gold, gold metallic, matte, METALLIC HARDWARE, oil-rubbed, Oxidizing, patinating, polished finish